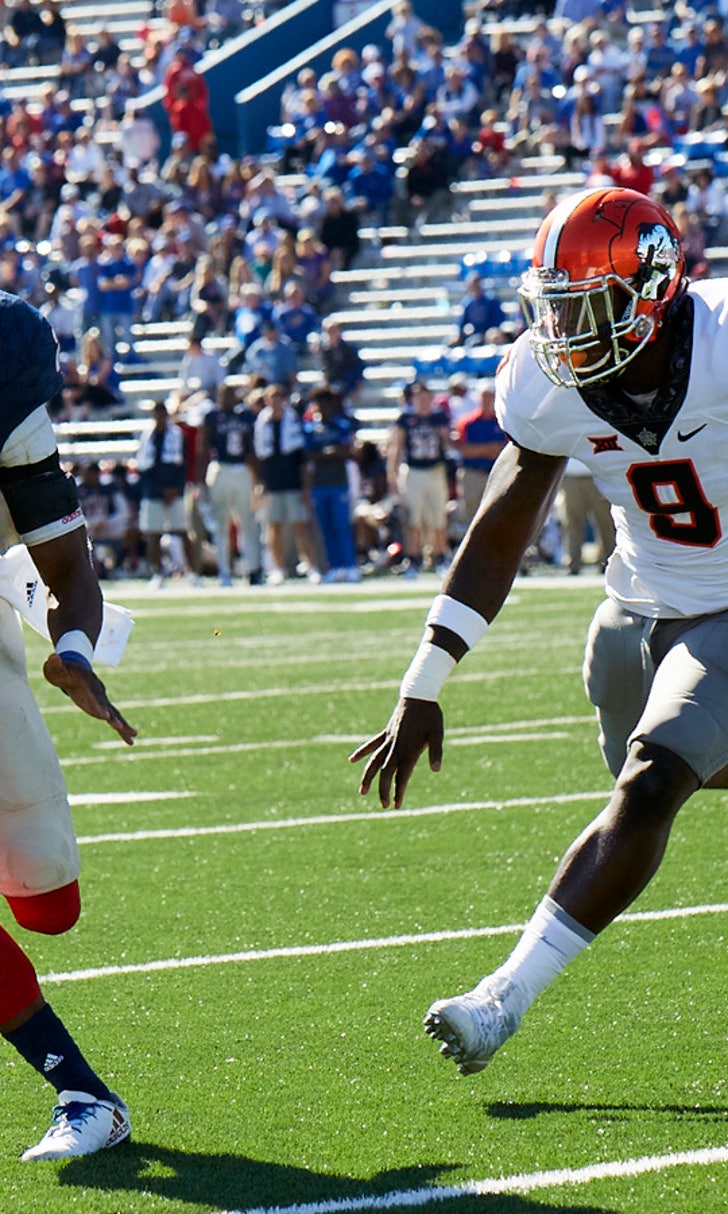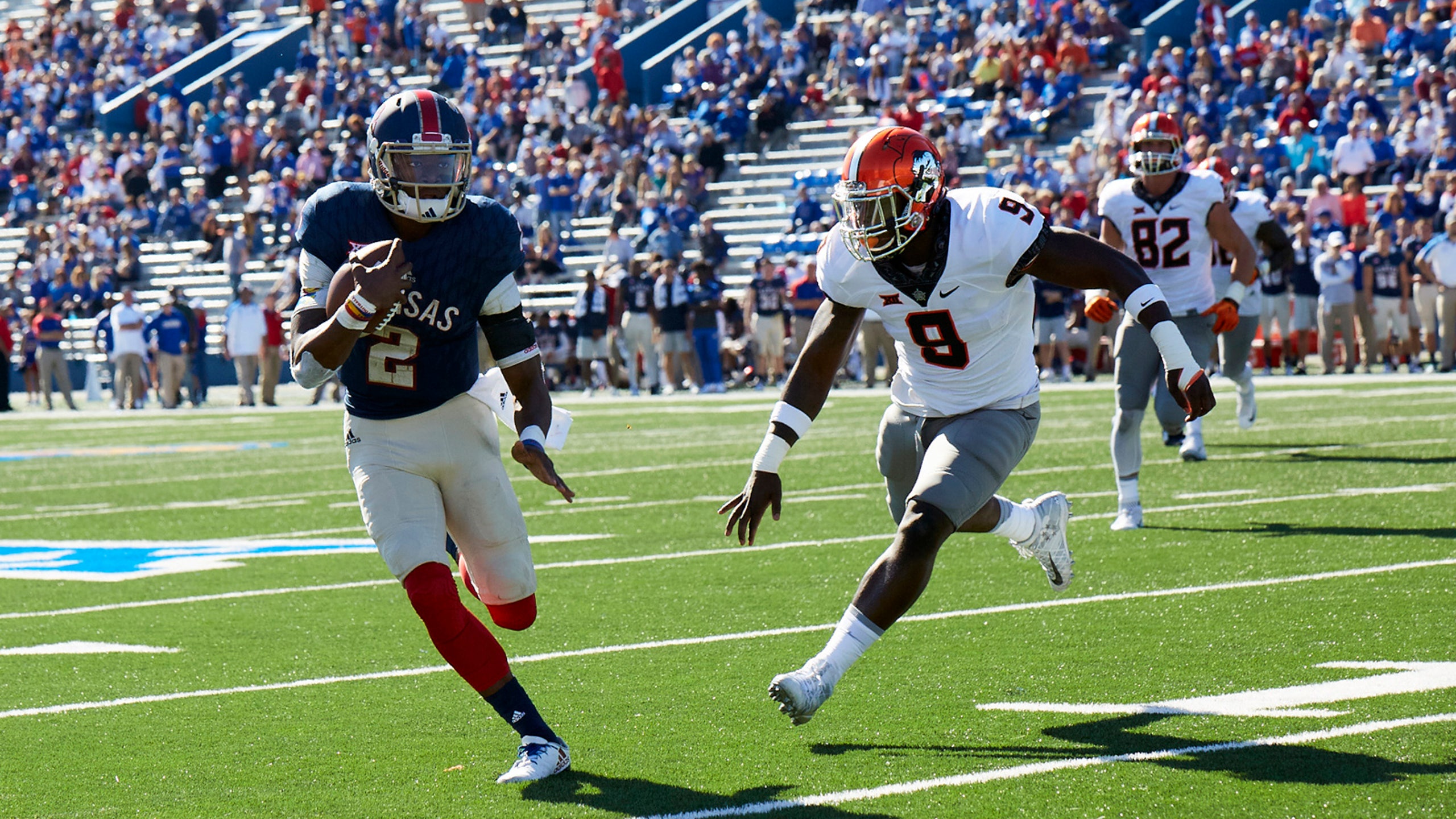 Homecoming excitement extinguished as KU falls 44-20 to Oklahoma State
BY foxsports • October 22, 2016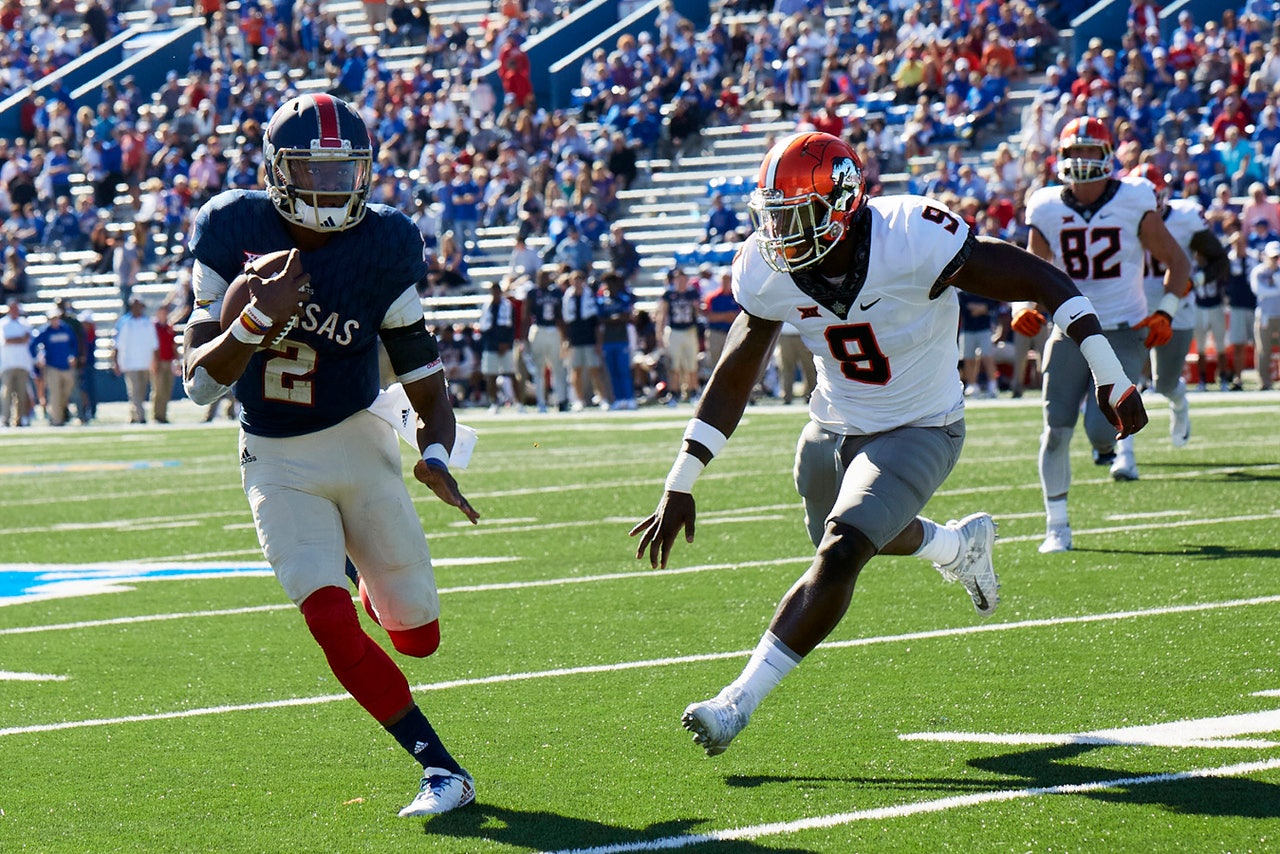 LAWRENCE, Kan. -- For a moment during the third quarter, the Oklahoma State Cowboys resembled a rugby club more than an American college football team.
Kansas' Montell Cozart tossed a deep pass, intended for wide receiver LaQuvionte Gonzalez, but the ball ricocheted up and Oklahoma State (5-2, 3-1 Big 12) free safety Jordan Sterns brought it down. Sterns scrambled up the field for 21 yards and then lateraled the ball to defensive tackle Vincent Taylor.
"We've become the lateral kings," Oklahoma State coach Mike Gundy said.
And the play wasn't over.
Taylor ran for 14 yards before lateraling to defensive end Jarrell Owens. Owens ran for another 29 yards before being brought down by Gonzalez at the Kansas 16.
Gundy didn't know how many laterals were thrown during that play, but he knew more than one was enough.
"I was OK with one," Gundy said. "... Three times? I vote for one lateral and then tuck it away and get what you can get."
Oklahoma State chipped in a 25-yard field goal a few plays after the chaos.
View from the sidelines: college football cheerleaders 2016.
Mason Rudolph threw for 220 yards and one touchdown, Jalen McCleskey caught six passes for 129 yards, Justice Hill ran for 162 yards and Oklahoma State extinguished Kansas' homecoming excitement, winning 44-20.
With less than four minutes remaining in the third quarter, Cozart was pressed on third-and-7 deep in Jayhawk territory and threw an interception straight into the hands of Oklahoma State defensive tackle DeQuinton Osborne. Osborne, standing at 6-foot and weighing 310 pounds, ran down to Kansas sideline to the one-yard line.
Cozart said he, as a film junkie, hadn't seen where Oklahoma State has their nose guard drop back in coverage.
"They got us on that one. They got me," Cozart said of the Osborne interception. "They had seven guys walk up. I knew one of those guys was going to be free. I had a high route to the right and I knew. They got us on that one."
On the following play, Oklahoma State running back Rennie Childs punched in the ball to put the Cowboys up 31-20.
Kansas (1-6, 0-4) started off hot, scoring first halfway through the first quarter by a Cozart-to-Gonzalez 68-yard pass. The Jayhawks held a lead until three minutes before halftime when Hill inched in a 1-yard touchdown run to make the score 17-13.
Kansas came close to getting within one point, attempting a 59-yard field goal as time expired before halftime. With five seconds remaining in the half, Oklahoma State's Motekiai Maile blocked the kick. Kansas couldn't recover, scoring only one more time before the game ended.
"Our coaches made some really good adjustments in the second half and the players did a nice job of taking it out on the field," Gundy said.
Cozart threw for 250 yards, one touchdown and two interceptions, Ke'aun Kinner rushed for 145 yards, and Gonzalez hauled in six passes for 106 yards in the Jayhawks' 21st-straight loss to FBS opponents.
THE TAKEAWAY
Kansas: The Kansas defense sacked Mason Rudolph five times, the most a Jayhawk squad has brought down a Cowboy quarterback in program history. Dorance Armstrong sacked Rudolph once, extending his sack streak to five-straight games.
Oklahoma State: The Cowboys scored 17 points off Jayhawk turnovers.
STATLINE:
With 14 points on Saturday, Oklahoma State kicker Ben Grogan is the new career scoring leader at Oklahoma State. He tied former Cowboy kicker Dan Bailey's record with his first extra point of the day and surpassed Bailey on the first field goal of the day. Grogan currently has 383 career points.
UP NEXT
Kansas travels to Oklahoma to play the Sooners on Oct. 29.
Oklahoma State hosts West Virginia on Oct. 29.
---
---