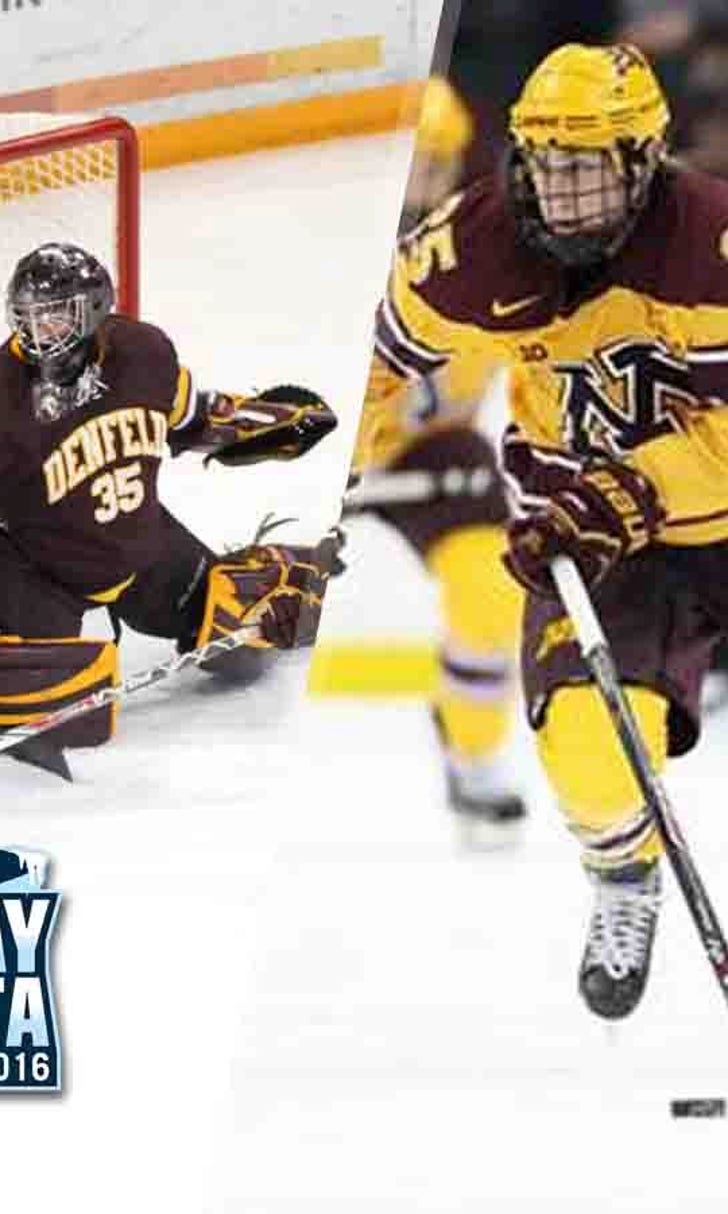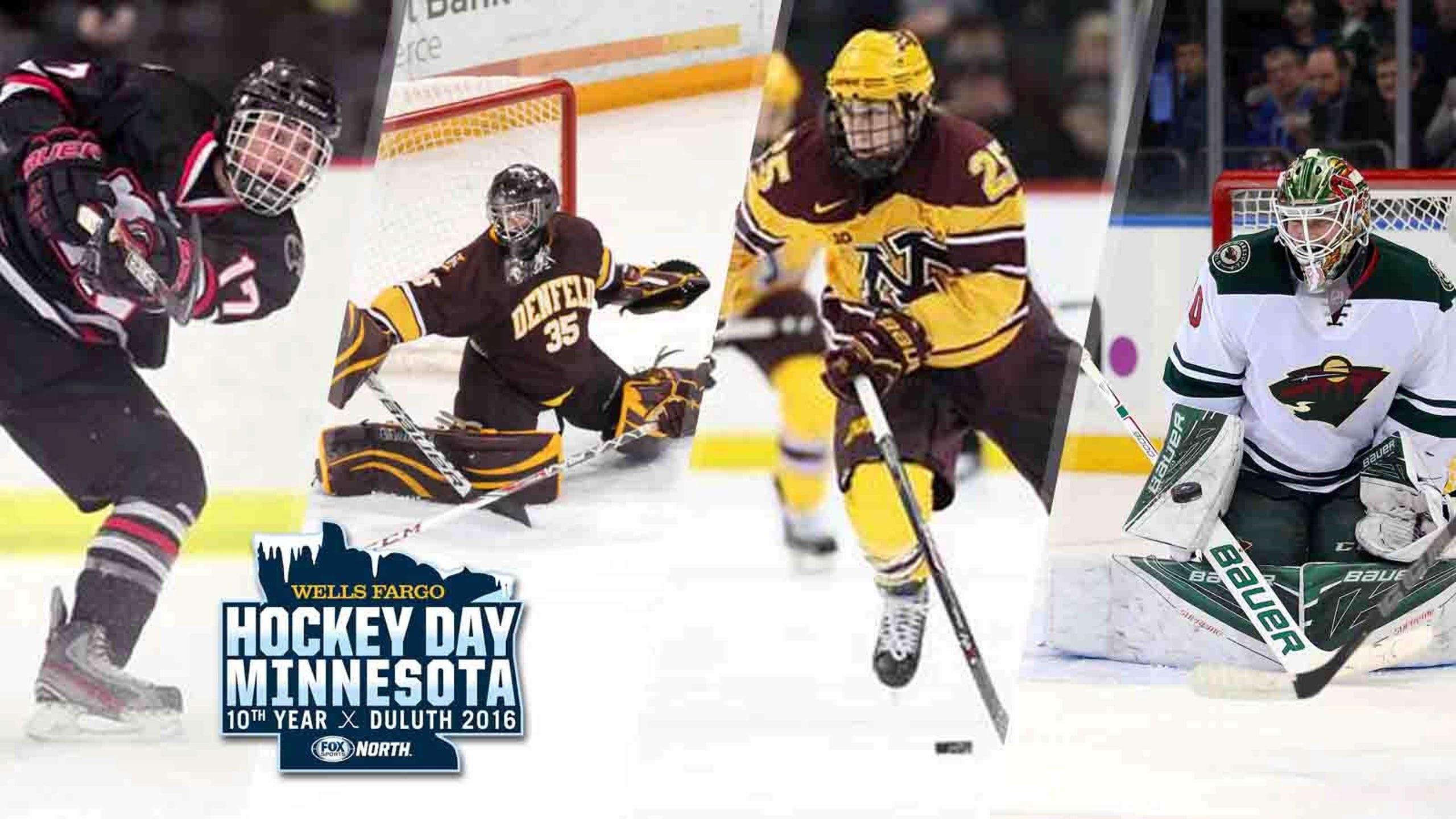 Hockey Day Minnesota 2016 preview
BY Ryan Lund • February 5, 2016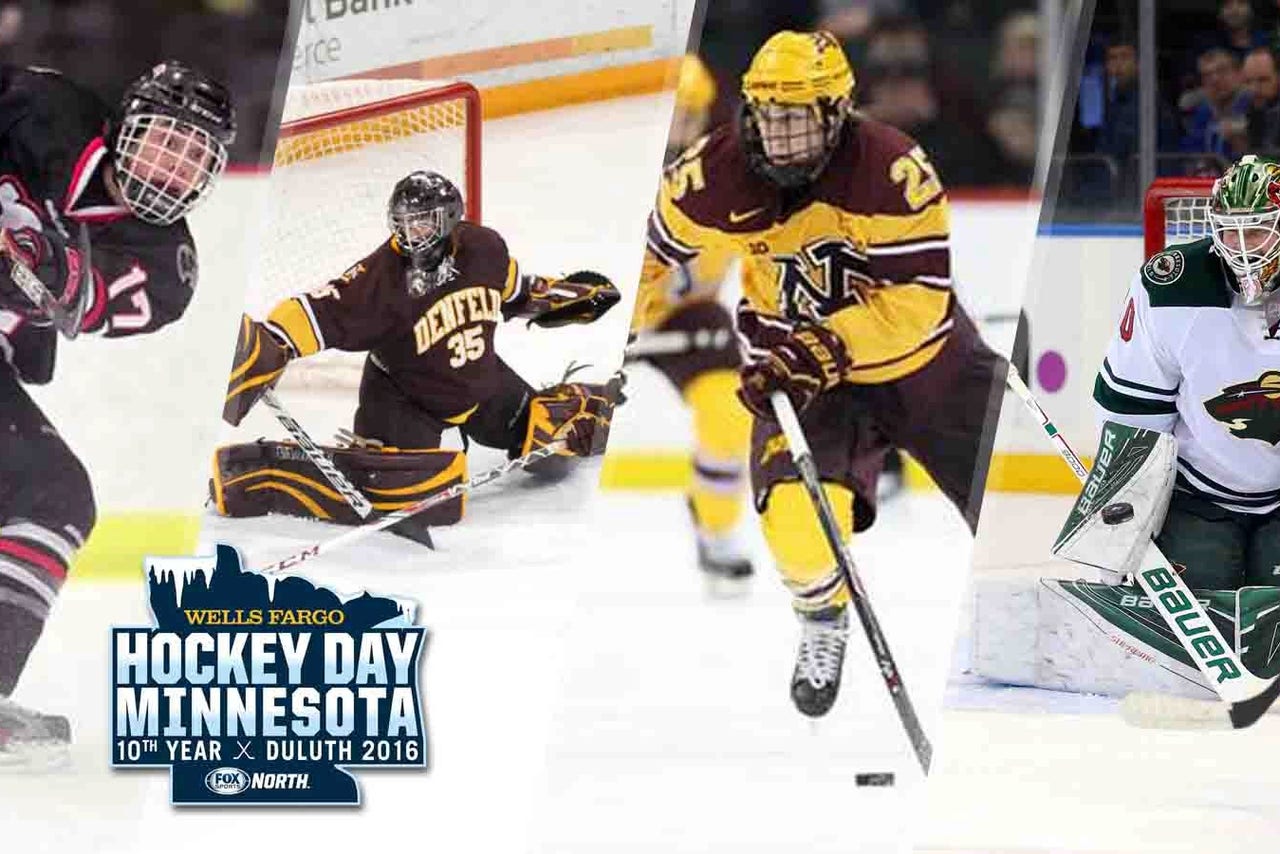 FOX Sports North is headed to Duluth for the 10th edition of Hockey Day Minnesota, where a pair of exciting high school matchups kick things off Saturday.
Duluth Denfeld and Eveleth-Gilbert are set to hit the ice alongside reigning 2A champ Lakeville North and runner-up Duluth East at Bayfront Park along frigid Lake Superior, where the forecast calls for mild temperatures and sunny skies.
But the Hockey Day festivities aren't limited to Duluth.
The University of Minnesota squares off with Big Ten rival Penn State at Mariucci Arena in the afternoon, while the Minnesota Wild and the St. Louis Blues close out Hockey Day with a Central Division showdown in St. Louis.
But before we head out, let's break down the action and preview this 10th edition of our State of Hockey celebration.
Duluth Denfeld vs. Eveleth Gilbert -- Bayfront Park, Duluth; 10 a.m.
Led by senior Kadin Ferguson's 11 goals, Denfeld snapped a four-game losing streak with a 5-3 win over North Shore on Thursday. The Hunters are now 4-6 in their last 10 games, and head into Hockey Day sitting at No. 2 in the Lake Superior Conference.
It's been a rough season for Eveleth, as the Golden Bears enter Hockey Day with just six wins on the season, following a 6-3 victory over Proctor on Jan. 29. Senior Nick Przybylski ranks 34th in the state in scoring with 45 points, and leads Eveleth in both goals (22) and assists (23).
Duluth East vs. Lakeville North -- Bayfront Park, Duluth; 1 p.m.
The Panthers take on the hometown Greyhounds in a rematch of last year's 2A state championship game, as Duluth East looks for revenge following a 4-1 loss in the finals. Just two of the goal-scorers from that game will be on the ice for the rematch.
Junior and St. Cloud State commit Ryan Poehling leads Lakeville with 44 points, while senior Max Johnson (Bowling Green) has 24 goals. At 15-5-1 this may not be the Panthers squad that went 31-0 a season ago, but with a dynamic defense that is allowing just 2.05 goals per game Lakeville is still primed for a deep playoff run.
At the other end of the ice Duluth East is rolling following a rough start that saw the Greyhounds post just six wins through the second week of January. They've since rattled off a cool eight consecutive victories, and head into Hockey Day nursing a 14-7-0 record. Sophomore Garret Worth heads up the Greyhounds' offense with 16 goals, while senior Ash Altmann's 36 points are a team high.
Gophers vs. Penn State -- Mariucci Arena, Minneapolis; 4 p.m.
The Nittany Lions visit Minneapolis seeking their first win ever win at Mariucci Arena, as No. 16 Penn State comes to town a shaky favorite over the unranked Gophers. Junior David Goodwin leads Penn State with 22 points, while goaltender Eamon McAdam has a .923 save percentage and nine wins on the season.
Meanwhile, junior Hudson Fasching (27 points) leads a Gophers squad that went winless in the North Star College Cup last weekend, leading an offensive attack that includes fellow junior Justin Kloos (26 points) and sophomore Leon Bristedt (26 points). Kloos has now scored in seven straight games, the longest such streak of his career.
Wild vs. Blues -- Scottrade Center, St. Louis; 7 p.m.
The Wild enter Saturday night's game looking to snap a four-game losing streak following a 4-2 road loss to the New York Rangers that saw Minnesota go up 2-0 early, only to surrender four unanswered goals. Winger Zach Parise leads the Wild in scoring with 17 goals but has just six strikes this calendar year.
Meanwhile, the Blues have been inconsistent since before the All-Star break, having scored just five goals in their last five games. St. Louis has come up empty on its last 23 power-play chances, despite solid production from wingers Vladimir Tarasenko and Alexander Steen.
---
---