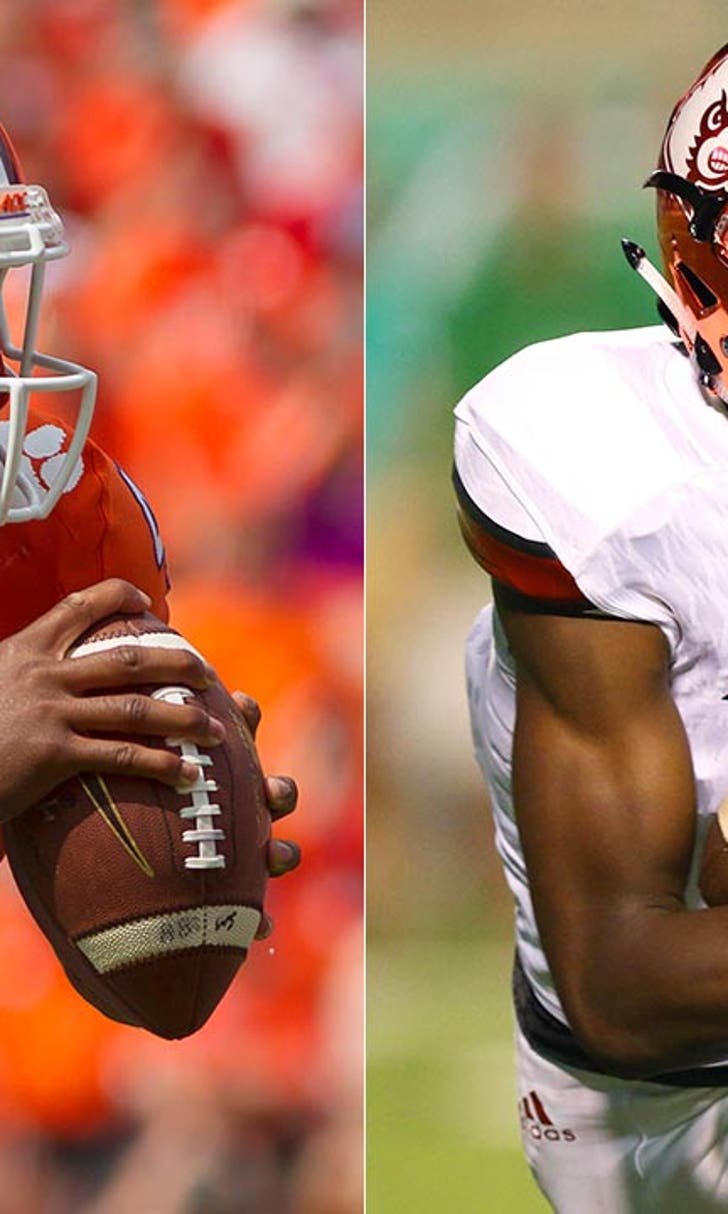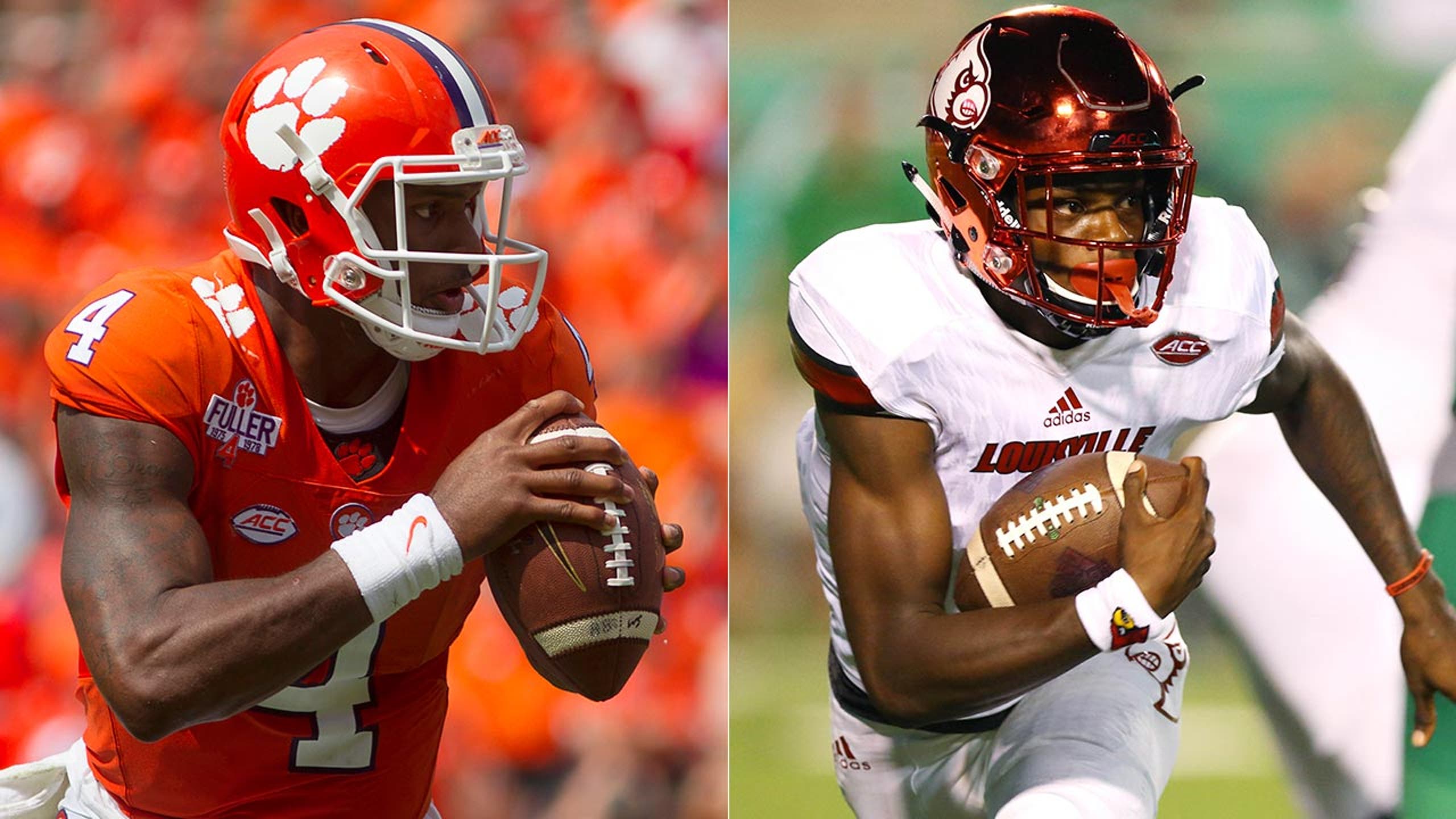 Heisman Forecast: Stage set for Heisman elimination game (for at least one contender)
BY foxsports • September 28, 2016
Regional biases played a part in last year's Heisman Trophy race, with Stanford's Christian McCaffrey penalized by some voters simply because he played games that started after they were already in bed.
It's a viable concern again, with the No. 7 Cardinal and No. 10 Washington playing at 9 p.m. ET this Friday, and then they play Washington State at 10:30 ET the following week.
But a potentially bigger factor for last year's runner-up -- who is second in the latest Heisman odds -- and everyone else chasing this award, is what could unfold Saturday night in Death Valley with No. 3 Louisville vs. No. 5 Clemson.
The Cardinals' Lamar Jackson has built a massive lead not only from his mind-boggling statistics (his 150 points responsible for off 25 touchdowns are more than 31 FBS schools), but by being the defining force in the biggest win of the season in the rout of then-No. 2 Florida State. Now, he has an opportunity to do it again vs. a team in the Tigers who played for the national championship a year ago and who are led by a a Heisman finalist from 2015 in Deshaun Watson.
Through wins over Charleston, Syracuse, the Seminoles and Marshall, Jackson and Co. have averaged 303 more yards than their opponents' defenses allowed coming in. Do that against coordinator Brent Venables' group, who are third in FBS in allowing just 218.5 yards per game, and it's going to be difficult for any contender to dethrone the sophomore quarterback.
Of course, there is the flip side in what might be a Heisman elimination game (at least for Watson). Being one of the few tests remaining on Louisville's schedule (though Nov. 17 vs. No. 6 Houston looms large), how much of a cushion has Jackson built up if he's outplayed by Watson? He can likely weather a bad/subpar outing here and remains a viable candidate, but could this serve as a spring board for Watson, who at 279 ypg of offense is well off his 347.3 of a year ago? Or is this the opening McCaffrey needs to sway attention out West?
Lamar Jackson has, four weeks into the season, made the Heisman race look like a race he got a mile head start on. Saturday night in Clemson, things could get a lot more interesting -- or depending on your perception -- a lot duller.
Before we dive into this weekend's projected Risers and Sliders, here's where the Forecaster's real-time ballot stands.
It would seem to be now or never for Watson's bid for a return trip to the award ceremony. During the Tigers' run to the College Football Playoff, he was 12th in FBS in pass efficiency (156.3) and led all Power 5 players in scoring (282 points). The follow-up, of course, has been much more subdued as he's 79th in efficiency (130.2) and 36th in scoring (54). The month of October could be his stage with Louisville this week and Florida State on the 29th. The Cardinals' 13th-ranked defense may be the best he and the Tigers see all season, and its a unit he could stand to make a statement against after tossing two interceptions in last year's 20-17 win in PapaJohn Stadium. During the first half of last week's win at Georgia Tech, Watson looked much more like his old self in throwing for 262 first-half yards. It was a confidence-building game that should pay dividends vs. Louisville.
Based on preseason polls, Stanford had five Top 25 teams for McCaffrey to feast on. The collapses of USC, UCLA, Notre Dame and Oregon have dwindled that figure, at this point, down to one: this weekend's opponent in No. 10 Washington. Second in FBS in all-purpose yards at 211.6 per game, producing at that level against a Huskies defense that's 15th in scoring (14.5) would be a strong move a night before Jackson and Watson face off (that is if voters stay up for it). A year ago, McCaffrey burned Washington for 300 all-purpose yards and two TDs.
He continues to lead the nation in punt return yards at 227 and is tied for the most tackles for loss at 9 1/2. From an offensive standpoint, though, Peppers has been limited to two carries for 24 yards. Getting him involved this week on a massive stage against eighth-ranked Wisconsin could be a major boost to his chances. Barrett is currently the King of the Midwest, but if anyone is in position to challenge the Buckeyes QB, it's Peppers.
He's going to get his. Jackson has simply been too spectacular in racking up 464 yards per game of offense. That being said, one of the Tigers' biggest strengths has been in liming the big plays. They've given up just three of 30-plus yards, which is tied for the third fewest in the country, and are facing a Cardinals attack that leads the nation in producing 25 such plays. But Venables may be the best defensive mind working today. Here's thinking he comes up with something to limit Jackson's otherworldly production.
Win against Stanford and Browning would position himself as a legitimate challenger to McCaffrey's stranglehold on the Far West voting region. He's third in FBS in passing efficiency (194.9), throwing two interceptions to 14 touchdowns on his 95 attempts, and the Cardinal pass defense is 77th (242.3) and UCLA's Josh Rosen just went for 248 yards against them. Browning's stat line, though has come against Rutgers (2-2), Idaho (2-2), Portland State (1-3) and Arizona (2-2). This is a chance for Browning and the Huskies to announce they've arrived, but is he ready to upstage McCaffrey?
The country's top rusher with 199.7 yards per game and 599 on the season, Pumphrey is on pace for 2,396 yards by the voting deadline. That would be the fifth-best season in history and 410 more than Alabama's Derrick Henry when he won the award a season ago. Since 2002, five players have gone over 2,000 yards and not made it to New York, the last being Indiana's Tevin Coleman in 2014. That being said, you have to go back to TCU's LaDanian Tomlinson in 2000 to find the last player from outside the sports's power structure to hit that 2,000-yard figure and earn an invite to the ceremony. With no Top 25 teams on the schedule, the numbers may be impressive, but he may not be able to overcome a lackluster slate of games.
Follow Cory McCartney on Twitter @coryjmccartney and Facebook. His book, 'Tales from the Atlanta Braves Dugout: A Collection of the Greatest Braves Stories Ever Told,' is out now, and 'The Heisman Trophy: The Story of an American Icon and Its Winners' will be released Nov. 22, 2016.
---
---