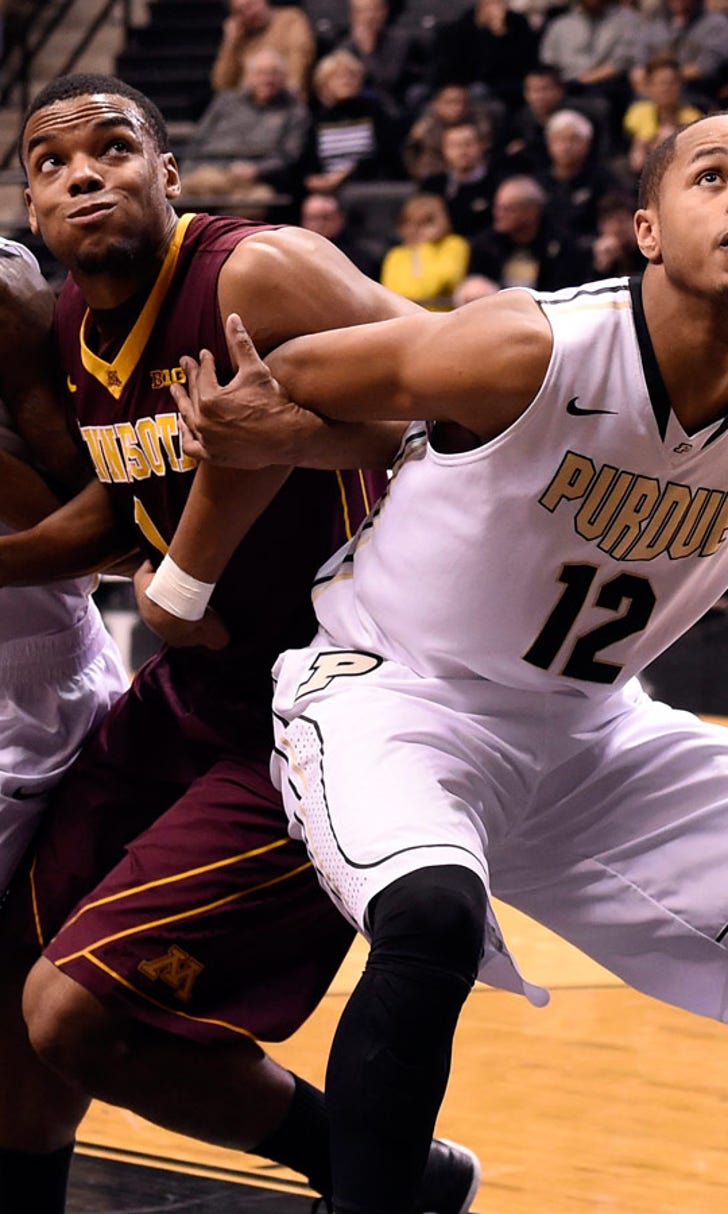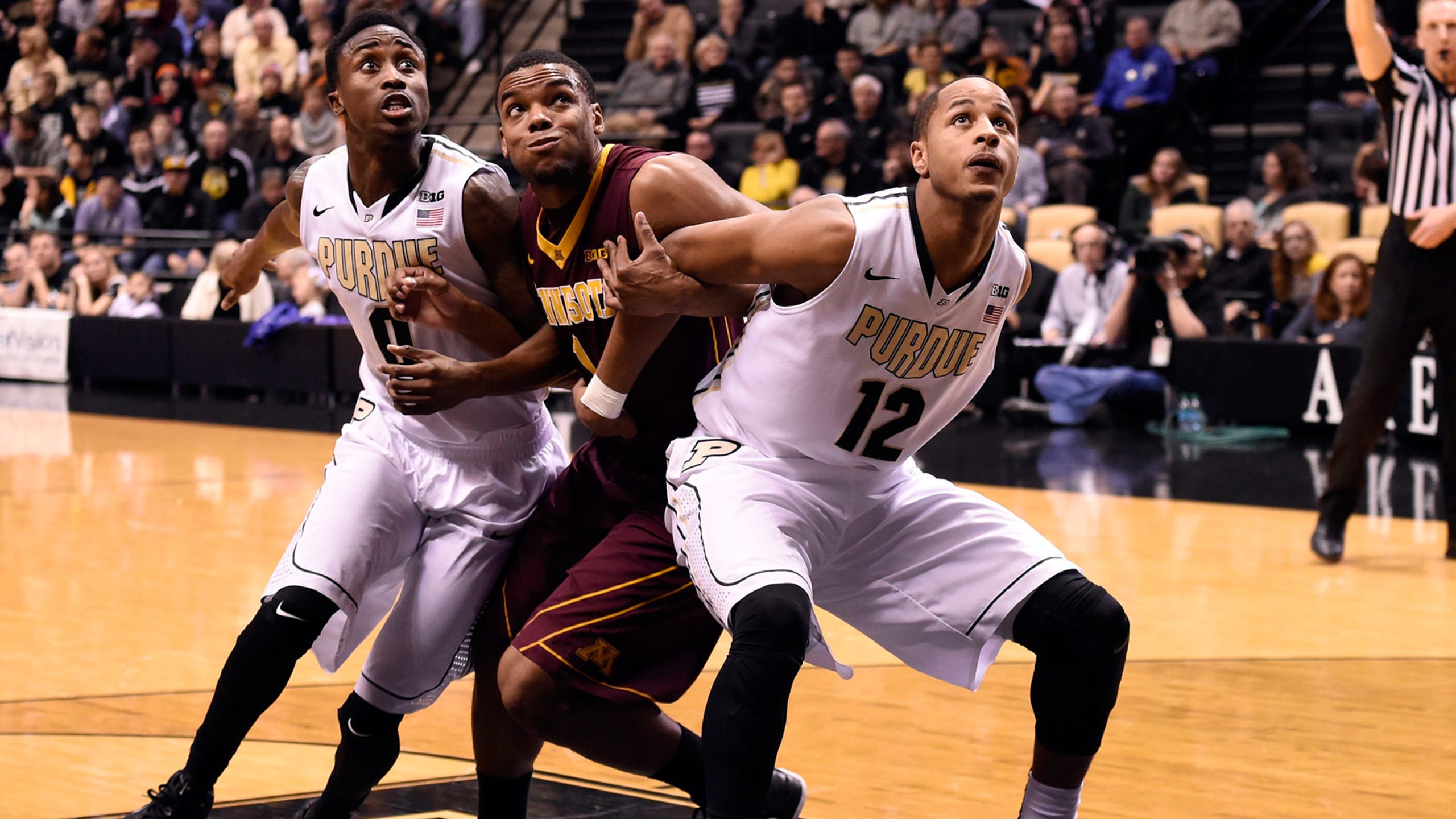 Gophers know they have to get physical with Purdue
BY foxsports • February 6, 2015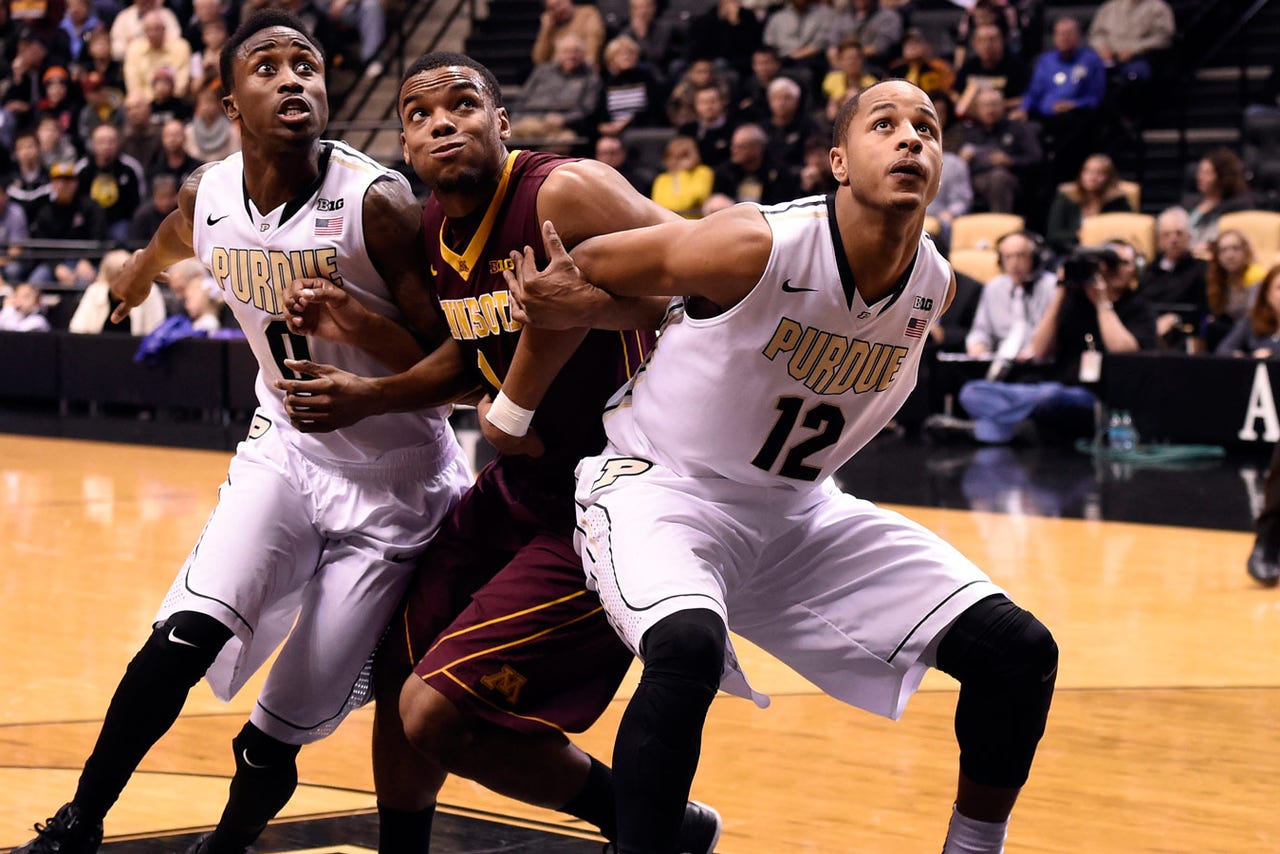 MINNEAPOLIS -- An impressive four-game winning streak has Purdue at 7-3 in the Big Ten entering Saturday's game against Minnesota, but few would argue the Boilermakers are the best team in the conference.
If you ask Gophers coach Richard Pitino, though, they do lead the conference in one category: physical play.
Minnesota found that out the hard way in its first Big Ten game of the season, a game in which the Gophers couldn't close out late and lost on the road to Purdue by a 72-68 final. Pitino's squad gets a chance to redeem itself after that late December game, but the Gophers will have to find a way to match the physical nature of the Boilermakers.
"They're the most physical team in our conference by far. It's not even close. They're so physical," Pitino said Friday. "I don't think that they have gotten the best of us in that. We're not an overly physical team, and they are, and we've done a good job of not backing down to that."
Purdue's roster is physical from top to bottom -- including its guards -- but much of that physicality that Pitino alluded to stems from the Boilermakers' big men. Junior center A.J. Hammons and freshman center Isaac Haas check in at 7 feet and 7-2. Hammons averages 6.1 rebounds per game and had 11 points and nine rebounds in Purdue's earlier win over the Gophers.
Haas is still coming into his own as a freshman but is an imposing force at 7-2, 297 pounds. The Gophers limited him in the 17 minutes he played against Minnesota, holding the big man to six points and three boards.
Since the first meeting between these two teams, the programs have gone in different directions. Minnesota has sputtered to a 3-7 mark in the Big Ten, while Purdue is now 7-3 after wins over Iowa, Indiana, Northwestern and Ohio State. The physicality that coach Matt Painter's team brings on a nightly basis is a big reason for the Boilermakers' success in the conference.
"I think that's a testament to their record in the Big Ten right now," said Gophers senior center Elliott Eliason. "They're out-toughing teams. They have two big, physical centers in the middle, some tough guards who get right into you and play tough defense and aren't going to back down. . . . It's definitely a challenge for us. We struggled at the end of the game there. We got out-toughed there at the end. We have to protect our home court and come out tougher this time."
Eliason will share the responsibility of trying to slow down Hammons and Haas in the paint Saturday, along with fellow center Mo Walker. Back on Dec. 31 in West Lafayette, Eliason came off the bench and played 13 minutes, chipping in just two points while grabbing two rebounds. His minutes have been limited since then. In fact, in half of the Gophers' 10 Big Ten games, he's played single-digit minutes. That included just one minute of action against Illinois and three minutes in Minnesota's first matchup with Nebraska -- in Eliason's home state, no less.
As a redshirt senior, Eliason admits it's been tough to go from starting 35 games last year to making just one start so far in his senior season while watching freshman Bakary Konate take some of his minutes. At the same time, Eliason has taken the transition in stride as Walker has emerged as Minnesota's starting center.
"It's difficult at times. I think the best thing is when you have good teammates and you have good support around you," Eliason said. "As a personal thing, you've just got to not give in. If you quit and stop working hard in practice, it's over and you're just done. You can't give in. I think we've kept fighting as a team and I've tried to keep fighting as an individual. I think that's why I've been able to play a little more lately."
Eliason did tally double-digit minutes in the Gophers' last two games. He played 14 minutes and scored six points while grabbing five rebounds against Penn State late last month, and played 10 minutes off the bench in a win over Nebraska.
Minnesota will certainly need Eliason to contribute once again as a reserve with a physical Purdue team coming to town.
"I give a lot of credit to Elliott because I was playing a freshman over him," Pitino said. "Players in the end, in my opinion, force you to play then. Everybody puts it on the coach. Players make you decide whether or not you play them by their performance in practice and their performance on the court. And Elliott just wouldn't let me play Bakary over him while healthy competition but teaching Bakary. He's been a great leader for us."
Follow Tyler Mason on Twitter
---