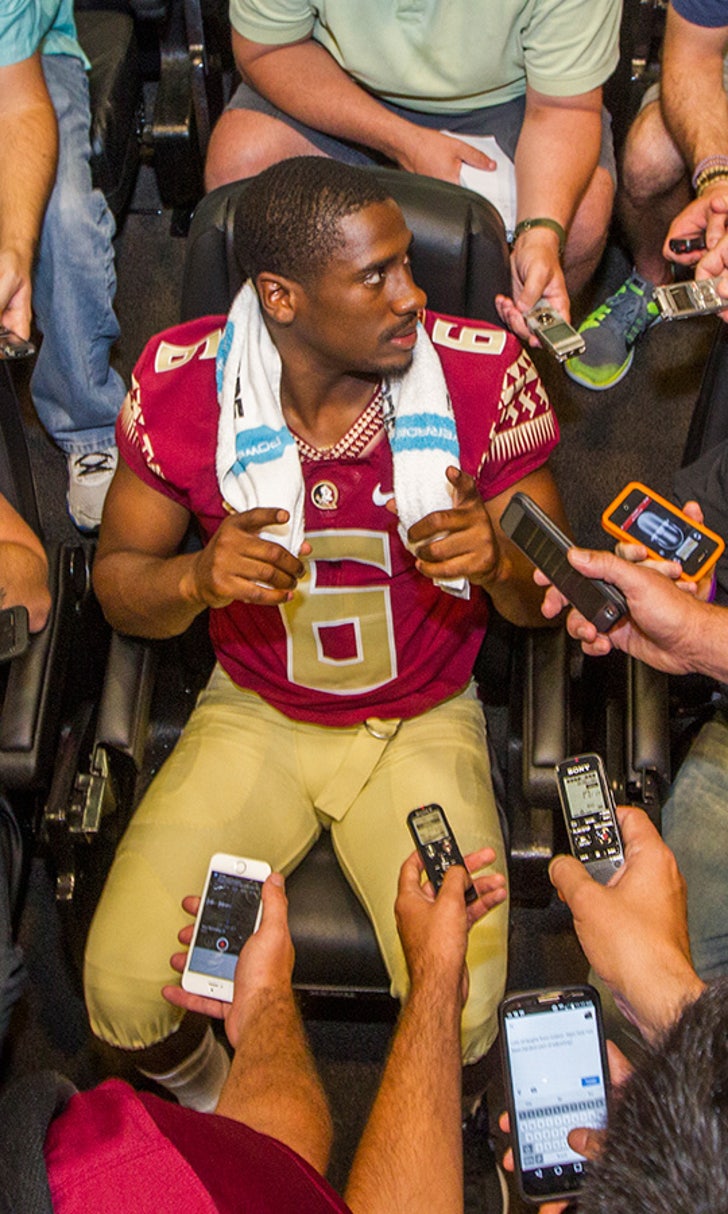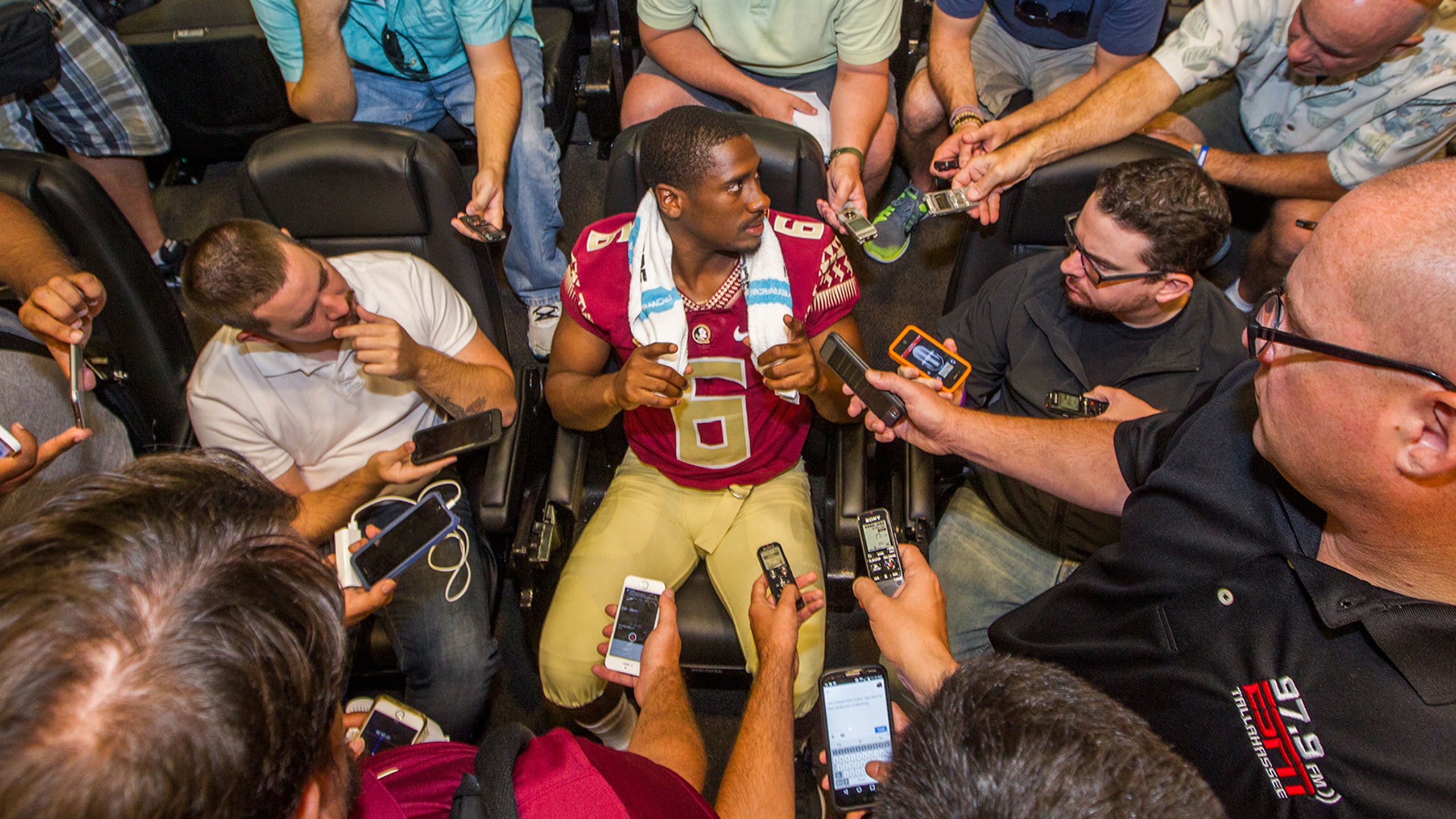 Golson's readiness tops five burning questions for Florida State
BY Cory McCartney • August 19, 2015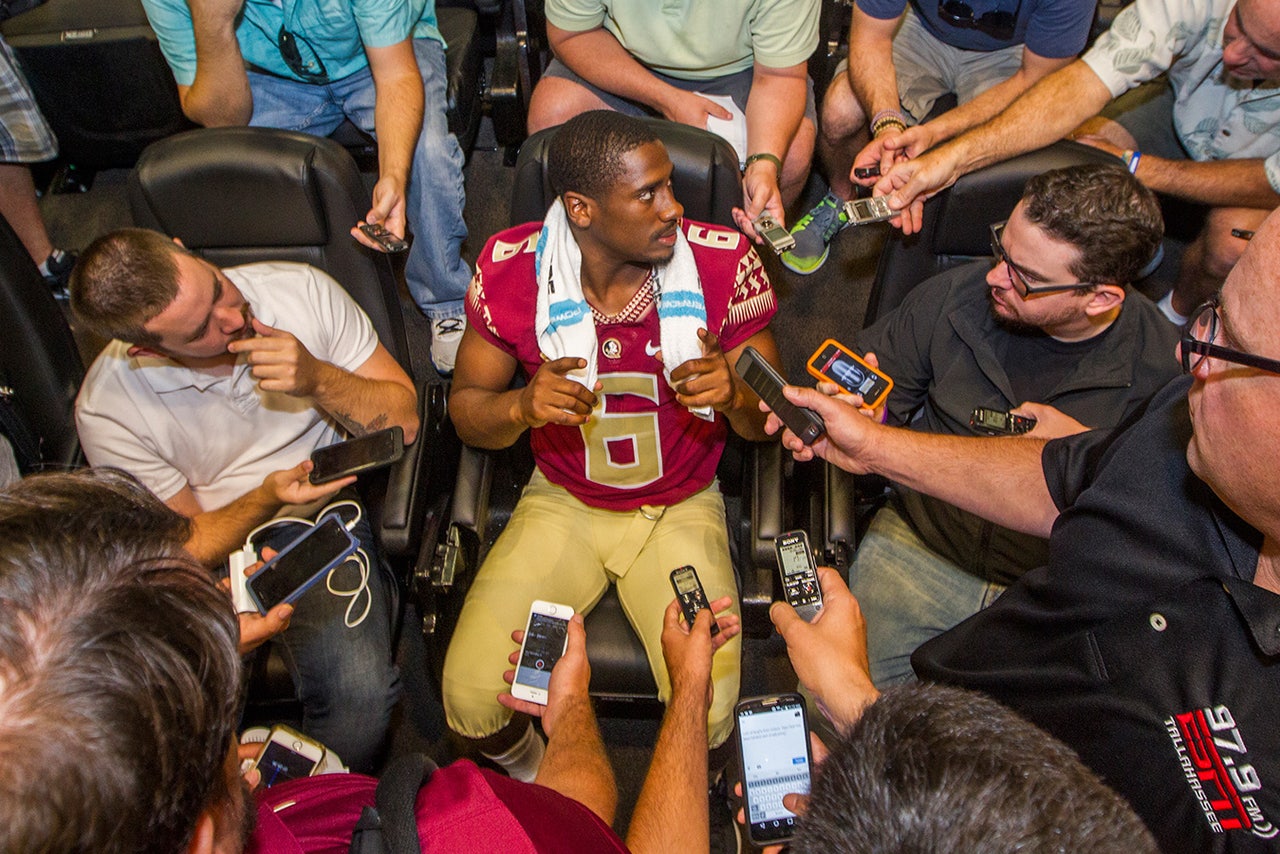 Jameis Winston and the circus that surrounded him are now in Tampa Bay, but for all the scrutiny he brought Florida State, he was also a Heisman Trophy-winning quarterback who amassed over 8,000 yards in two seasons. But despite the loss, the Seminoles remain well-positioned for another run at an ACC title and the College Football Playoff.
"I like the demeanor of this team," said coach Jimbo Fisher. "I think the chemistry is very good. I like the work ethic. I like the hunger."
In Fisher's five seasons, the Seminoles have finished no lower than second in the Atlantic Division -- in 2011 -- and in the last three years have shared or won the division outright.
Doing it again will likely rest with the answers to these five questions:
1. What to expect from Golson at QB?
A graduate transfer who was Notre Dame's quarterback in the final BCS Championship Game, Everett Golson gives Fisher an experience hand in replacing Winston.
He's threw for 5,850 yards and 41 touchdowns in two seasons in South Bend, but he's been plagued by inconsistent play with 20 interceptions, including 14 last season. Over his final five games of '14, Golson threw seven picks.
While Sean Maguire is still an option, outside of the Clemson game last season when he threw for 304 yards with Winston suspended, he attempted 10 other passes in '14.
Golson is the favorite, though he has plenty of catching up to do in learning the playbook. But will Golson be a steady hand at the controls? Remember, he was ultimately benched by Brian Kelly last season as he added eight fumbles to that career-high number of picks.
Uncertainty at running back will no doubt push Fisher to go with Golson, who has shown an ability to deliver with his legs as well with 581 yards and 14 scores.
2. Will Cook be available and if not, where do Seminoles turn?
Running back Dalvin Cook has bigger things to worry about right now than football, with a trial set for Aug. 24 as he faces a charge of misdemeanor battery for allegedly hitting a woman outside a bar. He's been suspended since July 11.
If he's found not guilty, he'll be eligible to be reinstated immediately and can play in the season opener vs. Texas State on Sept. 5 at Doak Campbell Stadium.
Cook opened eyes late last season, racking up 144 yards vs. Florida, 177 against Georgia Tech and put 103 on Oregon -- though he did have two fumbles -- to give him 1,008 yards and eight TDs. He was expected to be the workhorse, but if he's out, where do the Seminoles turn?
Early enrollee Jacques Patrick made a splash this spring with 81 yards on 16 carries in the spring game and the 6-foot-1, 232-pounder can bring size and a physicality to the ground game. But he'll be pressed by sophomore Johnathan Vickers and junior Mario Pender, though Pender has had trouble staying healthy, missing 33 of 42 games in his career with various injuries and a suspension.
3. Can the Seminoles generate a pass rush?
Florida State had two players in its defensive front go to the NFL in end Mario Edwards Jr. and tackle Eddie Goldman, yet the entire D had just 17 sacks last season, which ranked 114th in the nation. At 118th, South Carolina was the only Power Five school to rank lower.
One positive is that senior nose tackle Nile Lawrence-Stample -- all 6-foot-1, 302 pounds of him -- is back after appearing in just four games in '14 with a pectoral muscle injury suffered against Clemson. He'll also be joined by five linemen who have logged serious playing time.
They'll be leaning on the expertise of new defensive line coach Brad Lawing, who spent two seasons at Florida and has produced four first-round draft picks in the last three years.
Junior end DeMarcus Walker is being looked at as a potential breakout candidate after an improved sophomore year in which he started the final seven games and had 38 tackles, including 27 solo stops.
So, the question is, will the Seminoles be able to get to opposing QBs?
"I think we will," Fisher said. "I think we have more fast twitch guys. Style of defense, the way things go. Those are all things that you have to consider when you do that. In an offense you do what your players can do.
On defense you do what your players can do. You have to pressure the quarterback. That's something we must get better at."
4. Is a spot in history awaiting Aguayo?
From 2004-07, Texas Tech's Alex Trilca made 233 consecutive point after attempts. Robert Aguayo, the Seminoles' Lou Groza-winning, All-American kicker, who is the nation's active leader with 10.5 points per game, has a real chance to surpass him.
Last season, the redshirt sophomore made 55 of his 55 attempts -- and flirted with leaving for the NFL before coming back to Tallahassee -- and added with the record 94 out of 94 he hit in his first season, would need 85 this season without a miss to break Trilca's mark.
"To me, he's probably going to be one of the greatest in college football history," Fisher said.
Since 2000, 11 players have hit 100 or more PATs without a miss, with Northwestern's Jeff Budzien the last two do it.
5. The most important game on the season?
The schedule sets up nicely for the Seminoles, with a more than manageable non-conference schedule of Texas State, USF, Chattanooga and a Florida team in rebuild mode.
Everything for Florida State, in its division and CFP dreams, likely weighs on the Nov. 7 trip to Clemson. With only NC State to play in ACC play after that trip, the Seminoles -- who will be heavily favored in every other league game they play -- could all but cement a spot in the conference championship game should they drop Deshaun Watson and the Tigers.
Fisher has lost to Clemson just once in his tenure, falling 35-30 in a 2011 road game. That was the only time his Seminoles didn't win or earn a share of the Atlantic crown.
Follow Cory McCartney on Twitter @coryjmccartney
---
---