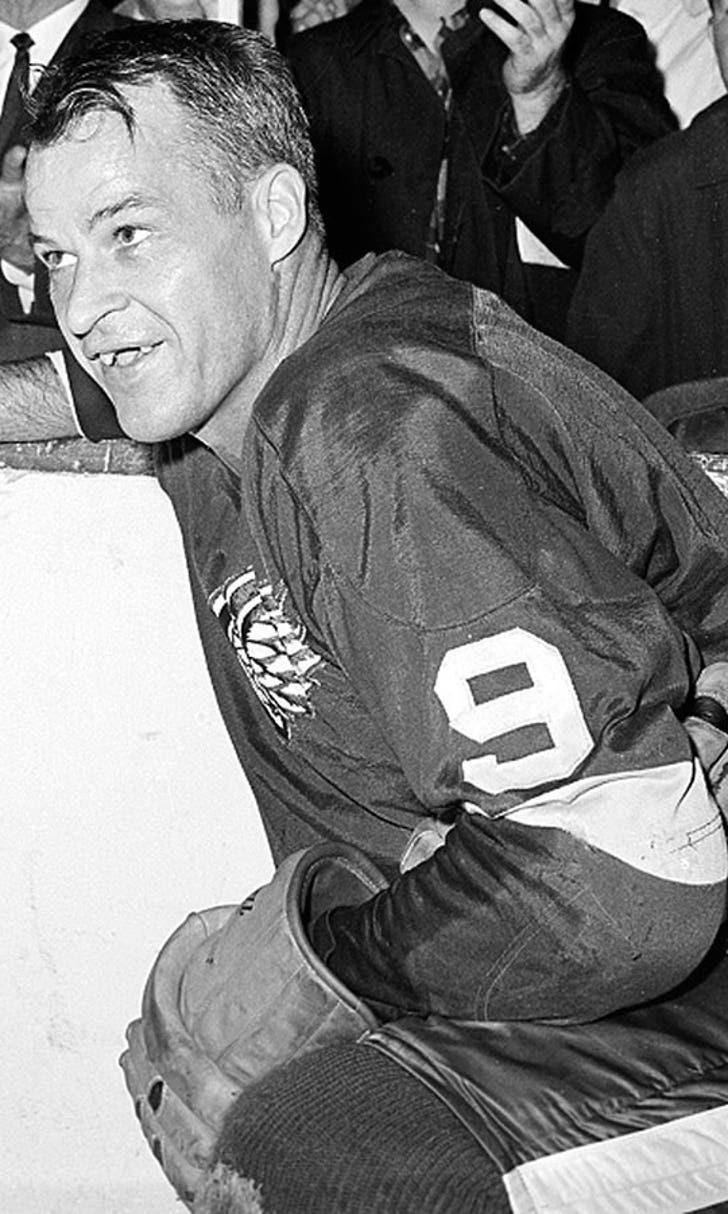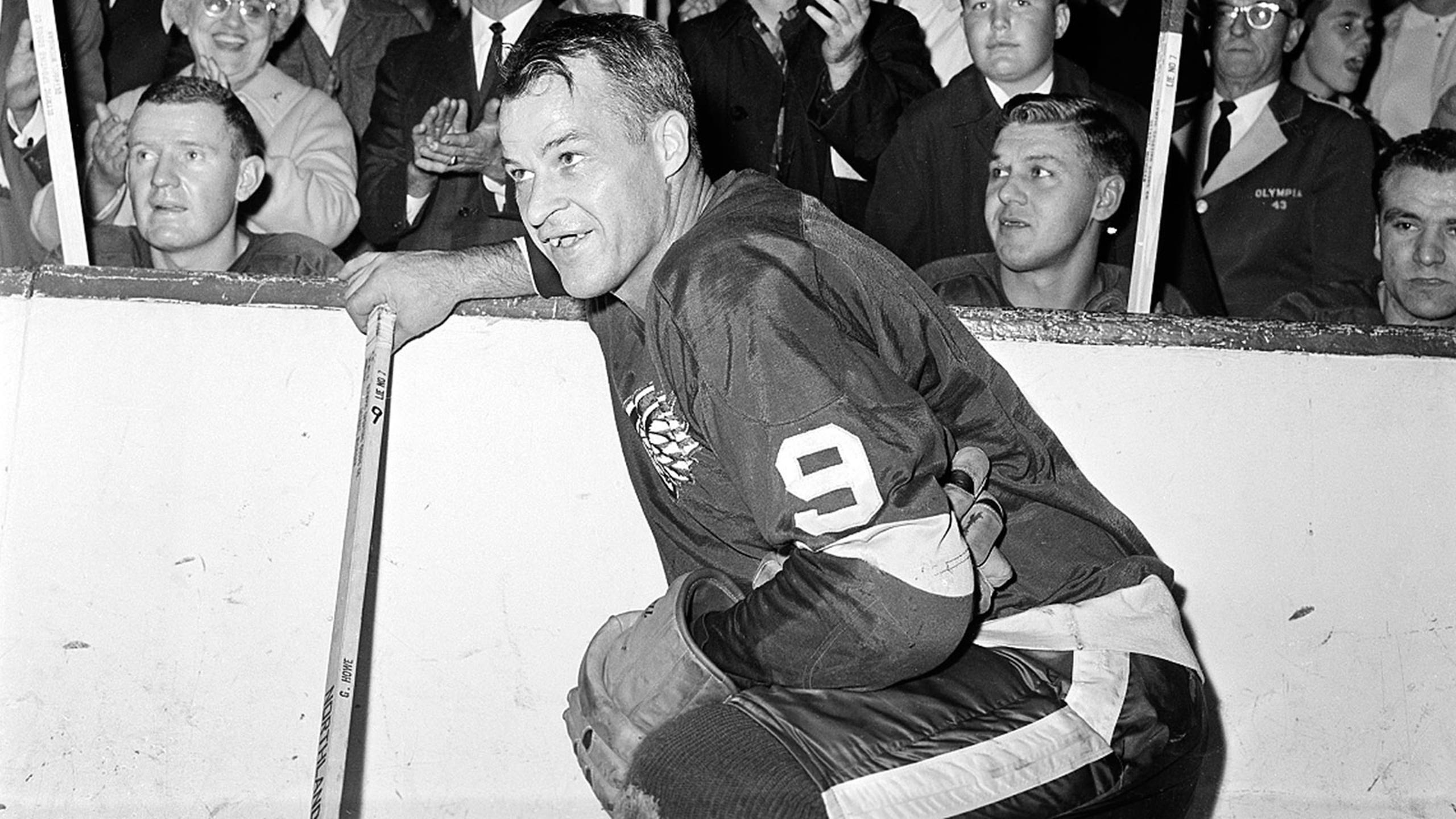 Gave: The two sides of Gordie Howe
BY foxsports • October 29, 2014
Gordie Howe had the puck on his stick back in his own zone when he heard a familiar voice calling for a pass.
"Dad . . . Dad!!" Mark Howe yelled, tapping his stick on the ice as he split the defense heading for open ice. And with the flick of his stick, the father head-manned the puck to his son -- a perfect, tape-to-tape pass that sent the younger Howe in all alone on a helpless goaltender.
Harry Neale stood behind the bench that night in the 1979-80 season, the inaugural NHL season for the Hartford Whalers. One of the game's brightest minds and funniest people, Neale has told that story a thousand times, always uncharacteristically somber and never without a tear in his eye.
Wednesday, the son is preparing to be at his father's bedside with the rest of Colleen and Gordie's kids, praying for the best but expecting the worst. Big Gord, No. 9, Mr. Hockey as he is best known throughout hockey-loving North America, suffered a stroke that left him badly paralyzed on his right side.
"It's going to be tough to recover from," said Dr. Murray Howe, Gordie's non-hockey-playing son. "I'd be surprised if he pulls out of it because it's such a severe stroke. God willing, he will."
Gordie Howe has been living in recent months with his daughter, Cathy, in Lubbock, Texas, where he has received around-the-clock care as his health deteriorated. He is 86.
Howe put Detroit on the hockey-playing map in the 1950s, leading the Red Wings to several Stanley Cup titles while piling up more goals and points than anyone in the history of the game until a kid named Wayne Gretzky came along.
More than a gifted scorer and playmaker, Howe was one of the most feared players in the game, and opponents gave him -- and his teammates -- a wide berth when he was on the ice. Score a goal, earn an assist, get in a fight? For the better part of 60 years, that's been known as a Gordie Howe hat trick.
He played 25 seasons in Detroit, retired for two years and then returned to the game with the Houston Aeros of the newly formed World Hockey Association, for the chance to play with his sons, Mark and Marty. He played four years in Houston before joining the Whalers for three years, the first two of which came when Hartford was still in the WHA.
One of Howe's greatest disappointments was not getting to play with both his sons in an NHL game. Mark went on to join his father in the Hockey Hall of Fame, but Marty played just 197 games over six seasons with the Whalers and Bruins in the NHL
Gordie became a fixture around Joe Louis Arena in the twilight of Mark's career, which ended with the Red Wings. And one of the thrills of my life was sitting in the press box at the Joe and feeling a sharp nudge that nearly knocked me off my stool. As I looked over my shoulder to see where it came from, I saw Gordie walking by, smiling. I could only imagine how an opponent felt when he used that elbow with ill-intentions.
But my fondest memory of the greatest player in National Hockey League history came far away from a hockey rink -- in the middle of summer. We were in Grayling, three hours north of Detroit, where we'd just watched the start of the 120-mile Grayling-to-Oscoda Canoe Marathon. My wife, Jo Ann, and I were standing in line at the local Dairy Queen with our dog, a big, fluffy Great Pyrenees.
We were talking with friends when I happened to look behind us. There, on his knees, was a man whose shock of white hair matched the dog's, and Gordie was petting her with both hands and whispering softly into her ear the way a 7-year-old boy would.
The Howe family spent a lot of time in that part of the state. Gordie and Colleen, who died in 2009, owned a home on Bear Lake, just down the road from Grayling. They raised their kids up there in the summer times.
While Gordie was petting the dog, then posing for pictures and signing a few autographs with that perfect penmanship Colleen taught him, Murray was in line getting the ice cream. We talked for several minutes, shook hands and went our separate ways.
On the way home, I couldn't help but think I'd just crossed paths with the greatest athlete Detroit has ever seen. My dog, on the other hand, only knew she had just encountered an extraordinarily kind man.
In fact, Gordie Howe is both.
---
---