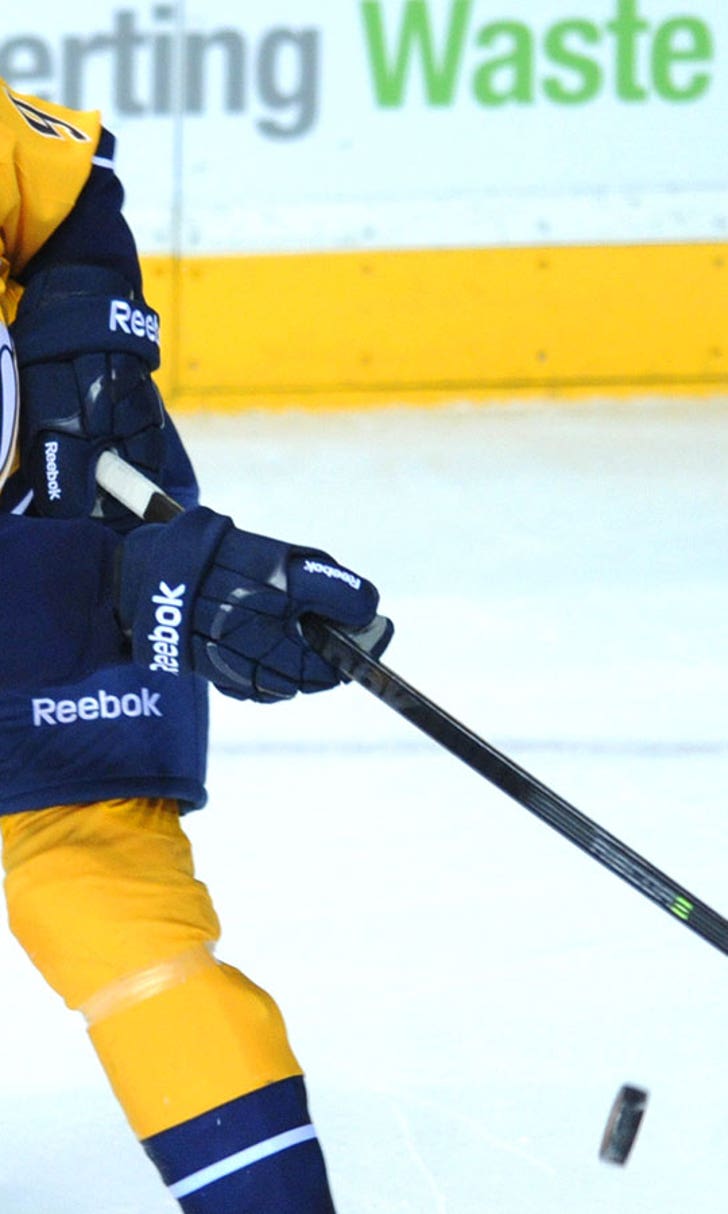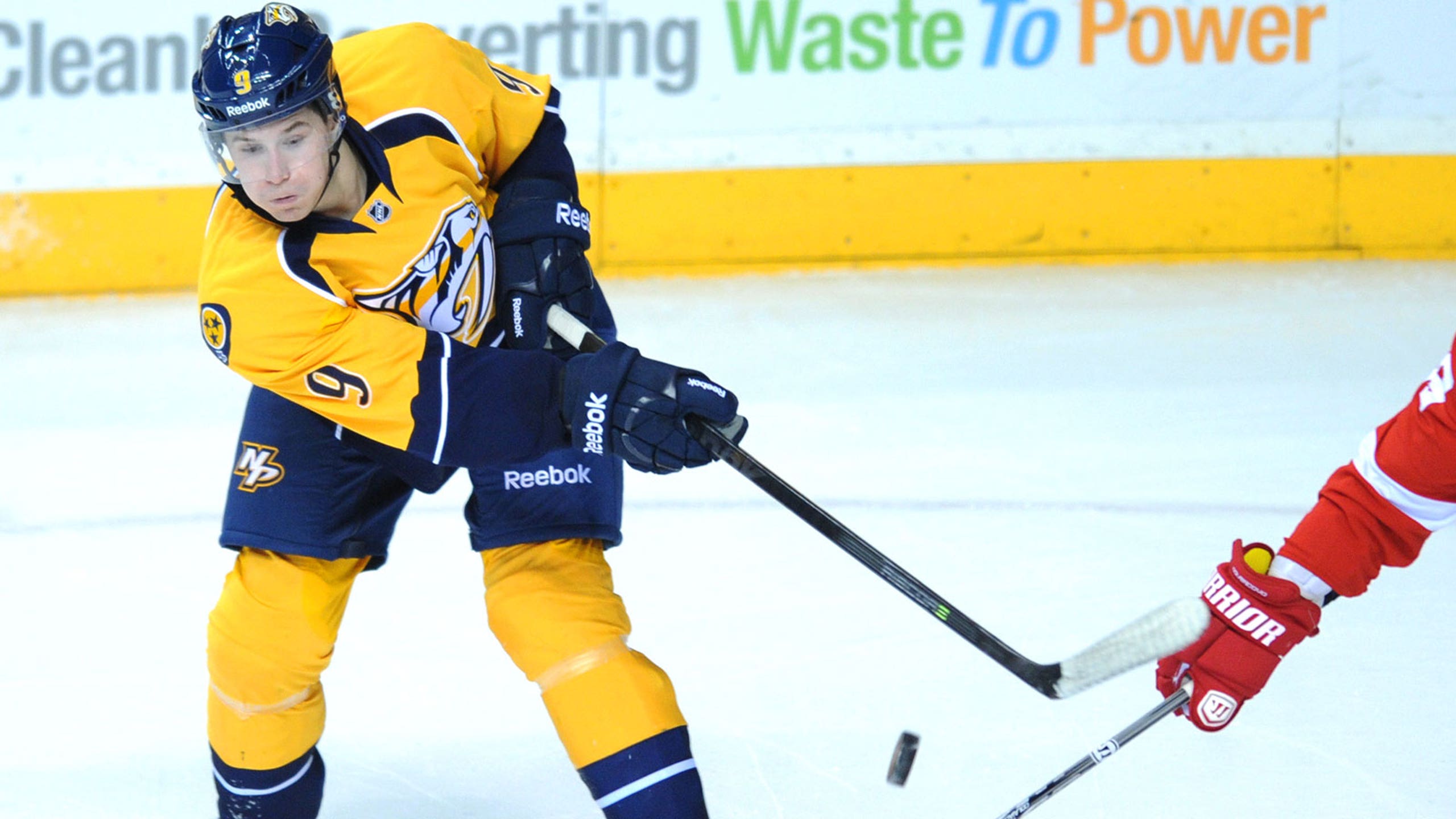 Forsberg living up to 'phenom' hype with winning Preds
BY foxsports • October 22, 2014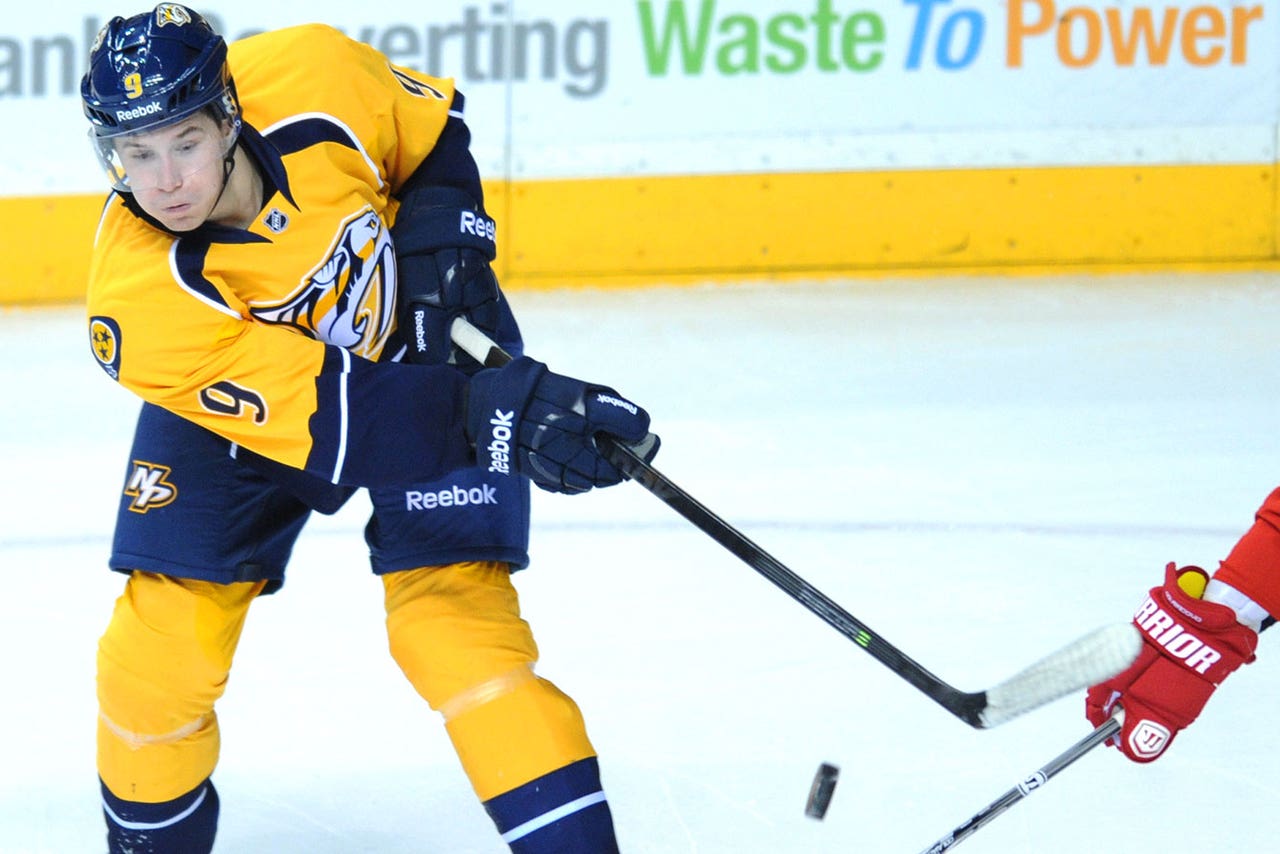 NASHVILLE, Tenn. -- Barely 20 years old, Filip Forsberg finds himself running on the top forward line of a Predators team that currently stands atop the Western Conference standings (tied with the Anaheim Ducks).
Granted, it's early for the Predators (4-0-2) and the budding career of Forsberg, whose tag of potential scoring phenom has followed him all the way from Sweden, after being the Washington Capitals' 2012 first-round draft pick (11th overall).
But early returns already have the first line centered by veteran Mike Ribeiro and flanked by wingers James Neal, the former Penguins' scoring ace, and Forsberg as a main reason the Predators have garnered 10 of a potential 12 points through six games.
That includes the Preds' 4-3 shootout win over the Coyotes on Tuesday, preceding high-profile visits from the Blackhawks (Thursday) and Penguins (Saturday).
"We're leaving it alone right now," Predators first-year coach Peter Laviolette said of the first-line trio. "It seems to be generating chances on offense."
Through Tuesday, Forsberg leads the team in plus/minus ratio (+7) and shares the team points lead with Ribeiro (5).
Forsberg is also tied for the team lead with four assists with veteran center Derek Roy, who's been anchoring the second line that had Forsberg the first two games and forwards Craig Smith/Colin Wilson the last four.
League-wide among rookies, Forsberg leads in plus/minus ratio and assists. His five points (one goal, four assists) are tied for second behind Kings rookie Tanner Pearson (7).
"They are two of the most-skilled guys in the league," the 6-foot-1, 200-pound Forsberg said of being on the same line with Ribeiro (three goals, two assists) and Neal (two goals). "I am just trying to catch up with them, be as good as I can and try to be ready and get the puck and feed them with some pucks, too. So, it's been working good so far."
After scoring 88 goals the past three seasons for fifth-best in the NHL, Neal was traded on draft day by the Penguins for forwards Patric Hornqvist and Nick Spaling.
After having the final three years of his contract bought out by the Coyotes, Ribeiro signed a one-year deal with the Predators. His 431 assists since start of the 2003-04 season are eighth in the league.
Ribeiro and Neal have been reunited from their days together with the Stars from 2008-11, and Forsberg seems to be a nice fit to the puzzle for a scoring-starved franchise.
"He has been great," Ribeiro said of Forsberg, who recently became the first Swede to be named most valuable player at the World Junior Championship while captaining his country to a silver medal. "He's a guy who can hold onto the puck. He can make plays and create his own chances, too.
"He's been good on his first few games when Roy's in the middle, and he's been great with us, too. So, he's a great player, a smart player, and now it's keep creating offense for the team and create chances."
Ribeiro said it doesn't matter that Forsberg turned 20 years old just two months ago. After playing the first 11 games with the Predators last season, Forsberg played 47 games at Milwaukee, the club's top minor-league team in the American Hockey League.
"Nowadays, the league is younger," said Ribeiro. "And guys that age can play now and do well. Obviously, if he is only 20, that's a good thing for us. He is going to grow up from now on and learn the game a little bit more. Up until now, everything has been great."
It has been quite a whirlwind for Forsberg since being traded to the Predators in early April of 2013.
Still, 18 years old and yet to graduate from high school, he was back in Sweden just hanging out with friends when he got the call that he had been traded to the Predators for forwards Martin Erat and Michael Latta.
Eleven days later, the world juniors and Swedish leagues star made his NHL debut several weeks before walking the line to accept that high school diploma. At age 18 years and 244 days, he became the third-youngest player to play for the Predators
"It was pretty cool," Forsberg said of the opportunity to make his NHL debut with Nashville at the close of the 2012-13 season after the team was already out of playoffs contention. "Obviously, it was a dream coming true to play my first NHL game, especially before I graduated high school. It was a great opportunity for me to come over here.
"Nashville was out of the playoffs, and it was five games that didn't mean anything in the standings, but it was a great opportunity for me to get to know that staff and a bunch of the guys and then go back and finish school."
Forsberg's real hockey schooling was soon to come, however.
After starting last season with the Predators and scoring five points in 11 games, including his first NHL goal against Minnesota, Forsberg was sent to Milwaukee.
For the Admirals, Forsberg was fifth in goals (15), tied for sixth in points (34), tied for first in power-play goals (seven) and second in points per game (.72). But he struggled to adjust to American way of life, eventually calling it a tough year with quite the learning curve, both on and off the ice.
"It was a hard season last year," Forsberg said. "But looking back at it now, I really think I learned a lot and being how to play here in North America. I also learned how to live here. It's a way different style of life over here. I really learned a lot last year in Milwaukee."
This year, though, he was not only bound and determined to make the Predators' roster out of training camp, but have an impact offensively. After being bumped to the front line alongside Neal and Ribeiro by Laviolette, Forsberg apparently has found a home this season with the Predators, who have high hopes on a long-term basis for his scoring prowess.
"I don't want to be one of those guys that comes in every day and just starts throwing names around the board," Laviolette said of mixing and matching line pairings. "It's too easy to do that. I think there is some chemistry with our lines. Our guys have worked hard with each other to figure each other out.
"Like I said, the looks are there, and the opportunities are there, so that (first) line is going to stay."
The Predators wanting and needing Forsberg to score early and often suits him just fine.
"I have always been an offensive player," Forsberg said. "Obviously, this is a way tougher level than I have ever played at. But I'm just trying to keep playing hard and be the player that I am.
"When I have the puck, I try to make something happen. With the linemates that I've got, we have a good chance of doing that."
---
---