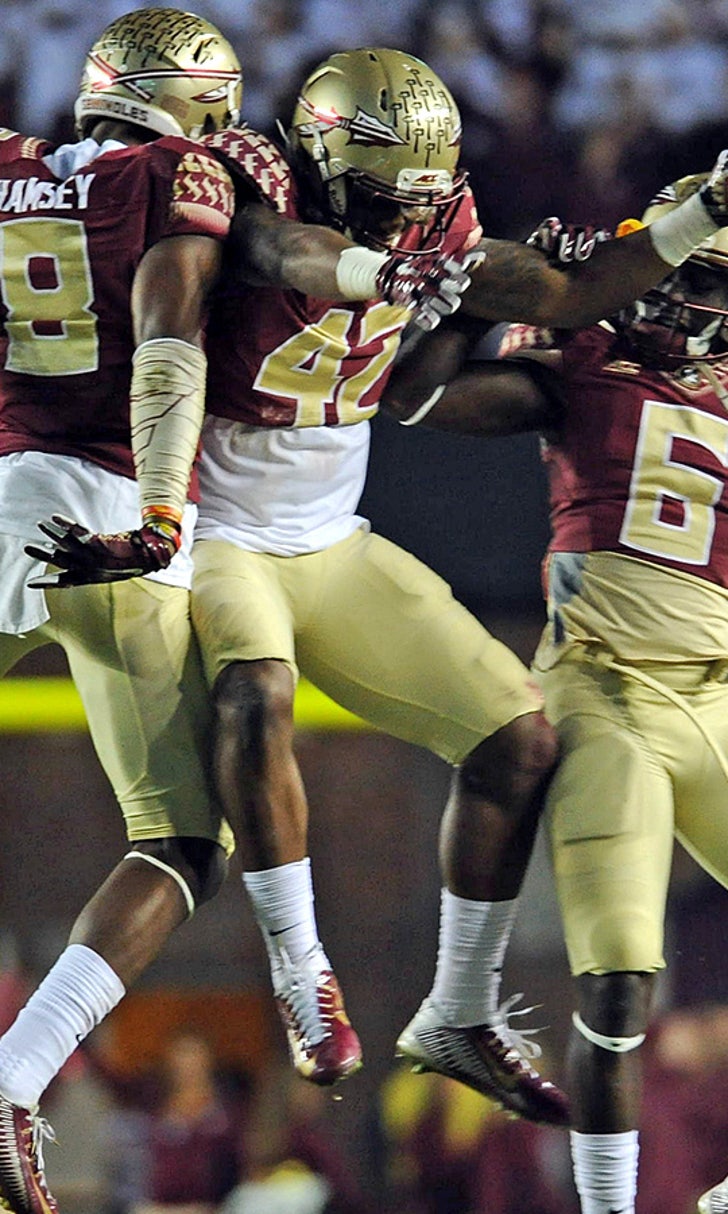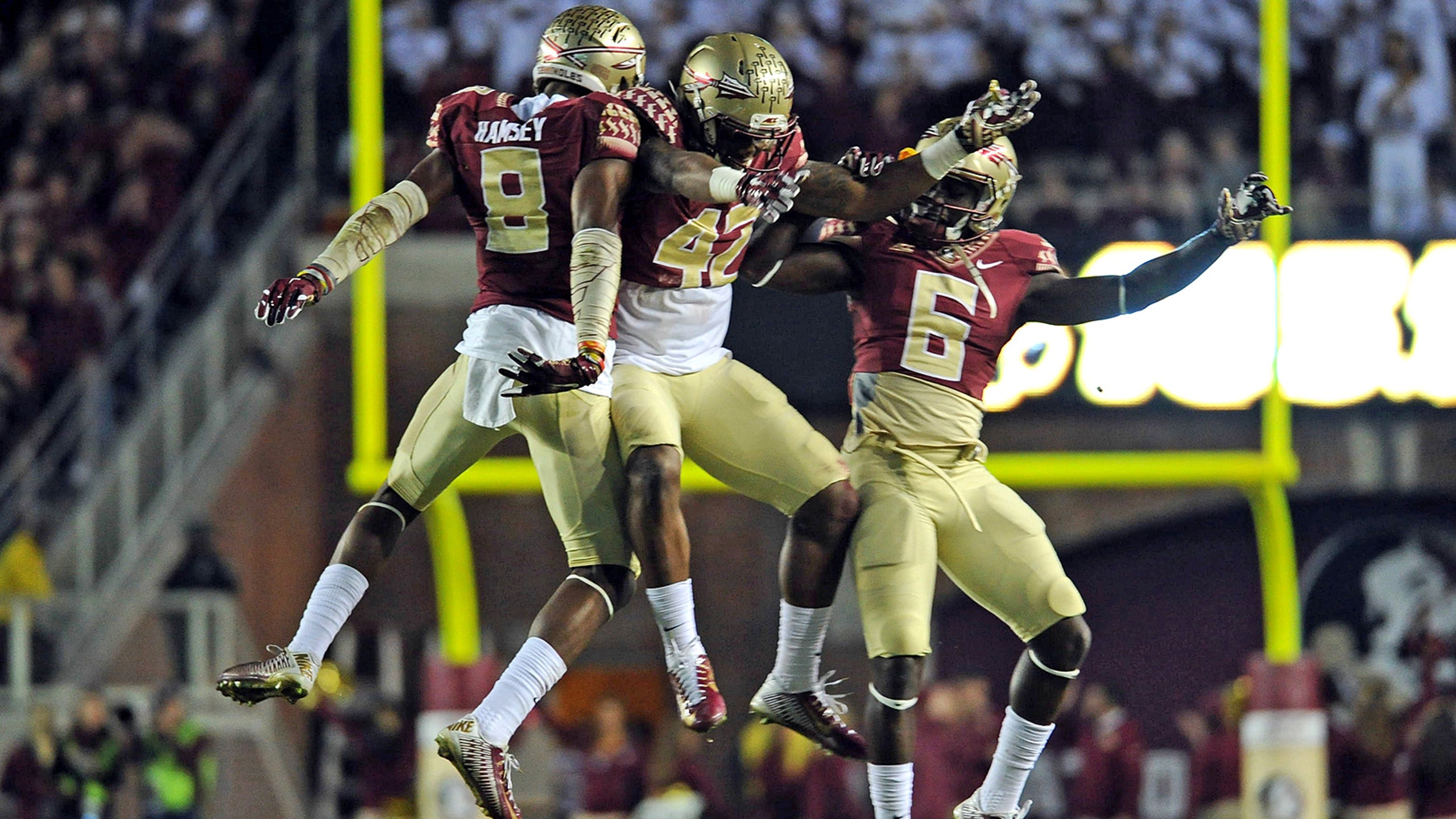 Florida State Seminoles: Five players to watch in 2015
BY Zach Dillard • August 22, 2015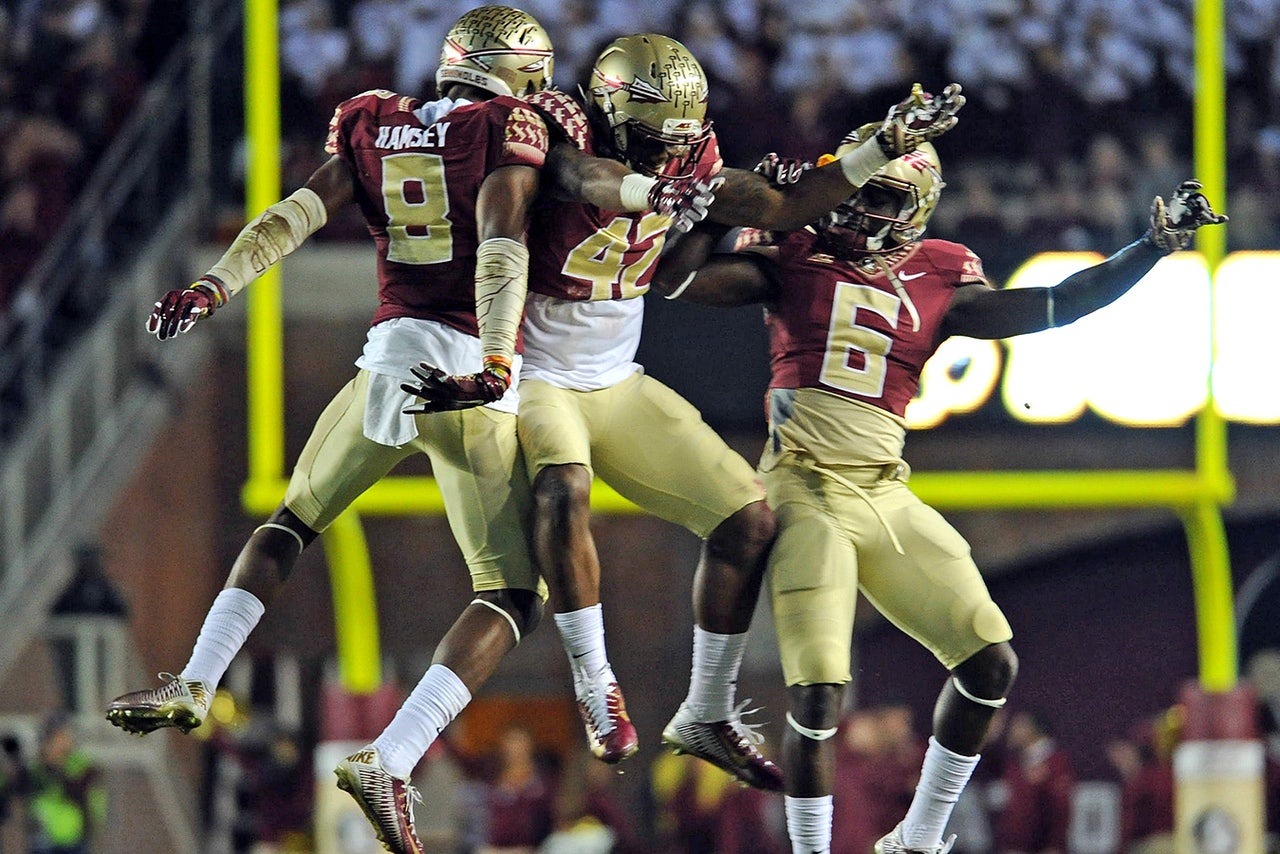 The Florida State Seminoles have won 29 of their past 30 games and recruit better than any team in the Atlantic Coast Conference, and yet the defending conference champions enter the 2015 campaign as underdogs.
Considering the exodus of NFL-bound talent over the past two years, including 2015 No. 1 overall pick and former Heisman winner Jameis Winston, and Clemson's upside with sophomore superstar Deshaun Watson, the Tigers' place at the top of the preseason poll is understandable. The Seminoles have question marks on both sides of the ball -- and that's going on the assumption that standout sophomore running back Dalvin Cook plays.
Still, Jimbo Fisher's coaching staff has stocked the program with four- and five-star talent in recent years. Few programs nationally are better prepared to replace 11 NFL Draft picks. Here are five players to watch during FSU's upcoming title defense:
Ramsey is embracing a change of scenery this season. After two All-America seasons in Tallahassee, the 6-foot-1 Ramsey is transitioning back to cornerback following the team's losses of 2014 starters P.J. Williams and Ronald Darby. It's a significant move for one of the nation's top defensive backs, a potential first-round pick at either corner or safety should he choose to forego his senior season, but with experienced safeties Nate Andrews and Tyler Hunter returning the move makes sense.
Plus, Ramsey seems capable of handling just about anything thrown his way.
"I feel like there's nothing that I can't do as a defensive back. I play every spot in the secondary since I've been in college. I know the whole defense," Ramsey said at the ACC Kickoff. "I feel like I can do it all. That's just me personally. That's the confidence I have in myself."
There were high expectations from the beginning. During the 2013 national championship season the rising junior became the first true freshman to start at cornerback since Deion Sanders. Ramsey's now started 28 consecutive games, making plays all over the field -- he's posted three interceptions, 12 tackles for loss, 13 pass breakups and four forced fumbles through his first two seasons. Assuming he stays at the boundary corner position throughout the 2015 season, those individual numbers could drop off as opposing quarterbacks simply refuse to throw in his vicinity.
Florida State's defensive efficiency plummeted last season, particularly against the pass. With Ramsey potentially taking away one side of the field, the Seminoles should expect improvement despite personnel losses.
The Seminoles' passing game is not only looking for a new quarterback, but also a new supporting cast on the outside. Over the past two years, three of Winston's favorite targets -- Kelvin Benjamin in 2014; Rashad Greene and Nick O'Leary in 2015 -- have made their way onto NFL draftboards, leaving behind a sizable hole. Greene and O'Leary led the Seminoles in receiving last season, amassing a combined 147 receptions and 1,983 yards.
For Florida State, it's simply a matter of reloading.
The Seminoles' sophomore class features two ultra-talented targets in Travis Rudolph and Ermon Lane, two of the top six receivers in the '14 recruiting class. Playing alongside slot juniors Jesus Wilson and Kermit Whitfield, both second-year guys can expect increased workloads in Year 2. And while Lane was the higher-rated recruit, the 6-foot-2 Rudolph earned more playing time out of the gate --" and he's the preseason favorite to be the new No. 1 option this fall.
Rudolph caught 38 passes for 555 yards and four touchdowns as a true freshman. Though he'll need to improve his catch efficiency (he posted the lowest catch rate among returning Florida State receivers), a healthy Rudolph should be able to cut down his drops and challenge for a 1,000-yard season.
Golson's followed a winding path to Florida State and the final leg of the journey involves replacing arguably the best quarterback in school history. To recap his career to date:
Golson was one of the top graduate transfers available during the offseason after posting 3,445 passing yards and 37 total touchdowns in 12 games last season. There were low points and turnovers and the negatives that come with the territory of a disappointing season under the microscope, but a quarterback with two years starting experience that has played for a national title is bound to be a hot commodity. The 6-foot playmaker's choice of Tallahassee raises the level of expectations for a program transitioning from a terrific run of on-field success (despite the swirling controversy).
Golson's turnovers will be a topic of conversation after throwing 14 interceptions and losing eight fumbles, but it's not as if the Seminoles are not accustomed to the issue.
Winston was picked off 18 times in 2014, the worst mark among the 39 FBS quarterbacks that passed for at least 3,000 yards last season. Receivers like Travis Rudolph have taken the blame for cutting off routes on a few of those turnovers, but overall the season was a far cry from Winston's Heisman-winning efficiency during the title run. The aforementioned receiving corps should be in good hands, so as long as Golson keeps making plays with both his arm and legs the Seminoles should put up some points.
One key note: The running game is in a place of uncertainty given Cook's pending eligibility -- though, in the grand scheme of things, it's difficult to complain with junior Mario Pender and incoming five-star freshman Jacques Patrick functioning as secruity blankets -- and the offensive line needs to replace all five starters. Golson's play will be crucial to alleviating both situations.
If a kicker is going to be placed on a "Players To Watch" list, he better be the nation's best. Check.
Aguayo, the 2013 Lou Groza Award winner, returns to provide Fisher with historic reliability in the kicking game. For his career, the redshirt junior All-American has made 48 of his 52 field goal attempts and each of his 149 extra-point attempts. (The latter sounds like a given, but that's rarely the case with college kickers.)
He's the best college football has to offer.
As pointed out in our companion Florida State preview, Aguayo needs to hit 85 consecutive extra-point attempts to break the record held by Texas Tech's Alex Trilca (2004-07). Aguayo set the NCAA record by going 94-for-94 in 2013. If the Seminoles offense can find the endzone, the add-on point more than likely will not be an issue.
The consensus top defensive back in the 2015 recruiting class, James has a chance to be a factor on a young, inexperienced Florida State defense. At 6-foot-3, 212 pounds, he's an athletic wunderkind already drawing comparisons to his teammate, the aforementioned Jalen Ramsey. Whether James could step in at safety or in the Seminoles' "Star" position, a type of hybrid safety/linebacker role, remains to be seen.
Early reports are strong, though, especially from a former freshman All-American.
"Derwin is going to be himself just like me, and I respect that 100 percent. He's going to be himself. He's going to go out there and play," Ramsey said. "He's gonna talk. If you don't like it, oh well. It's not going to stop him from what he's doing. Derwin reminds me a lot of myself."
The Haines City, Fla., native was a two-way standout at the prep level, racking up 94 tackles and four interceptions in just eight games in 2014, and he's expected to contribute immediately to a Seminoles defense looking for a bounce back.
---
---