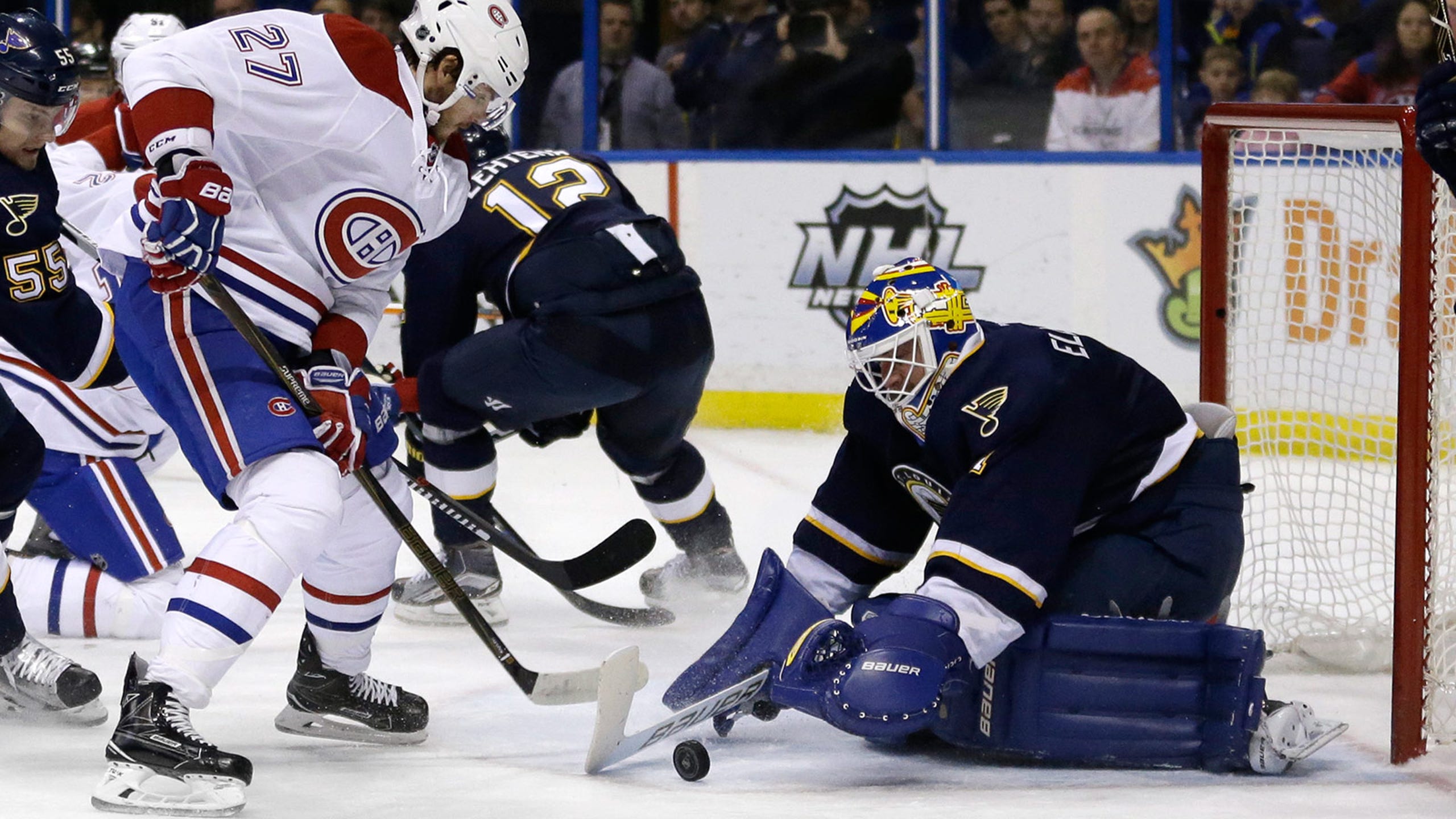 Elliott has 46 saves in Blues' 4-3 OT win on Goalie Heritage Night
BY foxsports • January 16, 2016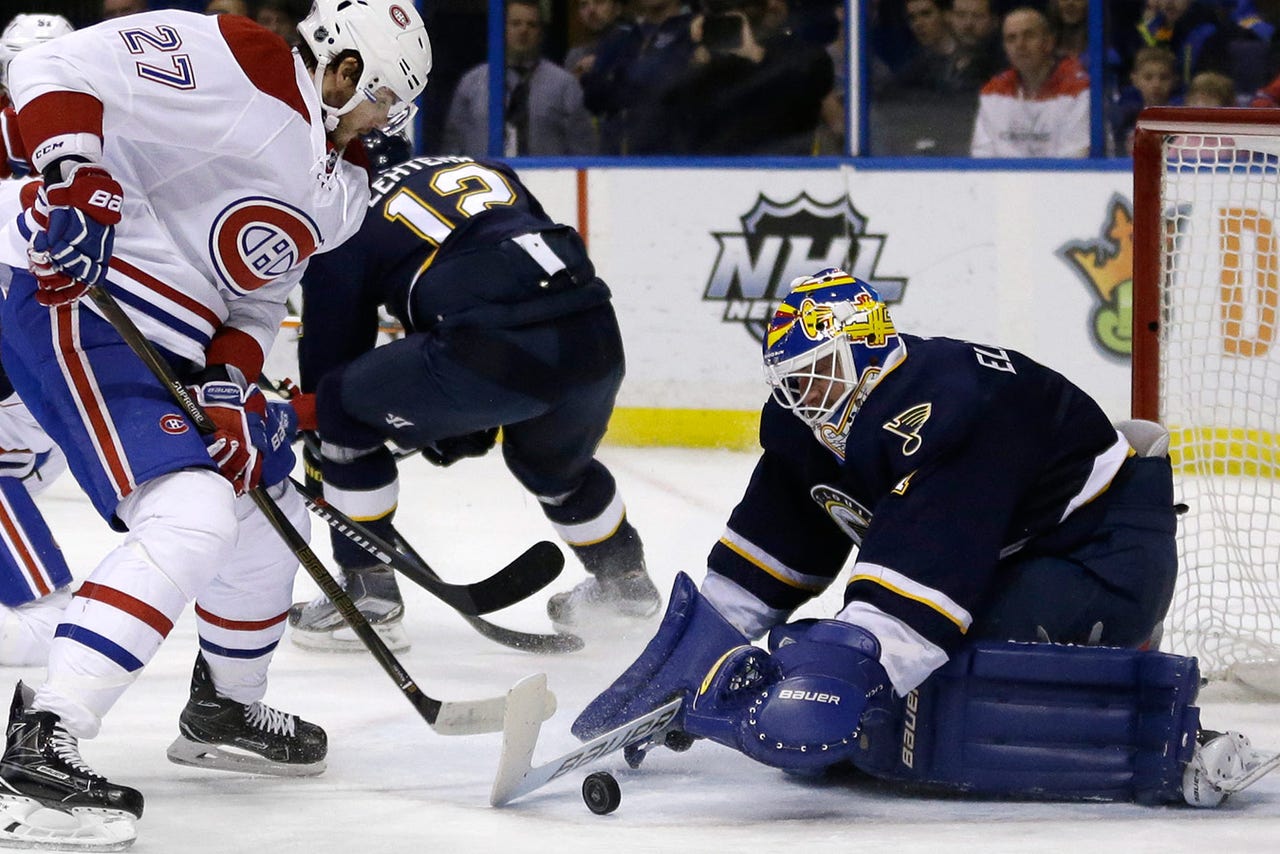 ST. LOUIS -- St. Louis Blues goalie Brian Elliott had a career game on a night when the franchise honored some of his goaltending idols.
Elliott made a career-high 46 saves with Mike Liut, Curtis Joseph and Grant Fuhr watching and Jori Lehtera scored in overtime to help the St. Louis Blues beat the Montreal Canadiens 4-3 on Saturday night.
Watch the Blues Live pregame and postgame shows before and after every St. Louis Blues game on FOX Sports Midwest.
"When those guys are watching, you kind of want to play good out there," Elliott said. "... It was special for me to play in front of those guys. I watched a lot of games. I was outside playing street hockey pretending I was them a lot of years and for them to be here and watch this game, it meant a lot to me. Guys coming through and getting the W was pretty special."
The Blues honored Liut, Joseph and Fuhr in a pregame ceremony. Elliott wore a special mask and pads to honor Joseph, who like Elliott grew up in Ontario and also played at the University of Wisconsin.
"He was amazing," Joseph said. "He did great."
Ty Rattie tied it with 5:25 left for St. Louis, and Robby Fabbri and Paul Stastny also scored. The Blues have won three of four after enduring a five-game losing streak.
P.K. Subban, Max Pacioretty and Tomas Plekanec scored for Montreal, and Mike Condon finished with 18 saves. The Canadiens have lost three straight and four of their last five. They are 5-15 since Dec. 1.
"We're making every goalie look amazing right now," Pacioretty said. "We put up three goals, though. You score three goals, you give yourself a good chance to win a game. We put up a lot of shots, we put three goals and we've just got to tighten it up till the very end."
The Blues scored just 34 seconds in when Fabbri collected his own rebound after Condon couldn't locate the puck. It was the rookie's 11th of the season. Vladimir Tarasenko and Lehtera had the assists on the goal, which was challenged by the Canadiens for goalie interference but upheld.
The Canadiens outshot the Blues 17-9 in the first period.
Montreal tied it 3:41 into the second period with a power-play goal by Subban. The defenseman fell as he shot the puck, but it deflected off Tarasenko's stick and trickled past Elliott.
Pacioretty's 18th of the season, on a rebound, gave the Canadiens a 2-1 lead with 9:36 remaining in the second period.
The Blues tied it with 8:29 left in the second on Stastny's goal. Colton Parayko took a long shot that deflected off the stick of Montreal's Tomas Fleischmann and was then tipped in by Stastny for his fourth goal.
The teams combined for 15 penalties in the second period, including a 10-minute misconduct for the Blues' Kevin Shattenkirk.
Montreal had 22 shots on goal in the second period, but then had just nine in the third and one in overtime.
"Tons of scoring chances," Canadiens coach Michel Therrien said. "You can't ask for a better effort."
Plekanec made it 3-2 with 6:09 left in the third with a slap shot from the high slot. Pacioretty and Brendan Gallagher assisted on the goal.
Then Rattie tied it with his second goal in two games since being recalled from the American Hockey League. His shot from the slot deflected off the stick of Mark Barberio and past Condon.
The Blues then won it 2:04 into overtime after Fabbri stole the puck in the neutral zone, skated in on Condon and then Lehtera slipped the puck between Condon's legs for his sixth of the season.
"You can't waste a performance like that," Rattie said of Elliott. "Ells was on his game and he wanted it. I think when they scored that third goal, it was even keel on the bench, which was huge. Lucky enough that we tied it up and then great play in overtime to finish it off."
NOTES: On Friday, Montreal traded D Jarred Tinordi and F Stefan Fournier to the Arizona Coyotes for D Victor Bartley and F John Scott. The Canadiens assigned F Sven Adrighetto and Daniel Carr to the St. John's IceCaps and recalled Jacob De La Rose. ... Montreal F Dale Weise returned after missing four games with an upper-body injury. ... The attendance of 19,501 was the Blues' 11th sellout of the season.
---
---