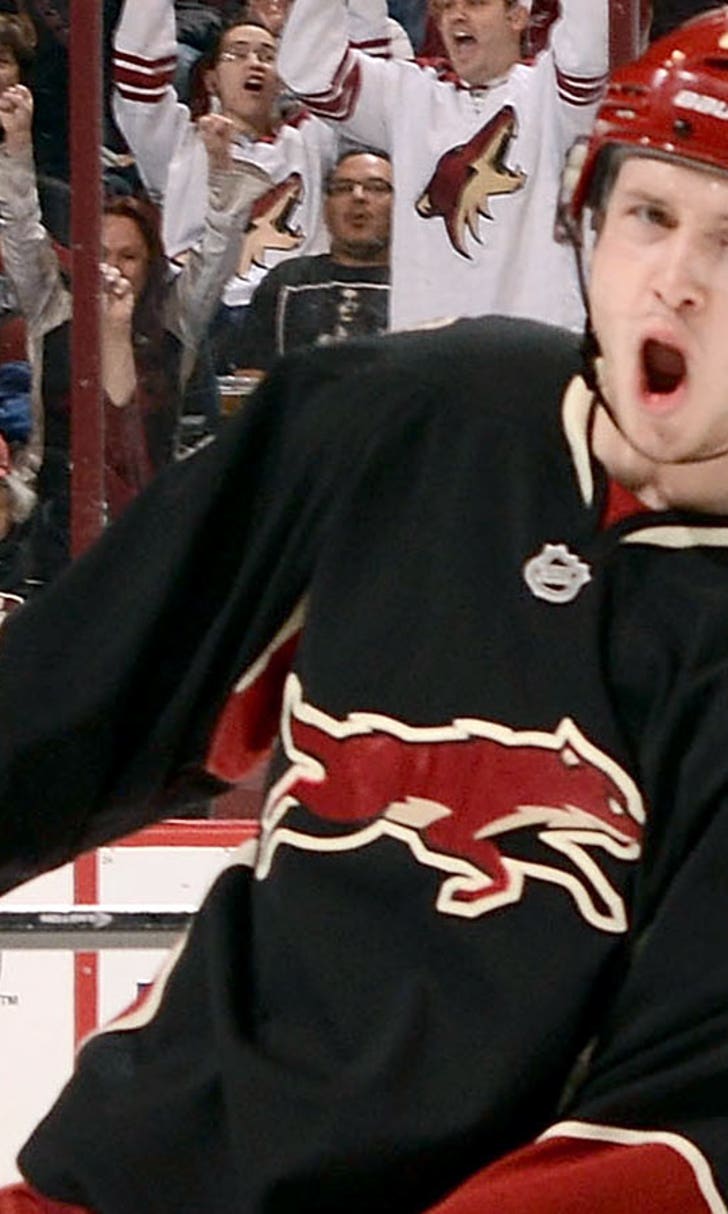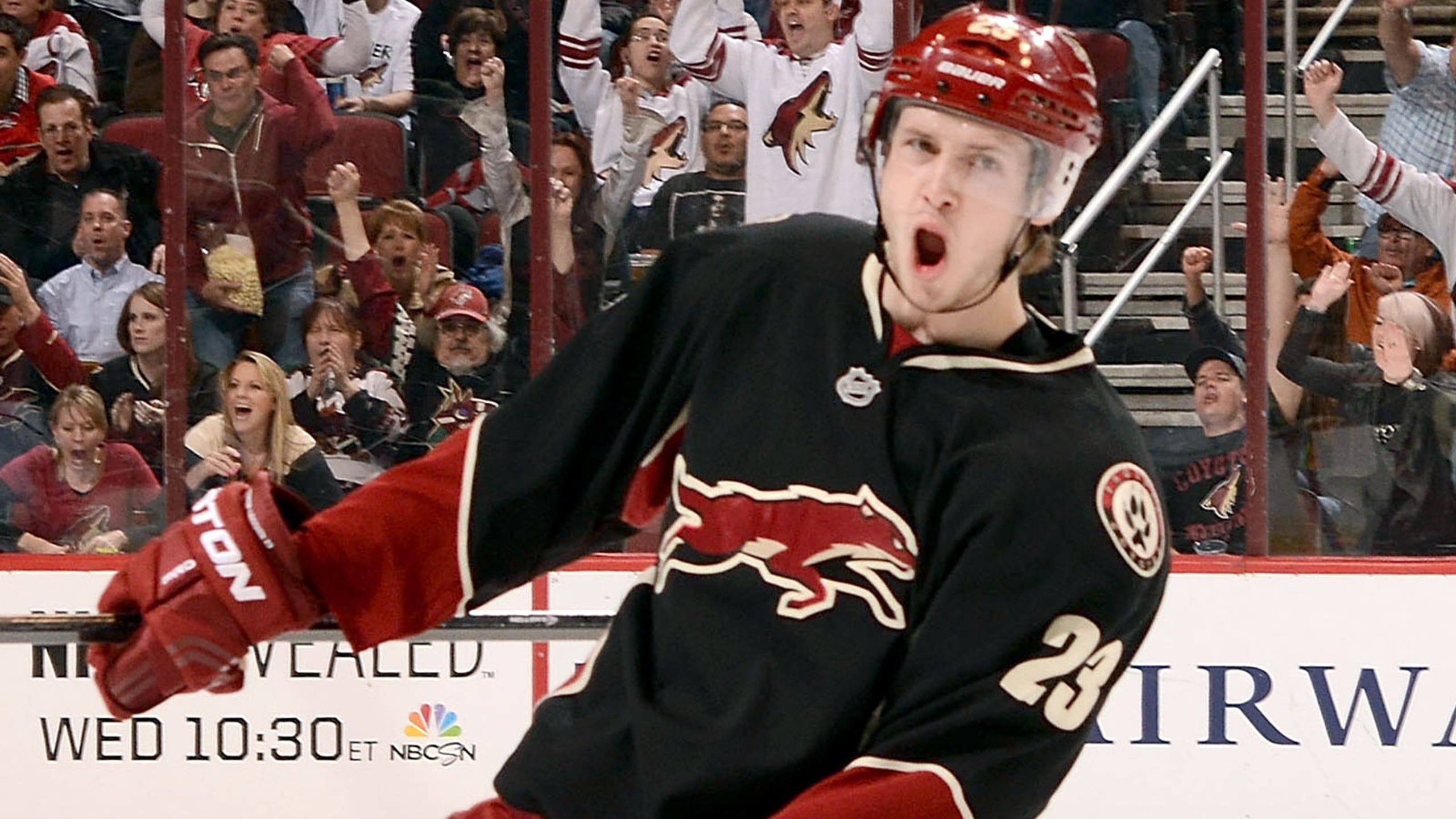 Ekman-Larsson wants to be a plus in Coyotes' negative season
BY foxsports • December 10, 2014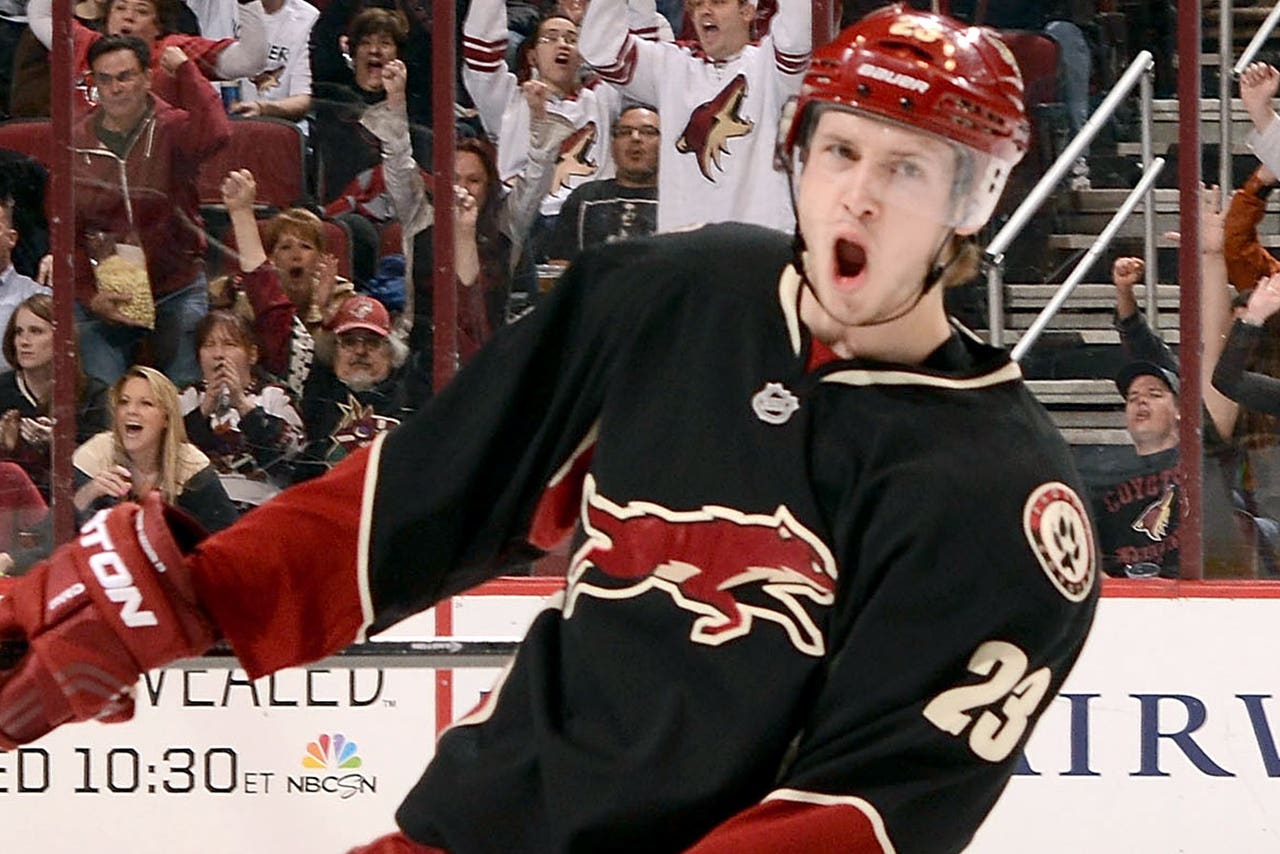 GLENDALE, Ariz. -- Oliver Ekman-Larson has been trying to escape a deep hole since the end of October. Instead of relying on one giant jump to accomplish the task, Coyotes assistant coach Jim Playfair recommended Ekman-Larson try the old fashioned method: start climbing, one painstaking step at a time.
"It's become a situation where he's focusing on the end result," said Playfair, who coaches the Coyotes' defensemen. "We want him to focus on the process." 
The hole in question is Ekman-Larsson's team-worst minus-14 rating, which he dug by going minus-11 in nine October games. Plus-minus can be a misleading stat because teammates' mistakes can penalize a player who has done nothing wrong on a shift, other than being on the ice for an opponents' even-strength or shorthanded goal. Still, it provides a far better read of a defenseman's performance than it does a forward's.
"Plus-minus is not always accurate but it is reflective to some degree," Coyotes GM Don Maloney said. "I think if you did speak with Oliver, he'd be the first to admit his game isn't where it needs to be."
There are two main factors behind this. First, Ekman-Larson added about 10 pounds in the offseason (now listed at 200 pounds) to better withstand the hits he's taking and to better deliver his own.
"I felt a little bit heavier and slower and it took a few weeks to get used to it but I feel a lot better now," he said. "I'm not going to run a guy over but it's nice to be able to take a hit when they do hit me. I think every chance they get, they try to hit me now and take me off my game."
That would be the other factor. When Ekman-Larsson entered the league, he was an unknown commodity; a player with promise who hadn't yet developed a star's reputation in NHL circles.
"The league knows he's a top player now -- an up-and-comer -- so they're going to put a little more pressure on him," Playfair said. "They're going to take time and space away from him.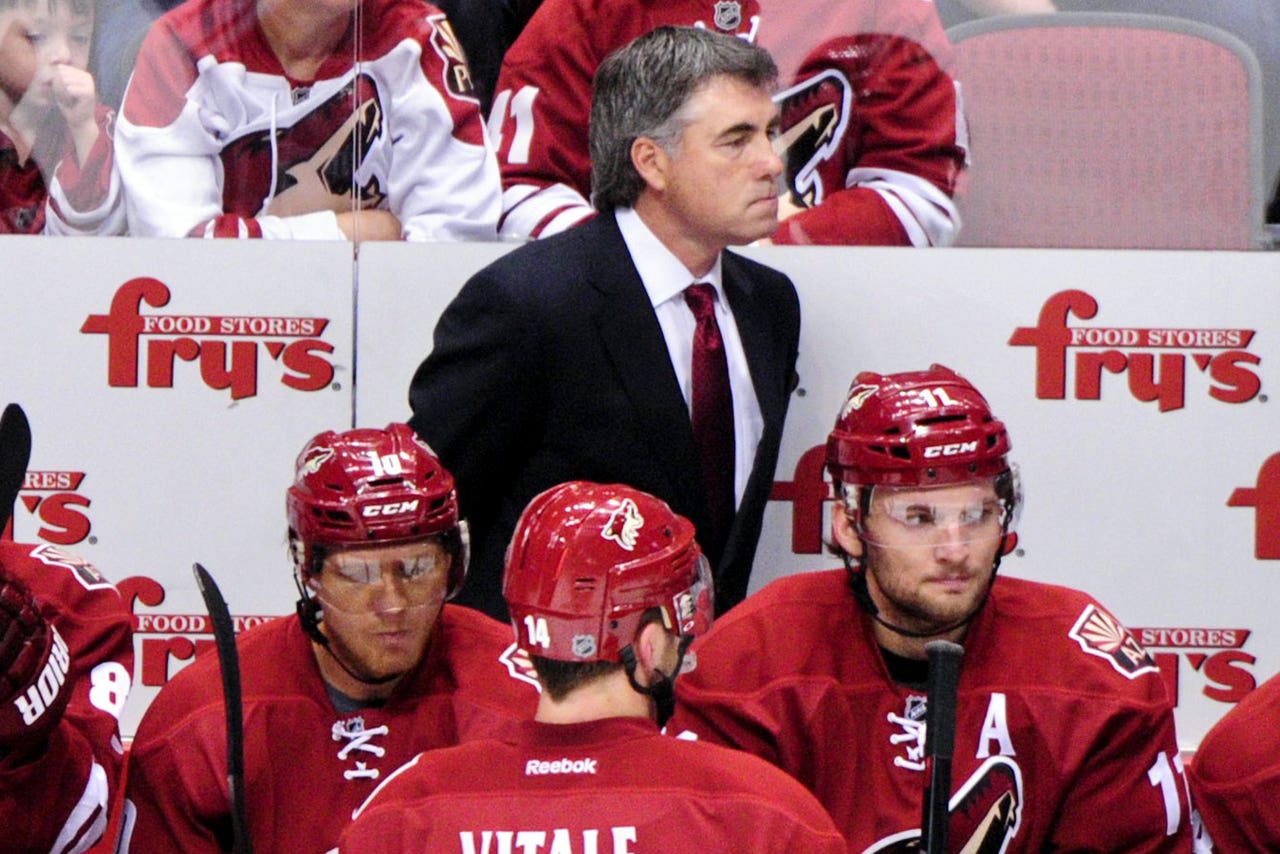 PREDATORS at COYOTES
When: 7 p.m. Thursday
Where: Gila River Arena, Glendale
TV: FOX Sports Arizona
Records: Predators 18-7-2, Coyotes 10-15-3
Injuries: Coyotes: F David Moss (upper body) is expected to play. D Brandon Gormley (lower body) is day to day and could return Saturday against Minnesota. Predators: F Taylor Beck (concussion) is day to day. F Viktor Stalberg (lower body) is on IR.
Quick facts: The Coyotes recalled D David Schlemko from Portland (AHL) on Wednesday. … Nashville F Filip Forsberg leads all rookies with 12 goals, 27 points and a plus-23 rating. … Former Coyote Mike Ribeiro is second on the team with 24 points (16 assists). … Nashville is tied with Chicago for the league lead in goals allowed per game (1.96) and the Predators have the best 5-on-5 goals for/goals against ratio in the NHL (1.60).
"The opposition circles him every night and says 'pay attention to this guy' so he's had to adjust his way of defending and get into battles and be a little more physical. He's not able to just skate in, skate out, move his stick and pick up the puck all the time like he used to."
Ekman-Larsson's strengths have always been his fluid skating, his stick skills, his positioning and his quickness, but with less time to make decisions, he is making more mistakes.
That, in turn has made him a bit jumpy and even more error-prone in areas where he didn't used to struggle. The four games the Coyotes have played in December provide a good illustration.
He had goals against the Oilers and Flames on a two-game road trip, including the game-winner in Edmonton, but he also made a pair of egregious mistakes. In Calgary, he chased a puck behind the net, leaving nobody to defend Josh Jooris all alone in front of the net for a Flames goal.
Against the Bruins at Gila River Arena, he sent an outlet pass through the neutral zone that Boston defenseman Dougie Hamilton intercepted to eventually set up Brad Marchand's goal just 58 seconds into the game. Ekman-Larsson had a full view of the play as he skated up the ice. It was just a bad read.
"Sometimes, the hardest thing to do is keep it simple. Look at (former Red Wing and OEL idol) Nick Lidstrom. He always kept it simple," Ekman-Larsson said. "I always want to make a good play -- to find an open man for a breakaway -- when maybe a short pass would be the smarter play.
"I screwed up a few times and got some minuses and it was my own fault. You can't think about it too much, but obviously it's a good stat for a D-man and obviously I look at it and it bothers me."
In a season of many mistakes, Ekman-Larsson's errors only compound the Coyotes' problems. But it is vital to realize a few things about the team's 2009 top pick (sixth overall). First, he's 23 at a position where maturity plays such a vital role. Second, "he's still arguably our most talented player," Maloney said. Third, he is still the cornerstone of the franchise's future.
Finally, this is part of the normal progression for NHL defensemen, particularly those at the top who log big minutes.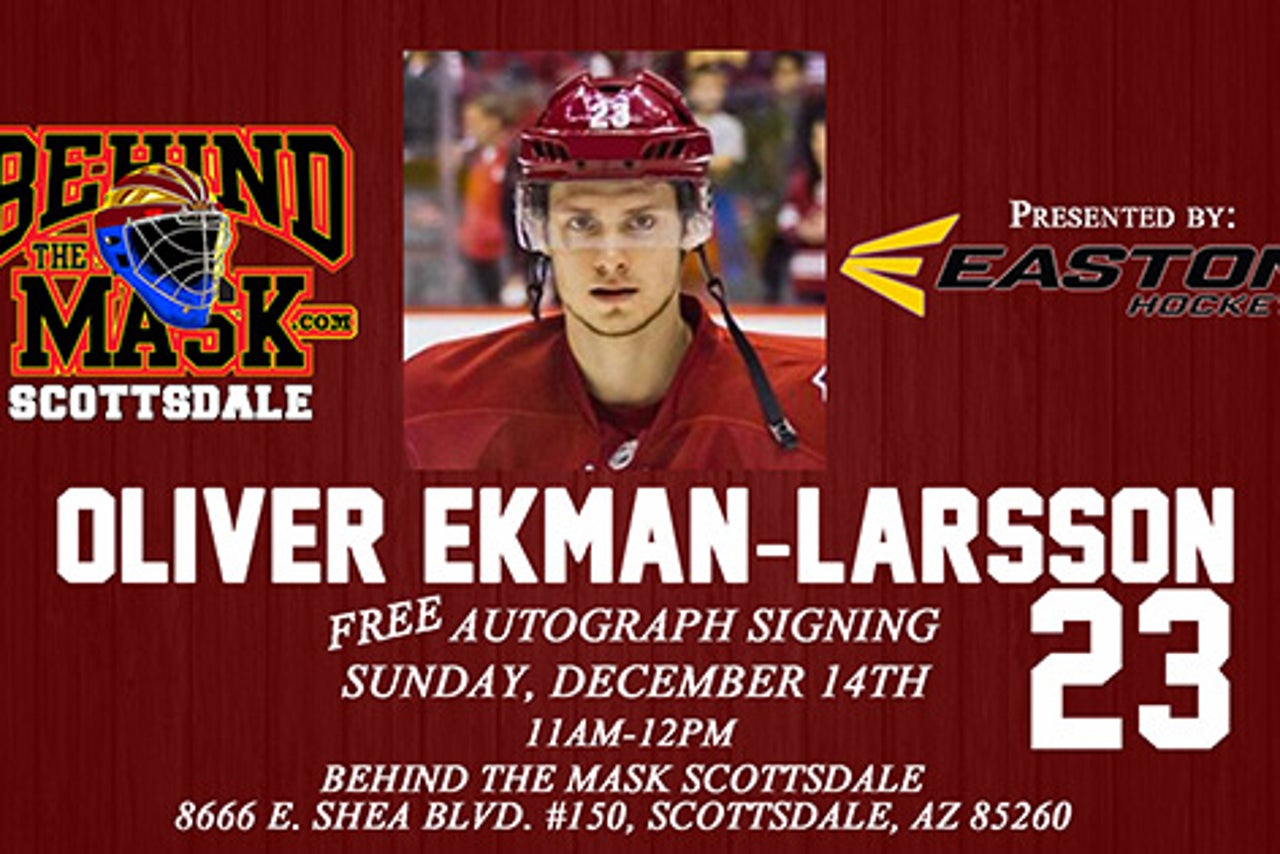 "(L.A.'s Drew) Doughty had to go through it. (Chicago's Duncan) Keith had to go through it," Playfair said. "It's good for him to realize that to be a top player in this league, you have to be a good defender in your own end, you have to be able to shut people down and then, when the chance comes to move the puck up the ice, your skill takes over and away you go."
Earlier this season, Yahoo Sports ran a national story about Ekman-Larsson being a Norris trophy candidate. It was oddly timed, given his dreadful start, but it is a conversation he wants to be a part of in years to come.
To do that, he will have to put up more points. To date, he has just 12 in 28 games but that is as much a product of the Coyotes skill-deficient forward group as it is of Ekman-Larsson's play.
"Everybody talks about the Norris and being a star player but it doesn't really matter what people say about me. It's all up to me," Ekman-Larsson said. " I need to calm down and just play my game. I know I'm a good player and I need to play that way."
Follow Craig Morgan on Twitter
---
---