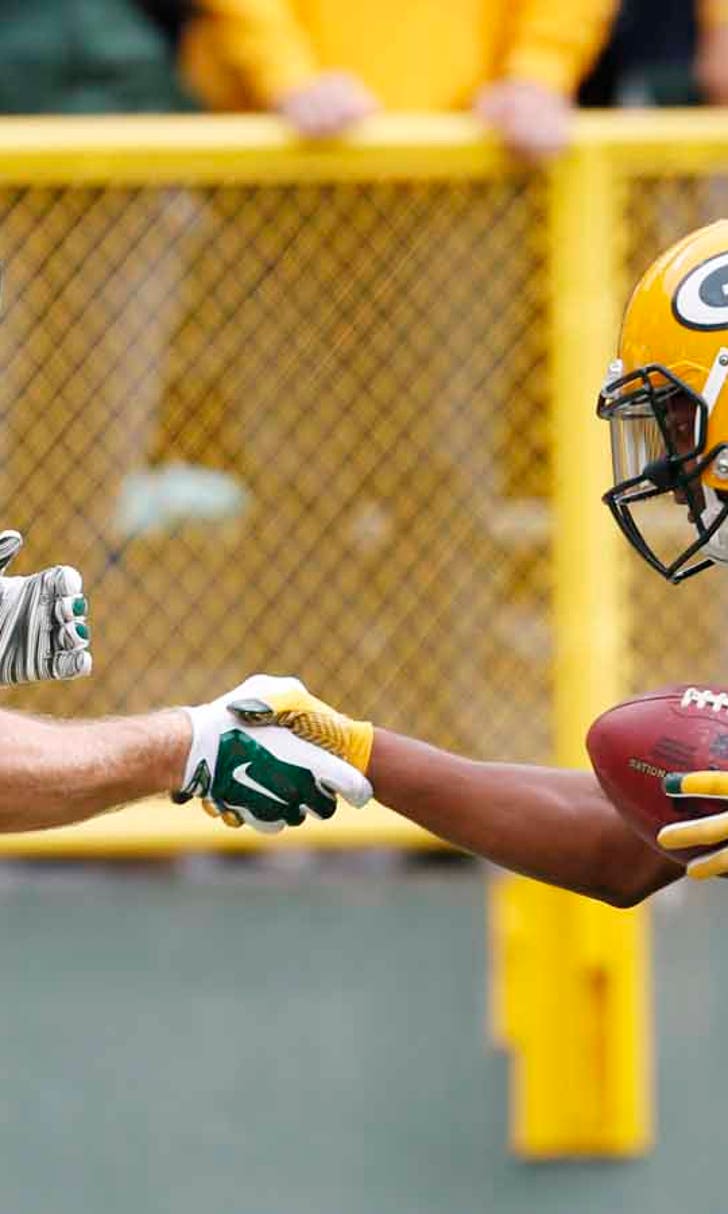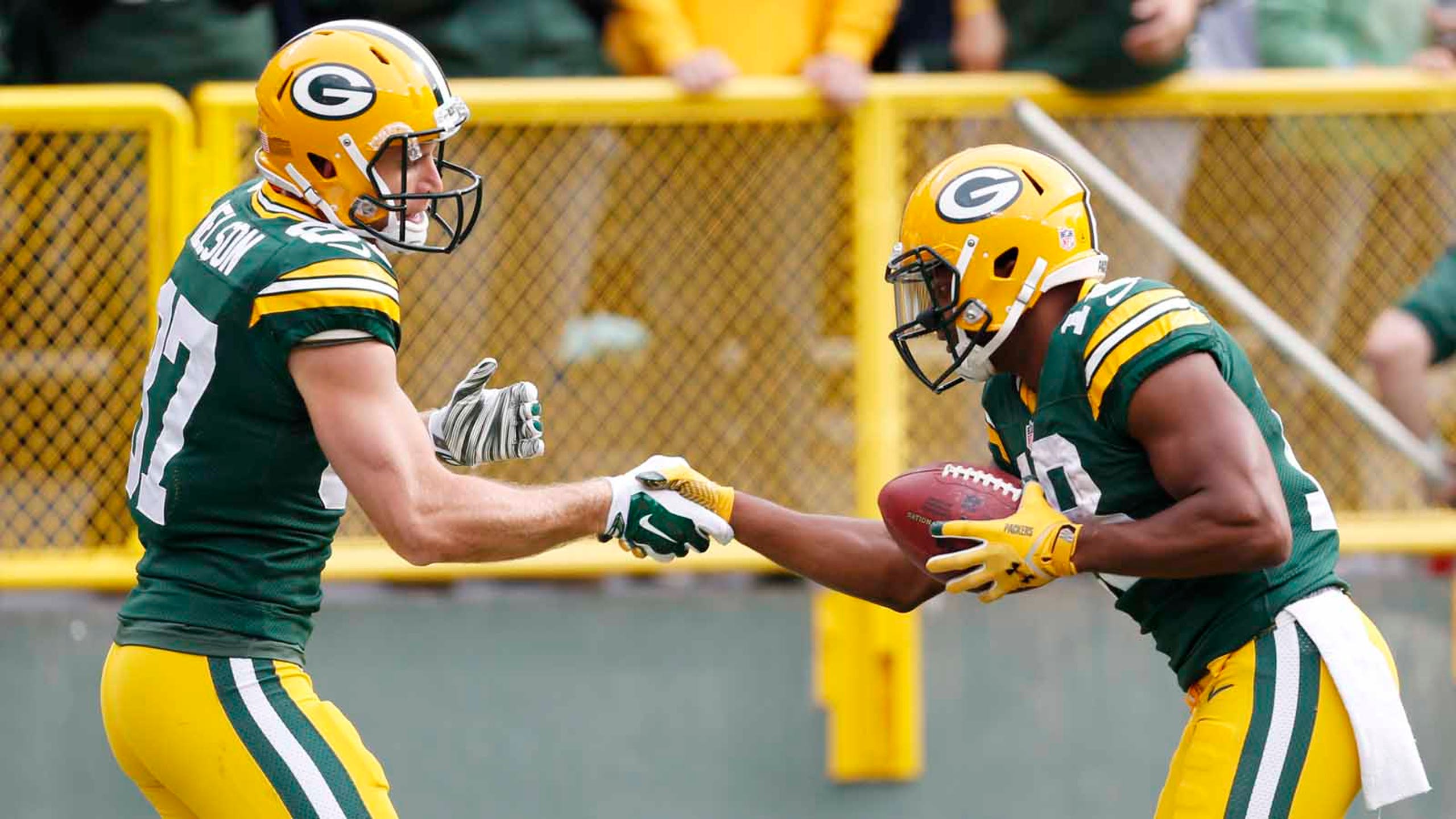 Dynamic duo: Cobb, Nelson among league's best WR pairs
BY foxsports • November 21, 2014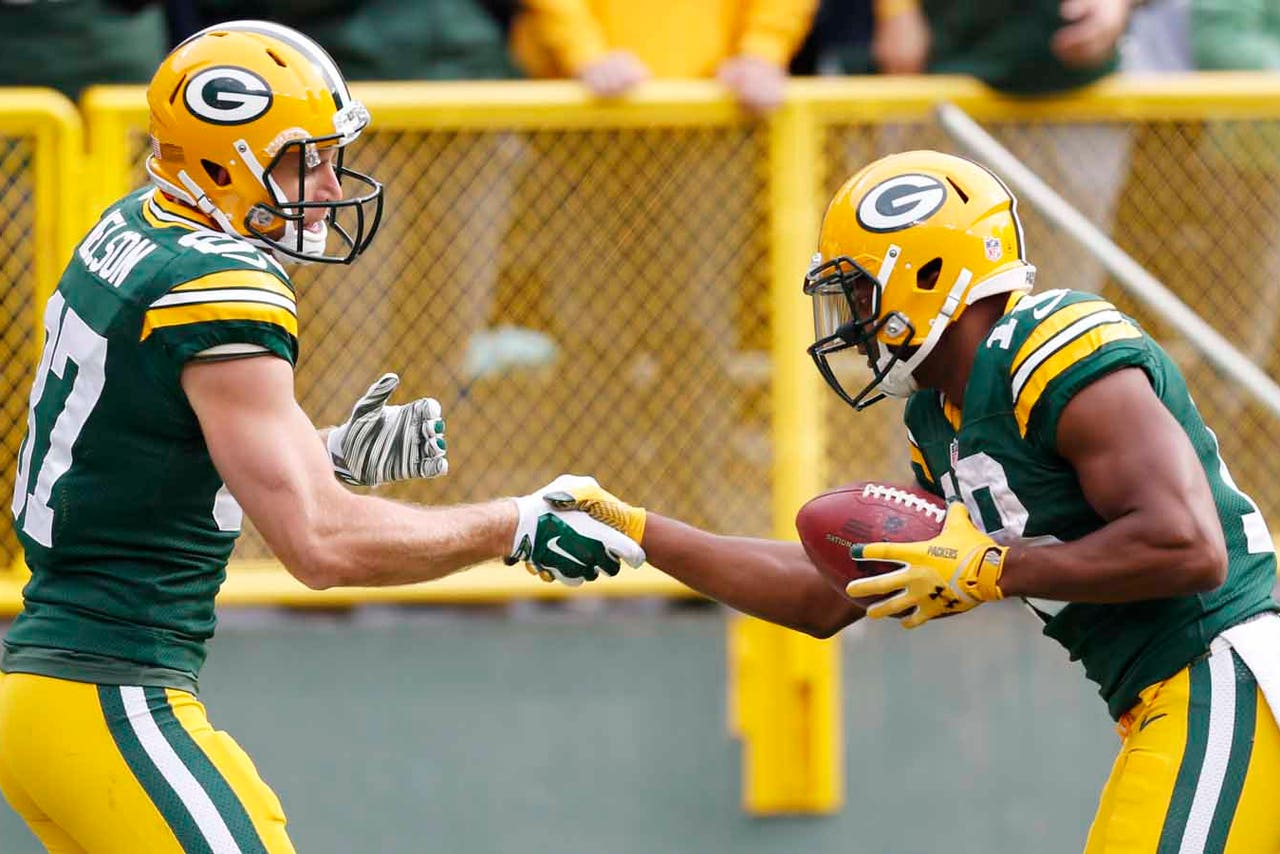 GREEN BAY, Wis. -- Of course Aaron Rodgers isn't going to say he'd rather have a different wide receiver duo than the one he has in Jordy Nelson and Randall Cobb. But as Rodgers reflected on the Green Bay Packers' top two targets and the season they're having together, the sincerity in his voice was that of a quarterback who truly meant it.
"I do feel very confident that I wouldn't want any other guys than the guys we've got," Rodgers said.
Nelson and Cobb have become among the best one-two combinations at receiver in the NFL. That seems true with the eye test, and the statistics back it up, as well.
Their 19 touchdown receptions (Cobb with 10, Nelson with nine) leads the league by a wide margin. Denver's Emmanuel Sanders and Demaryius Thomas are second on the list with 13 touchdowns.
Nelson and Cobb are also second among receivers in yards with 1,777, trailing only the Broncos' Sanders and Thomas. In total catches, Nelson and Cobb are third.
If there was ever any doubt that the top of the Packers' depth chart at receiver would take a step back after losing Greg Jennings (free agency) and Donald Driver (retired) in 2013 and James Jones (free agency) early in 2014, Nelson and Cobb have put that to rest.
"I don't think we've done anything different this year than we have any other years," Nelson told FOXSportsWisconsin.com. "We've gotten more, definitely myself, gotten more targets. Target-wise is up, so that makes a huge difference."
Nelson is on pace for more than 150 targets this season, significantly more than his previous career-high (from 2013) of 126 targets. Before last season, the most passes ever thrown Nelson's way in his first five years in Green Bay was 96. Cobb is on his way to nearly 117 targets this season, which would be more than his current career-high of 104 from 2012.
There's a lot of great competition to be considered as one of the NFL's best wide receiver duos. Even in the NFC North alone, there's Chicago's Brandon Marshall and Alshon Jeffery, plus Detroit's Calvin Johnson and Golden Tate.
"We want to be known as the best receiving core," Nelson said. "That's what makes everyone good, when you can't target one guy, and they haven't been able to do that."
Nelson thought about where he'd put himself and Cobb as a duo in comparison to the rest of the league's best. He thought about whether the statistics that have them in the top three in every major category accurately portray them as elite. They want to be known that way, but are they already there?
That was a question Nelson couldn't answer, though he's aware the numbers would indicate the answer is "yes." But Nelson knew one thing that helped make Cobb and him special was that they are very different receivers from one another.
"You can't game plan for us the same way," Nelson said. "We're completely different receivers that play all positions. We both can play inside, we both can play outside, but everything we do is different. The way we get in and out of our breaks, our releases, everything.
"I think it makes it more difficult. I think it works to our advantage. I think we play off each other well and put each other in good situations and being extremely unselfish. I think both of us have also played the role sometimes of clearing out for the other guy and just knowing that if that's our job, then we're going to do it and the other guy is going to make the play."
Cobb, at 5-foot-10 and 194 pounds, is a prototypical slot receiver. Nelson is 6-3, 217 pounds and excels when lined up outside.
The physical differences between the two of them plays a role, but so does the chemistry they have with Rodgers.
"We don't have any egos, that you might get at other places," Nelson said. "I think there's a lot to it. Not just the plays, but the type of guys we are, as well, that we get along with everyone."
It's no secret with Rodgers how important chemistry is. He wants receivers to run routes a specific way and wants an open dialogue about how that can best be done. In Nelson and Cobb, Nelson has two players who work well with him all week so that it looks relatively easy on game day.
"Those guys are premier players," Rodgers said. "The key to those guys playing well is their practice habits. Those guys are excellent practice players. They finish runs, they finish on the backside of blocks, they block for each other, and the stuff they do in practice shows up in the game, as well.
"There's great conversations that we have during the weeks about certain coverages and how I want them to run their routes, with them telling me what kind of creativity they're putting into those routes, and that's how you get better as a group."
The strangest part about Nelson and Cobb being recognized the way they are right now is that neither has ever even been to a Pro Bowl. In nine combined previous seasons between them, they've never been thought of highly enough to be part of the NFL's annual "all-star" game. By comparison, Johnson has been to four Pro Bowls and Marshall to five.
But this is the year of Nelson and Cobb. In addition to a Pro Bowl selection, Nelson would likely be an All-Pro, perhaps on the bubble between first- and second-team honors. Cobb's 10 touchdowns to lead all receivers could get him in the Pro Bowl, too, but he's definitely on his way to earning a contract as an upcoming free agent that will almost certainly place him among the league's top-paid slot receivers.
"Those guys really dedicated themselves in the offseason to being better every year, and I'm not surprised at the success for either of those guys," Rodgers said. "Those guys are premiere players, and on-par with their talent on the field is the way they conduct themselves in the locker room and off the field."
Follow Paul Imig on Twitter
---