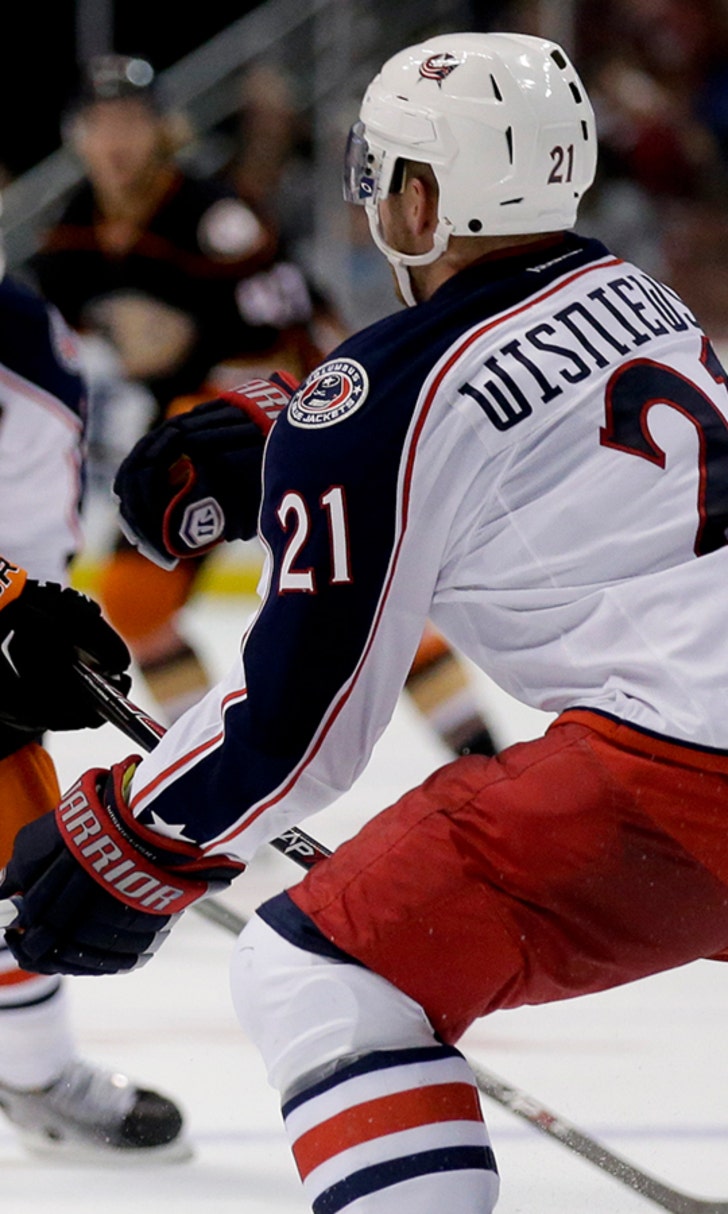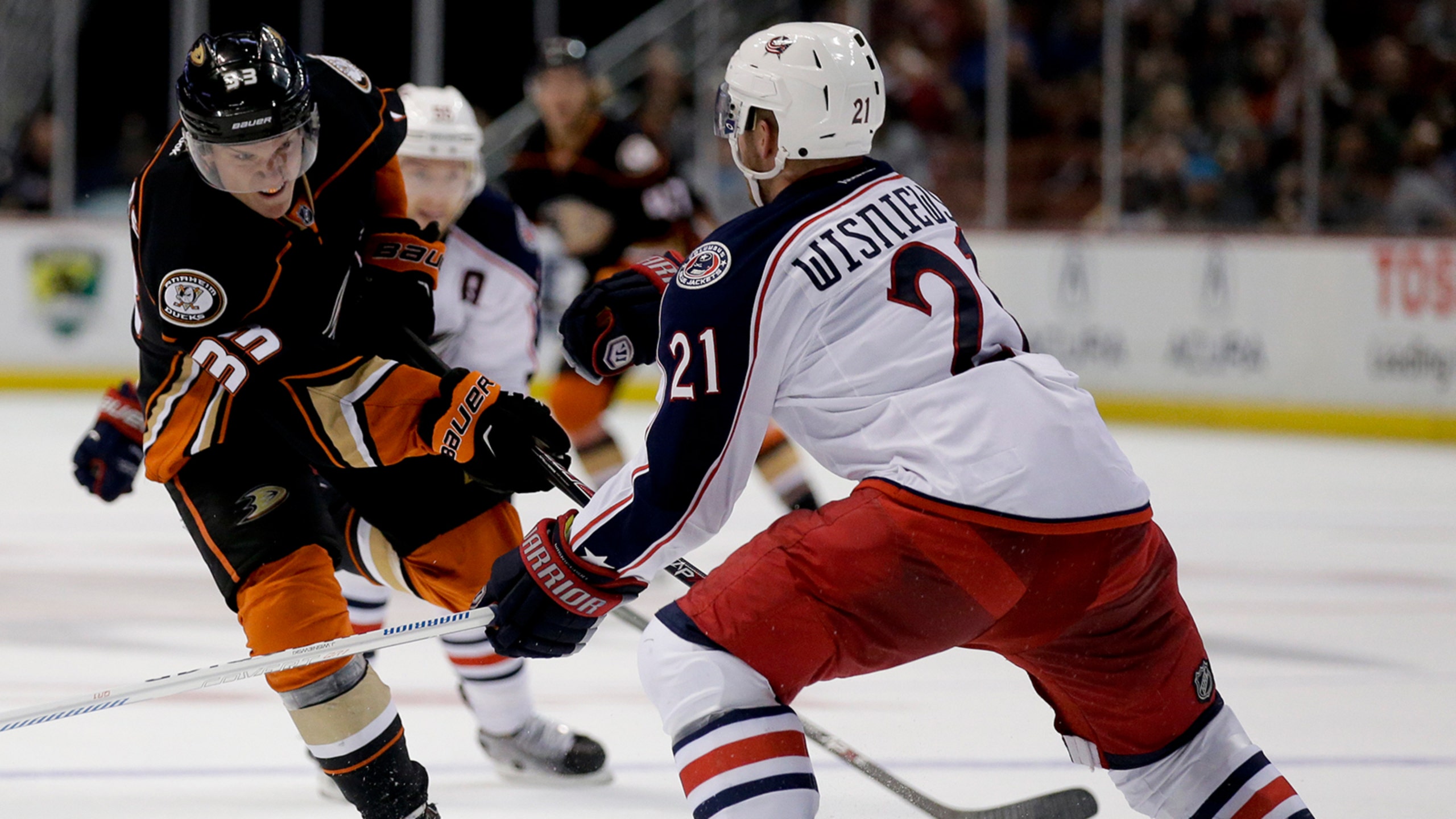 Ducks win 7th straight, 4-1 over Blue Jackets
BY foxsports • October 26, 2014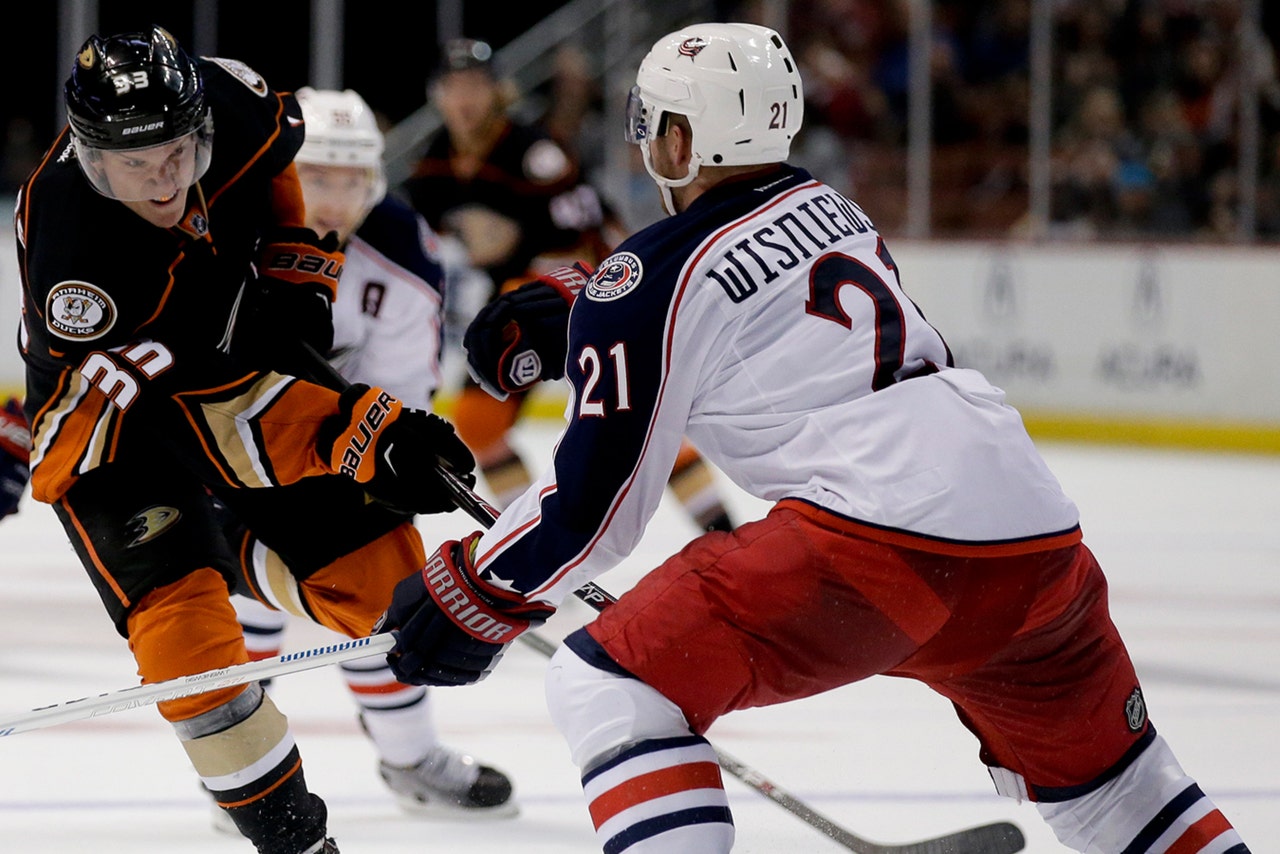 ANAHEIM, Calif. (AP) -- Red-hot Corey Perry got another goal, John Gibson got another chance in net, and the Anaheim Mighty Ducks kept their winning streak alive with one of their most solid defensive efforts of the young season.
Perry and defenseman Sami Vatanen scored on power plays in the first period, and the two-time defending Pacific Division champions beat the Columbus Blue Jackets 4-1 on Friday night for their seventh consecutive victory.
"That was more of a complete game than we've played in a while," coach Bruce Boudreau said. "We talked about it for the last couple of days -- the consistency of playing good and playing bad. We knew we were playing a really good team, so we knew we had to play for 60 minutes. And we did."
Gibson, starting in net for the first time since losing 6-4 in his hometown of Pittsburgh on opening night, faced just 17 shots as the Ducks improved to 7-1. Last season, they also won seven straight after a season-opening loss at Colorado.
"We felt we probably let John down that first game in his hometown, so it was good to have a real solid defensive effort in front of him," said Devante Smith-Pelly, who scored Anaheim's third goal. "We knew they were in a back-to-back, so obviously we wanted to make it tough for them right from the start."
Scott Hartnell had a power-play goal and Sergei Bobrovsky made 30 saves for the Blue Jackets, who were coming off a 5-4 win at San Jose on Thursday. Columbus is off to a 4-3-0 start, after winning a franchise-record 43 games last season and then losing to Pittsburgh in the first round of the playoffs.
"They're a good hockey team. They play their system and they play their system pretty well," said Ryan Getzlaf, who scored into an empty net with 2:27 remaining. "They're a hard-working team that has done a lot of good things so far, so we knew we were going to have to be up for it."
Perry, who got his second hat trick of the season in Wednesday's 4-1 win over Buffalo, opened the scoring with a backhander from the edge of the crease just 1:28 after the opening faceoff and 64 seconds after David Savard was sent off for hooking Jakob Silfverberg.
"There's no reason why we can't have a better start," Hartnell said. "Once again, we had a penalty early and they score on the power play. We seemed flat that first little bit, and it's something we talked about before the game. They have a puck-control team, and their big guys outplayed our big guys. It seemed like we were chasing the puck all night."
It was the third straight game in which the Ducks scored on their first shot on net. Matt Beleskey did it against St. Louis' Brian Elliott last Sunday, and Perry did likewise on Wednesday against Buffalo's Michal Neuvirth. Perry, the 2011 MVP, has nine goals in his first eight games in the fastest start in franchise history.
"He certainly is feeling it right now," Boudreau said. "He's going to slow down eventually, and hopefully by that time, somebody else can pick up the slack."
Vatanen made it 2-0 at 8:37, scoring on a screened, 45-foot slap shot while Matt Calvert was off for hooking William Karlsson. Columbus came in having allowed one goal in 16 short-handed situations over its first six games.
"When you get those two power-play goals early, it sets the tone for the rest of the game," Boudreau said. "Sami made a great play on both goals. He froze their whole team on the first one when we weren't really doing anything, then he gave it to the right guy. The second one was just a really hard shot. Corey was right in Bobrovsky's face, so there's no way he could see the puck."
The Blue Jackets got on the board at the 14-minute mark of the first with Hartnell's first goal of the season, just 14 seconds after Ben Lovejoy went off for tripping Mark Letestu.
But Smith-Pelly restored the Ducks' two-goal margin at 13:06 of the second with a perfect redirect of Perry's soft, cross-ice pass into the low slot -- lifting his left leg just in time after the puck hit the blade of his stick.
Columbus right wing Adam Cracknell, who made his Blue Jackets debut in Thursday's 5-4 win at San Jose, left the game with an injured left knee after he and Nate Thompson slid into the boards going after a loose puck in the left corner of the Ducks' zone at 2:54 of the third period.
Teammate Cam Atkinson then departed after getting cut below his right eye by the skate of Ryan Kesler while trying to check him inside the Columbus blue line.
NOTES: Columbus' next game is a Sunday matinee against the Stanley Cup champion Los Angeles Kings. The Blue Jackets, who entered the league in 2000-01, are 6-24-5 with two ties during the regular season against teams that were defending a Stanley Cup title. ... Cracknell spent his four previous NHL seasons with St. Louis and was claimed off waivers from the Kings. ... The Ducks won a franchise-record 10 straight games last season, lost the next one against San Jose and then won their next eight in a row. ... LW Sonny Milano, the Blue Jackets' first pick in the 2014 draft, was activated from the injured non-roster list and assigned to the Plymouth Whalers of the OHL. He sustained a facial fracture at the NHL Prospects Tournament in September.
---
---