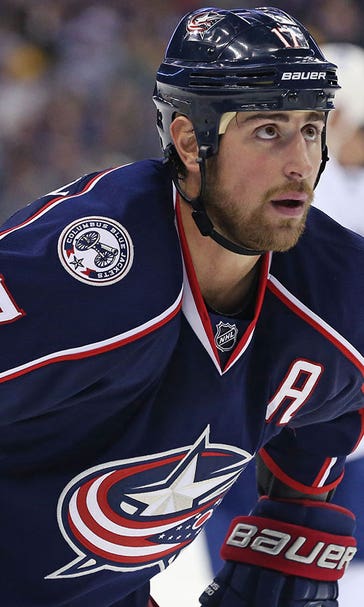 Dubinsky back on the ice in Montreal after one-game suspension
BY foxsports • December 1, 2015
Alex Galchenyuk is just 21 years old, so it's hard to believe the center is already in his fourth season with the Montreal Canadiens.
He has scored in a career-best four straight games heading into Tuesday night's home matchup against the Columbus Blue Jackets.
Galchenyuk has been on a steady rise since making his NHL debut a month shy of his 19th birthday Jan. 19, 2013. He finished with 27 points as a rookie, registered 31 in 2013-14 and went up to 46 last season.
There's every indication that Galchenyuk will set a career best again this season. He has 18 points, including seven in a five-game run after his first two-goal effort of 2015-16 in Saturday's 3-2 overtime loss to New Jersey.
"I've worked hard in practice and worked hard in games to get my offensive game going," he said. "I'm happy I'm able to chip in offensively."
He brings another weapon to a club that leads the Eastern Conference with 3.5 goals per game. Max Pacioretty has a team-high 12 goals and Montreal (18-4-3) needs to pick up the slack without the injured Brendan Gallagher, who is tied for second with nine.
All of that offense makes life easier for rookie goalie Mike Condon, who will likely see the bulk of the goaltending duties going forward after the team said Monday that Carey Price - the reigning Hart and Vezina trophy winner - will miss at least six weeks with a lower-body injury that will not require surgery.
"He's a big part of our team," star defenseman P.K. Subban said. "But if we think we're going to get any sympathy from the teams we're going to play in the next six weeks, we're not.
"The good thing is we've had to deal with not having Price in the lineup for a little while already and we know what that means. When a key part of your team goes down, everyone has to pull up their socks and be a little better."
Condon is second in the NHL with a goals in support average of 3.56.
No goalie has started more than the Blue Jackets' Sergei Bobrovsky, who is in line for his 22nd of the season. Bobrovsky is 6-2-0 with a 1.50 goals-against average in his last eight games, and has allowed one or two goals in each of his last seven road starts.
Columbus (10-15-0) will welcome back the hard-working Brandon Dubinsky, who sat out Saturday's 3-1 loss at St. Louis due to a one-game league suspension for his cross check on Sidney Crosby in Friday's 2-1 overtime victory against Pittsburgh.
"We're not going to whine here," coach John Tortorella said. "Pittsburgh can whine. Pittsburgh whines enough for the whole league, so there's no room for any other team to whine. So we just go about our business. We missed him. We missed him but you can't get involved in what happened in those type of situations."
Dubinsky is the only qualifying Columbus skater who wins more than half of his face-offs. The Blue Jackets rank last in that department at 46.6 percent.
Ryan Johansen has scored in four of his last five games after he had two goals in his first 18. Boone Jenner, who has a team-high 11 goals, has matched a season worst by failing to tally in three straight.
Columbus is second in the league with an average of 13:12 penalty minutes. That's a concern since Montreal has one of the league's best power plays at 23.9 percent.
The Canadiens haven't dropped consecutive home games all season. Pacioretty scored five goals as Montreal swept three meetings from Columbus last season.
Montreal is averaging a league-high 11.1 giveaways and Columbus the fewest at 4.7.
---
---