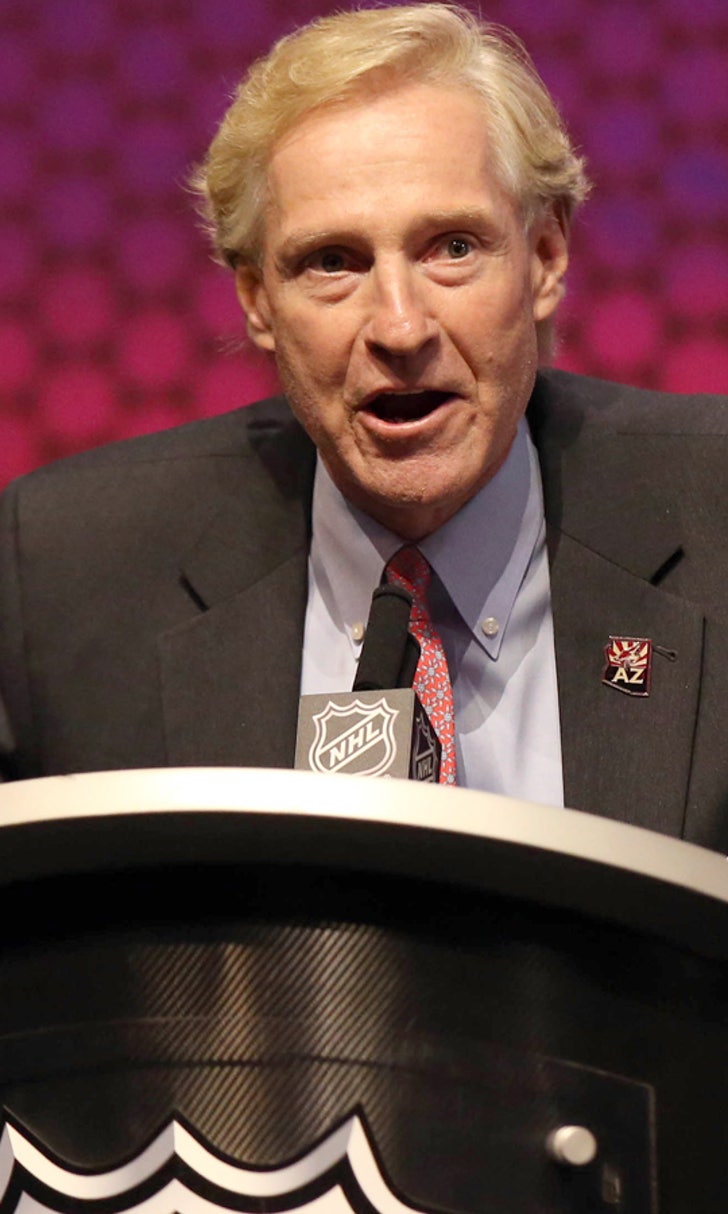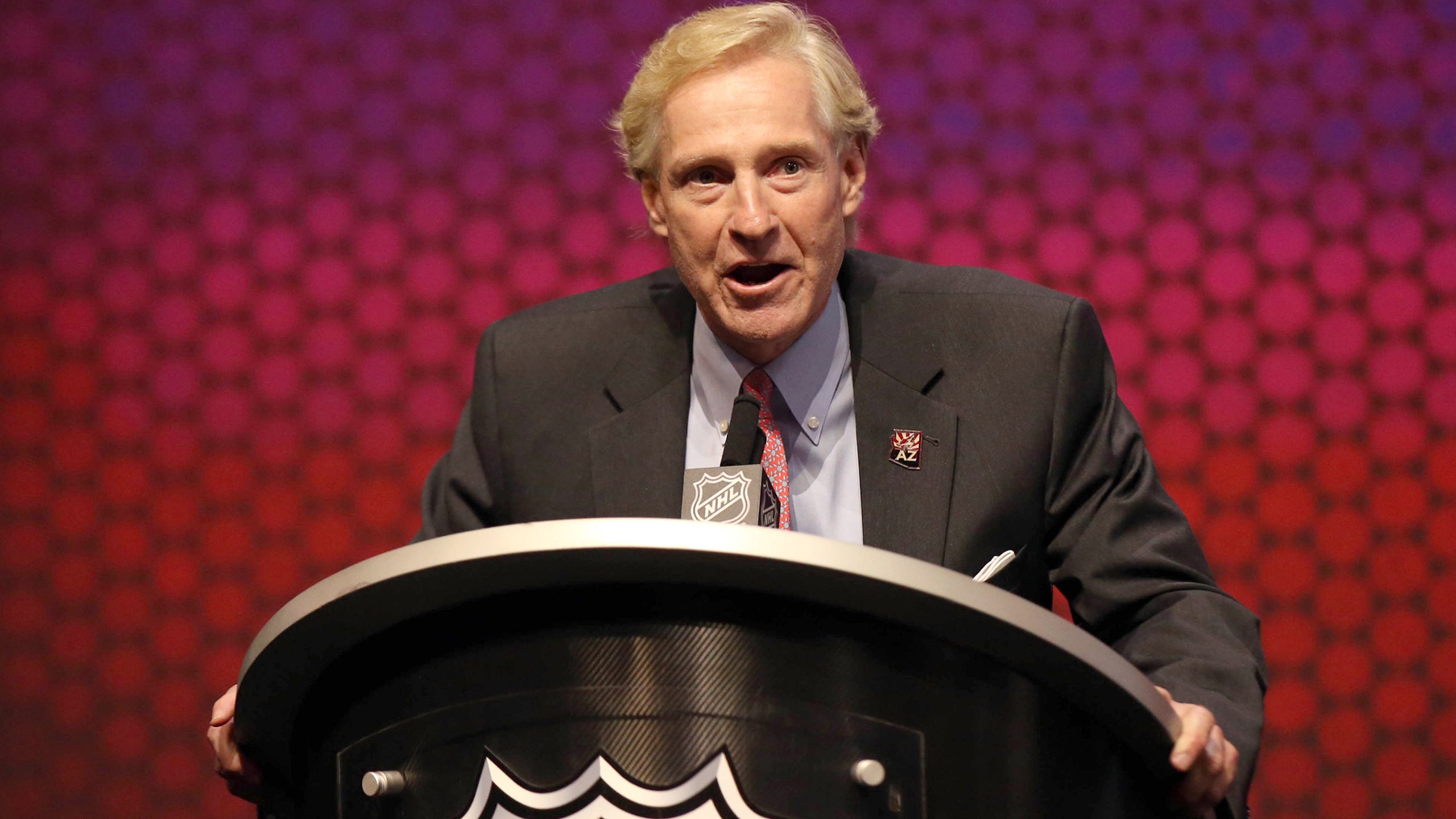 Draft-day trades a big part of Coyotes' plan
BY foxsports • June 19, 2015
Much of the local focus at next week's NHL Draft will be on the Coyotes' No. 3 overall pick, but Arizona general manager Don Maloney said the trade winds should offer equally interesting theater. 
The Coyotes vowed to field a team next season that can compete for a playoff spot. In order to do that, they know they need to add established NHL talent.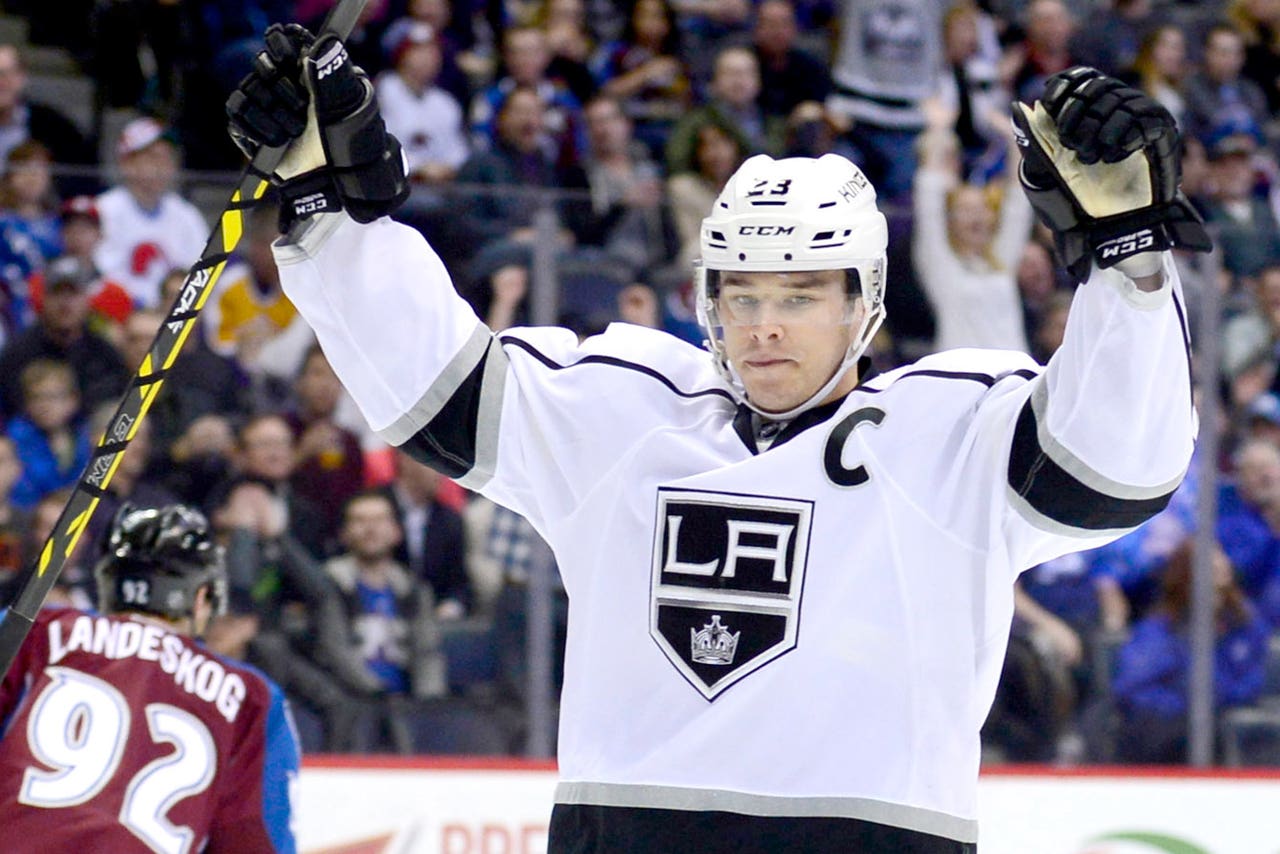 TRADE BAIT?
James Wisniewski, D, Anaheim
Loui Eriksson, F, Boston
Milan Lucic, F, Boston
Cody Hodgson, F, Buffalo
Keff Skinner, F, Carolina
Eric Staal, F, Carolina
Patrick Sharp, F, Chicago
Bryan Bickell, F, Chicago
Corey Crawford, G, Chicago
Kris Versteeg, F, Chicago
Ryan O'Reilly, F Colorado
Kari Lehtonen, G, Dallas Stars
Jakub Kindl, D, Detroit
Brad Boyes, F, Florida
Mike Richards, F, Los Angeles
Dustin Brown (pictured), F, L.A.
Mikko Koivu, F, Minnesota
Jason Pominville, F, Minnesota
Thomas Vanek, F, Minnesota
Niklas Backstrom, G, Minnesota
Alexei Emelin, D, Montreal
Viktor Stalberg, F, Nashville
Tuomo Ruutu, F, New Jersey
Kyle Okposo, New York Islanders
Rick Nash, New York Rangers
Kevin Klein, D, New York Rangers
Dan Boyle, D, New York Rangers
Cam Talbot, G, New York Rangers
Craig Anderson, G, Ottawa
David Legwand, F, Ottawa
Colin Greening, F, Ottawa
R.J. Umberger, F, Philadelphia
Vincent Lecavalier, F, Philadelphia
Brandon Sutter, F, Pittsburgh
Rob Scuderi, D, Pittsburgh
David Backes, F. St. Louis
T.J. Oshie, F, St. Louis
Patrik Berglund, F, St. Louis
Matt Carle, D, Tampa Bay
Phil Kessel, F, Toronto
Dion Phaneuf, D, Toronto
Tyler Bozak, F, Toronto
Kevin Bieksa, D, Vancouver
Dan Hamhuis, D, Vancouver
Eddie Lack, G, Vancouver
Given the team's current legal battle with the City of Glendale, free agency may be a problematic route. Multiple agents for unrestricted free agents expressed concern about the franchise's stability, which could make signing players to long-term deals difficult. Trades may be the best bet for immediate improvement, but there is a price to pay. 
"Nobody is going to give us good players without (us) giving up something, and that's why we are certainly open for business, whether it's the Chicago pick (30th overall), or our pick in the second round," Maloney said. "We've got two firsts, two seconds, two thirds. We have two firsts next year. We have lots of good assets that we can use to better our team and we're certainly not against using it in the right deal."
The salary cap does not have to be set until June 30, but it is likely to be set before the Draft begins on June 26 and should be around $71 million, maybe slightly higher. That number is lower than originally projected, which could cause problems for several teams that are bumping up against the cap, forcing them to shed significant players.
COYOTES DRAFT PICKS
| | |
| --- | --- |
| 2015 | 2016 |
| Round 1: Nos. 3, 30 (from CHI) | Round 1: Two picks (second from NYR) |
| Round 2: Nos. 32, 60 (from NYR) | Round 2: One pick |
| Round 3: Nos. 63, 81 (from MIN) | Round 3: One pick |
| Round 5: No. 123 | Round 5: One pick |
| Round 7: No. 183 | Round 6: One pick |
|   | Round 7: One pick |
"It's not just cash-strapped teams. I think there's an appetite to try and deal bigger pieces in other markets," said Chris Johnston, a senior writer for Sportsnet in Canada. "If you're a team, like Arizona, with the money to add big-ticket players then you will be in demand."
Maloney always has viewed draft picks as assets rather than chips that must be cashed in on draft day for amateur players. He is also open to dealing prospects in the system if the offer makes sense. Maloney said it is unlikely the Coyotes will deal the No. 3 pick for an existing player unless the offer blows them away. He has also made it clear that the Coyotes are not keen on acquiring veterans on the wrong side of 30.
But the Coyotes also have some work to do to get to the salary cap floor. According to generalfanager.com, they are nearly $19 million below the floor with 11 players under contract on their current NHL roster. It's a safe bet we'll see draft-day deals.
Some of the names that could be on the trade block this summer have been mentioned numerous times over the past few months. Here is a sampling of notable players who could be moved, based on their contract status or recent rumors. We have also included a list of the Coyotes' draft picks over the next two seasons. 
Follow Craig Morgan on Twitter
---
---