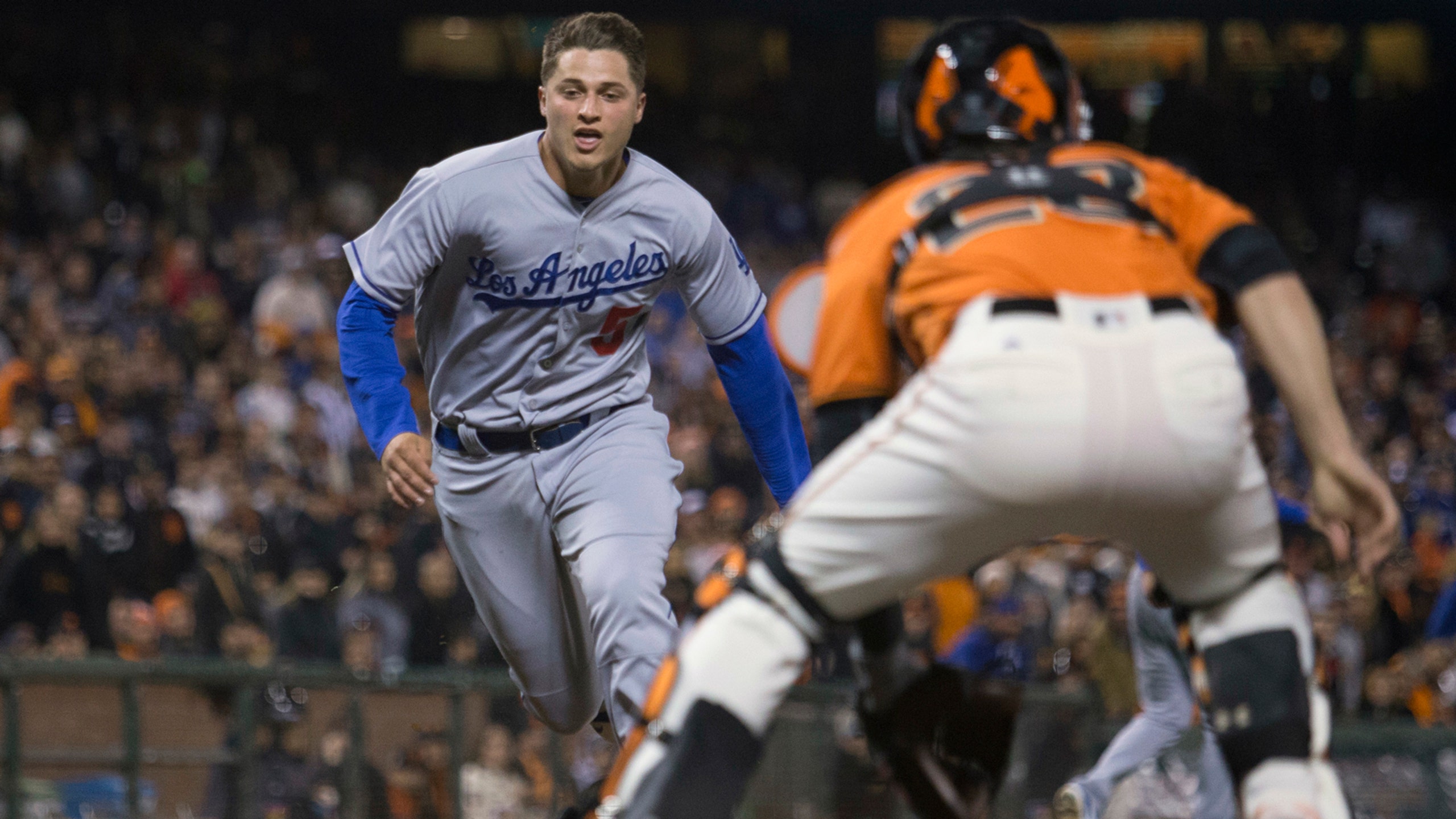 Division champion Dodgers swept by Giants, lose 5 of last 6
BY foxsports • October 3, 2016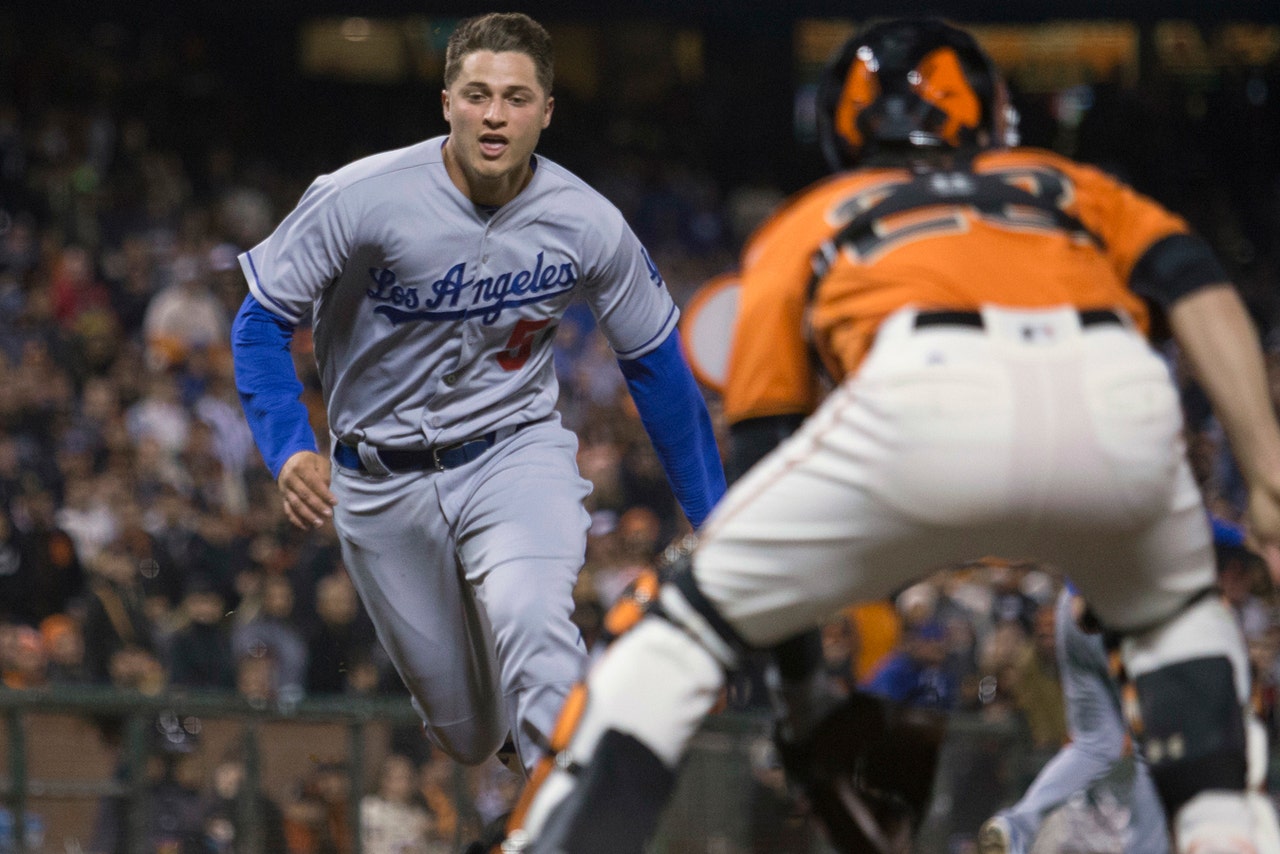 SAN FRANCISCO (AP) -- Sure, Dave Roberts would have preferred his division champion Los Angeles Dodgers had a little October momentum to carry into the playoffs.
Not five losses in the final six games before a four-day break ahead of the NL Division Series at Washington.
The NL West champions lost 7-1 on Sunday to get swept by the wild-card San Francisco Giants, and now will wait until Friday to play Game 1 in the nation's capital.
"It's just a matter of understanding that the regular season is one season and the postseason is another season. That's the way we have to look at it," Roberts said. "I really think that layoff, the preparation, the travel to D.C., that will allow us to refocus on one team. I'm not too concerned about our guys. I just don't want any carry over from this past road trip."
Dodgers broadcaster Vin Scully ended his 67-year career, calling his final game 80 years to the day after he fell in love with baseball walking home from school.
The Giants led the majors with a 57-33 record at the All-Star break. After an up-and-down second half and a series of bullpen meltdowns since the break, San Francisco delivered an impressive offensive performance against Kenta Maeda (16-11), who surrendered five runs and nine hits in 2 2/3 innings and said none of his pitches felt sharp.
Los Angeles is ready to regroup in a hurry.
"We have four days to prepare for the Nationals and study them as much as we can and get ready to play some playoff baseball," second baseman Chase Utley said. "The goal is to be playing well in the postseason. We had a pretty exciting year. A lot of ups, a few downs, but mainly ups. Very positive. I thought we played well as a team. We picked each other up. We won the division as a team so that's a great sign."
The Dodgers got a scare when center fielder Joc Pederson came up slowly after diving to try for Brandon Crawford's RBI single in the eighth. Roberts said his iced-up right shoulder will be fine.
San Francisco third baseman Conor Gillaspie went over a railing and TV camera and into the photo well to snag Utley's foul popup to begin the third.
"A superior catch, tumbling over the railing," declared 88-year-old Scully . "Gillaspie refused to quit, eyes riveted on the ball ... all's well that ends well. The Giants are pumped."
It is an even year, after all, so they should be.
Just like two years ago as a wild card going to Pittsburgh, the Giants will hit the road to face the defending NL champion in the New York Mets for the wild-card game Wednesday night.
San Francisco made it on the final day of the regular season, securing the second NL wild card with the club's first four-game winning streak of the second half.
"We found a way to get back to where we need to be," ace left-hander Madison Bumgarner said. "If we play like we have been the last three days, we'll be tough to beat."
Denard Span hit a two-run triple among his three hits, and Buster Posey drove in three runs and had three hits. Angel Pagan also had three hits.
San Francisco, which won Series titles in 2010, '12 and '14, plays for a spot in the Division Series against the Chicago Cubs. Bumgarner, the 2014 World Series MVP, will face Noah Syndergaard.
Midseason acquisition Matt Moore (6-5) allowed one run and three hits in eight innings as San Francisco (87-75) reached the playoffs for the fourth time in seven seasons. The Giants began the day one game ahead of St. Louis.
San Francisco has won 16 of its last 20 home meetings against the Dodgers.
"It's one of those things where we're looking to recover but stay sharp," Los Angeles shortstop Corey Seager said. "Hopefully the next four or five days go well for us."
TRAINER'S ROOM
Dodgers: Roberts confirmed Josh Reddick and Andre Ethier will be on the playoff roster, with Charlie Culberson still "in the mix." The Dodgers hadn't determined how many pitchers they will carry.
Giants: INF Eduardo Nunez missed his sixth straight game since straining his right hamstring last Sunday at San Diego. He's unlikely to be available for the wild-card round of the playoffs.
UP NEXT
Dodgers: Los Angeles will work out Tuesday, tentatively in the early evening, at Dodger Stadium before flying to Washington on Wednesday ahead of Friday's NL Division Series Game 1 with the Nationals and having a session in D.C. upon arrival.
Giants: San Francisco will travel east on Monday morning.
---
---