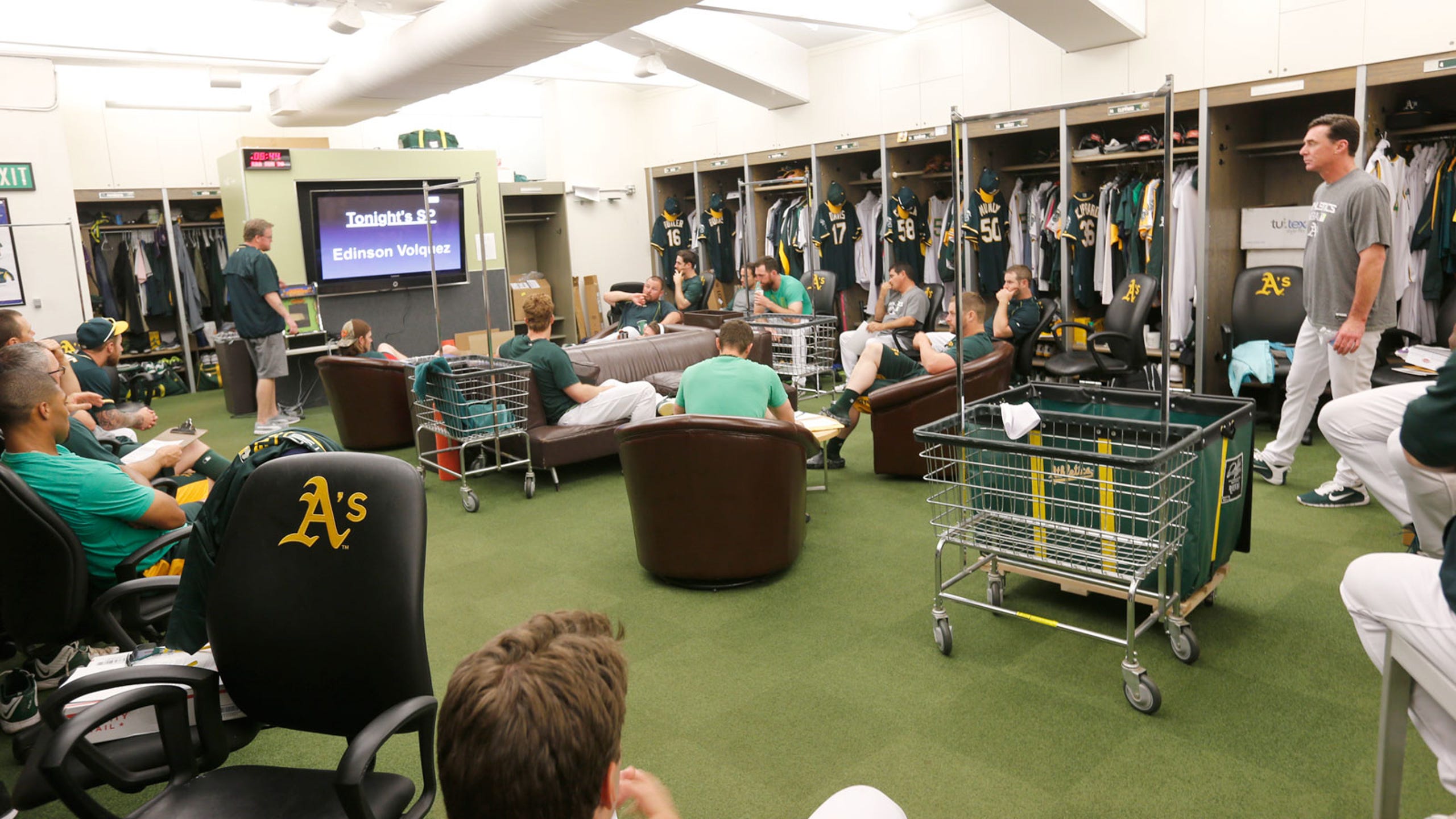 Deadline time: The view from the clubhouse
BY foxsports • July 29, 2015
The rumor mill constantly turns, and no time is more intense than the days that lead up to July 31. Players will say all the right things: "€œI don'€™t pay attention to that stuff" ... "I'€™m just focused on where I am today" ... "€I want to win here."
It all sounds good, but most of it is lip service. You can'€™t hide from the rumors -- credible or otherwise -- and you certainly can'€™t help but think what life might be like if you changed teams and put on a different uniform.
Twitter is rumor central and most players are on it, either openly or incognito. MLB Network is constantly on in every clubhouse, and reporters will ask any player about any rumor any time they can get in front of them. Try as you might, it is nearly impossible to ignore trade rumors that involve you or your team.
What happens next is how you handle it. If your name comes up in a rumor, one or more of these things likely is happening: You'€™re a pending free agent at the end of the season, you'€™re a prospect or your team is losing.
I was traded four times over the course of my 19 years in the game. Each brought a different emotion leading up to the deal. Once it was denial, another time it was hope (that a deal was coming), and then hope of a different kind (that I wouldn'€™t be traded). Sometimes you want to stay, sometimes you want to go.
The gossip never stops -- what you read, what you hear, it never goes away.
In 1999, I played for the Detroit Tigers. We weren'€™t a good team and I was a left-handed reliever, the most dispensable job in baseball. In late July, the rumors were flying. I had a player I knew well from an opposing team come up to me during batting practice one day and say, "€œYankees, huh? That would be nice."
Word had gotten around that there was a possibility of a deal that would send me to the New York Yankees. I am a New York native and was a Yankees fan as a kid. This was the greatest kind of rumor I could hear, but nothing ever came of it. There'€™s a deflating moment for a player who was rumored to be on the move, wanted to move and ultimately woke up on Aug. 1 to realize he wasn'€™t moved. Many guys will go through that this July 31; they just won'€™t say so publicly.
There'€™s also denial that you'd even be traded. The Reds drafted me ninth overall in 1994. At the deadline in 1995, there were rumors I would be on the move. I thought that was impossible. My team just drafted me 13 months ago; how could it possibly trade me already? I ignored the rumors. This predated cell phones. I walked into my apartment in Triple-A Indianapolis in the early evening to my landline phone ringing. "€œHey, CJ, we just traded you to Detroit for David Wells."€ I was in disbelief.
Brandon Finnegan just went through a similar moment. The Royals traded their first-round pick from 2014 near the deadline in 2015. I imagine any rumor he heard was met with denial. I imagine when he got word he was traded to the Reds in the deal for Johnny Cueto it was met with shock. Sometimes you don'€™t want to go, but rarely do you have a choice.
In 1996, I was back with Detroit. The Tigers were going through a transitional phase. The team was getting younger, but in the process we were not very competitive. I distinctly remember Cecil Fielder on July 31 that year. The deadline used to be midnight Eastern back then. We had a night game, and after the game he just sat in front of his locker waiting. He jokingly said, "€œI'€™m not leaving this clubhouse until they trade me."
He got his wish. Cecil was traded to the Yankees. They went on to win a World Series, and Cecil probably should have been World Series MVP. He'€™s still revered in New York for helping the Yankees get their first ring in 18 years and helping kick off their incredible postseason run.
Troy Tulowitzki was traded to the Toronto Blue Jays three days before the deadline. Clubhouses will talk about it. Opinions will be all over the place. There will be some players who secretly wish they were in that deal, some who wish they weren't.
If you'€™re a player wanting to be traded, you'€™re aware of all that is going on. One thing is undeniably true: Some players will be anxiously hoping that the rumors they are hearing come to fruition, and just as many will be hoping they won'€™t.  
---
---