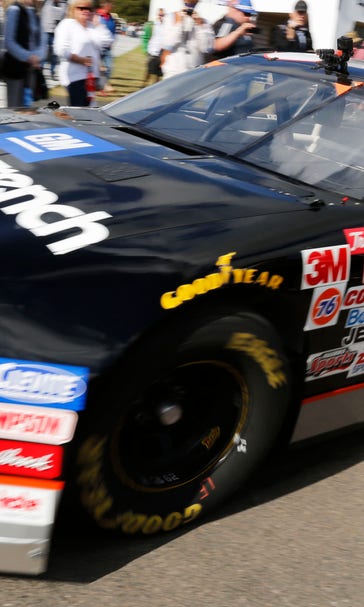 The annual Goodwood Festival of Speed at the Goodwood Estate in West Sussex, England showcases some of the most famous race cars and celebrates some of the biggest names in motorsports. 
At this weekend's event, NASCAR was well represented.
Making the trip overseason, NASCAR's 'King' Richard Petty ran his famed 1967 Plymouth Belvedere through the course. Petty pulled the car out of his musuem, replaced the brakes and changed the oil, then shipped it off to England before running it for the first time since 1967. 
Petty's car wasn't the only NASCAR horsepower present at this year's festival, though. 
Richard Childress Racing sent over one of Dale Earnhardt Sr.'s famed No. 3 Chevrolets from the 2000 season, as well as one of Austin Dillion's No. 3 Sprint Cup Series cars. 
Kerry Earnhardt drove his famous father's black No. 3, while Max Papis piloted Dillion's car. 
"I had the honor of attending the Festival in 2010, and then again in 2013," Earnhardt said. "The fans are so enthusiastic about NASCAR and to have the opportunity to participate in such a prestigious event for the third time is incredible."
"I'd like to thank Richard Childress for the opportunity to represent his race team at this year's Festival in England by driving that famous No. 3," Papis said prior to the event. "It's a privilege and I do not plan to take that lightly."
While Petty drove his car at times during the festival, Michael Waltrip also climbed behind the wheel of the famous No. 43. Michael Waltrip Racing co-owner Rob Kauffman drove another famous No. 3, one of Junior Johnson's cars. 
Former Camping World Truck Series champion Mike Skinner was also on hand, showing the fans in the UK how burnouts are done in NASCAR. 
Watch some of the NASCAR cars roll through the course and smoke the tires in the video below (the NASCAR action starts around the 7:49:12 mark)
---
---