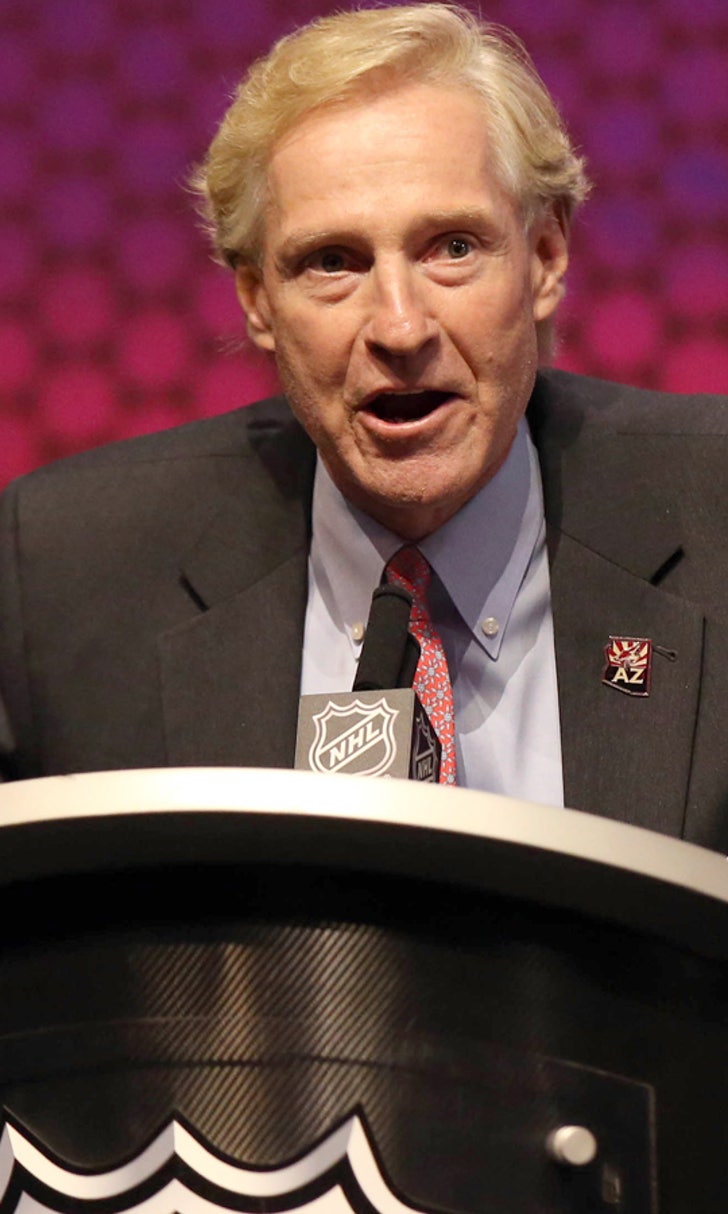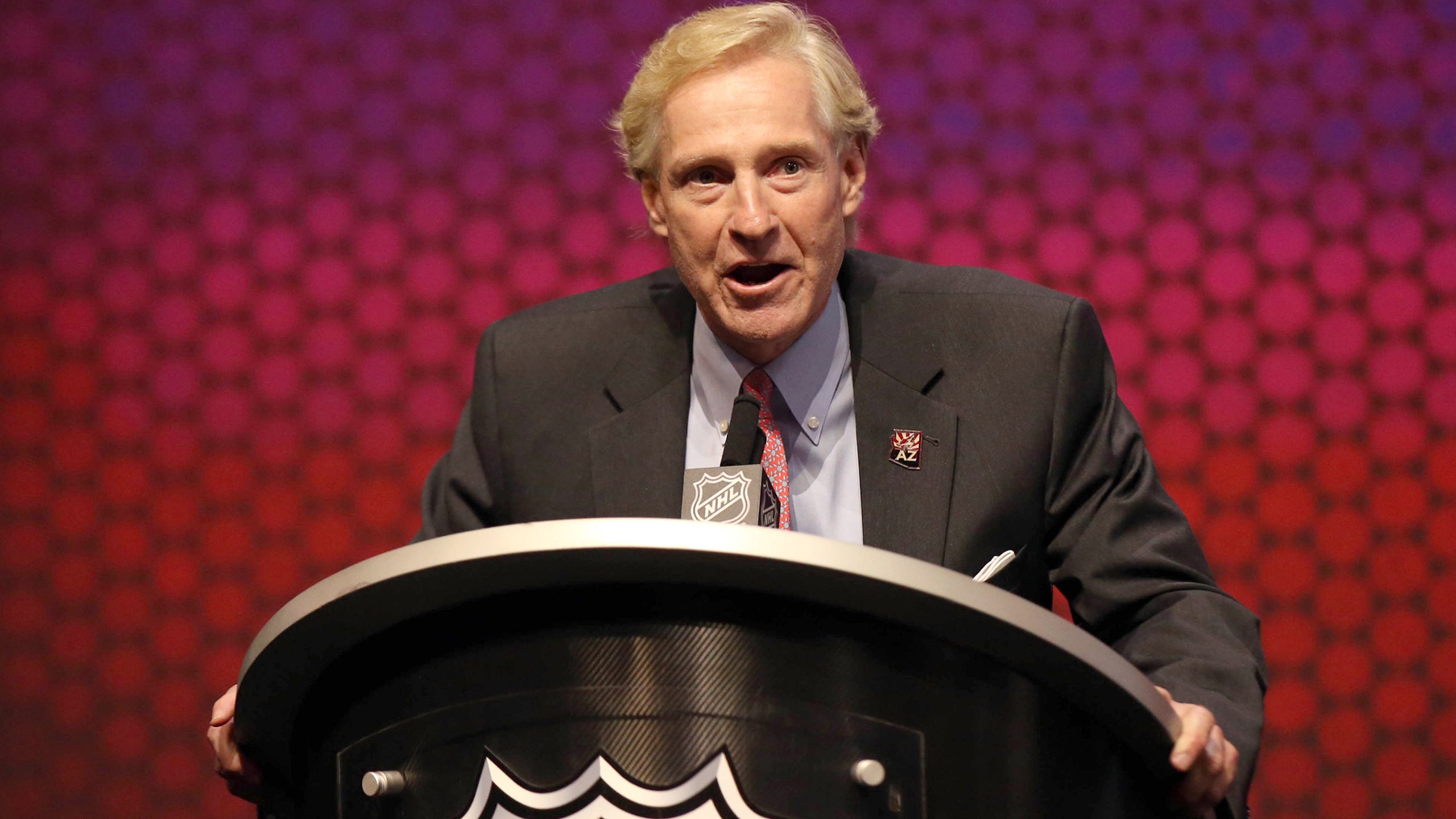 Coyotes sitting pretty at upcoming NHL Draft
BY foxsports • June 17, 2015
The Coyotes are the envy of the National Hockey League.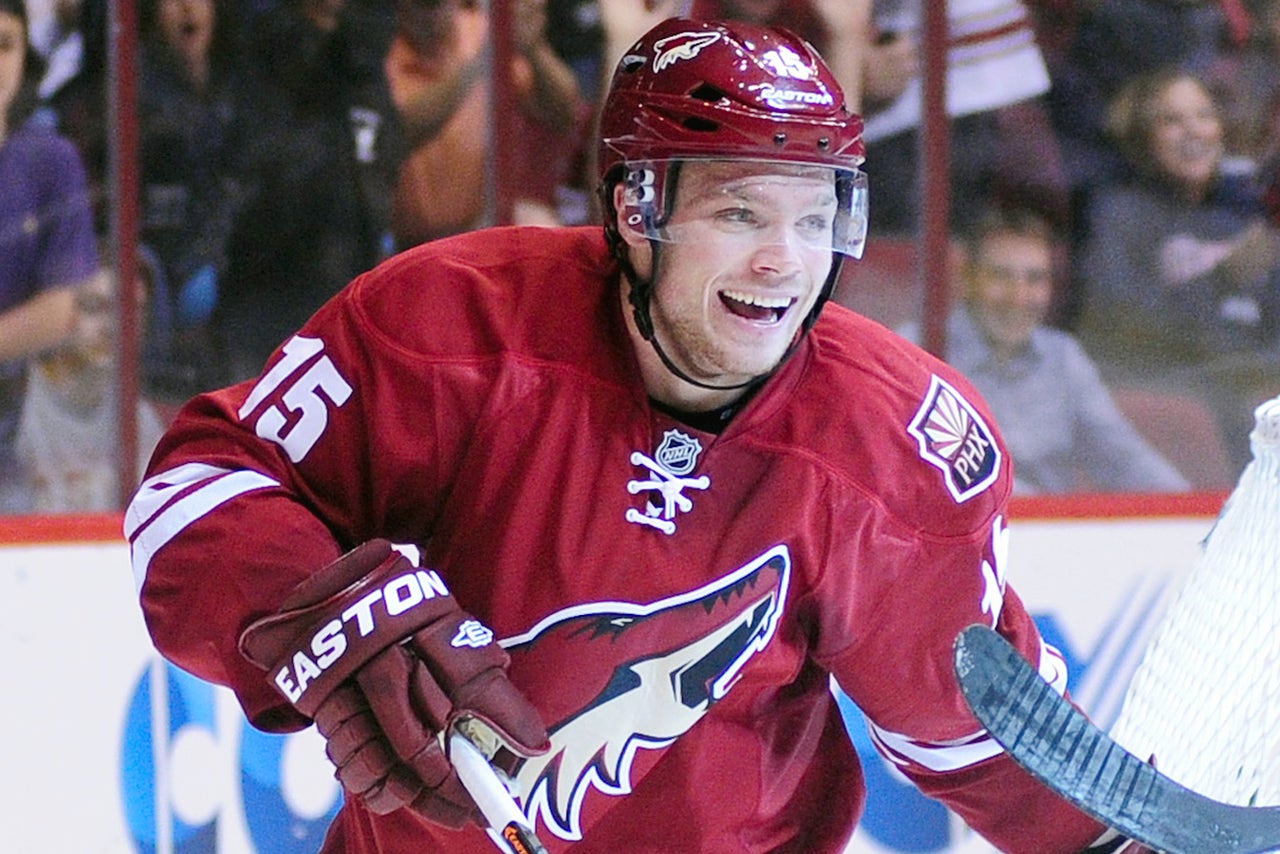 COYOTES' DRAFT HISTORY
Rd Pick Player Pos
2007
1 3 Kyle Turris C
1 30 Nick Ross D
2 32 Brett MacLean LW
2 36 Joel Gistedt     G
4 103 Vladimir Ruzicka C
5 123 Maxim Goncharov D
6 153 Scott Darling     G
2008
1 8 Mikkel Boedker LW
1 28 Viktor Tikhonov RW
2 49 Jared Staal RW
3 69 Michael Stone D
3 76 Mathieu Brodeur D
4 99 Colin Long C
6 159 Brett Hextall G
7 189 Tim Billingsley D
2009
1 6 Oliver Ekman-LarssonD
2 36 Chris Brown C
3 91 Mike Lee G
4 97 Jordan Szwarz RW
4 105 Justin Weller D
6 157 Evan Bloodoff LW
2010
1 13 Brandon Gormley D
1 27 Mark Visentin G
2 52 Phil Lane RW
2 57 Oscar Lindberg C
5 138 Louis Domingue G
2011
1 20 Connor Murphy D
2 51 Alexander Ruuttu F
2 56 Lucas Lessio LW
3 84 Harrison Ruopp D
4 111 Kale Kessy LW
5 141 Darian Dziurzynski LW
6 155 Andrew Fritsch RW
7 196 Zac Larraza F
2012
1 27 Henrik Samuelsson C
2 58 Jordan Martinook C
3 88 James Melindy D
4 102 Rhett Holland D
5 148 Niklas Tikkinen D
6 178 Hunter Fejes LW
7 184 Marek Langhamer G
7 208 Justin Hache D
2013
1 12 Max Domi (pictured) C
2 39 Laurent Dauphin C
3 62 Yan-Pavel Laplante C
5 133 Connor Clifton D
6 163 Brendan Burke G
7 193 Jedd Soleway C
2014
1 12 Brendan Perlini LW
2 43 Ryan MacInnis C
2 58 Christian Dvorak LW
3 87 Anton Karlsson RW
4 117 Michael Bunting LW
5 133 Dysin Mayo D
6 163 David Westlund D
7 191 Jared Fiegl LW
7 193 Edgars Kulda LW
Now that we've got your baffled attention, bear with us.
The Coyotes' current legal battle with the City of Glendale has turned ugly and will probably get even uglier, damaging both sides' brand and costing both sides oodles in legal fees. That battle could have a negative impact on the team's ability to attract new corporate sponsors and it will likely have a negative impact on the signing of free agents, both internal and external.
When it comes to the draft, however, Arizona holds the trump card on every team except Edmonton and Buffalo, which will draft centers Connor McDavid and Jack Eichel.
"We're in a great spot because the draft really starts with our pick at No. 3," Coyotes general manager Don Maloney said. "There are four or five guys that could go at that position. It just depends on what flavor you like and what you feel you need."
If the Coyotes do hold onto the No. 3 pick, Maloney said the team already knows whom it is taking, although "things change."
The Coyotes are open to trading down, however, and have already had conversations with at least three teams about doing just that.
"Those conversations started at the (NHL Scouting) Combine (earlier this month)," Maloney said. "Any deal we make will be made on the draft floor. That's always how these things work so we'll see what comes our way. I don't see us moving from No. 3 to No. 10 or No. 13, but I could see us dropping down a couple or a few spots to get the right asset."
When asked what he told teams it might take to pry that No. 3 pick away from Arizona, Maloney set the bar high with a humorous response during a recent teleconference. 
"I'm like, 'first-born, second-born, maybe I could use a helicopter to take me to work,'" Maloney said. "That would certainly get us to start thinking about it.
"The idea that we're going to trade that pick outright for a player to help us next year, I think that's remote, but you never know. It's probably more likely we trade down if we don't take the pick."
With all the uncertainty swirling around other facets of the organization, the June 26-27 Draft in Sunrise, Florida has taken on greater importance than usual for the Coyotes. The team must still get to the salary cap floor through free agency or trades, but it must continue to stockpile talent in its system, reasoning that it may not be the top destination for top free agents while uncertainty about its future lingers.
In short, the Coyotes can't miss like they have on high picks in the past. 
The graphic in this story lists all of the team's picks since Maloney took over. Of the first-round picks, only Mikkel Boedker and Oliver Ekman-Larsson could be considered well-spent picks to date, although recent top picks Max Domi and Brendan Perlini are the most exciting prospects in the team's system. 
Kyle Turris, Viktor Tikhonov and Nick Ross are playing elsewhere. Connor Murphy looks like a serviceable NHL defenseman, but there are questions about Brandon Gormley, Mark Visentin and Henrik Samuelsson.
Maloney has faced major hurdles and organizational shortcomings at every step of his Coyotes' tenure. We detailed how shorthanded the scouting department was in a story last year, noting its considerable impact on the team's ability to identify top European prospects.  Some of those issues have been rectified. The Coyotes have also stockpiled additional high picks through a pair of trade-deadline deals that shipped out Keith Yandle and Antoine Vermette, and they recently hired assistant GM for analytics, John Chayka, to lend a more informed analysis to their player evaluations.
In one week, it will be time to put all those pieces into motion with a clear understanding that the draft is the team's best hope for the future. To reiterate, however, Maloney said the actual selection of draft-eligible players isn't the only way to improve the team. Trades are possible with more than the team's No. 3 selection in play. 
"Nobody is going to give us good players without giving up something, and that's why we are certainly open for business, whether it's the Chicago pick (30th overall), or our pick in the second round," he said. "We've got two firsts, two seconds, two thirds. We have two firsts next year. We have lots of good assets that we can use to better our team and we're certainly not against using it in the right deal."
Follow Craig Morgan on Twitter
---
---