Florida State Seminoles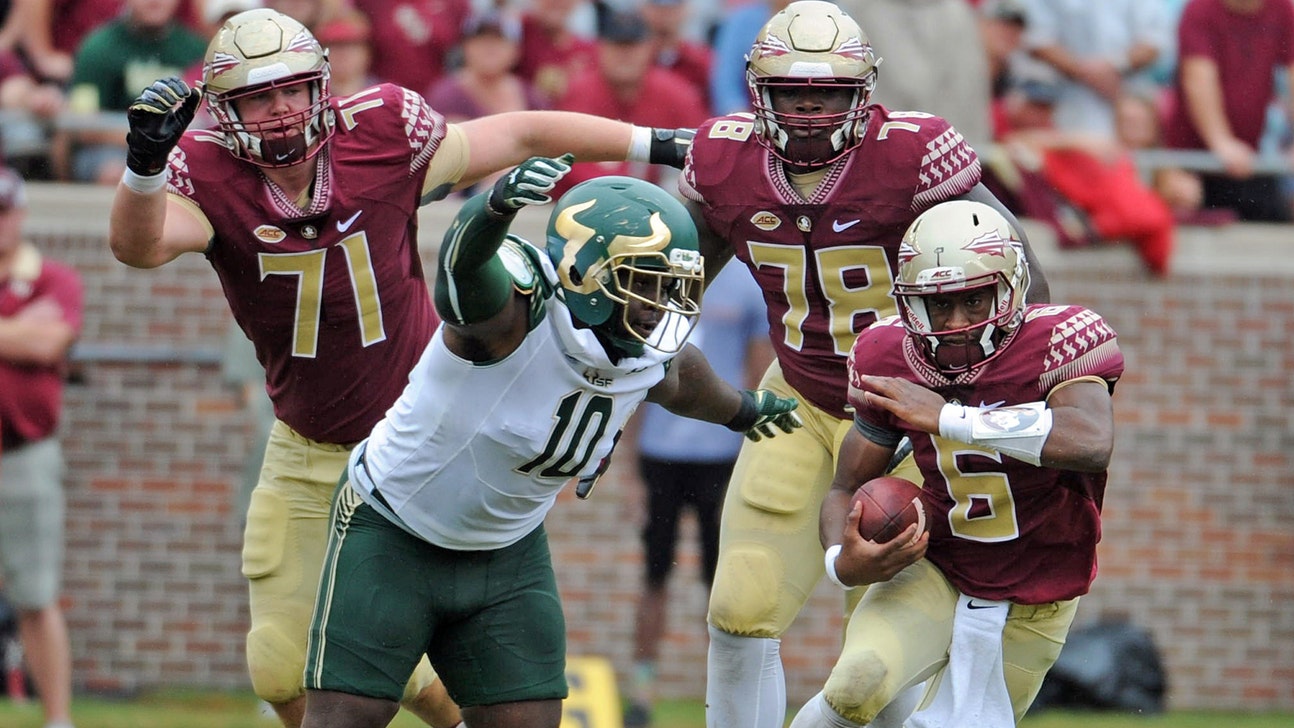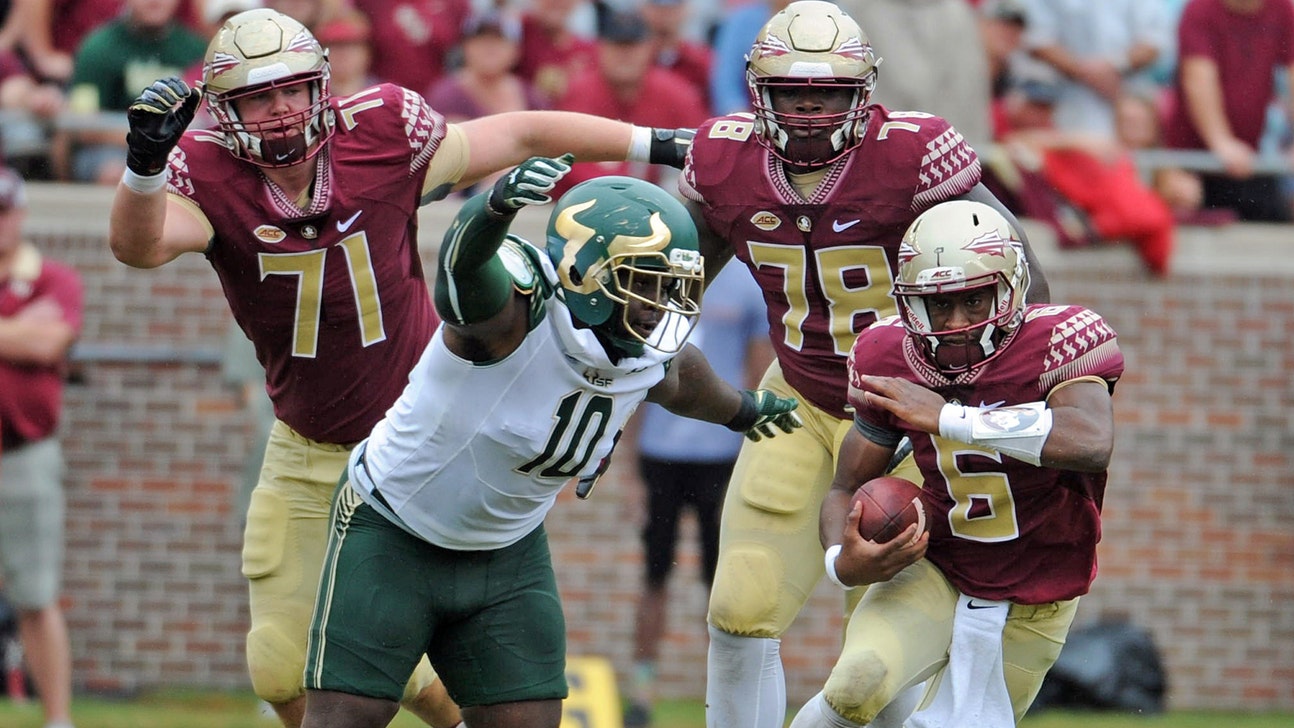 Florida State Seminoles
Consistency breeds confidence for FSU's offensive line
Published
Oct. 15, 2015 7:00 p.m. ET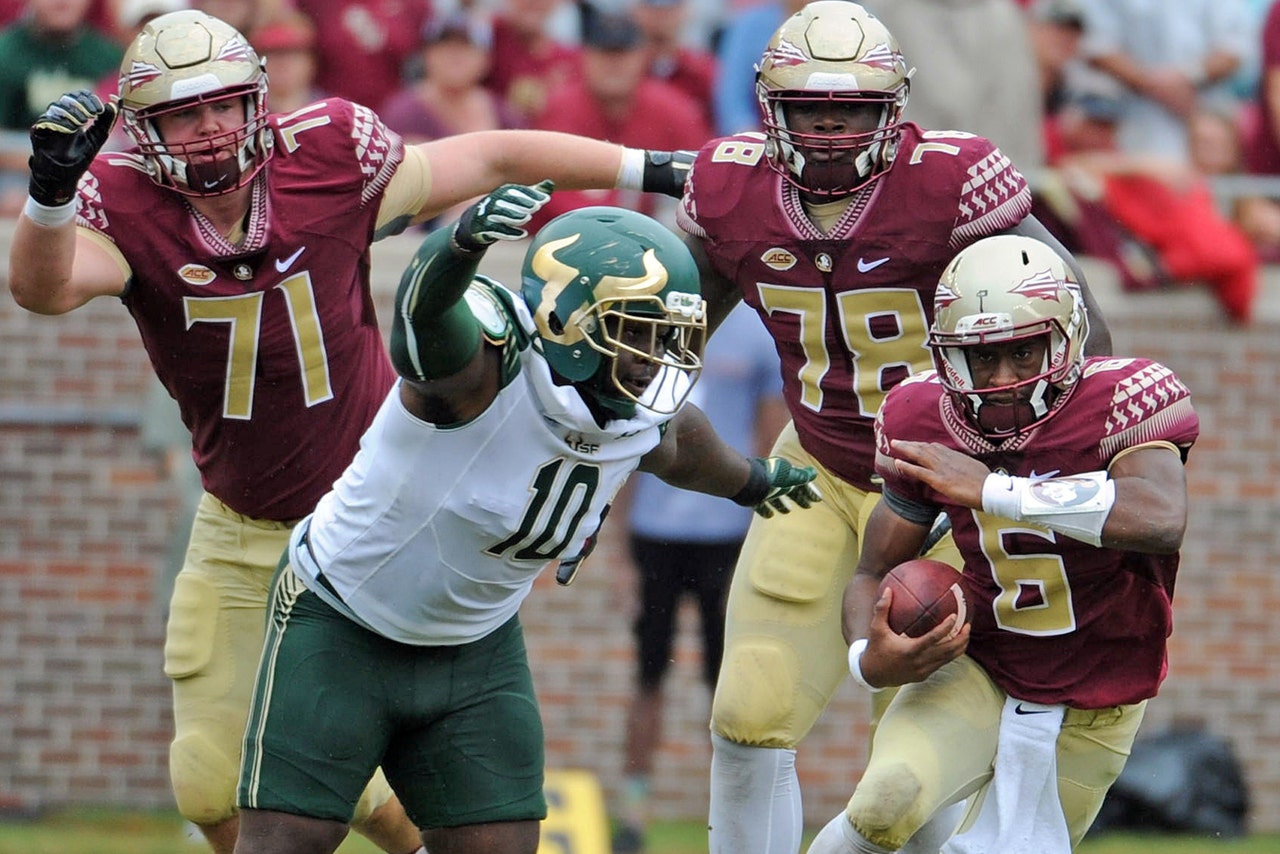 TALLAHASSEE, Fla. (AP) -- After five games, Florida State's offensive line has started to become more consistent, and along the way have become more confident.
And the timing couldn't be better.
The 12th-ranked Seminoles (5-0, 3-0 Atlantic Coast Conference) face another big test on Saturday against a Louisville defense that has allowed an average of 197 yards the past two games. he Cardinals (2-3, 1-1) were off last week but have won their last two.
The Seminoles O-line is also on a roll.
Last Saturday's 29-24 win over Miami was the line's best performance of the season. Not only was the run protection solid as Dalvin Cook gained 222 yards, but quarterback Everett Golson had a clean pocket for most of the game.
With four new starters at the beginning of the season, right guard Wilson Bell said the biggest key has been better communication among the group.
"We finally got it down once again with communication, understanding each other, making the right calls, being able to read defenses and being able to talk it out," Bell said. "We've been getting better calls from Everett, he's been there to communicate with us, tell us which way to go."
Coming into the season, left tackle Rod Johnson and center Ryan Hoefeld were the only returnees with starting experience. Hoefeld missed the first three games this year as he was recovering from knee surgery during the spring but has added stability to the group the past two games.
Coach Jimbo Fisher still refers to the line as a work in progress, and it's not just coach speak; Bell and left tackle Rod Johnson are the only two linemen to start all five games. Left guard Kareem Are missed last week's game due to a knee injury while Hoefeld and right tackle Derrick Kelly have moved into the starting lineup. Corey Martinez began the year at center but saw plenty of snaps during the Miami game at guard.
During the preseason, offensive line coach Rick Trickett kept working different combinations in order to come up with a group that was at least nine deep.
"They've been in enough games now to realize, `I've done this game stuff, now it's just doing my job' and not getting caught up in the craziness," Fisher added.
Hoefeld also said one of the reasons why the communication has improved is that the line hung out together a lot off the field.
"This has been one of the closest units that we've had. During the summer, we did a lot together . then back at practice, we try to talk as much as possible," Hoefeld said. "Even if you don't have anything to say, we try to get it out. Just in case for the game."
Florida State has allowed only 11 sacks this season, which is ranked in the middle of the ACC. Louisville has 10 sacks and are led by defensive end Sheldon Rankins, who has four sacks and five tackles for loss.
Bell said the Cardinals' front seven resembles Florida State's in terms of speed and being physical. He also sees facing Rankins as a challenge because he often draws double teams, which allows linebackers to make plays.
"The guy is tremendous at holding his gaps. He's not easily pushed back. He's good at reading where the ball is," Bell said. "From what I have seen, the guys that they went against, offensive linemen are not able to get to the second level because of him. He's holding up two guys at the same time."
Even though Cook leads the conference in rushing with 792 yards, Saturday's game could resemble what happened Sept. 18 at Boston College, when Cook was held to 55 yards by Boston College's physical defense. However, Florida State's offense has been more balanced since that game. The Seminoles remain the only team in the nation without an offensive turnover.
---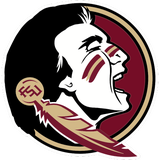 Get more from Florida State Seminoles
Follow your favorites to get information about games, news and more
---