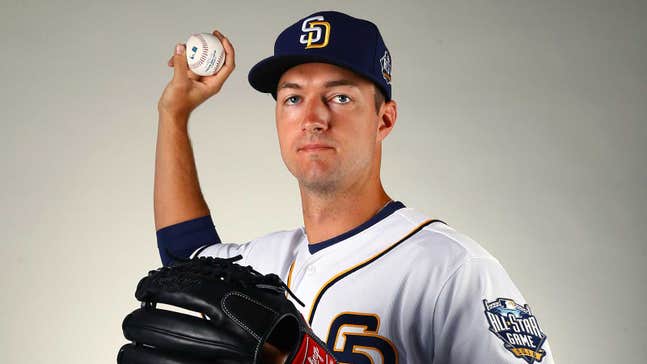 Colin Rea solid in Padres 10-2 win over Cubs
Updated
Mar. 4, 2020 3:29 p.m. ET

MESA, Ariz. (AP) -- The Cubs' Jake Arrieta struck out five batters in four innings of work and left with the game tied 1-1 before San Diego got to Chicago's bullpen for a 10-2 win Monday.
The reigning Cy Young winner had a solid second outing, allowing two hits, one earned run and two walks. He also had a chance to work on getting out of trouble.
"I wanted to pitch with guys on base," the right-hander said. "I wanted to work out of the stretch with good timing and tempo."
San Diego starter Colin Rea also went four innings, giving up one hit, one earned run and three walks.
"I felt like I needed to get in those situations because you are not going to be at your best every time out," Rea said. "I felt pretty good overall."
The Cubs got on the board in the first inning when third baseman Kris Bryant doubled off the outfield wall, scoring Ben Zobrist.
The Padres answered in the third when Jemile Weeks singled, stole second and scored on Jon Jay's ground-rule double. They broke it open in the fifth as Jabari Blash and Alexei Ramirez both hit two-run homers off of Pierce Johnson.
"He's got that kind of power," Padres manager Andy Green said of Blash. "You see that in his batting practice. So far in spring he has been a three-outcome guy. He's gonna walk, punch out or home run. In time you are going to see some base hits and doubles."
STARTING TIME
Cubs: Arrieta said he expects to let the pitch count climb in his next few outings. "I assume I will get close to 90 a couple of times," he said. "From that point the juices start flowing, especially once the season gets here, and the arm strength is going jump up a tick once the bright lights are on."
Padres: Rea is in a battle for one of the team's final rotation spots. "I go out there and make pitches the best I can," he said. "I can't really control what they decide or what they are going to do so I try to keep it out of my head."
YEAR TWO WITH JAKE
Cubs manager Joe Maddon said he said will be inclined to limit Arrieta's innings early in the regular season with the hopes he'll be stronger down the stretch and into October.
"A lot of lessons learned," Maddon said. "Back them off a little bit early (in spring) and make sure they are ready for the beginning of the season."
BIG MAC'S RETURN
Mark McGwire saw his first game was his first time as the Padres' bench coach after leaving in while his wife recovered from a medical condition that he's preferred to keep private.
SOLER STUMBLE
Chicago left fielder Jorge Soler was indecisive on ball that was hit in front of him by Travis Jankowski, and it got past him. Jankowski rounded the bases on the hit, which was ruled a single and a three-base error.
TRAINER'S ROOM
Cubs: Infielder Tommy La Stella (calf) and non-roster invitee outfielder Shane Victorian (calf) are expected to return to action in the next few days.
Padres: San Diego had no significant injuries to update.
UP NEXT
Cubs: Chicago travels to Peoria on Tuesday and will put Clayton Richard on the mound for his first start of the spring.
Padres: Tyson Ross (0-1, 3.60 ERA) will make his third start of the spring.
---
---