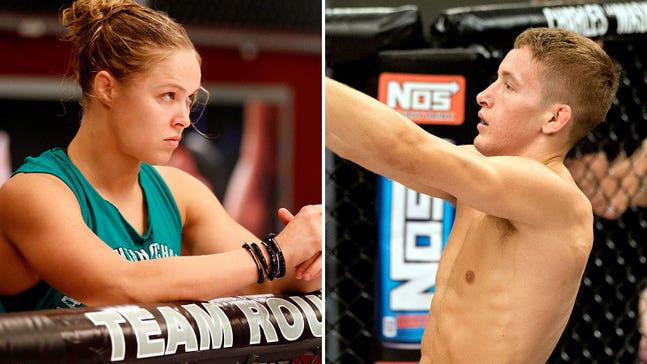 Chris Holdsworth: 'Everyone wanted to be on Ronda's team' on TUF 18
Published
May. 13, 2014 1:15 p.m. ET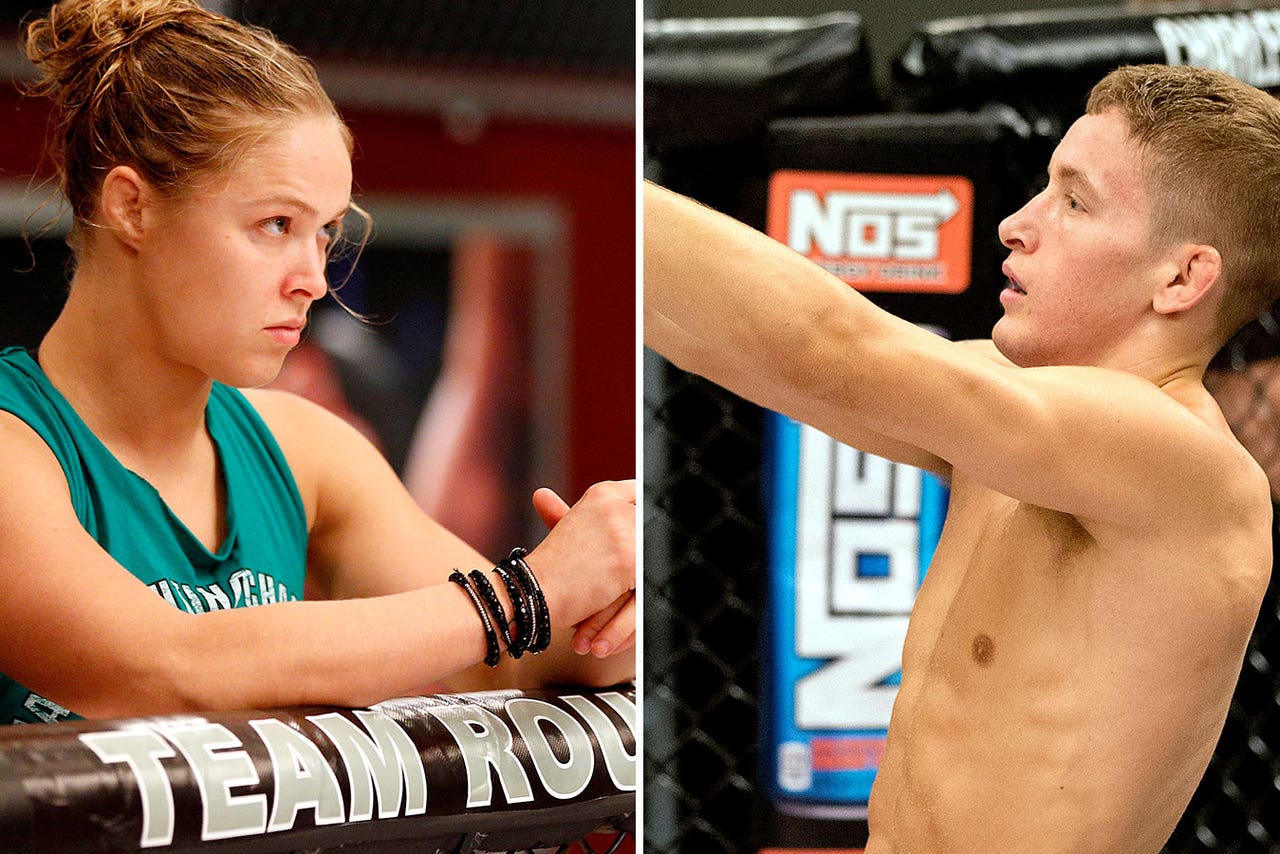 There was an awkward moment at the beginning of The Ultimate Fighter season five when coach BJ Penn threw down the gauntlet before team selections and asked all of the competitors involved who wanted to be on his team and absolutely not end up on his opponent, Jens Pulver's team.
10 of the 16 fighters involved raised their hands and it took UFC President Dana White stepping in to stop the melee before it got any more uncomfortable for the participants, much less for coach Jens Pulver.
It's a good thing the same kind of selection didn't happen at the start of The Ultimate Fighter season 18 because according to eventual show winner Chris Holdsworth, the word around the campfire before the teams were chosen was that one coach would have gotten the entire roster of fighters.
UFC bantamweight champion Ronda Rousey and her top rival Miesha Tate served as coaches, but it was the former Olympian who had all the fighters up in arms asking to be on her team.
"At first, in all honesty, I think everyone wanted to be on Ronda's team," Holdsworth told FOX Sports.  "I thought our personalities were very similar and I thought I could learn a lot from her.  Just all that in general, but on the other hand I knew of Miesha, she trained with our team before, I was comfortable with her coaching staff, she brought on some coaches I was very familiar with. 
"I was very comfortable with it once I found out Miesha was going to try to pick me.  At that point I really didn't care.  I knew I was going to end up on a team and I knew what I had to do to make this the best experience."
Holdsworth had no problem ultimately ending up on Tate's team, especially after the initial conversation he had with her and assistant coach Bryan Caraway just before the team selections started.
Following the entry fights to get into the house, Holdsworth and the other competitors gathered in a group to chat about the coaches and it was unanimous across the board that all of them wanted to be on Rousey's team.
Seconds later, Holdsworth got a pretty good idea that he was going to end up on the other team so he just rolled with the punches and as the season got moving, he had no regrets.
"It's funny, we had a little talk beforehand and everybody's like 'I hope we're on Ronda's team' and right after we had that talk, Miesha came up to me, her and Bryan (Caraway) came up to me and talked for about 10 minutes and I got to know her and I got to know Bryan because before I would hear things about them, but once I got to talk to them I kind of got a different opinion on them, and got more comfortable if they did pick me. I was happy where I ended up," Holdsworth said.
Obviously the team selection didn't hurt Holdsworth at all because he barreled through the competition, finishing both of his opponents on the show before going to the finale and doing the same to Team Rousey fighter Davey Grant.
There's no denying, however, that when the show started he wanted to be Team Rousey and not Team Tate.
"I was happy to be on any team, but at first, everyone wanted to be on Ronda's team," Holdsworth said.  "Just keeping it real."
Holdsworth will have his first post-TUF appearance at next weekend's UFC 173 card where he takes on Chico Camus as part of the prelims airing live on FOX Sports 1 starting at 8p ET.
---
---