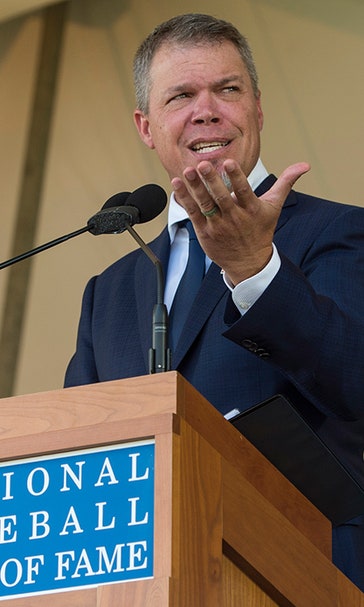 Chipper Jones' single-team, single-city legacy sets him apart from Braves other Hall of Famers
July 29, 2018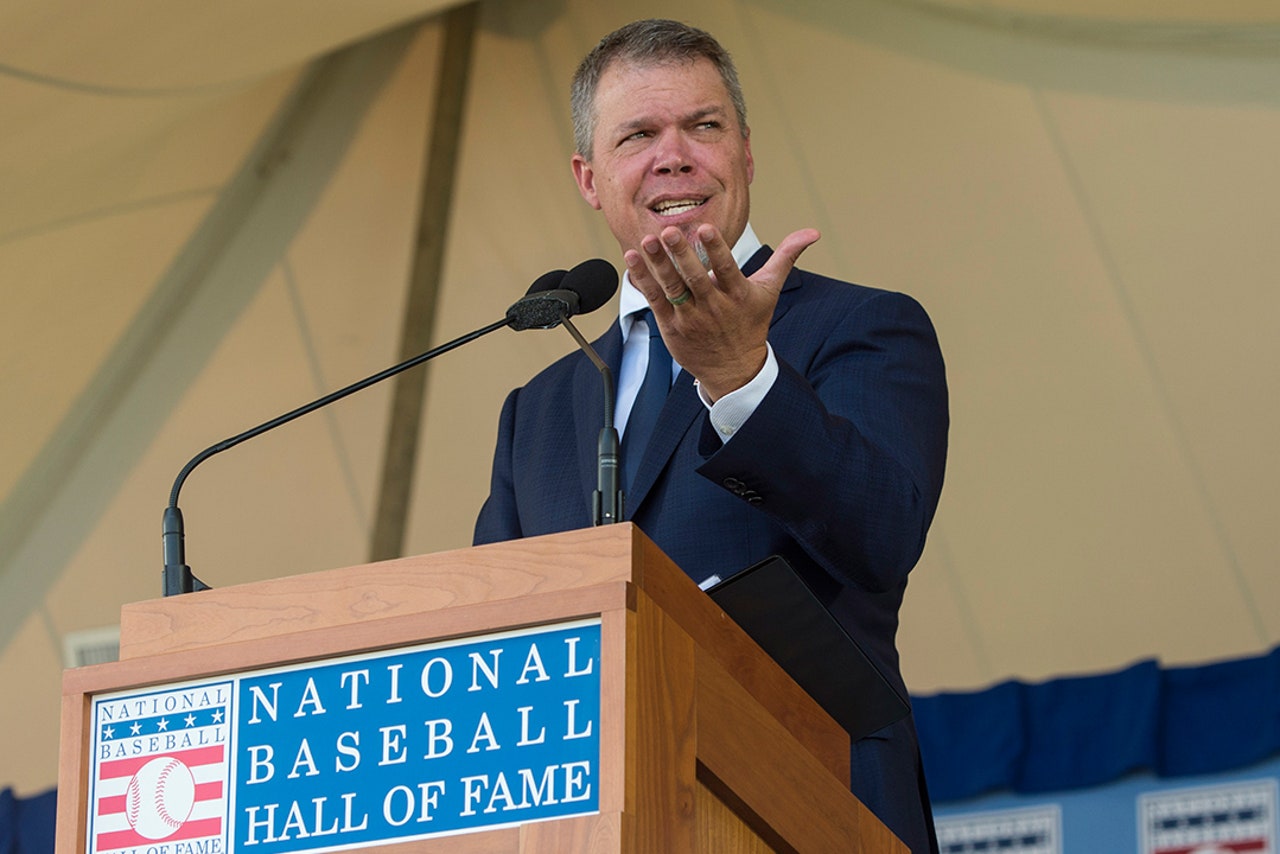 One team. One city.

Paint the picture of Chipper Jones' legacy however you'd like. It can be the numbers that made him one of the greatest switch-hitters of all-time, the accolades of an eight-time All-Star, and 1999 National League MVP or as part of the 1995 World Series champions as a rookie.

Those were all there in Larry Wayne Jones Jr.'s plaque as it was unveiled on-stage Sunday in Cooperstown.

But what sets Jones apart from the other five Atlanta Braves to have reached the Baseball Hall of Fame in the past five years -- pitchers Tom Glavine, Greg Maddux and John Smoltz, manager Bobby Cox and general manager John Schuerholz, all of whom joined him at the ceremony -- was that Chipper Jones did it all with one team in one city during his 19-year career.

"Playing in Atlanta from start to finish is something I'l always be proud and grateful for," Jones said during his speech as he joined Vladimir Guerrero, Trevor Hoffman, Jim Thome, Jack Morris and Alan Trammell in being enshrined.

When Jones retired in 2012, he did so as the last link to the early days of the Braves' run of 14 straight division titles, and he may be the final piece of that era to be enshrined in Cooperstown.

https://twitter.com/FOXSportsBraves/status/1023636485390651395

Andruw Jones and Fred McGriff could each join him and the rest of that core, but they remain long shots. McGriff received 23.2 percent of the vote in his ninth year on the ballot -- a far cry from the 75-percent threshold -- and Jones barely stayed on the ballot in earning just 7.3 percent in his first year of eligibility.

He may also be the final Braves player for some time unless the Modern Baseball (1970-87) or Today's Game (1988-present) Era Committees can push Dale Murphy through during the next three MLB Winter Meetings, with Today's Game being voted upon this winter, followed by Modern Baseball the following year.

But if any of them earn a spot in the Hall, none will be able to match Jones' single-city impact. The top pick in the 1990 draft, Chipper Jones became the Crazy Train-themed mainstay of a team with a fan base that stretched further than the Southeast. He was the Braves for a generation.

One of six players with at least 450 home runs, 2,700 hits, a .400-plus on-base percentage and career OPS+ of 140 or more, Jones is joined by Babe Ruth, Mel Ott, Stan Musial, Lou Gehrig and Barry Bonds.

Among those who were primarily third basemen, only Mike Schmidt and Eddie Mathews hit more homers than Jones' 468, and the only switch-hitters to go deep more were Mickey Mantle (536) and Eddie Murray (504).

https://twitter.com/FOXSportsBraves/status/1023688839250866176

The numbers were undeniably destined for Cooperstown, with Chipper leading the class with 97.2 percent of the vote in his first year on the ballot. Only nine other players had reached that plateau, putting him alongside Ken Griffey Jr. (99.3), Tom Seaver (98.8), Nolan Ryan (98.8), Cal Ripken (98.2), George Brett (98.2), Ty Cobb (98.2) George Brett (98.1), Hank Aaron (97.8), Tony Gwynn (97.6), Randy Johnson (97.2) and Maddux (97.2).

Amid a speech in which he applauded the impacts of his parents, Cox, Schuerholz and the Big Three -- among others both personal and professional -- on his life and career, Jones closed by looking out onto a sea of fans that were heavy with the red and blue of Braves faithful.

"I know none of us would have had the privilege of playing this game or receiving these accolades without people in the stands believing in us. For me, that's Braves Country," Jones said.

"Atlanta Braves fans showed me almost every night what it meant to believe in something unconditionally. I want to thank Braves fans that are here today and the ones that are back home.

https://twitter.com/FOXSportsBraves/status/1023676751082180608

"As a player, traveling is the hardest thing to do, being away from our families and our fans. But with you, whether we were in St. Louis, Colorado or here in New York, when I stepped out onto the field for batting practice and saw Braves fans 10 deep -- sometimes stretched down to the foul pole -- you made us feel like we never left home.

"You are the fans I imagined in my head playing in the backyard all those years ago. Your'e why I love coming to the plate with the game on the line, Crazy Train blaring in the background and why I wanted so badly to come through for you.

He was longevity, commitment to a single franchise and consistency, all as the positional centerpiece of a team that was at the center of the baseball universe for nearly a decade and a half.

"I couldn't be prouder," Jones said in closing out his speech, "to go into the Hall of Fame with an Atlanta 'A' on my cap."




Follow Cory McCartney on Twitter @coryjmccartney and Facebook. His books, 'Tales from the Atlanta Braves Dugout: A Collection of the Greatest Braves Stories Ever Told,' and 'The Heisman Trophy: The Story of an American Icon and Its Winners.' are now available.
---
---