LeBron James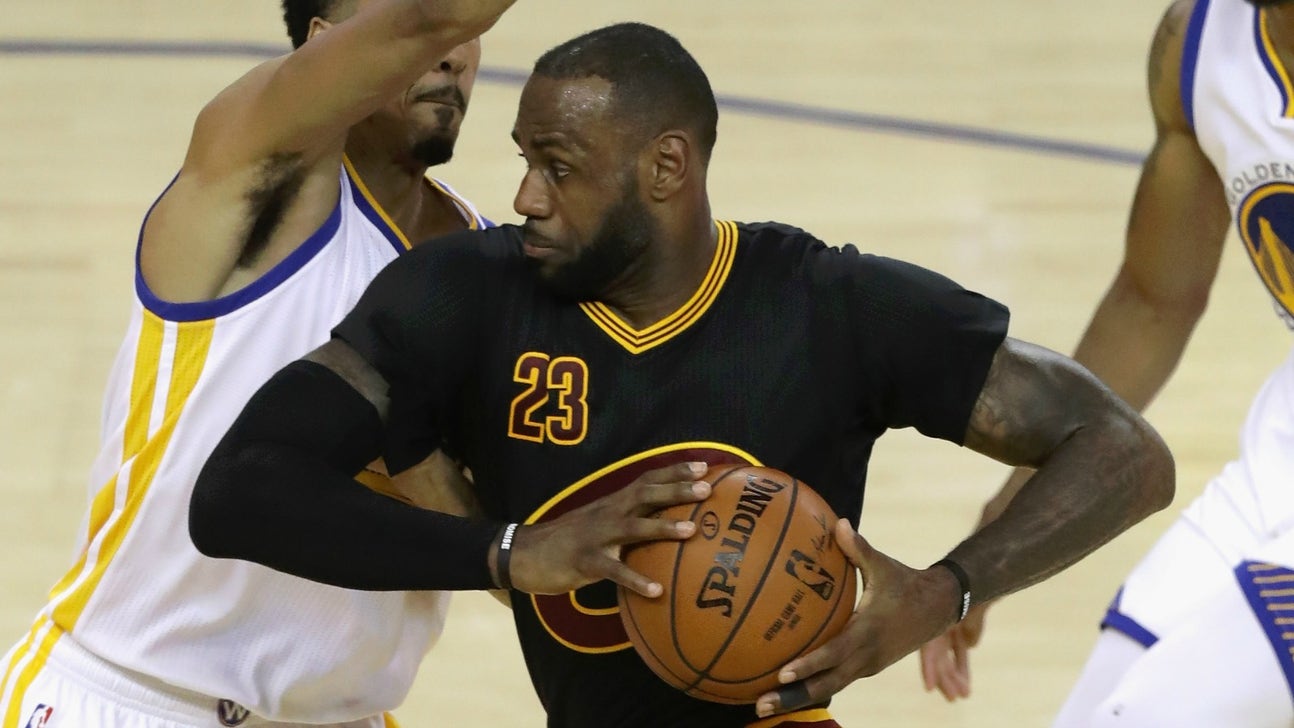 LeBron James
Cavaliers seek to force Game 7 against Green, Warriors
Published
Jun. 15, 2016 4:28 p.m. ET

The Cleveland Cavaliers will try to make history and stay alive by winning Game 6 of the NBA Finals on Thursday night against the defending champion Golden State Warriors.
Home and facing a must-win, the Cavs recall the agony of the 2015 NBA Finals when the Warriors sealed the championship in Game 6 at Quicken Loans Arena.
Only two of 32 teams down 3-1 in NBA Finals have managed to take the series to seven games, the last time in 1966.
Cleveland's goal, of course, is to make sure history doesn't repeat for the second straight year.
Cavaliers stars LeBron James and Kyrie Irving scored 41 points apiece in Cleveland's 112-97 victory in Game 5, denying the Warriors a chance to repeat on their home court at Oracle Arena.
The Cavs are hoping that momentum carries over to Game 6.
"I think that's always been the case in the postseason," James said when asked about momentum at Wednesday's news conference. "I think it also depends on the way you played and where you played at. I think that helps. But, I mean, both teams in this series have shown that they can win on each other's floor, so I don't think that matters much.
"I feel like we'll be prepared for Game 6. Our coaching staff has given us another great game plan. They're going to give us some more insight on what needs to be done tomorrow morning at our shootaround, and it's up to us as the guys to go out and execute that."
Irving said he is only focused on Game 6 and not about his 41-point night.
"Not really even thinking about that game (Monday night) right now," Irving said. "As soon as the buzzer ended in Game 5, all I could think about was preparation for Game 6. Watched some film and the next 24 hours would be just solely focused on how we can be better for Game 6.
"As a competitor, you want to sustain it. Obviously you want to have a big night, especially playing on this platform. But sometimes it can go either way, and you have to be willing to play through both ways and remain confident in what the game plan is offensively and defensively. And if we stay that course, we feel pretty good that we've put ourselves in a great position to be in the game. So for us, it's just about coming out with that aggressive mindset, pushing in transition, and getting easy opportunities that we can take advantage of."
James hopes the Cavs will get more from Kevin Love on Thursday night. Love returned to the starting lineup in Game 5 since sustaining a concussion in Game 2, but he only managed two points and three rebounds.
"Just need him to be aggressive," James said of Love. "You know, from the defensive side of the floor and the offensive side of the floor, go out and make an impact on the game, no matter if he's not scoring, no matter if at times he feels like he's not getting touches. We all just need to continue to be aggressive. He needs to be aggressive to help us try to send this game back to Golden State. I think he's looking forward to the challenge. I think he's looking forward to the moment. We definitely need him. He's too big of a piece to our puzzle."
Cavaliers coach Tyronn Lue isn't concerned about Love's effort in Game 5.
"I mean, Kevin was great," Lue said. "I mean, defensively he did a lot of good things. Offensively we have two guys that did something that hasn't been done in NBA history: Two guys score 40 points in a single game. So there wasn't a lot of room or a lot of shots for a lot of other guys because they had a special moment.
"So it's hard enough to win a game in a regular season and then to win a game in the NBA Finals and guys are focused on Kevin not scoring the basketball. He did a lot of great things. Our rebounding was down because he's on the perimeter. He's guarding perimeter guys. They play five smalls, so he's not going to be able to rebound the ball as well as if he's playing inside against a bigger guy. So Kevin was great defensively, and Kyrie and LeBron carried us offensively because they had two very special nights."
James also knows Game 6 will be different with Draymond Green back on the court for the Warriors. Green missed Game 5 while serving a one-game suspension for his below-the-belt hit on James.
"My only job is to get this win, man," James said. "We have a great opportunity to protect home court and go into two of the best words ever, and that's Game 7. So hopefully we can protect home. That's all that matters."
Green said "it was one of the weirdest days of my life" when he was not able to play in Game 5 and could not be in the building.
"I have a strong belief that if I play in Game 5, we win. But I didn't because I put myself in a situation where I wasn't able to play," Green said after watching the Cavs' victory from O.co Coliseum next to Oracle Arena while serving his suspension.
"I move on from the suspension. That was Game 5; we're here in Game 6 so it's behind us. We got an opportunity to do something that, I don't know if it's ever been done ... where you win a championship on someone else's floor two years in a row. We have that opportunity. It's a fun one. It'll be tough."
The Warriors this time will be without center Andrew Bogut, who will miss the remainder of the Finals due to a left knee injury. An MRI revealed that Bogut will not require surgery but he will be sidelined 6-8 weeks.
Warriors coach Steve Kerr again will have to make an adjustment without his other big man.
"Yeah, there was hope," Kerr said of Bogut. "We didn't know what the MRI would show. You never know with this stuff. I was also worried that it would be worse, maybe an ACL or something. But it's bad news for our team. Boges has made an impact in this series first couple of games. I thought he was really impactful. Last two we played him fewer minutes, but still he's a defensive presence at the rim and rebounder, and a great passer. So we'll miss the minutes that he's been giving us."
Kerr is confident Green won't put himself in another position that is costly to the Warriors.
"He knows that if he gets another flagrant he misses Game 7," Kerr said. "He's well aware of that. I'd be shocked if anything happened on that front. I think he feels bad enough as it is about missing Game 5. He's not going to put himself at risk of missing another game."
The Cavaliers handed the Warriors just their fourth defeat all season at Oracle Arena, denying MVP Stephen Curry and Golden State a chance to celebrate a championship on its home court.
The Warriors will try to win on the road, just the way they did last year and in their only other championship season out west in 1975.
Klay Thompson scored 37 points with six 3-pointers, and Curry added 25 points with five 3s, seven rebounds, four assists and two blocked shots in Game 5. Down the stretch in the fourth quarter, the Splash Brothers struggled and could not match the performance of Irving and James.
"When you have two guys play the way they did, you obviously notice because you see the ball going in the basket every time," Curry said. "But for me, you kind of get a little edge about you trying to go back at them, but you've got to do it within the system of our offense and how we go about things and not get the temptation to abandon that just to get into the little back-and-forth, one-on-one. So that's kind of my approach. You enjoy those kind of moments, even though we didn't get the win. But an opportunity to go right back at them."
Kerr mentioned right after Game 5 that the Warriors are in the same position as last year with a chance to win a championship in Cleveland.
"We were in the same building, and like you said, same 3-2 lead," Curry said. "Understanding the emotions of what it is to try to win a closeout game on the road. Having been through it one time, so that helps. I think it's different because it's a different year, it's a different challenge, different circumstances, obviously, with a couple of injuries and whatnot. But the opportunity is there, and I think we're a very poised group that's ready for it. So it should be fun."
Thompson agreed about the Warriors' chances for a repeat on the road.
"That's a good reminder," Thompson said. "When you lose a game in The Finals, it feels like Armageddon because obviously you have the spotlight and the stage. So you can't get too down on yourself. We had a golden opportunity. We let it slip away. That's all right though. We've got a great chance to redeem ourselves (Thursday). I don't think we really care if we win on the road or at home. We just want to win. It's hard work to get here and it's even harder to finish it off. So we do feel good though, and we won here on the road before, so it's easy to reflect on that. But at the same time, like I said, can't just show up and expect to win. This is a very good team we're facing."
---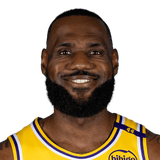 Get more from LeBron James
Follow your favorites to get information about games, news and more
---