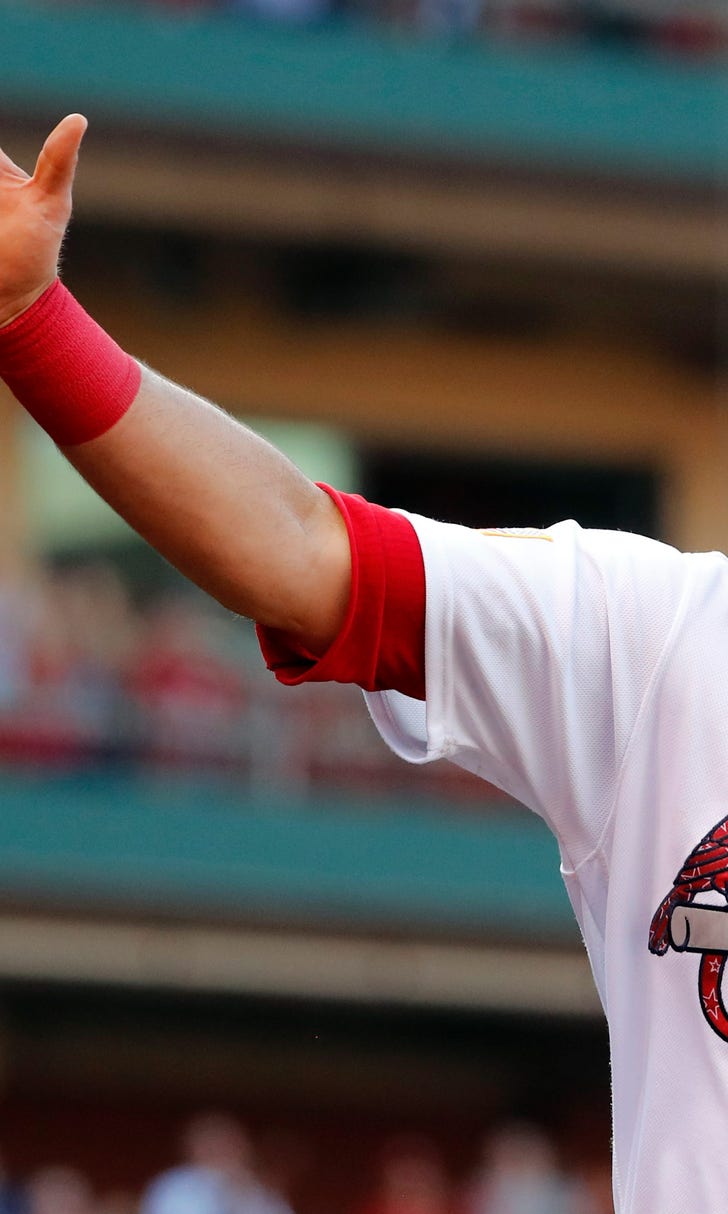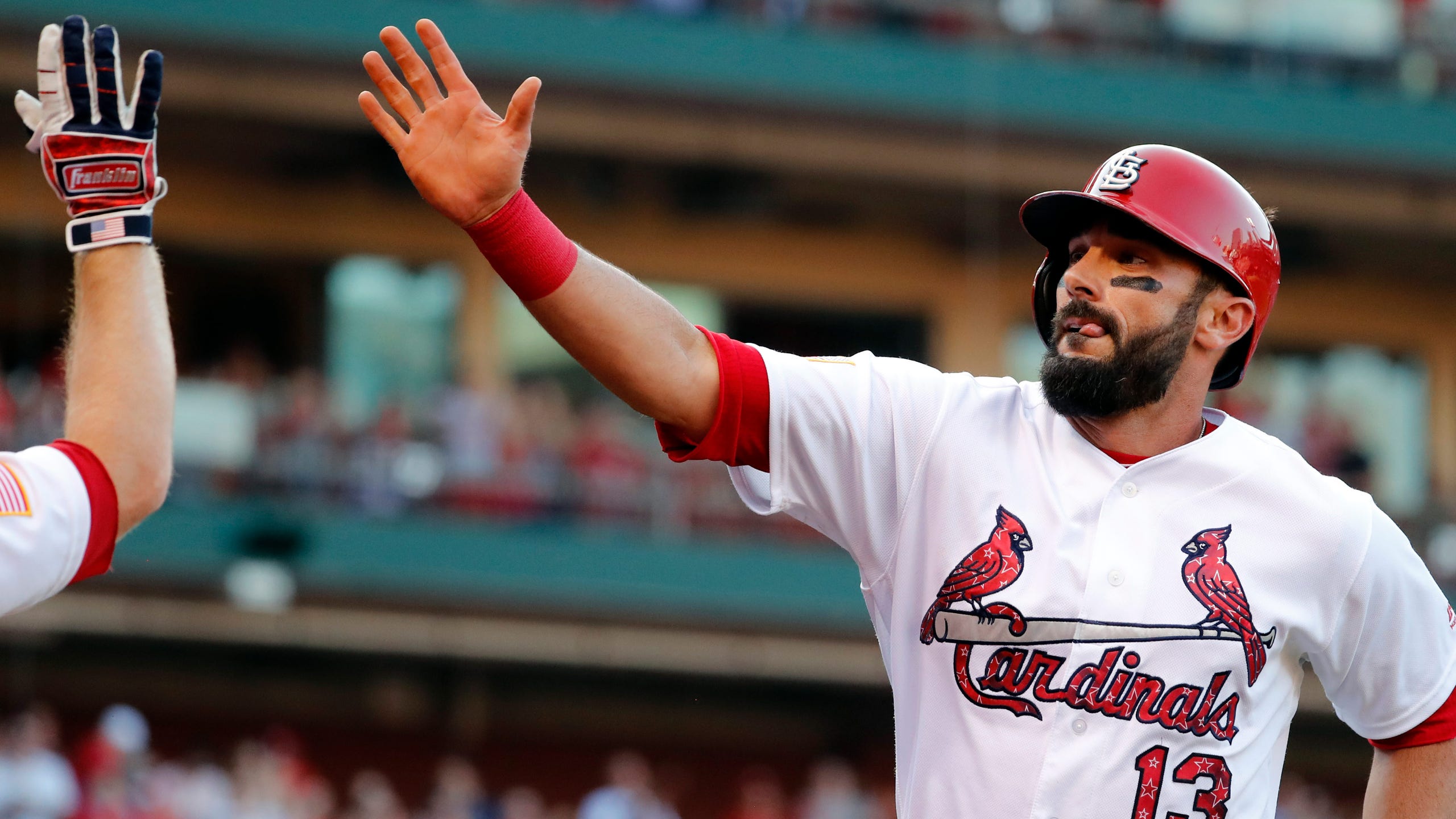 Cardinals offense explodes in 14-6 win over Marlins
July 4, 2017
ST. LOUIS -- Rookie Luke Voit's first career homer brought back good memories in St. Louis.

Voit ripped a two-run shot into the batter's eye in center field on Monday to help the Cardinals to a 14-6 victory over Miami.

The 429-foot blast landed in almost the same spot as the home run hit by Cardinals infielder David Freese in Game 6 of the 2011 World Series.

Voit and Freese both attended Lafayette High in suburban St. Louis.

"I remember watching that," Voit said. "It's kind of cool that I did the same thing. Lafayette boys doing it."

Voit had two hits and drove in four runs in his third start.

St. Louis scored four times in the first inning and seven in the third on the way to an 11-0 lead. Voit homered in the eighth as the Cardinals won for the fifth time in six games.

Tommy Pham reached base five times and drove in a pair of runs.

Adam Wainwright (9-5) added a two-run double and picked up his second successive win.

The Marlins have lost five of six.

Miami starter Jeff Locke (0-5) gave up 11 hits and 11 earned runs in 2 2/3 innings.

Pham had three hits and two walks. But the night belonged to Voit, a local standout who was forced into a curtain call by the roaring crowd after the home run.

"When it left the bat, I knew I got it," Voit said. "I kind of put my head down and just started smiling."

Wainwright was glad Voit's first came at home.

"He did a little Sammy Sosa when he hit that ball," Wainwright said of Voit's Sosa-style hop.

Stadium ushers retrieved the ball, which was present to Voit after the game.

"Something I've dreamed of doing my whole life," Voit said. "It was awesome. Running around the bases felt like 10 minutes. I'll never forget this."

Wainwright sailed through the first four innings but gave up six runs in the fifth. He struck out Giancarlo Stanton three times. Stanton is 0 for 12 lifetime against Wainwright, who has six hits in 13 at-bats with seven RBIs against Locke.

"I think I just take good at-bats against him," Wainwright said. "It's just one of the guys you see the ball well against."

St. Louis jumped on Locke early with four successive hits. Yadier Molina, who went 3 for 3, highlighted the seven-run third with a bases-clearing double that came within a few feet of leaving the park.

Marcell Ozuna keyed the Miami comeback with a three-run double.

J.T. Realmuto had three hits for the Marlins.

Locke struggled from the outset and never got into any rhythm.

"It's frustrating," Locke said. "They did all the damage they needed to do in the first inning. It got out of hand real fast."

Miami manager Don Mattingly felt it was just "one of those nights" for his left-hander.

"Absolutely, nothing went his way," Mattingly said. "He got hit around from the beginning. It's hard to say much positive about that outing."

St. Louis third baseman Jedd Gyorko left the game in the fifth inning with cramps in his left leg and is considered day-to-day.





OFFENSIVE EXPLOSION

The Cardinals' four runs in the first inning were a season high for the opening frame. The seven runs in the third inning tied a season high. St. Louis scored seven times in the 11th inning of an 8-1 win over Philadelphia on June 20.

TRAINER'S ROOM

Marlins: Recalled RHP Tom Koehler from Triple-A New Orleans. Optioned LHP Justin Nicolino to New Orleans to make room for Koehler on the roster. Koehler (1-3, 7.43) will start in the series finale on Thursday in St. Louis.

Cardinals: Called up RHP Luke Weaver from Triple-A Memphis. Sent RHP Mike Mayers to Memphis. Weaver, the Cardinals' top draft pick in 2014, was 7-1 with a 1.93 ERA in 11 starts in Memphis. He pitched a scoreless inning on Monday.

UP NEXT

RHP Lance Lynn (6-5, 3.90 ERA) will start against Miami RHP Jose Urena (6-3, 3.42) in the second game of a four-game series on Tuesday afternoon. St. Louis has won all seven games in which Lynn has appeared against the Marlins. Urena has given up 11 earned runs in two starts against the Cardinals, covering nine innings.
---
---