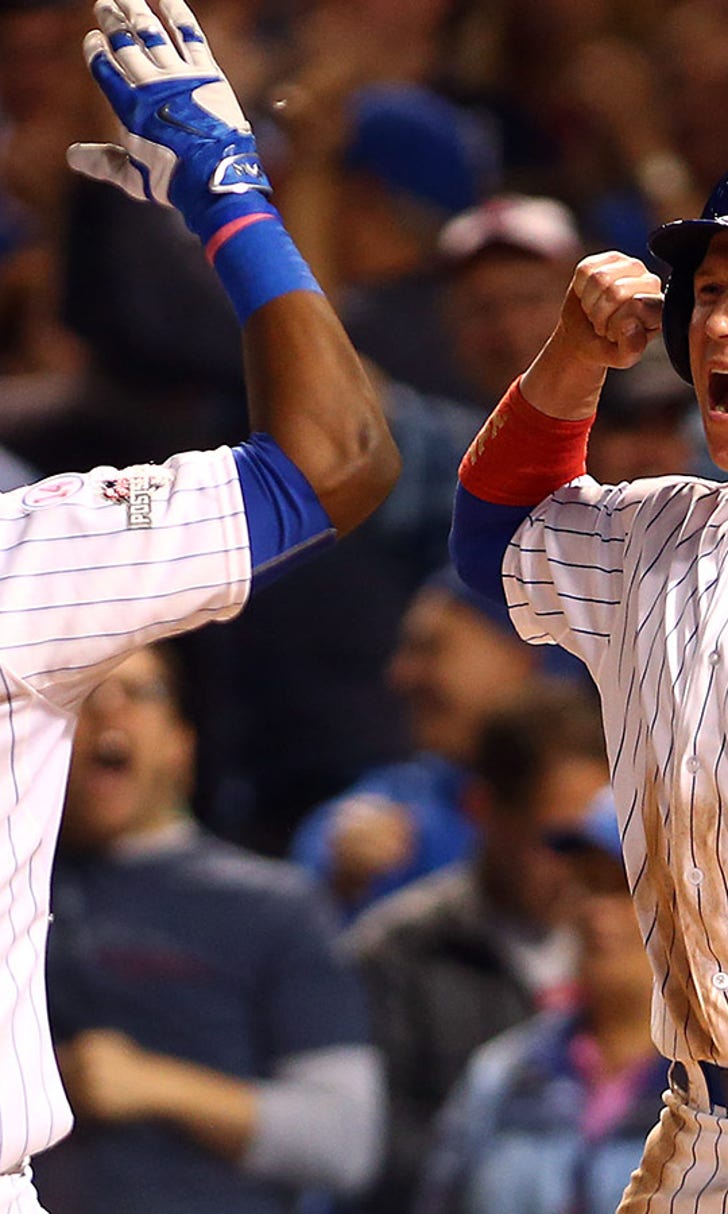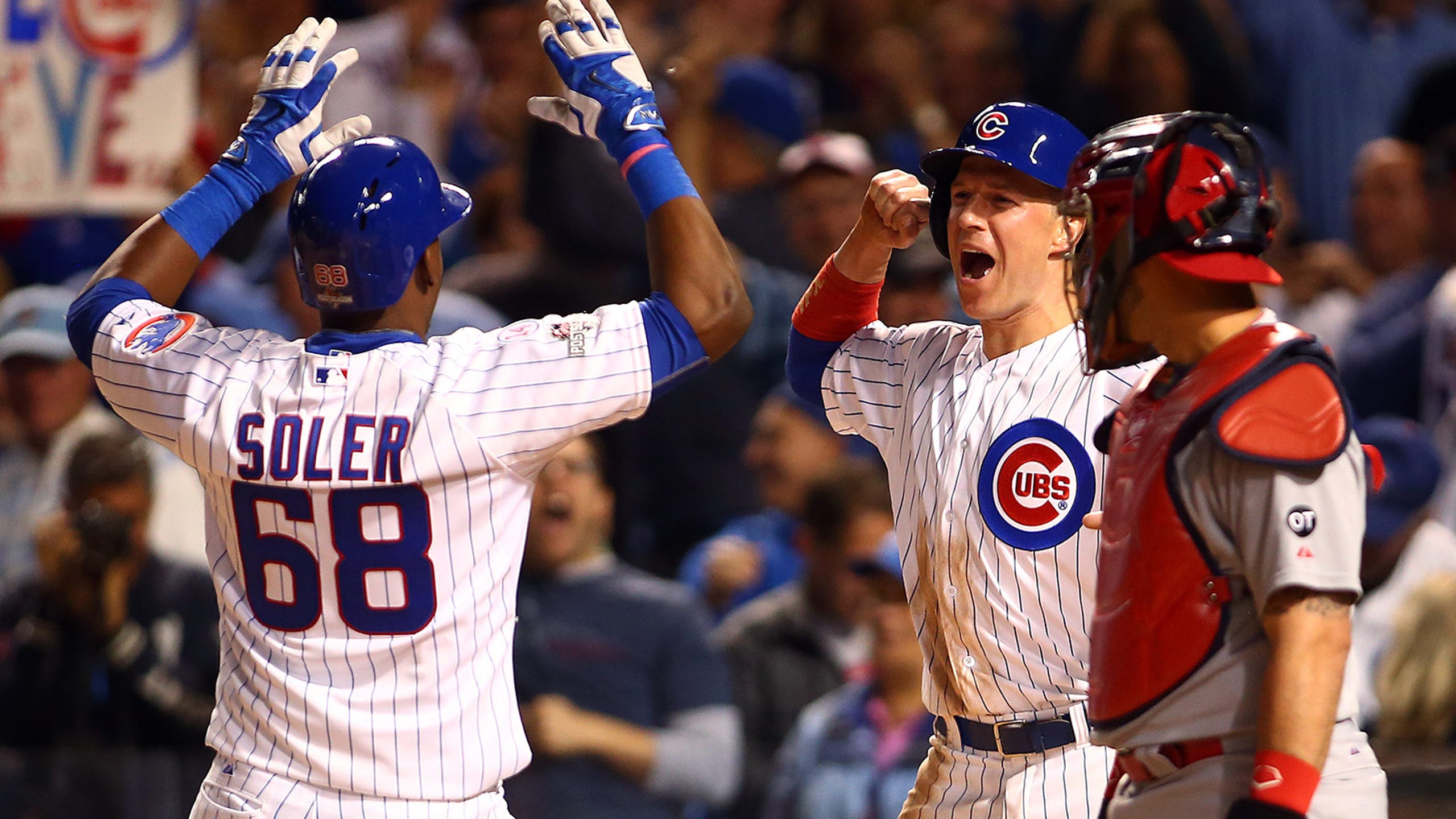 Cardinals fall victim to Cubs' six-homer barrage in 8-6 loss
BY foxsports • October 12, 2015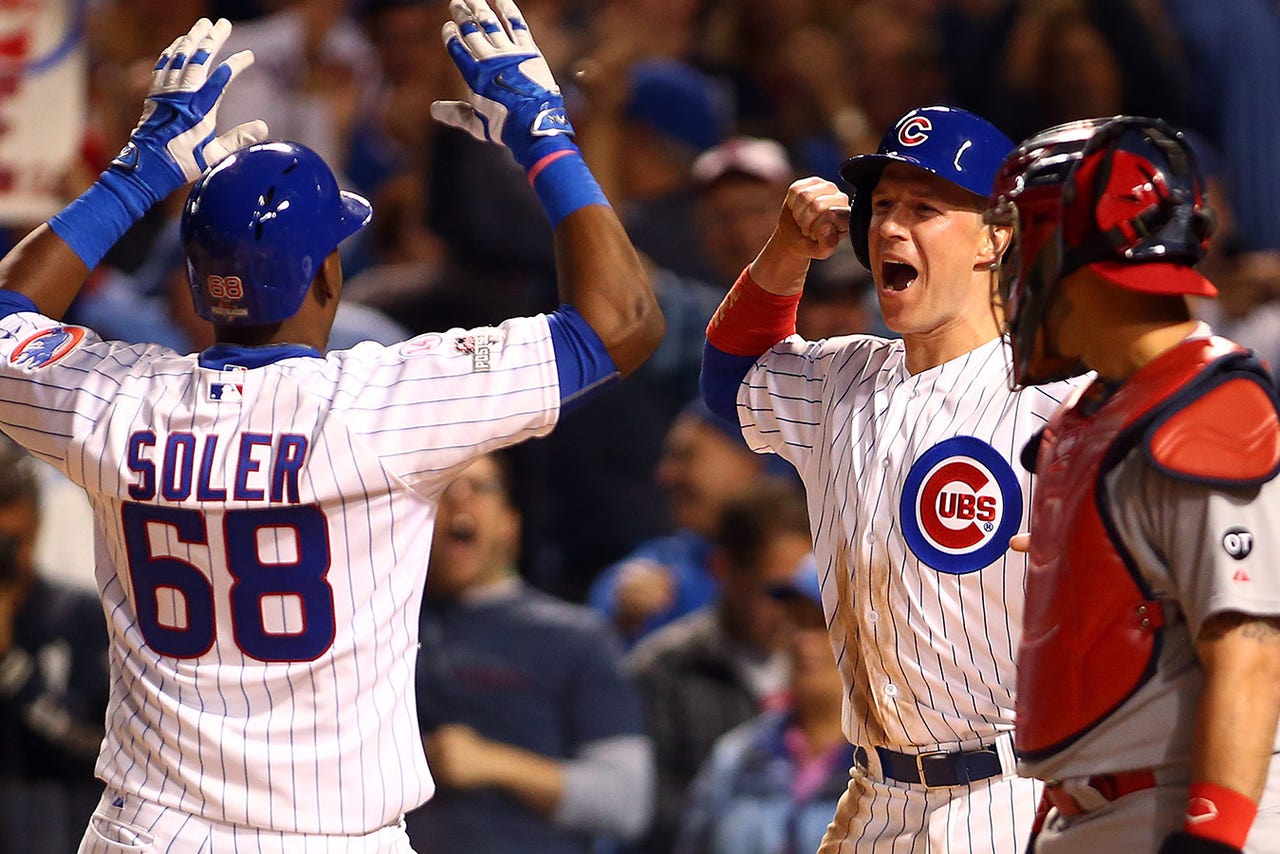 CHICAGO -- Jason Heyward and the St. Louis Cardinals did exactly what they wanted to do against Jake Arrieta.
They just didn't get the result they were seeking, and now they're counting on John Lackey to save their season.
Jorge Soler, Kris Bryant and Kyle Schwarber each went deep and the Chicago Cubs set a major league postseason record with six homers Monday in an 8-6 victory over St. Louis to go up 2-1 in the NL Division Series.
The Cardinals, tops in the majors with 100 wins this season, won at least one playoff series in each of the previous four years. But a third straight loss would send them home and put the Cubs in the NLCS for the first time since 2003.
"I don't feel like we have to play harder than we've played all year right now," said Adam Wainwright, who gave up a two-run homer to Soler in the sixth. "We're down 2-1. We've been in this situation before. We know we have to come out and play a good ballgame."
It sure wouldn't hurt if Lackey delivered the way he did in Game 1 on Friday. He outpitched former teammate Jon Lester, allowing two hits into the eighth, and the Cardinals beat the Cubs 4-0.
This time, he'll be working on three days' rest and going against Jason Hammel.
"I think he's proven it all season long, guy we go to in big situations," manager Mike Matheny said. "And tomorrow is a big situation and he's ready to go on short rest."
Heyward and Stephen Piscotty homered for St. Louis, which got to Arrieta for four runs in his worst start in four months. But the Cardinals were unable to keep the Cubs in the ballpark.
Schwarber, Starlin Castro and Bryant homered against Michael Wacha in his first playoff appearance since he threw the final pitch of the 2014 postseason for the Cardinals, a game-ending, three-run shot for Travis Ishikawa in the NLCS against the Giants.
Anthony Rizzo and Dexter Fowler also went deep, and the Cubs hung on after things got a little tense in the ninth inning.
Piscotty hit a two-run drive to cut it to 8-6 before Hector Rondon retired Matt Holliday on a harmless bouncer to second, putting the Cardinals on the brink of elimination.
Arrieta improved to 18-1 with a 1.00 ERA in his last 22 starts dating to June 21, but he was far from his usual dominant self. He hadn't allowed more than three runs in a game since a June 16 loss to Cleveland.
"We put up four on him," Heyward said. "We had good ABs, made him work, made him earn it."
They just could not pull out the win.
Bryant's two-run drive made it 4-2 with one out in the fifth and chased Wacha in favor of Kevin Siegrist. But Anthony Rizzo followed with another long ball, a drive to right for his first hit of the playoffs.
Even Wainwright got into the act, serving up Soler's two-run shot in the sixth on a cutter that was supposed to be down and away. It stayed up and Soler made him pay.
"We're in a good spot there," Wainwright said. "We just came back with a crooked number to get it to a one-run game. As big a sin as a pitcher can commit is to go out there and give the other team right back the runs that you just got. I hate that that happened. Can't stand that that happened."
INJURED RUSSELL
Cubs shortstop Addison Russell left in the fourth with tightness in his left hamstring. Russell made a headfirst slide into third on a two-out triple. A trainer and manager Joe Maddon then came out to check on the rookie, who was replaced by Javier Baez.
BANGED-UP CARDINALS
St. Louis catcher Yadier Molina winced on a swing-and-miss in the fourth inning, and then was checked on by a trainer and Matheny. Molina missed the last part of the regular season due to a strained ligament in his left thumb. Piscotty and second baseman Kolten Wong were shaken up after a collision in foul territory in the fifth.
UP NEXT
Facing elimination, St. Louis will go back to Lackey on short rest. He pitched 7 1/3 innings of two-hit ball in the Cardinals' 4-0 victory on Friday. Hammel pitched five shutout innings in his final start of the regular season on Oct. 1 at Cincinnati. The right-hander is 0-1 with a 4.80 ERA in four career playoff games.
---
---