Broxton's defense, Villar's homers help Brewers to 2-1 win over Cubs
BY foxsports • September 7, 2016
MILWAUKEE -- With the Milwaukee Brewers clinging to a one-run lead with one out in the ninth, Chicago Cubs first baseman Anthony Rizzo drove a ball to deep center field off closer Tyler Thornburg.
Drifting back, outfielder Keon Broxton timed his leaped and stretched above the wall to make the catch.
Broxton pumped his fist as he landed and Thornburg then got the final out to preserve Milwaukee's 2-1 victory Wednesday night.
Jonathan Villar homered from both sides of the plate to account for the Brewers' runs.
"I honestly didn't think it was going to go that far off the bat," Broxton said. "I just jogged to where I thought it was going to be and tracked it all the way to the wall. I saw it coming down and I had a good chance to jump up and catch it."
Milwaukee manager Craig Counsell described Broxton's catch with the game on the line as "every outfielder's dream."
"You could tell by the way Keon reacted. You don't get opportunities like that (very often)," Counsell said.
Chicago manager Joe Maddon said he knew that ball would carry to the fence as soon as it was hit.
"But that kid, Broxton, he's so athletic that he was able to go over it," Maddon said.
Milwaukee, which took two of three in the series, got its first hit when Villar homered leading off the fourth. Villar homered again off Joe Smith (1-1), the sixth Chicago pitcher, leading off the eighth.
"I don't feel happy for me. I feel happy for the team because we won," Villar said. "That's Broxton's game. If he didn't take the ball away it's a tie game."
Corey Knebel (1-2) pitched a scoreless inning in relief to get the win. Thornburg notched his ninth save in 13 chances.
Chicago starter Mike Montgomery faced the minimum number of batters through three innings.
The Cubs loaded the bases with one out in the first against Milwaukee starter Matt Garza, but failed to score.
Garza, facing his former team for the second time this season, retired 14 of 15 batters at one point before giving up a solo home run to Rizzo with two outs in the sixth.
Garza gave up one run and three hits in six innings.
"I made one mistake," Garza said. "You can't get sour or you ruin the rhythm you are in right now."
Garza has given up just two earned runs in 18 1/3 innings over his last three starts.
"He's understood that he had to make adjustments, and he's understanding that this is the new him," Counsell said. "Now he's at the point where he can have success being this guy."
Montgomery lasted five innings, allowing one run and two hits.
Montgomery, acquired by the Cubs on July 20 from Seattle in an effort to bolster their bullpen, gained a spot in the starting rotation when John Lackey went on the disabled list with a shoulder problem. He remained in the rotation after the Lackey's return on Sunday as the Cubs have temporarily opted to go with a six-man rotation.
Milwaukee won for just the sixth time in the last 28 games against the Cubs.
SLIDING BY
Ryan Braun tried to stretch a single into a double in the fourth but slid past second base and was called out when Cubs second baseman Ben Zobrist applied the tag.
TRAINER'S ROOM
Cubs: Reliever Justin Grimm left the game with an undisclosed illness after facing one batter in the sixth. ... Maddon thought about resting Rizzo but reconsidered. "Watching him yesterday, he didn't look tired so I put him back in. I thought the day before (Monday) his bat looked a little bit off," Maddon said. "But with the night game after the day game he got some good rest. We have a day off (Thursday) so I chose to play him today."
UP NEXT
Cubs: Jon Lester (15-4, 2.61 ERA) gets the start as Chicago opens a three-game series at Houston on Friday. Lester took a no-hitter into the seventh inning in his last start on Friday against San Francisco and finished with a complete game three-hitter. He will make his second career start against Houston and first since June 2008.
Brewers: Junior Guerra (7-3, 2.85 ERA) will take the mound as Milwaukee opens a four-game series at St. Louis on Thursday. Guerra is 0-2 with a 4.50 ERA in two career starts against St. Louis, both coming this season.
---
---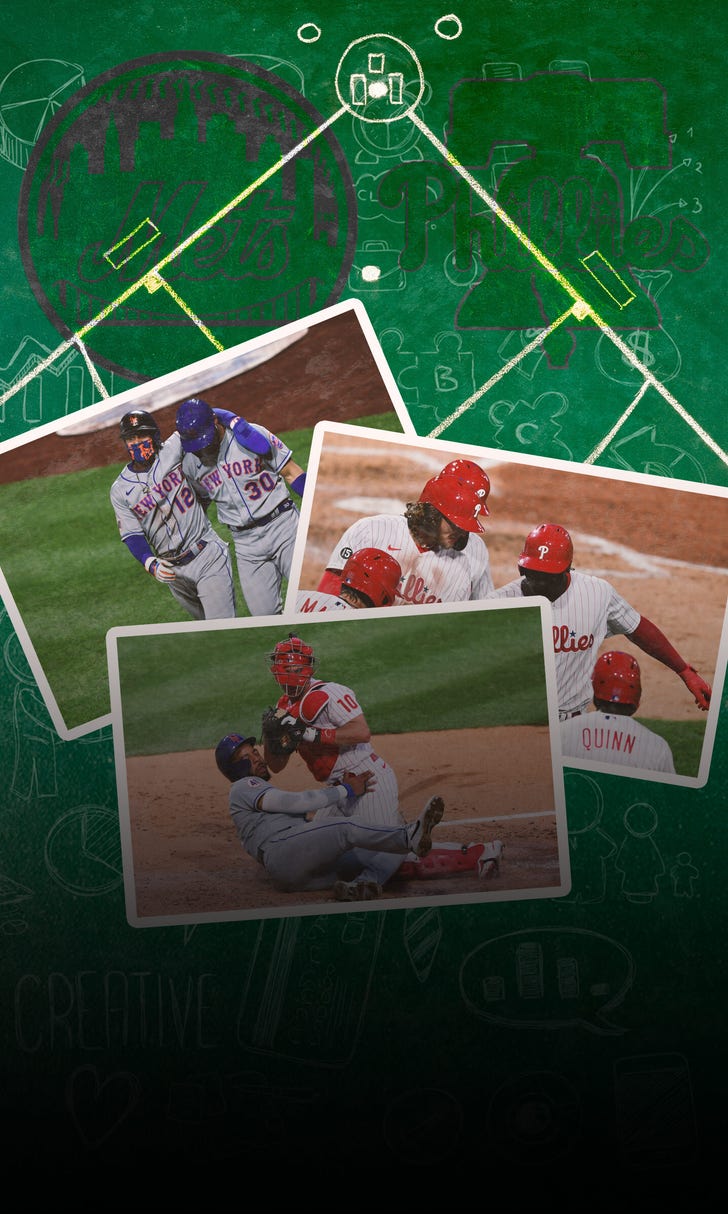 New York Mets barely escape Sunday night thriller vs. Philadelphia Phillies