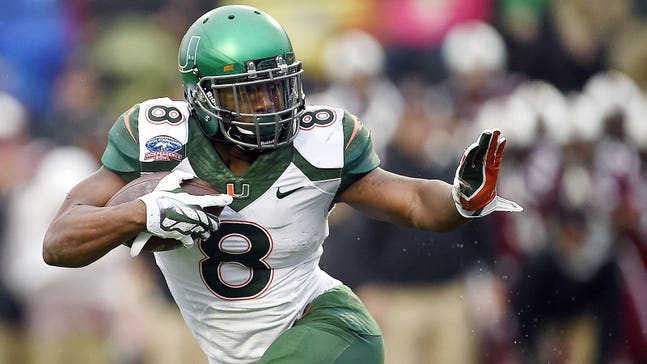 Browns tap top rusher in Miami Hurricanes history
Published
May. 1, 2015 10:48 p.m. ET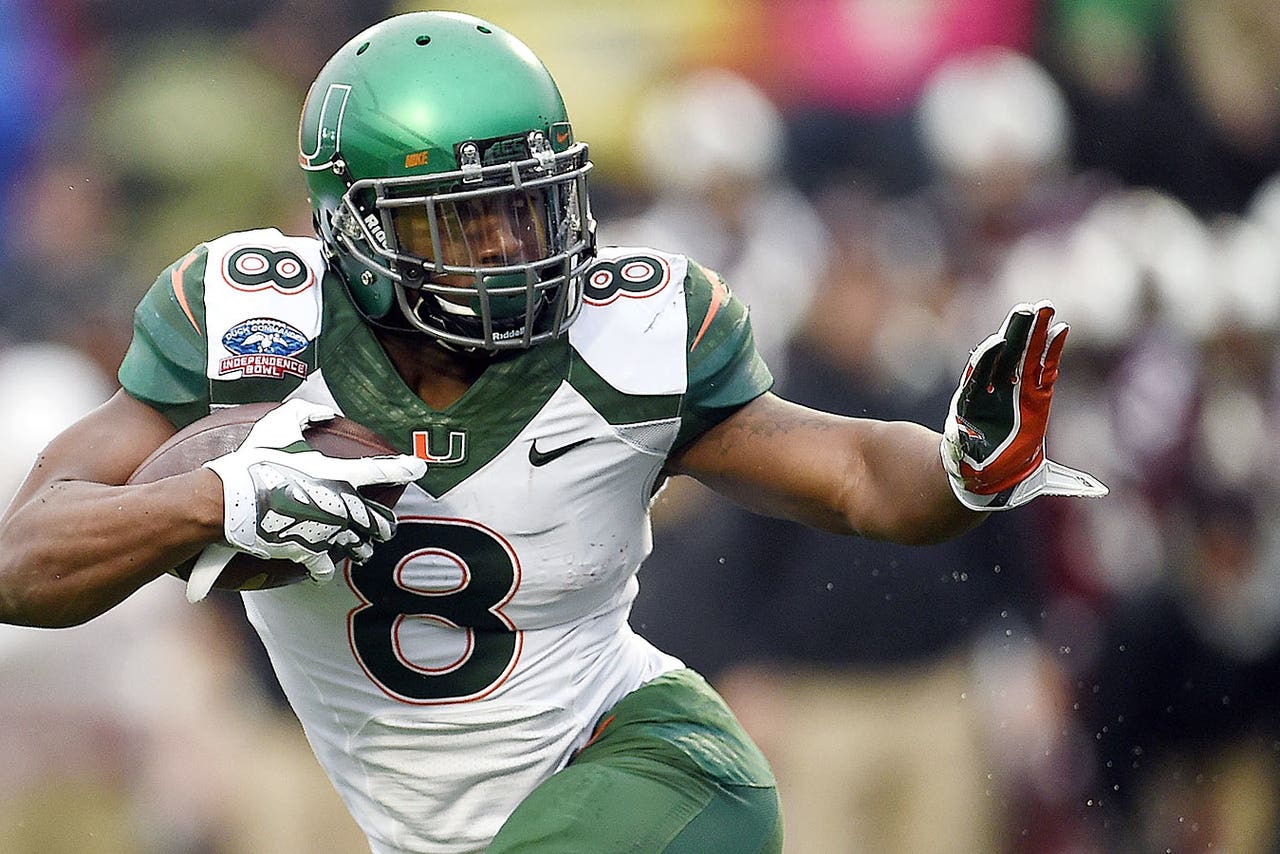 It took awhile but the Browns finally drafted an offensive weapon.
After drafting two defensive players and an offensive lineman with their first three picks, the Browns drafted an offensive weapon in Duke Johnson.
The Browns want to ground and pound the ball in the running game under Mike Pettine and they added to an already young running back stable.
The Browns two rookies from last year Terrance West and Isaiah Crowell combined for 1,280 yards and 12 touchdowns.
However, the Browns were linked to the projected top two running backs in the draft in Todd Gurley and Melvin Gordon.
The Browns didn't draft either Gurley or Gordon, who both were selected in the first round, but they did draft the all-time leading rusher in Miami Hurricanes history.
Johnson (5-9, 206) rushed for over 900 yards in each of the last three seasons, while running a 4.54 time in the 40-yard dash at the NFL Combine.
"I feel this is a legacy I can leave at the University of Miami and hopefully take to the next level," Johnson said moments after being drafted by the Browns.
This past season, Johnson rushed for 1,652 yards with 10 touchdowns, including a 90-yard score. He averaged 6.7 yards per carry in his three-year career for the Hurricanes. Johnson also caught 38 passes last season for 421 yards and three touchdowns. Johnson set a Miami freshman rushing record with 947 yards and 10 touchdowns in 2012. He broke his ankle his sophomore season, but still rushed for 920 yards and six touchdowns in just seven games.
Johnson also returned kickoffs with 41 returns for 1,288 yards and two touchdowns in 2012.
Johnson said he has a feel for how the Browns want to use him.
"They are going to use me in different ways as a returner, receiver, creating mismatches."
Johnson is aware of West and Crowell and is excited to join the mix.
"I know they have two young backs like myself and I just want to come in and work hard and push myself and the other guys."
Dane Brugler of NFLDraftScout.com described his strengths.
"Miami (Fla.) has an extensive history of feeding running backs to the next level, but none enter the NFL with more collegiate production than Johnson, who sits at No. 1 on the school's all-time rushing list after only 526 carries -- only running back in program history to eclipse 900 yards in three straight seasons," Brugler said. "He bursts out of a cannon with instant acceleration and elite balance, but doesn't have the body type to take a consistent beating, which leads to durability concerns.
"Although he's not the type of runner who will pick up consistent yardage after initial contact, Johnson has the fluid change of direction and explosive cuts to make defenders miss in space and contribute as a return man and receiver. Although they have different styles, Johnson has some similarities to LeSean McCoy due to the size and durability concerns at the position, but both have special athleticism to be effective NFL runners – borderline top-60 prospect.
"An extremely productive with a school-record 3,519 career rushing yards, including 32 total touchdowns and a 6.7 career rushing average."
---