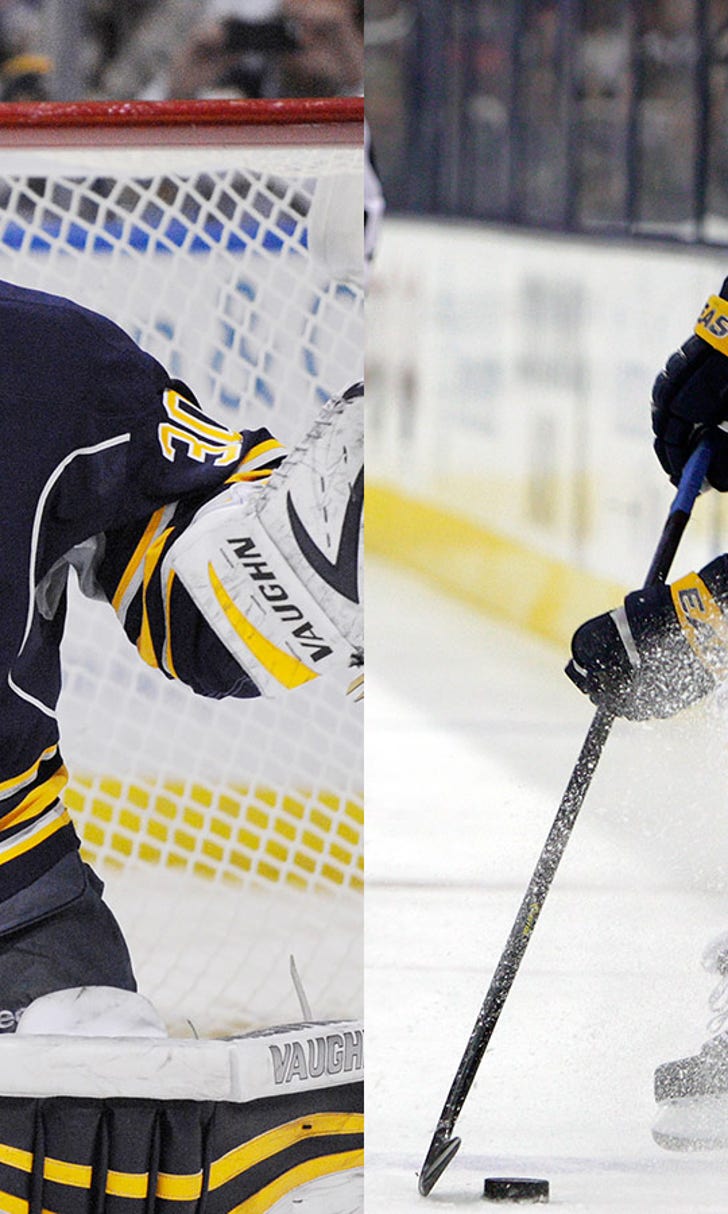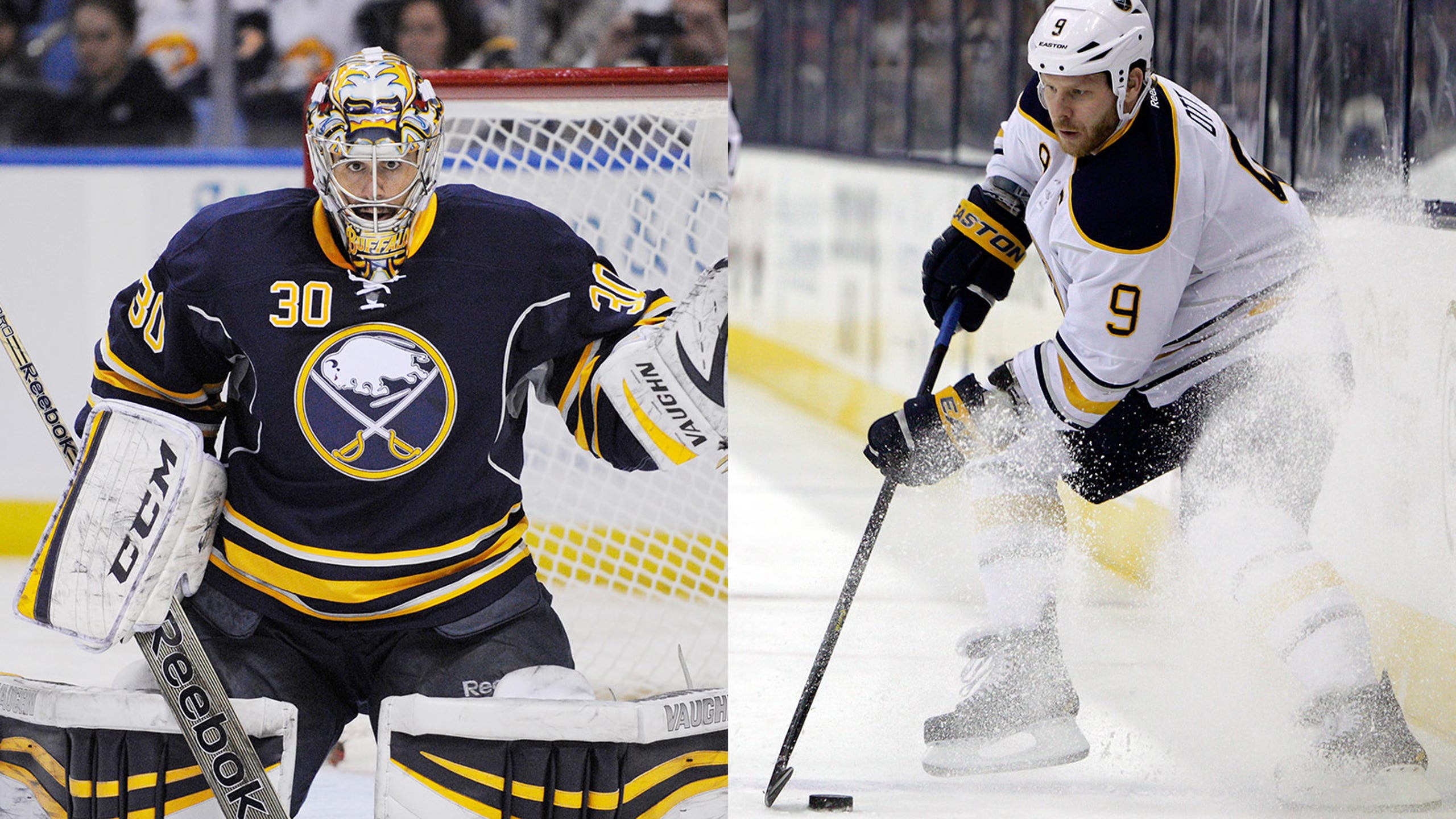 Bold move for Miller and Ott shows Blues' determination to win now
BY foxsports • February 28, 2014
ST. LOUIS -- The St. Louis Blues got better on Friday.
General manager Doug Armstrong pulled the trigger on a five-player trade that sent Jaroslav Halak, Chris Stewart and prospect William Carrier to the Buffalo Sabres along with two draft picks in exchange for goalie Ryan Miller and forward Steve Ott.
The Blues, already one of the best teams in the NHL, added experience, toughness and leadership in Ott and gained one of the game's elite goaltenders in Miller.
"I just think this gives us a better opportunity to have success in the playoffs, and that's why we made the trade," Armstrong said in a conference call.
This was a bold win-now move for the Blues, who traded for two veterans in the final year of their contracts just hours before playing the Western Conference-leading Ducks in Anaheim. But it was also a move in which Armstrong did not have to surrender any of his prized prospects who are close to contributing in St. Louis.
"We just think that this gives us a better opportunity to have success this year and it also allows us to keep our prime assets," Armstrong said. "There were a few players that were discussed that we wouldn't part with, some of our signed players that aren't currently with our team. We were able to keep guys like a Jake Allen, Dmitrij Jaskin and maybe one or two other players. When we were able to keep those players it seemed like a deal that made sense for us."
Armstrong spoke with reporters for nine minutes and made it clear this blockbuster deal was about winning in 2014.
Miller is 33. Ott is 31. Each is in his 11th season. Both are older and significantly more experienced than the players who are leaving in this deal. It is possible that neither Miller nor Ott will be back wearing the Blue Note again next season.
"We really believe that Jake Allen is the goalie of the future for the Blues," Armstrong said. "He's done everything he can do. If you look at his numbers this year in the American League, they are second to none. If we can talk to Ryan and to Steve at some point about extensions, we can do that, but this deal was made on the here and now. We'll worry about the future after the season."
Miller, who is expected to be in goal for the Blues on Sunday in Phoenix, has an impressive resume.
He is a two-time All-Star and a two-time Olympian, leading the United States to the silver medal in 2010. He won the Vezina Trophy, awarded to the NHL's top goaltender, that same year.
He has a 2.72 goals-against percentage and a .923 save percentage in 40 games this season. For his 11-year career, he has a GAA of 2.60 and a .916 save percentage.
Miller will replace Halak (2.23 GAA, .917 save percentage) and join forces with backup Brian Elliott (2.13 GAA, .916 save percentage). Armstrong said had he not been able to deal for Miller, he would have been content with Halak and Elliott.
"It was more of what I've seen in Miller in the past than what we didn't see here in St. Louis," Armstrong said. "I look at our team and I look at what Jaro has accomplished in his time here. I think he leaves us as the franchise leader in shutouts. We won a Jennings Trophy. We're, I think, third in goals against in the league. So this isn't an area that I felt was a concern or an area we were looking to improve on except for one player.
"And I think Ryan Miller's career stats and his season this year made me feel that it might only be a 5 or a 6 percent upgrade, but it's an upgrade, and I believe that's how you get better, is getting better in small increments. We believe this makes us a little bit better. If it wasn't Ryan Miller, I was very content with the goaltending tandem that we had going into the playoffs."
Ott was captain of the Sabres. He was acquired in a trade for Derek Roy, now his Blues teammate, in 2012. He's not a high-scoring forward -- he's never scored more than 22 goals in a season, and his 46 points in 2008-09 were a career high -- but he adds experience and toughness to the Blues and gives coach Ken Hitchcock a forward who can play either center or left wing.
"I think Steve gives Ken some versatility," Armstrong said. "He can play center. He can play on the left side. He's a player that's obviously playing over 19 minutes in Buffalo. I don't think he'll command that much ice time with our group right now, because of the depth we have there, but he's an antagonistic player.
"He's a player I think that has that playoff pedigree in the sense that his style of play I think transfers quite nicely into the playoffs. I think he'll certainly be in our group of nine (forwards). Whether he can play left wing with (David) Backes or left wing with (Patrik) Berglund or center ice of (Vladimir) Tarasenko and (Jaden) Schwartz, it gives coach Hitchcock a lot of options."
Some Blues players weighed in on the trade during the FOX Sports Midwest "Blues Live" pregame show Friday.
"They are good players," Blues captain David Backes said. "I've played with Ryan Miller in a couple Olympics. He loves stopping pucks and has done a great job of it in this league for a long time. Steve Ott is a guy you hate playing against."
"They are both great, great players," Blues defenseman Barret Jackman said. "Ott's a competitor. He's a guy that you hate playing against, but we're going to love having him in our room and on the ice with us. You know what you're going to get with him. Miller has been one of the best goalies for many years and we expect nothing less than that when he comes to us."
Brenden Morrow, who was a teammate of Ott's in Dallas, called Miller a "game-changer."
"I think having Ryan Miller and the pedigree that he has and the stages he has played in and you know he's going to be hungry to win a Cup," he said. "So I think it was a good hockey decision made by Army, and I think we made a big improvement today."
Miller and Ott both spoke with reporters in Buffalo on Friday night.
Miller, who has spent all 11 years in the NHL with the Sabres, was emotional in his farewell press conference.
"I am very excited for an opportunity to have a new adventure, to have a new opportunity," he told reporters. "I have a strong sense that they have a very special team. They work hard. I've gotten to know some of those guys on that team with the USA program. And competing against some of those guys you get to know them, and they have a very strong competitive spirit. I look forward to joining that group there."
Ott played two seasons in Buffalo, and the Sabres were 38-55-14 over that span. He hasn't played in the playoffs since the Stars lost to the Red Wings in the conference finals in 2008.
"Both of us want to live up to expectations," Ott told The Buffalo News. "It's amazing. This guy here is the best goalie in the world."
Bold move. And a smart one, too.
You can follow Nate Latsch on Twitter (@natelatsch) or email him at natelatsch@gmail.com. 
---
---