Ben Bishop stands tall, Lightning excel on penalty kill to beat Coyotes
Published
Mar. 20, 2016 12:57 a.m. ET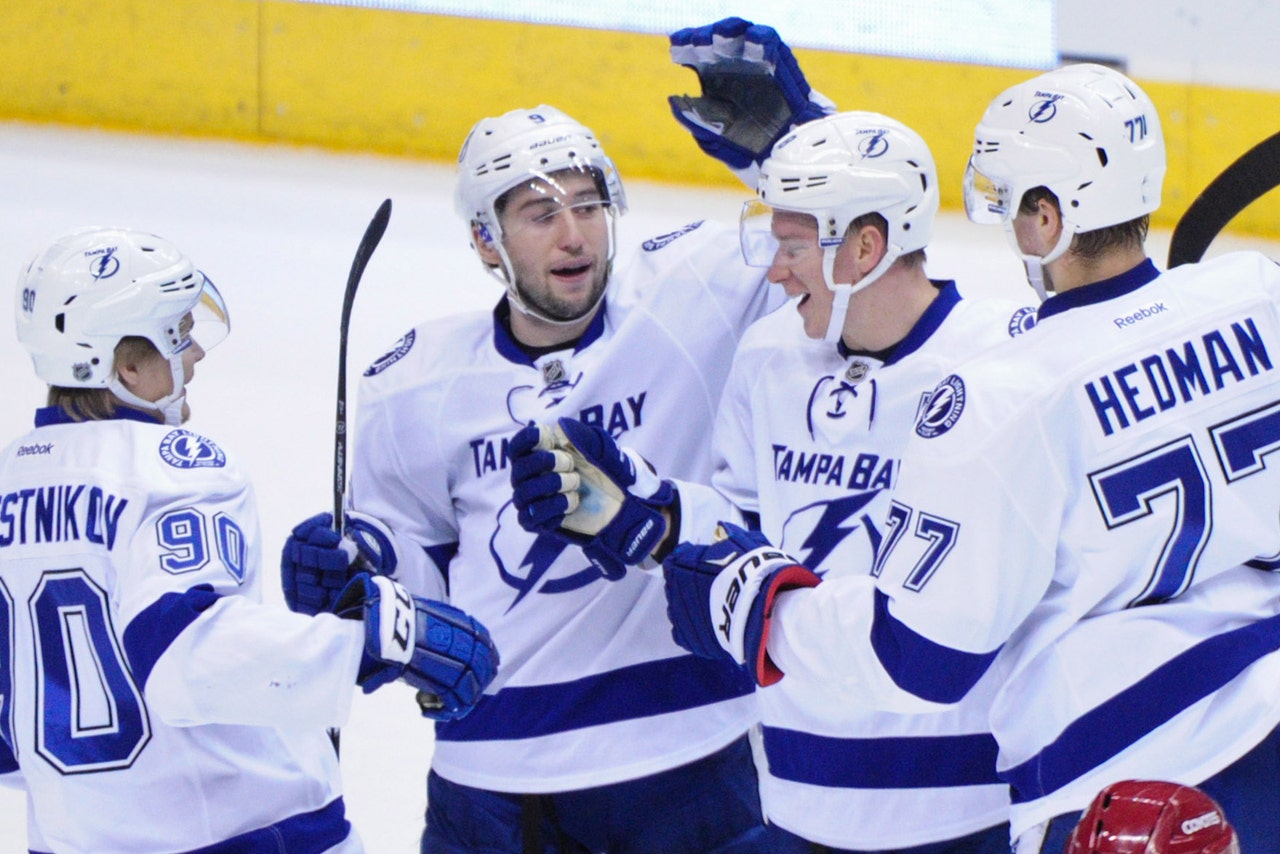 GLENDALE, Ariz. (AP) -- Two days after a demoralizing loss in Dallas, the Tampa Bay Lightning suddenly faced being short two men for nearly 2 minutes.
Ben Bishop and the penalty kill responded, and the Lightning secured what the goaltender called "a must-win."
Bishop stopped 31 shots for his fifth shutout of the season, Ondrej Palat scored in the first period and the Lightning used a superior penalty kill to hold off the Arizona Coyotes 2-0 on Saturday night.
Nikita Kucherov scored his team-best 27th goal into an empty net with 49.6 seconds left as the Lightning snapped a two-game skid.
"To get through that 5-on-3, that was the tipping point right there," Tampa Bay coach Jon Cooper said. "There were some uneasy moments, but the boys rallied and it was a heck of an effort."
The Lightning secured a 2-2 trip despite taking three penalties in the first 3:17 of the second period. Tampa Bay responded by killing off two Arizona 5-on-3s totaling 1:57 to move within two points of Atlantic Division-leading Florida.
"It was huge. It was pretty much a must-win for us here," said Bishop, who set a team record with his 15th shutout with the Lightning. "We talked about it yesterday. We weren't happy with the way we played in Dallas."
Louis Domingue made 32 saves and the Coyotes killed Tampa Bay's four-minute power play early in the third period. But they couldn't solve Bishop as their three-game winning streak, which tied a season high, ended.
Bishop's 17th career shutout allowed Tampa Bay to win for the second time in seven games following a nine-game winning streak. He preserved the victory when he stopped Kevin Connauton's backhand and a rebound in the closing minutes.
After captain Steven Stamkos called Tampa Bay "fragile" and "scared to lose" after blowing three one-goal leads in the loss to the Stars, the Lightning came out strong.
Tampa Bay held an early 6-0 edge in shots and took a 1-0 lead when Palat's deep wrist shot from the wall near the blue line beat Domingue on the short side with 57 seconds left in the first period.
"It was a bad shot, but it went in," Palat said, smiling.
The soft goal came after Domingue stuffed Kucherov on a breakaway and then knocked away the rebound.
Then, Braydon Coburn, Victor Hedman and Brian Boyle led a parade to the penalty box to start the second period. But Bishop was sharp and the Coyotes combined poor passing and hesitation into few chances.
Arizona played its fifth straight game without injured points leader Oliver Ekman-Larsson, and his absence was noticeable.
"The execution could always be a little better," Arizona coach Dave Tippett said. "No. 23 would help that."
The rest of the period produced no goals, but plenty of hitting, scuffles after the whistle and odd matching penalties.
A replay showed Alex Killorn slash Arizona's Martin Hanzal in the groin. Hanzal doubled over, then got up and went after Killorn in the corner. But Hanzal was called for embellishment.
It was that kind of night for the Coyotes, who went 0 for 6 on the power play in getting shut out for the fourth time this season. They had been 4 for 9 with the man-advantage in the previous four games.
Duclair went after J.T. Brown, drawing high-sticking and slashing penalties before a lengthy brawl in the third period. The Coyotes killed off the ensuing 4-minute power play.
Domingue was back in net with Mike Smith scheduled to start Sunday's game in San Jose. Smith had stopped 71 of 72 stops in two games after a 40-game injury absence.
"I just didn't see it," Domingue said of Palat's goal. "It's too bad that it comes down to that."
NOTES: Ekman-Larsson was to fly with the team to San Jose and could play Sunday. ... Lightning RW Ryan Callahan (lower body) was scratched. ... Lightning C Valtteri Filppula (upper body) participated in the morning skate with a non-contact jersey and may return by next weekend.
---
---