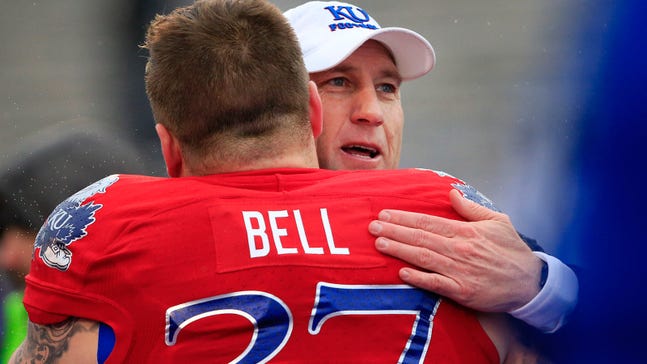 Beaty making no excuses for Jayhawks' 0-12 season
Published
Dec. 1, 2015 12:12 p.m. EST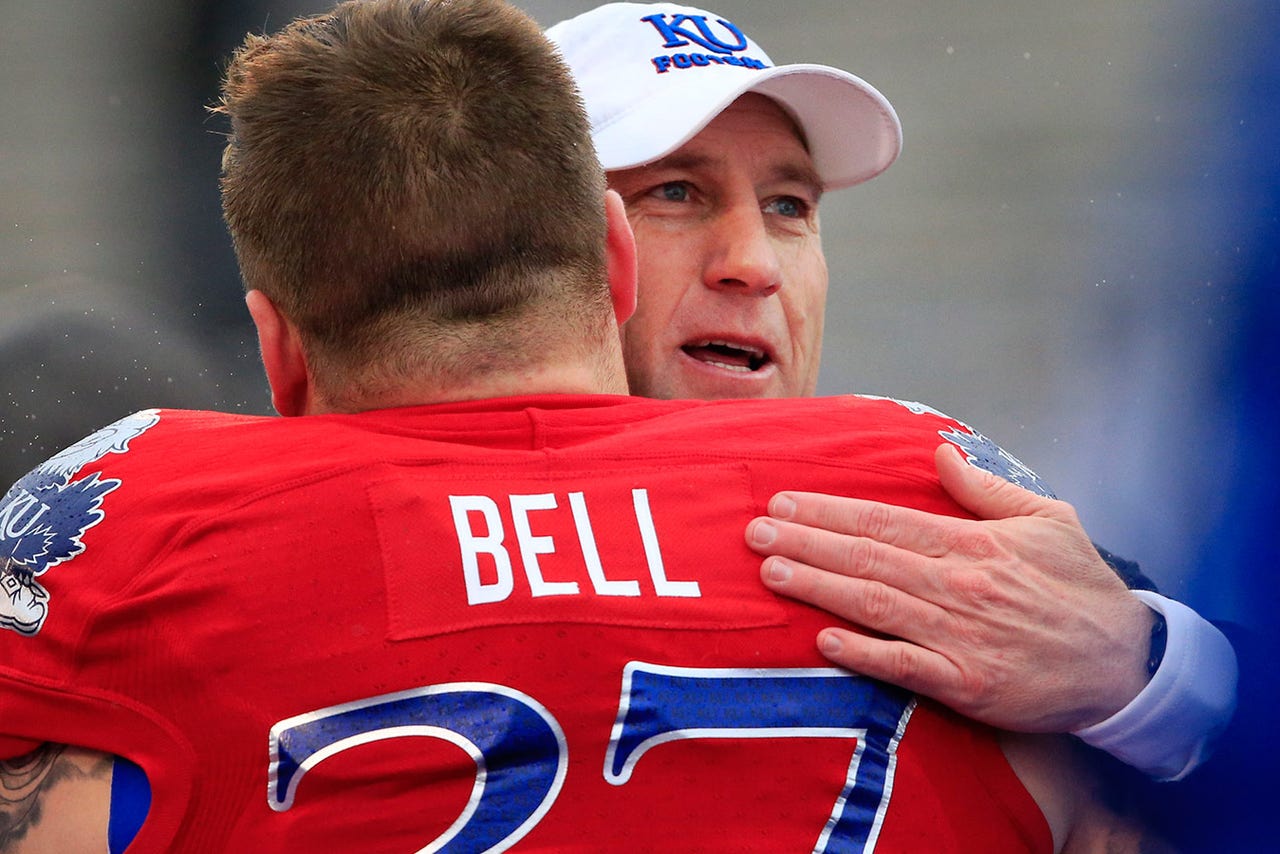 LAWRENCE, Kan. -- It would have been easy for David Beaty to make excuses this season.
The team he inherited at Kansas had just over 60 scholarship players, about 20 below the NCAA limit. It had endured six straight losing seasons. The dearth of talent left by Charlie Weis would have made it hard for any team to find some wins.
Yet he never took the easy way out. He never used those excuses.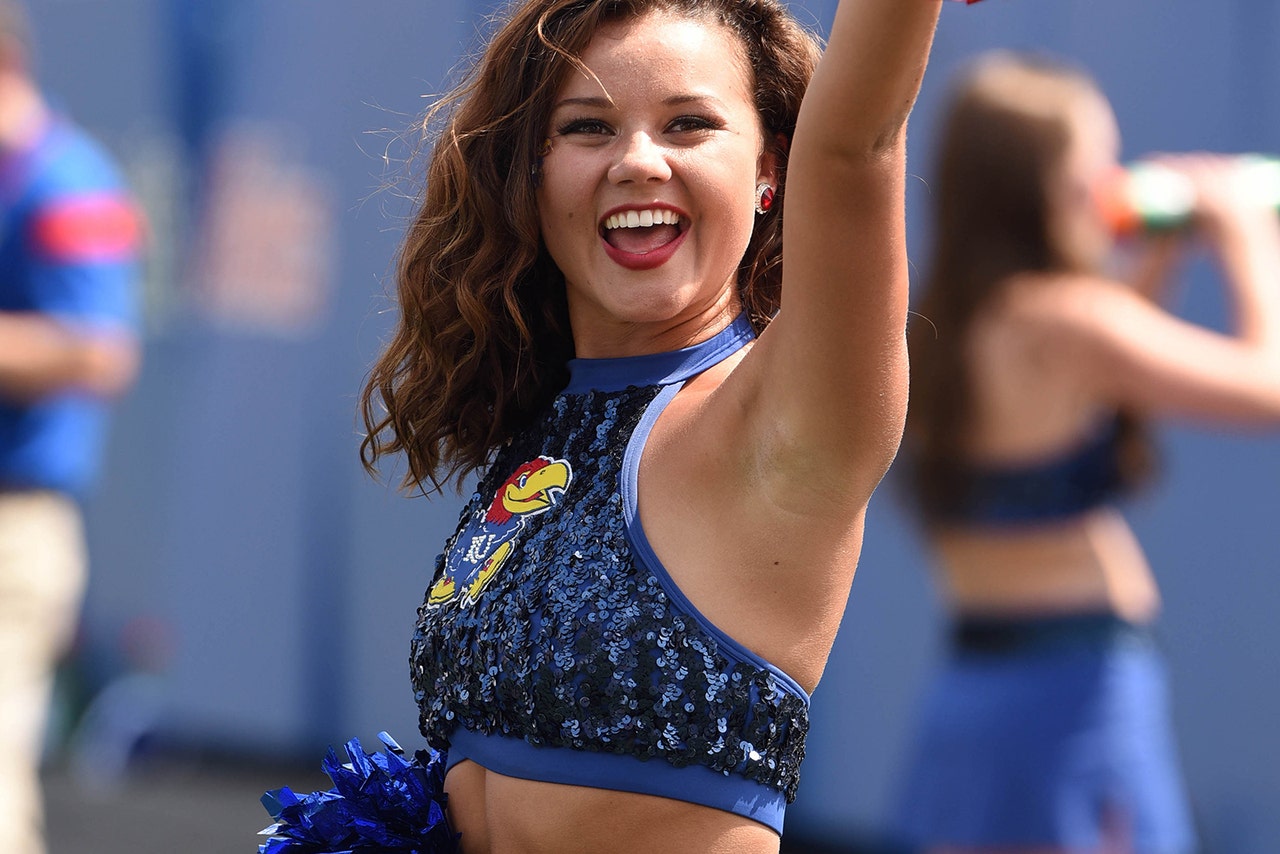 Lookin' good! Check out our gallery of Big 12 football cheerleaders.
That is why, even after wrapping up a winless season with a 45-14 loss to Kansas State on Saturday, the Jayhawks believe Beaty is the right coach to turn things around.
"Coach Beaty, he's amazing. I don't know too many coaches that could do that, be winless and you feel like you're winning every week," senior running back De'Andre Mann said. "He did a great job keeping our confidence up."
The magnitude of the rebuilding job may have surprised even Beaty, though.
After inheriting a mess last December, and quickly piecing together a recruiting class, Beaty went into this season with high hopes. But an opening loss to lower-level South Dakota State and a series of blowout defeats never really gave Kansas an opportunity to build some momentum.
Only twice all season did the Jayhawks lose a game by a touchdown or less.
It was the first winless season at Kansas since 1954, when Chuck Mather failed to win a game in his first season. And it means that the Jayhawks will carry a 15-game losing skid into their opener against Rhode Island on Sept. 3 -- perhaps their best chance to win next season.
"I'm certainly not proud of it, it's not something you really ever think about, but we don't have time to dwell on it," Beaty said. "We had 12 opportunities to put a team on the field that could win a game. We had plenty in the locker room to get that done."
Again, no excuses. Even if plenty are available.
Presumptive starting quarterback Michael Cummings sustained a season-ending injury in the spring game. The next man up, Montell Cozart, got hurt early in the regular season. So did third-string QB DeAndre Ford, who tore ligaments in his finger when he finally got on the field.
Then there were the litany of injuries to role players on both sides of the ball.
It all resulted in a slew of newcomers -- 39 in all -- getting their first taste of Division I football. Of those, there were 33 first-time starters, tied with winless Central Florida for the most in the nation. Ten of those were freshmen, including quarterback Ryan Willis, who was in the seventh grade the last time the Jayhawks won a road game.
"The younger classmen that played, they understand what it's going to take," sophomore linebacker Joe Dineen said. "Experience is huge and a lot of them got as many snaps as seniors did, and that's big-time. A lot of them have really bright futures here."
The Jayhawks were one of eight schools to start 20 or more players on both sides of the ball. Kansas was the only school to have five different players take snaps from center.
Even special teams required learning on the fly, with placekicker Matthew Wyman taking over the punting duties midway through the season. He had two blocked by the Wildcats on Saturday.
Not surprisingly, Beaty planned to hit the recruiting trail almost immediately.
The highly regarded recruiter was hired by Kansas athletic director Sheahon Zenger in part because of his connections in talent-rich Texas high schools. Beaty will lean on that experience to land what he hopes is a class that can build on the foundation laid this season, and perhaps get the once-proud program headed toward the top of the Big 12.
"We've got to continue to develop them, continue recruiting, get better at our craft, and we have to learn a lot of lessons that we had to go through," Beaty said. "We've got to get a lot better than what we were. We've got a lot of things we can go to school on."
---
---