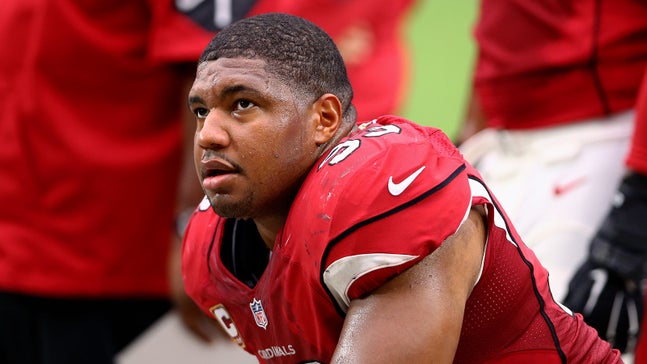 Arians challenges Calais Campbell to 'dominate the game'
Published
Nov. 3, 2015 6:33 p.m. EST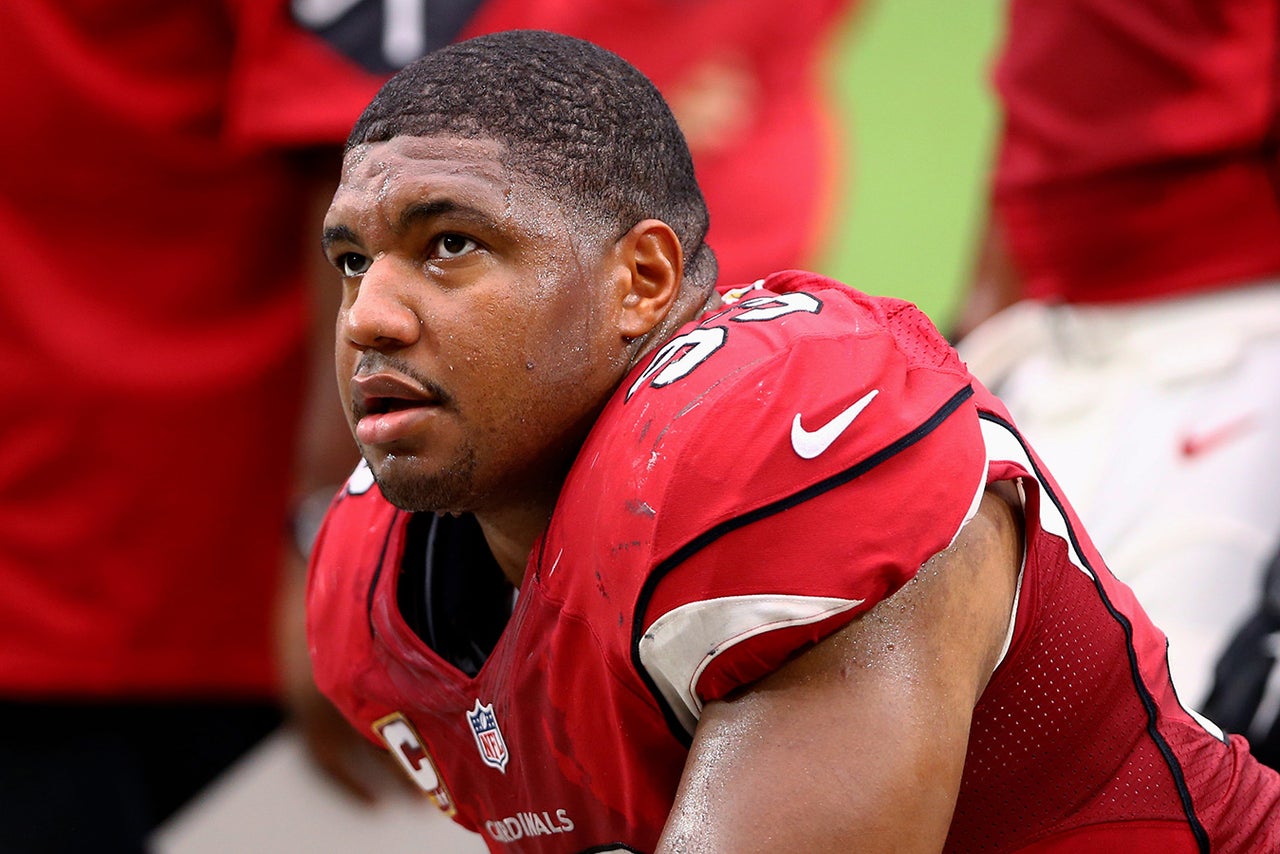 TEMPE, Ariz. -- Arizona Cardinals coach Bruce Arians is known to publicly call out some of his top players, presumably as motivation.
Calais Campbell is the latest to have his play questioned by the coach.
The remarks came in Arians' Monday day-after news conference following Sunday's 34-20 victory at Cleveland.
"He needs to be dominating the game," Arians said. "He got very close, but he loses his technique sometimes and doesn't use his hands. He should have had a four-sack day. His stats were minimal."
Campbell had three tackles, one quarterback hit and no sacks against the Browns.
"He's got the talent (to dominate a game)," Arians said, "and he's shown he can. He needs to do it all the time."
Campbell wasn't around to respond to his coach's criticism during the time the locker room was open to reporters following Tuesday's brief practice. The practice Wednesday probably will be even shorter, then the players are off before reassembling next Tuesday to begin preparation for a Nov. 15 Sunday night game at Seattle.
It's probably no coincidence that Arians publicly criticized his 6-foot-8, 300-pound Pro Bowl defensive lineman ahead of that contest, where Campbell will go against a sometimes shaky Seahawks offensive line.
Campbell is fifth on the team in tackles with 40. He has five tackles in the last two games after compiling 35 in the first six contests. Still, he is by far the tackle leader among defensive linemen. Frostee Rucker is a distant second with 16.
But tackles don't tell the whole story. Campbell often occupies opposing players while Arizona's linebackers make the play.
Defensive coordinator James Bettcher calls him "a special player."
No player in the Arizona locker room is more amiable than Campbell, who's in his eighth season with the Cardinals. There's a school of thought that he's just too nice of a guy to consistently be a fierce defensive lineman. Bettcher firmly rejects that idea.
"I honestly don't even look at that," Bettcher said after Tuesday's practice. "I see him when he plays and he plays hard, he plays violent, he makes plays and he's disruptive. It's just his expectations for himself and mine for him are really high."
Because he plays in a 3-4 defense, Campbell is not the conventional, high-profile pass-rushing defensive end often found in a 4-3 scheme. He's more of a tackle listed as a defensive end. That was among the reasons that he didn't make the Pro Bowl until last year.
This season, he's played all three positions up front, often lined up as an imposing figure at nose tackle. He towers over the line regardless of where he plays, and he increasingly knows how to use that size.
"One thing I think he's done over the past couple of years is he's really learned to play with his length well," Bettcher said. "If he does that consistently, there's not a lot of people who will be able to block him."
Campbell's breakout season last year made blocking him even more of an emphasis for opposing teams.
"I think that's one thing that moving him around helps," Bettcher said, "so they can't just zero in and find that he's always playing on the left, or he's always playing on the right, or he's always playing the middle."
Campbell joins the likes of Patrick Peterson, Larry Fitzgerald, and even Carson Palmer as those to be mentioned publicly by the coach in a less-than-positive light.
"He wants to put that pressure on you," Palmer said, "that kind of tough-minded, always-yelling, never-good-enough mentality, because he knows that's what it takes to win."
---
---