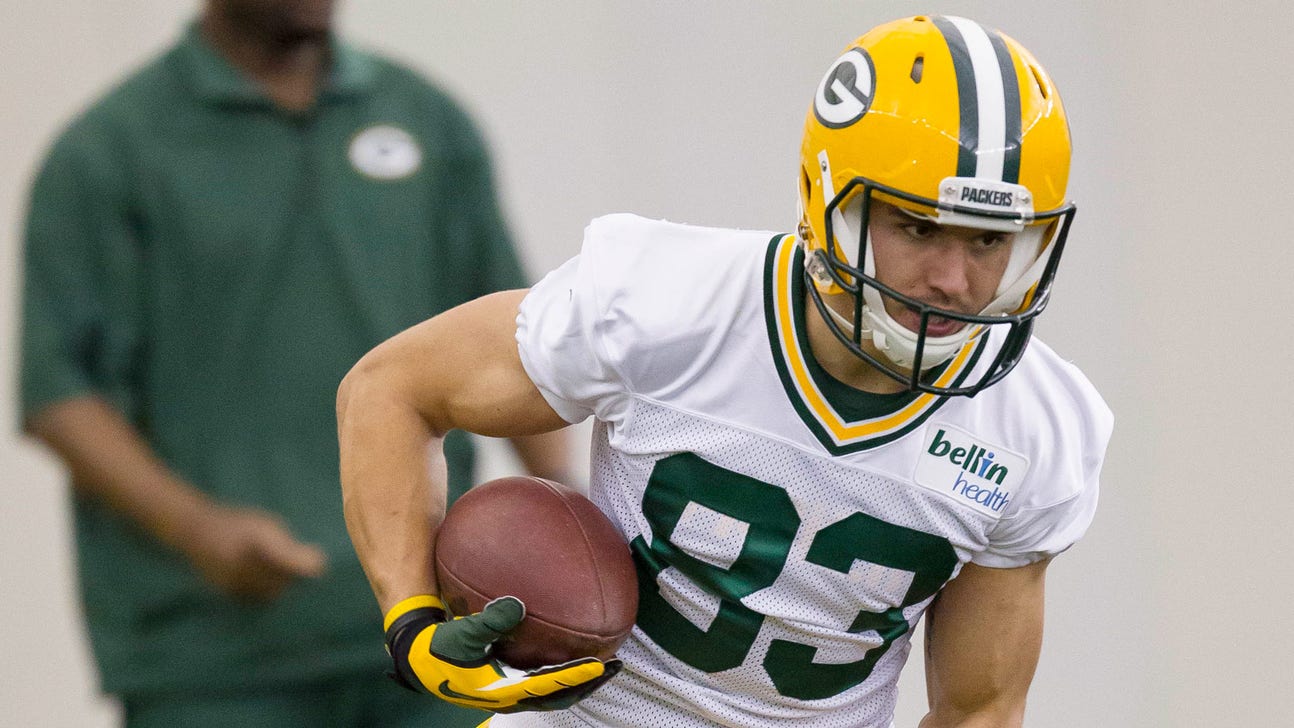 A matter of trust: Janis building relationship with Rodgers
Published
Jun. 11, 2015 11:05 a.m. ET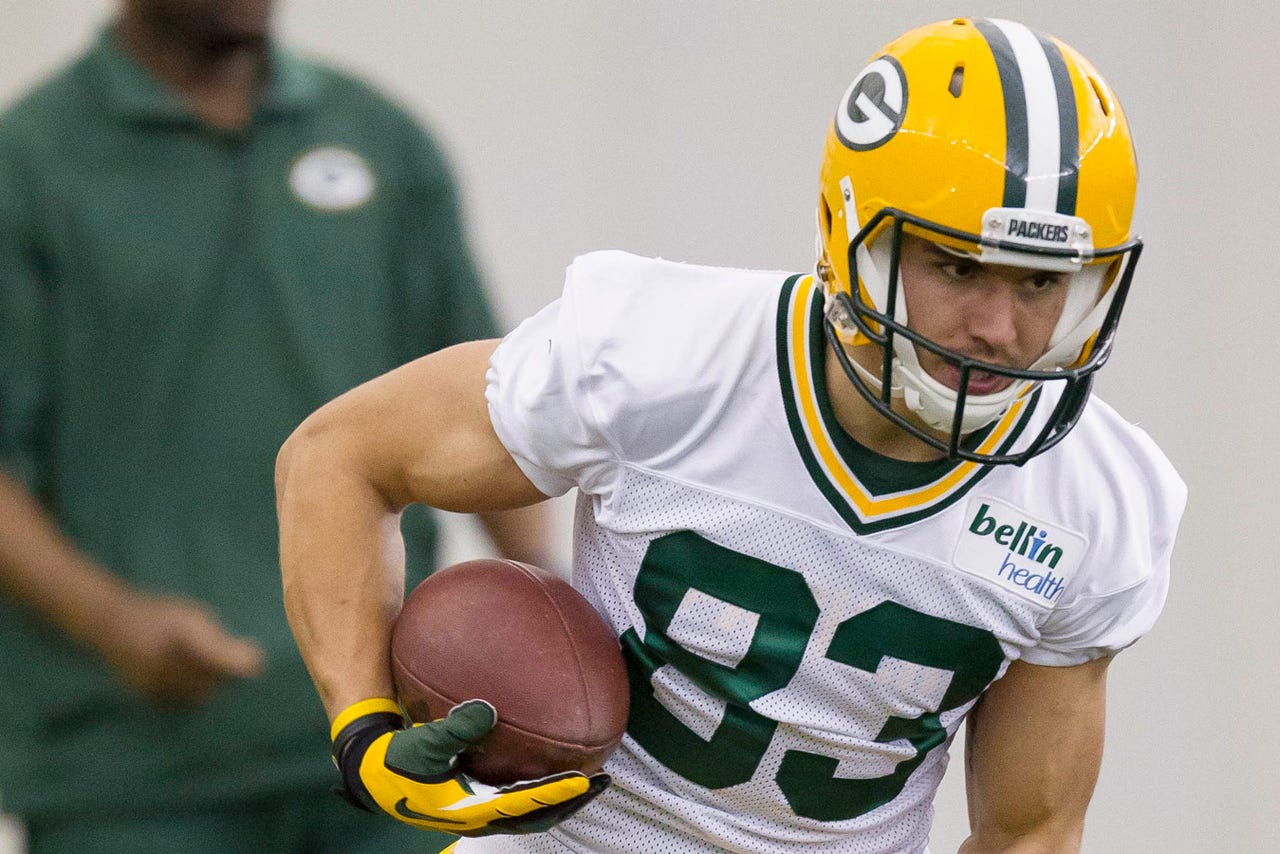 GREEN BAY, Wis. -- There were a couple occasions last season when Jeff Janis believes he was open enough to possibly warrant a pass in his direction from Aaron Rodgers. Rather than give the rookie a chance for a catch, Rodgers targeted his more game-tested wide receivers.
As Janis looks back at it, he understands why the ball wasn't sent his way in those situations. There was still a lot for him to prove to his quarterback.
It's why Janis wasn't frustrated by it. Instead, it served as motivation. The message had been sent that until Rodgers trusted him, Janis was likely going to continue running routes that don't result in opportunities for receptions.
"He just couldn't trust me at that point," Janis said.
Janis only played a total of 15 snaps all season, and several of them came with Matt Flynn behind center after the Packers had taken a substantial lead in Week 5 against Minnesota. Both of Janis' catches on the year came in that game from Flynn. So it's a very small sample size that Janis has to draw from.
Near the end of last season, Janis felt that his work in practice had really improved. He hoped that it might open the door for meaningful gameday snaps with Rodgers. Even head coach Mike McCarthy acknowledged this offseason that Janis was "definitely ready to play" by that stage of the year.
But it never happened, as Janis didn't play at all after Week 6. The trust factor between himself and Rodgers wasn't quite where it needed to be.
While Janis still has plenty to work on, he approached the offseason knowing that getting on the same page with Rodgers had to be at the top of his list.
"Building that trust (is key), and I really feel like I have been doing that," Janis said.
Janis first began to notice a difference in Rodgers' comfort level with him in the early practices during organized team activities. Jordy Nelson was sidelined following hip surgery, and that gave Janis dozens of snaps with the starting offense.
During the June 2 practice that was open to media, Janis caught a touchdown pass from Rodgers on fourth down in a two-minute drill with no time left on the clock.
"It's just being mentally on the same page with Aaron; that's one of the biggest things," Janis said. "When he throws you the ball, he expects you to make the play. That's one of the biggest things I've been trying to do."
Nelson knows from firsthand experience what it takes to earn Rodgers' trust. Nelson specifically recalled how beneficial it was for him when former teammates Greg Jennings and Donald Driver missed a few OTA practices several years ago, as that meant getting significantly more on-field time with Rodgers.
"It comes from reps," Nelson said. "There's some things you go over in meeting rooms, but you can't predict a situation. The more reps you get, the more situations you're in, the better you are of knowing what Aaron wants. If it's the routes versus coverages, if it's just checks, if it's his demeanor with his checks and how subtle he can be and making sure you're on the same page as him.
"The speed of the game is the same for you and him at the same time. The more you're out there, the more balls you catch and the more confidence he grows in you. I think that's the key. Just continuing to get those reps. (Janis) is taking advantage of that, and I think it's big. I think you'll see a big step come training camp and preseason."
McCarthy has spoken very highly of Janis this offseason. Seemingly nothing could top the way McCarthy gushed about him during the Scouting Combine.
"I think Jeff is going to take a big step," McCarthy said in February. "He's got a big catching radius, and he needs to utilize it. Obviously, I think we all saw his vertical speed. He's an extremely physical young man. He's an Olympian in the weight room. He's got a lot of raw skill, and I look for him to make that jump. He has to use that catching radius, and he has the type of body type you really like."
In the age of social media -- Janis is very active on Twitter and Instagram -- it didn't take long for those glowing comments to reach the wide receiver. Initially, Janis chuckled when asked about it, almost embarrassed by the praise from his coach.
"It's obviously good to hear, but it's not going to make me on the team or anything like that," Janis said. "I still have to show them that I can play."
Janis has to show the coaches he can play in order to get on the field. Once he accomplishes that, whether he actually gets targeted will be determined by where his relationship is with Rodgers.
"We've got to bring the young guys along," Rodgers said. "We expect a lot of those guys."
Rodgers noted how Janis, along with fellow second-year receivers Davante Adams and Jared Abbrederis, have shown "a good diligence to their craft and have been doing a good job with the mental side of it."
Janis is already beloved by a section of Packers fans. But it's a lot of buzz over a player with 16 career receiving yards and no touchdowns. Janis admitted it felt like a bit of undue attention.
Soon, though, Janis wants to show in a game -- while working alongside Rodgers, of course -- that all the excitement surrounding him is justified.
"I want to go out there and show that I can play and be a starter," Janis said. "That's the ultimate goal. That's kind of what I'm working for."
Long before that can happen, Janis has to be able to translate OTA touchdowns from Rodgers into preseason touchdowns from Rodgers into regular-season touchdowns from Rodgers. Especially for a 23-year-old player who was a seventh-round pick just one year ago, a few good connections in practice could create the momentum that leads to it happening when it actually counts in games.
"It really helps my confidence just being on the same page with (Rodgers)," Janis said. "After the play, he comes over and says, 'Good job,' that's just a big confidence boost."
Follow Paul Imig on Twitter
---