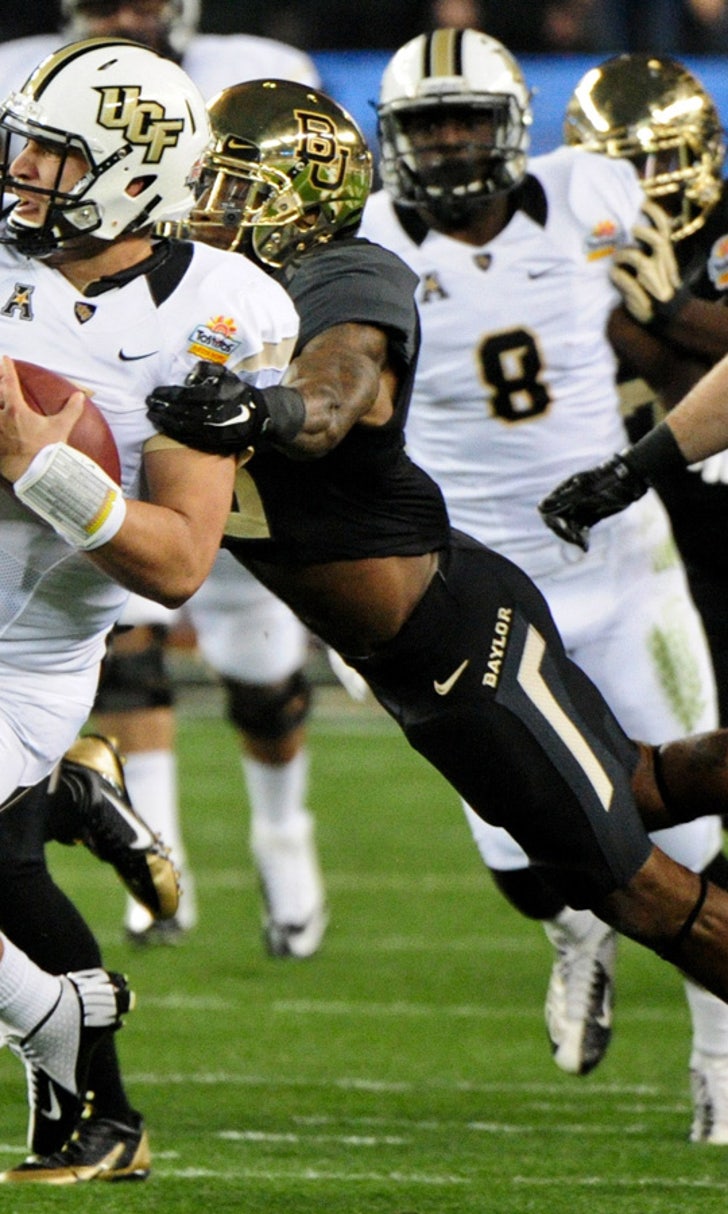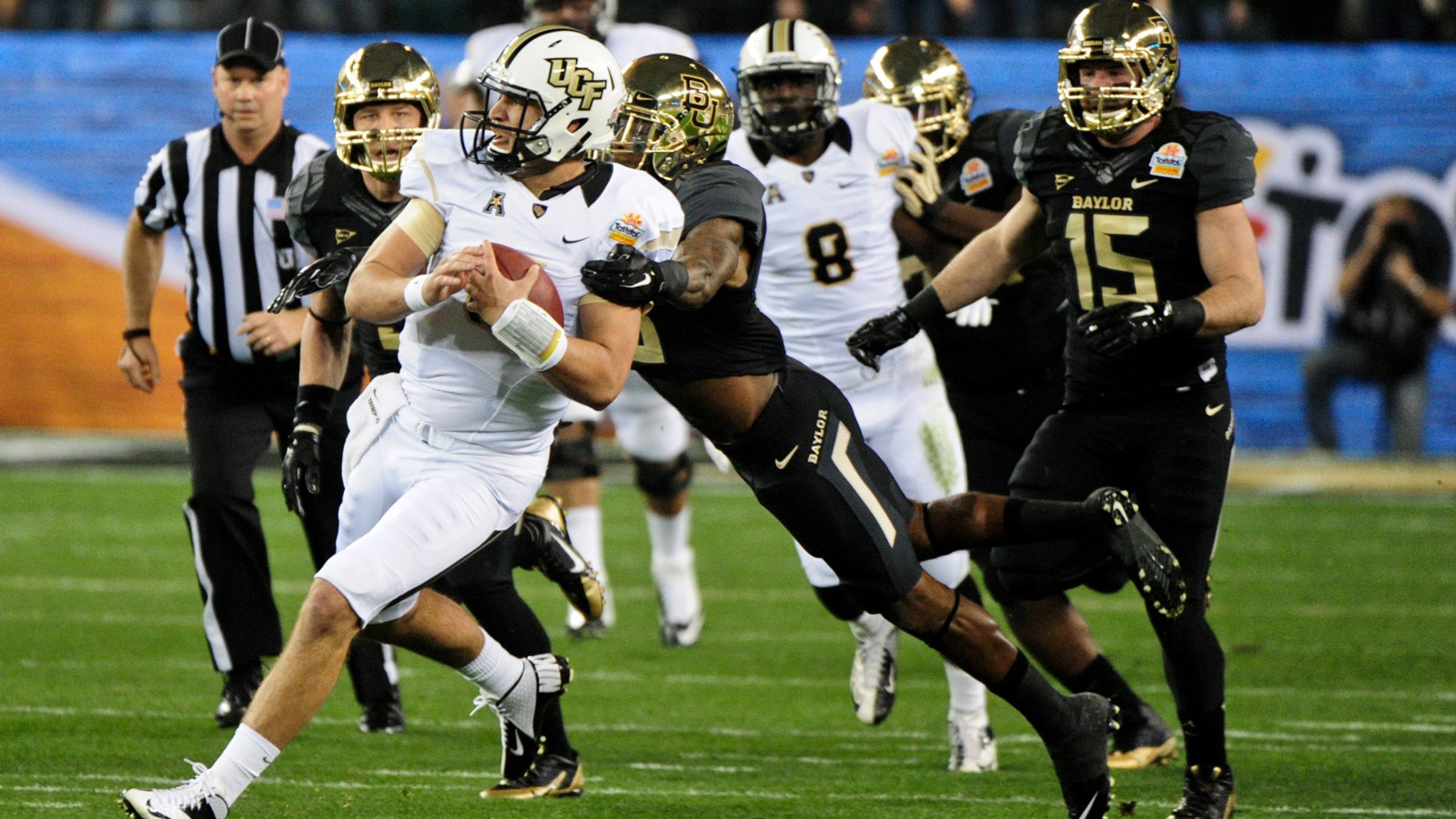 2014 Cowboys Draft Weekly Notebook - Episode 5 - Safeties Breakdown
BY foxsports • February 19, 2014
We continue our weekly series of player evaluations for the 2014 draft with a strong batch of safeties.   Last week, we grabbed defensive tackles and worked our way through 6 who have a chance to be Top 50 picks, and now we want to look at 7 different safeties who all are regarded as strong prospects in the right situation or scenario.



Like I said, we want to make sure we hit the 6 most obvious positions that may be addressed by the Cowboys in the Top 100 picks (1st, 2nd, and 3rd Round) which are: DT, DE, S, OT, OG-OC, and QB.    When we wrap those 6 spots up, we will do our best to clean up the scraps, consider some other spots, and then perhaps build some sort of board of preference.



I really don't want to reference other people's work, but rather just watch a ton of football and trust the eyeballs.  It certainly doesn't account for character details - whether the guy is a fantastic human or a hardened criminal - nor does it offer the intimate details of a medical exam that should all be considered, but it does break down at least 3-4 games of his college work to really "know the player" and what kind of guy he is at the college level.



=====



Safety is a spot that is fantastically important on the NFL stage and as the passing game is becoming more and more center stage, and as the most important component of the passing game is isolating defenders in bad match ups in space, it is now imperative that safety is not ignored by a team.



Of course, you cheer for the Dallas Cowboys, and if any team has spent a nearly a decade undervaluing and under-prioritizing the safety position as a whole, it is this team.



We believe it started when the Roy Williams investment went so poorly, but for whatever reason, Jerry and company has seemed to believe that you can just pull whoever from wherever to fill the safety void and it will work out just fine.  It hasn't, and even the more popular safeties since 2003 have been pretty poor.  Ken Hamlin had a good season or two, but others regard Gerald Sensabaugh as a solid player, and he really wasn't anything special.  They have been the true definition of replacement level at safety for quite some time and that is why a premium safety might be a proper idea.


| | | |
| --- | --- | --- |
| Year | Free Safety | Strong Safety |
| 2002 | Woodson | Williams |
| 2003 | Woodson | Williams |
| 2004 | Scott/Dixon | Williams |
| 2005 | K Davis | Williams |
| 2006 | P Watkins | Williams |
| 2007 | K Hamlin | Williams |
| 2008 | K Hamlin | Davis/Watkins |
| 2009 | K Hamlin | Sensabaugh |
| 2010 | A Ball | Sensabaugh |
| 2011 | A Elam | Sensabaugh |
| 2012 | Sensabaugh | Church/McCray |
| 2013 | Allen/Wilcox/Heath | Church |


Nobody wants to draft another player who doesn't play at the line of scrimmage, but when you consider that this team hasn't had a safety in forever, and that this is maybe the best safety draft in years, it should make you think.


| | | | |
| --- | --- | --- | --- |
| Stats | INTs | Tackles | FF's |
| 2013 | 3 | 75 | 2 |
| 2012 | 2 | 99 | 4 |
| 2011 | 2 | 43 | 2 |
| Totals | 7 | 217 | 8 |



There are plenty of things to really enjoy, as he checks all of the boxes when you examine his play, especially the Central Florida game where he was just flying all around the field and made an interception on Blake Bortles that has been all of the talk in the draft season about his ball skills and range.  
 
He separates from the others here because he has a great combination of size, mobile hips, intelligence, and confidence that should allow him to be quite successful at the next level.  He is versatile and had such a grasp of the scheme that he was basically in charge and playing everywhere.  
 
A willing tackler, a man with sideline range, and at 6'2, 208, you don't want him hitting your player, because they are going to feel it.  He has a ton to love and from a Cowboys standpoint, he fits the description of the type of player that has been missing around here for a long, long time.  
 
I would have no problem grabbing him with the 1st round pick, but there is a chance he is gone.  There is no chance he gets out of the 1st round.  
 
Lamarcus Joyner - Florida State - 5'8 - 195




Welcome to the most interesting player at this position in the draft.  This man will never be labeled as the "safe pick" so if you are allergic to picks that don't fit the template perfectly, then keep scrolling down.  However, if you want a guy who has magnetic powers to draw your eyes to him every time he plays because he is doing something impressive, look no further than Lamarcus Joyner.



Joyner is 5'8.  This is a non-starter for a lot of people who cannot name very many 5'8 safeties and therefore prefer to let him slide to somebody else.  I am not in that group.  I realize 5'8 is not ideal, but let's talk about what is ideal.



This guy, at 5'8, 195, led the national champion Florida State Seminoles in SACKS!  Yes, Sacks.  He is as good a blitzer as I can remember.  Now, you may be asking, how is a free safety blitzing so much?  Well, that is the issue here.  In 2013 (and most of 2012), he played slot corner.  In fact, you look at him and you are not sure what his best position would be - corner or free safety - but, make no mistake, wherever you put him, he is a real factor.






























| | | | |
| --- | --- | --- | --- |
| Stats | INTs | Tackles | FF's |
| 2013 | 2 | 69 | 3 |
| 2012 | 1 | 51 | 0 |
| 2011 | 4 | 54 | 0 |
| 2010 | 1 | 23 | 0 |
| Totals | 8 | 197 | 3 |




He is short, but he is not slight.  He will hit and hit hard.  He is as aggressive a tackler as this group has and he is not impressed with your size as he will fight anyone to get to the ball.  In the Clemson game (which happens to be one of the most singular games I have ever seen by a defensive back), he took on a pulling guard and at 195 still made the tackle.  To see him set the edge at that size is a thing of beauty and I did not see him miss a tackle on that type of stretch play all year.



But, the feature here is his speed.  I should wait to see what his combine number is, but most expect something in the 4.3 range and he plays that fast, too.  He is so fast and he covers with such ease that the QB just gives up on his man early on.  And yet, he can play free safety from sideline to sideline and play the role of ball hawk all day long.  And, if you prefer, he returns kicks.  I don't care to run him out there, but he can do it.



If you need one play to sell you on this guy, it should be this one against Idaho.  It is insane and you need to watch it a few times to understand what you are looking at.  He is #20.



From a Dallas standpoint, if you overall philosophy is to take the best player available, here he is.  I am not sure how he fits, but he is a premium football player.  However, if you want a player you are sure is a prototypical free safety, I think I would give the edge to Pryor.  But, Joyner is the guy that if you pass on him, you sure hope he goes to a team you don't have to play twice a year.  He looks like a star in the making.  But, he is also 5'8.




HaHa Clinton-Dix- Alabama - 6'1 - 208


Clinton-Dix is a player that you haven't been able to avoid, if only for his name adjustment to Haha for this season that gave Vern and Gary fits on all of the SEC broadcasts.



Mark Barron hid Clinton-Dix until 2012, but since then, America has been able to see what he is all about.  He flies around the secondary and also has the ability to jump routes and turn the ball over.  The issue here is that he did not play much as a deep safety and when he did we just didn't see incredible ball skills to sign off that he would be a fantastic free safety at the next level.



His man-to-man skills are solid, and I have no doubt he can ride the hip of a tight end or even many wide receivers down the field.  I just don't feel great about that adapting to today's slot receivers or running backs coming out with more quickness.  He can blitz very well and will cause a proper amount of havoc along the way.


























| | | | |
| --- | --- | --- | --- |
| Stats | INTs | Tackles | FF's |
| 2013 | 2 | 51 | 0 |
| 2012 | 4 | 37 | 1 |
| 2011 | 0 | 11 | 0 |
| Totals | 6 | 99 | 1 |




Another issue that makes me prefer Pryor and perhaps Joyner over Clinton-Dix is the physical element of his game.  He can really knock you out, but in doing so he can make you remember Roy Williams' fatal flaw, which was huge shots that did not employ wrapping up with the arms.  Instead, it is a huge shot that ends many plays, but when it doesn't, he looks silly because the man is still running down the field when a simple form tackle would have ended things.  I am not a big fan of the shoulder shot that do not employ arms, and I saw this.



Another red flag is his performance in the Auburn game where he just looked slow and possibly injured.  If I was thinking of taking him, I would want answers on why he didn't look like the same player there, as it was a rather uninspired performance with the season on the line.



Of the first round candidates, he is a really fine player who can do some fantastic things.  But, he is also the player I prefer the least (of this group of Pryor, Joyner, and Clinton-Dix).  In fact, for the Cowboys purposes, he is not what I seek because his redundancy with Barry Church might chase me away.



Jimmie Ward - Northern Illinois - 5'11 - 191



The last of the guys who could possibly fit in Round 1 or early in Round 2 is Jimmie Ward.  Let me get the issue out of the way that makes me rank him below the top 3.  When I watch him, I am very concerned that he plays a style that his body will not allow.  I know it is possible that he will put on 15 lbs of muscle for the next level, but since I have no way of knowing what that will do to his mobility, I can only tell you what I see at this level he was playing for Northern Illinois.



And that level, as spectacular as it was, included a lot of moments where it looks like he hits so hard and plays a style that he hurts himself.  And this is a real concern with many great safeties in the last decade - Bob Sanders, Ed Reed, Troy Polamalu, Charles Woodson, Brian Dawkins - would ultimately play such a style that their bodies would break down on them.  Of course, that list is only the best of the bunch.  There are many more who never made a name for themselves because they just can't stay on the field at all.



That said, Ward is another very impressive free safety.  He has great speed and tackles with conviction.  He also seems to be as comfortable in CF as anyone and has a confidence that makes you think of Calvin Pryor in the way he conducts himself and the defense.



He is a big wrap-up tackler and he has fine recovery skills if he reads wrong.  He had an absolutely silly interception against Toledo that will answer any questions you might have about his ball skills.  
 


























| | | | |
| --- | --- | --- | --- |
| Stats | INTs | Tackles | FF's |
| 2013 | 7 | 95 | 1 |
| 2012 | 3 | 104 | 1 |
| 2011 | 1 | 100 | 1 |
| 2010 | 0 | 18 | 1 |
| Totals | 11 | 317 | 4 |




He also makes man coverage look easy and just doesn't ever look like a mismatch target.  He lines up at LB depth at times and blitzes from everywhere.  He is a ball hawk and you can really fall in love with him if you give him some time and get past your concerns about a player at Northern Illinois when you compare him to a guy like Clinton-Dix who went to Alabama.  But, sometimes you have to look past that and just consider the player.  I really like Ward.



I have to tell you, I have concerns that he cannot hit guys like he does and play 16 games, but that is my only concern.  I don't think he will be there at #48, but he would be a candidate to trade up to get if you see him in get to #35 or so.  He may not.  And if you made me rank him, I might rather have him higher than Clinton-Dix for the Cowboys needs.



Now, a few to consider later down the line (3rd Round or later):


Terrence Brooks - Florida State - 5'11 - 197



Like Ward and Joyner, Brooks is another converted corner who can project as a safety.



He is certainly a step down in just about every category, but nevertheless, he can be quite useful in many regards.  He covers pretty well, but really excels in run support for me and if he doesn't get lost in the traffic can do a nice job dive bombing a play.



He is a very speedy player and like many converted corners, looks far more appealing with loose hips and mobility as well as ball skills.  He really enjoys special teams and is always looking for a kill shot on returns.  
 


























| | | | |
| --- | --- | --- | --- |
| Stats | INTs | Tackles | FF's |
| 2013 | 2 | 56 | 2 |
| 2012 | 2 | 51 | 1 |
| 2011 | 1 | 17 | 0 |
| 2010 | 0 | 2 | 0 |
| Totals | 5 | 126 | 3 |




It is really tough to tell about his free safety sideline to sideline range from the games I watched (Boston College, NC State, and Pitt), but it looks like he has the ability to do so.



The Question if you are Dallas is whether or not he is any better of a FS prospect than you already have in JJ Wilcox (who might be more of a SS) and Matt Johnson (I know, I know).  But, if he sits there at the 3rd-4th round, he is the type of player to populate your secondary with.



Ed Reynolds - Stanford - 6'2 - 205



There are plenty of players who are in the profile of strong safeties or free safeties with skill sets that do not fit the profile I am looking for, and Ed Reynolds from Stanford is one of them.  The Combine might be able to change my mind, but I don't think he has ideal speed, flexibility, and is not a particularly strong hitter in space.



He is a productive, major college player who won plenty of college awards, but I just don't see hit.  He is a big dude that isn't very physical and while he can jump routes in the secondary, I think that is all he does that checks off.  His ball skills are fine, but I just don't think he covers the ground that is needed on Sundays.  I could be wrong, but I just don't see it.
 


















| | | | |
| --- | --- | --- | --- |
| Stats | INTs | Tackles | FF's |
| 2013 | 1 | 86 | 0 |
| 2012 | 6 | 47 | 0 |
| Totals | 7 | 133 | 0 |




Somebody is going to take him in the 2nd-3rd round, but I would not be interested in being that team.  Along with Washington State's Deone Bucannon (who I might profile in the future), I just don't think he is what this team needs right now to fix their pass defense.  They are pros, for sure, but I don't see how they would deal with quick WRs in space.



Ahmad Dixon - Baylor - 5'11 - 205



Let me confess that one of the players I really became fascinated with over the last few years is Dixon from Baylor.  He does things to get noticed and he has many of the things I prefer in a safety, including confidence, force, and intimidation skills.



When he hits you, and then tells you about it, you will be well aware that he has been there.  He leaves a mark, no doubt about it.



All of that tells me he will continue to achieve and play many years in the NFL and likely do things to get his name noticed at that level, too.



But, when we break down his skill set, we see all of the features of a strong safety - which is a close relative to a small linebacker, rather than a free safety - relatives of the cornerback.  And if there is something this particular NFL outfit doesn't need, it is another safety that is a biscuit or two from playing LB.  And, in today's game, strong safety is less interesting because of the idea that at some point, he is going to have to man-up in space against a world-class athlete and hold his own.




 


























| | | | |
| --- | --- | --- | --- |
| Stats | INTs | Tackles | FF's |
| 2013 | 1 | 81 | 1 |
| 2012 | 2 | 102 | 0 |
| 2011 | 1 | 89 | 0 |
| 2010 | 0 | 16 | 1 |
| Totals | 4 | 288 | 2 |






I love Dixon's effort and his makeup to a certain extent.  To watch his head to head battle with Texas Tech's Jace Amaro was entertaining and they both got their licks in.  But, Amaro won the day (Dixon won the game, of course) and was able to get open with a fair bit of ease.  Dixon would hit him and hit him hard, but that seems to be his one answer to a lot of problems, looking for the huge hit.  But, I just don't think that works long term against complicated pass offenses, and I certainly don't see him as a free safety candidate.  He is uncomfortable in man coverage and surely can't be a free safety solution.



I watched plenty more than that one game (also Texas and TCU), but the Texas Tech game did really scare me about what happens when he has to deal with the athletic tight ends of the NFL.



At the right price, I would take him here, but like several other safeties in this draft, I just don't think Dixon is a particular fit in Dallas.





Past Draft Profiles:




Weekly Notebook - Defensive Tackles - Featuring Aaron Donald, Timmy Jernigan, Louis Nix, Rashede Hageman, Will Sutton, and DaQuan Jones
 
 


---