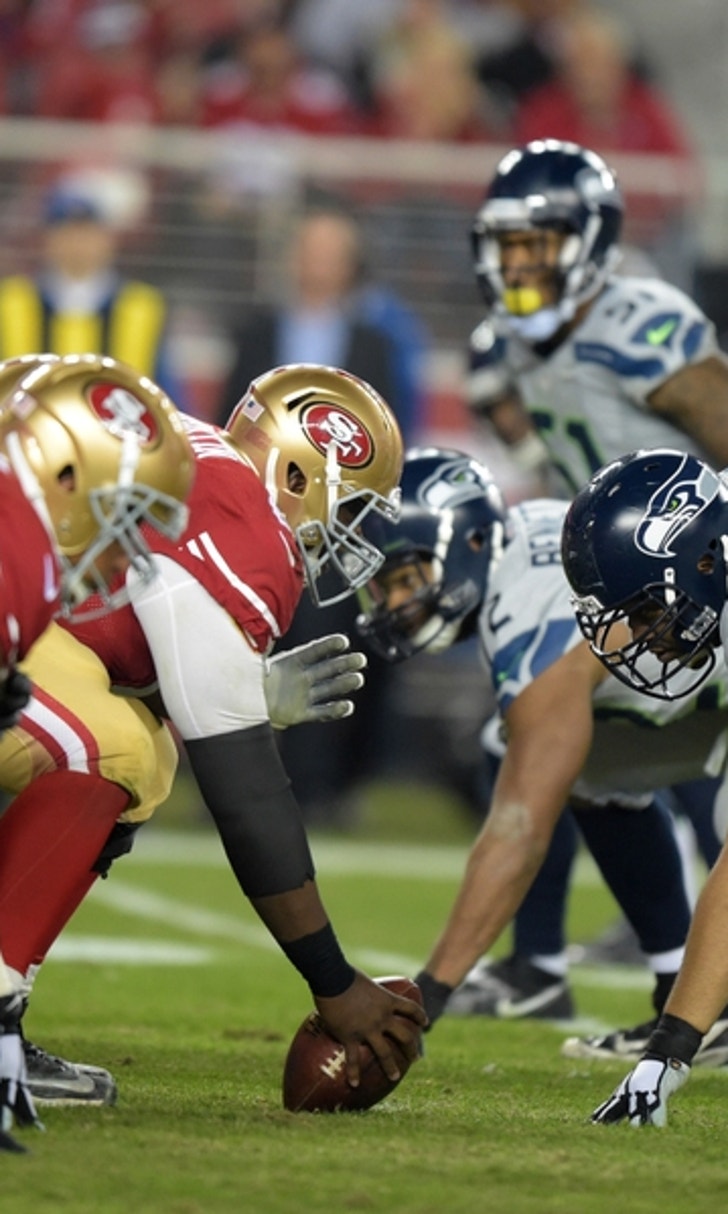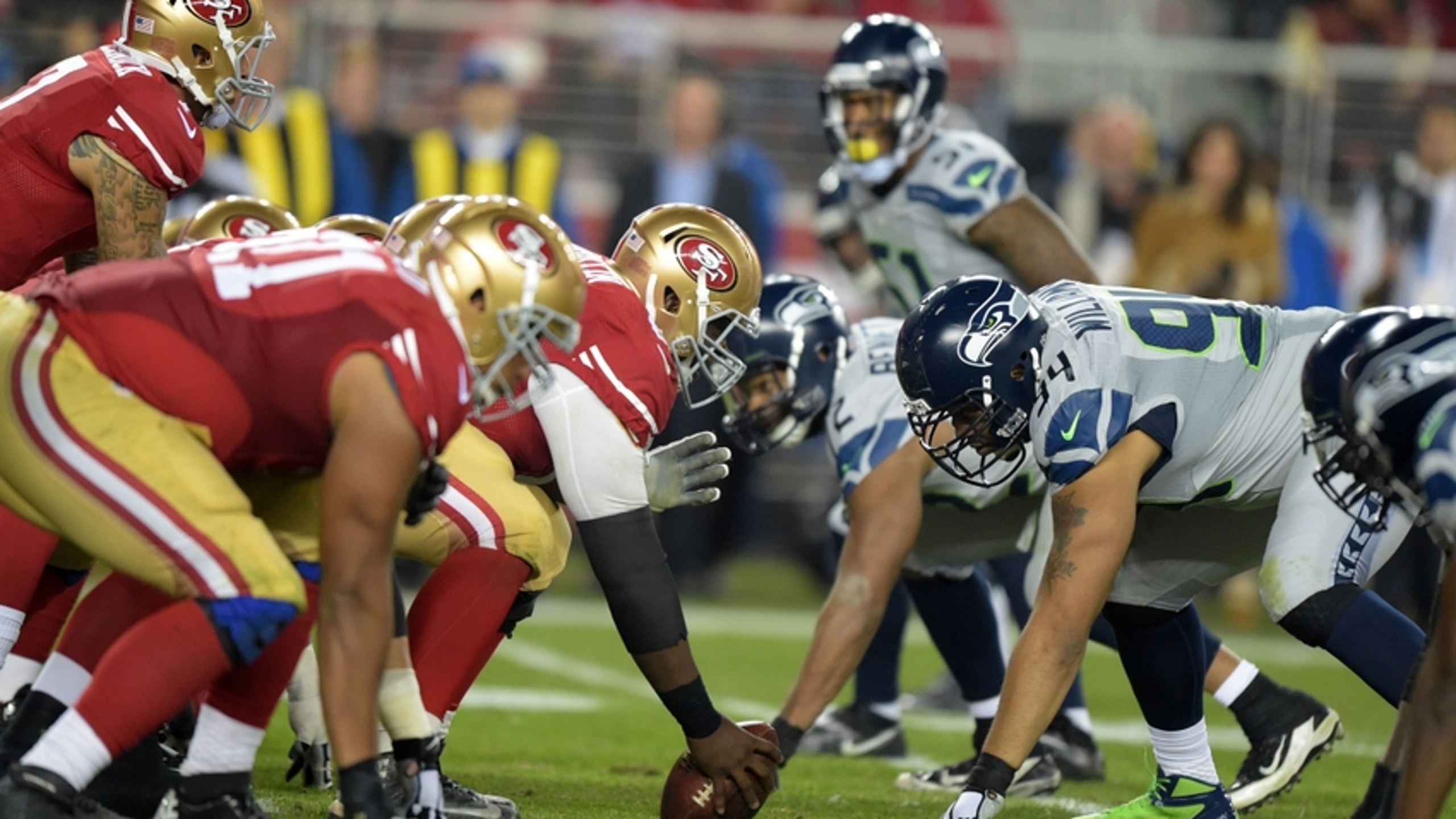 Seahawks vs. 49ers: Previewing Week 17 for San Francisco
BY Fansided and Peter Panacy/FanSided via Niner Noise • December 31, 2016
The San Francisco 49ers host their NFC West rivals, the Seattle Seahawks, to wrap up the final game of the Niners' 2016 season. And one should expect a lot of changes for the red and gold not long after the game. Niner Noise has your Week 17 preview right here.
October 22, 2015; Santa Clara, CA, USA; General view of the line of scrimmage between the San Francisco 49ers and the Seattle Seahawks during the first quarter at Levi's Stadium. Mandatory Credit: Kyle Terada-USA TODAY Sports
The 2016 regular season is winding to a close, and the San Francisco 49ers will be wrapping up what has been a forgettable year and setting the stage for an uncertain future.
49ers
Niner Noise 1 dSan Francisco 49ers: Predicting Front-Office Shakups this Offseason
More headlines around FanSided:
1 d - NFL Week 17: 5 Coaches on Hot Seat1 d - Franchise Building Blocks: San Francisco 49ers1 d - 5 Moves the 49ers Need to Make this Offseason2d - 49ers Draft: All eyes on Mitch Trubisky in Sun Bowl1 d - 2017 NFL Mock Draft: Top Quarterbacks Start Their RiseMore News at Niner Noise

Coming to town will be the Seattle Seahawks — a team, once again, bound for the postseason and who has had the 49ers' number for years now.
Week 17 might be all but meaningless for the Niners. Outside of NFL Draft order, of course. But the game could still have implications for playoff seeding, which means Seattle head coach Pete Carroll and Co. won't be putting things into cruise control.
The Niners haven't beaten the Seahawks since the 2013 season. And while Seattle has held onto being one of the NFL's elite teams, oh-so much has changed for the red and gold since their most recent glory years.
Needless to say, Week 17 projects to be a very one-sided match.
But fans aren't going to be paying attention so much to what happens during the game. Instead, Niners fans are going to look at what takes place shortly thereafter.
Will general manager Trent Baalke get the ax? How about head coach Chip Kelly?
These questions, and more, will be brought up in our final game preview of the 2016 season.
October 22, 2015; Santa Clara, CA, USA; Seattle Seahawks defensive end Michael Bennett (72) celebrates after a defensive stop against San Francisco 49ers quarterback Colin Kaepernick (7) during the third quarter at Levi's Stadium. The Seahawks defeated the 49ers 20-3. Mandatory Credit: Kyle Terada-USA TODAY Sports
Week 17 by the Numbers
No one needs to be reminded how bad San Francisco is this season. While the Niners' second win of the season last week versus the Los Angeles Rams might have helped, statistically, the 49ers still boast the league's worst defense — in both yards and points allowed — and are still historically bad against the run.
But if there's one positive, the Niners running game still sits at No. 4 overall in the NFL.
Yet even this stat took a hit, thanks to the season-ending MCL tear suffered by running back Carlos Hyde.
However the Seahawks are dealing with a slew of injuries too. Anyone who saw Seattle wide receiver Tyler Lockett's leg break last week versus the Arizona Cardinals might have been grossed out a bit.
Tack on a season-ending leg injury for safety Earl Thomas, and the Seahawks have a few of their injury problems as well.
Despite a 34-31 home loss to Arizona, Seattle still has second-best defense with just 269 points allowed.
And the offense, while not nearly as potent as it was a year ago, still ranks a respectable 15th in total yards gained (5,339).
Sep 25, 2016; Seattle, WA, USA; Seattle Seahawks quarterback Russell Wilson (3) talks with San Francisco 49ers quarterback Colin Kaepernick (7) during pre game warmups at CenturyLink Field. Mandatory Credit: Joe Nicholson-USA TODAY Sports
Quarterback Comparison
Ah, yes. The longtime duel between the two up-and-coming future stars of the NFL reaches its next chapter.
Only one quarterback, Russell Wilson, has thrived. The other, Colin Kaepernick, has regressed into near obscurity. On the field, at least.
Colin Kaepernick
Aside from a brief four-game stretch earlier this season, Kaepernick's 2016 efforts have been so-so at best. His 57.9 completion percentage ranks 28th out of 30 qualifying quarterbacks. And his passer rating is a mere 87.0 — tied for 19th overall.
But Kap did, almost by himself, help engineer a Week 16 victory over the Rams. So the chance for an occasional moment of greatness still remains.
However those moments are clearly overshadowed by his shortcomings.
Russell Wilson
If the Seahawks had a good offensive line, it's scary to think what Wilson's numbers would look like. But the Hawks don't, and Wilson has taken 40 sacks on the year — tied for second most in the league.
Still, Wilson boasts a 65.0 percent completion percentage and has a passer rating of 92.4.
It's safe to say Seattle came away as the winner of this one-time heated quarterback competition.
Nov 20, 2016; Santa Clara, CA, USA; San Francisco 49ers general manager Trent Baalke before the game against the New England Patriots at Levi's Stadium. Mandatory Credit: Kelley L Cox-USA TODAY Sports
Will Trent Baalke Be Fired Shortly After Week 17?
The 49ers are expected to make plenty of changes this offseason. Chief among these will be the likely firing of general manager Trent Baalke.
Baalke is largely responsible for the shape of San Francisco's anemic roster. Failed drafts and lackluster efforts in free agency have let the roster fall from one of the NFL's elites to one of disarray.
There's still an outside chance Baalke stays put though.
He's close to CEO Jed York and the team's ownership. Baalke survived and won the controversial control battles with former head coach Jim Harbaugh. And there were hardly any fingers pointed his way when last year's head coach, Jim Tomsula, was bearing the brunt of the blame for the team's struggles.
But if Baalke does get fired, how will San Francisco go about replacing him? Is it going to be an in-house route, like promoting assistant general manager Tom Gamble? Or should we expect the organization to bring someone in from the outside?
Even this opens up more questions.
What happens with head coach Chip Kelly? His 2-13 team could easily wind up being the fourth two-win team in franchise history.
Will the next GM want to bring in another head coach? Or will the Yorks, almost predictably, want to force a general manager into retaining Kelly for at least another season?
Oct 2, 2016; Santa Clara, CA, USA; San Francisco 49ers tackle Joe Staley (74) warms up prior to the game against the Dallas Cowboys at Levi's Stadium. Mandatory Credit: Kelvin Kuo-USA TODAY Sports
Significant 49ers Injuries
San Francisco suffered a major setback last week when it lost No. 1 running back Carlos Hyde to an MCL tear. Hyde will miss the final game of the season and fell short of 1,000 rushing yards by a mere 12 yards.
It's a blow. But, considering the Niners season and where they're at in the schedule, worse things could have happened.
Here's a look at the remaining injury list, courtesy of 49ers.com:
| | | | | | |
| --- | --- | --- | --- | --- | --- |
| ame | Injury | Wednesday | Thursday | Friday | Game Designation |
| DT 92 Quinton Dial | Elbow | FP | FP |  FP |  Probable |
| DT 90 Glenn Dorsey | Knee, Ribs | LP | FP |  FP |  Probable |
| RB 24 Shaun Draughn | Ribs | FP | FP |  FP |  Probable |
| LB 58 Eli Harold | Toe | LP | FP |  FP |  Probable |
| CB 36 Dontae Johnson | Groin | LP | LP |  LP |  Questionable |
| C 66 Marcus Martin | Ankle | LP | DNP |  DNP |  Out |
| T 74 Joe Staley | Hamstring | LP | LP |  LP |  Questionable |
| G 61 Andrew Tiller | Ankle | LP | DNP |  DNP |  Out |
The biggest shakeup for San Francisco will occur along its offensive line.
Left tackle Joe Staley hopes to get in for one final game this season. But left guard Andrew Tiller has been ruled out, which opens up the door for backup linemen Alex Balducci or Andrew Gardner to get the start.
#49ers OL Andrew Tiller, Marcus Martin ruled OUT for Sunday's game vs. Seahawks. Andrew Gardner, Alex Balducci candidates to play LG.

— Chris Biderman (@ChrisBiderman) December 30, 2016
Next: Offensive & Defensive X-Factors for San Francisco
Oct 2, 2016; Santa Clara, CA, USA; San Francisco 49ers defensive lineman DeForest Buckner (99) warms up prior to the game against the Dallas Cowboys at Levi's Stadium. Mandatory Credit: Kelvin Kuo-USA TODAY Sports
Offensive & Defensive X-Factors for San Francisco
Needless to say, the 49ers are going to have to get the most out of every critical matchup and X-factor in Week 17 to even sniff the chance of a victory over the Seahawks.
Even so, it shouldn't be too hard for Seattle to take advantage of a shorthanded Niners team looking to stage a seemingly impossible upset.
If San Francisco pulls off a miracle, here are the reasons why:
Center Zane Beadles
The situation at left guard presents a precarious situation for the 49ers offensive line. Switching back to center, O-lineman Zane Beadles will need to slow down the pass-rushing prowess of Seahawks defensive tackle Michael Bennett, who has an 86.8 overall grade on the year, per Pro Football Focus.
Cornerback Rashard Robinson
Rookie corner Rashard Robinson has cooled off a bit since his hot start to the season. But his game-clinching interception in Week 16 is certainly a good sign moving forward.
December 24, 2016; Los Angeles, CA, USA; San Francisco 49ers cornerback Rashard Robinson (33) following the 22-21 victory against the Los Angeles Rams at Los Angeles Memorial Coliseum. Mandatory Credit: Gary A. Vasquez-USA TODAY Sports
Robinson will frequently tasked with covering Seahawks wide receiver Doug Baldwin, who is quarterback Russell Wilson's favorite target.
Equally important will be the coverage on tight end Jimmy Graham, so look for fellow Niners defensive back Antoine Bethea to get into the mix here.
Defensive End DeForest Buckner
Seattle's O-line is trash, so rookie defensive end DeForest Buckner — who has been on the ascent in recent weeks — should have plenty of opportunities to get to Wilson.
Buckner is now tied for the team lead in sacks (six) with linebacker Ahmad Brooks. Bucker will also often line up opposite Seahawks left guard Mark Glowinski, who has a measly 45.5 overall PFF rating.
Quarterback Colin Kaepernick
49ers quarterback Colin Kaepernick could be playing his final game in a Niners uniform this Sunday. And it's fitting he goes up against his long-time nemesis, the Seahawks.
Kaepernick owns a career 55.9 passer rating against Seattle. Only the Oakland Raiders (54.4) and Carolina Panthers (42.0) have forced lower numbers, and those came from one game apiece.
If Kap is on his way out, will he go out in a blaze of glory? Or will fans' final memories of him in San Francisco be reminiscent of the unending struggles he's had against this NFC West rival?
Sep 12, 2016; Santa Clara, CA, USA; A general view of Levi's Stadium during an NFL game between the San Francisco 49ers and the Los Angeles Rams. Mandatory Credit: Kirby Lee-USA TODAY Sports
Game Information
The 49ers and Seahawks kick off at 4:25 p.m. ET on Fox from Levi's Stadium in Santa Clara. Be sure to check your local service provider to see if coverage will be available in your area.
If it's not, you can always stream the game using NFL Game Pass.
Not surprisingly, Odds Shark lists the Seahawks as 9.5-point favorites with a 27.8 to 16.4 predicted score in favor of Seattle.
Why the Seahawks Win
Well, they win because they're a vastly superior team in almost every facet. It shouldn't take long for the Seahawks to get their running game going. And it's going to be a tough task for the San Francisco defense to contain pass-catching targets like Jimmy Graham and Doug Baldwin.
Defensively, Seattle has more than enough to simply thwart anything the Niners try to do on the ground or through the air.
Why the 49ers Win
The only real way might be for Seattle to put things into cruise control if they watch the Atlanta Falcons, who could get the No. 2 playoff seed, roll out to a quick and large lead over the New Orleans Saints on Sunday.
More from Niner Noise
On the field though, San Francisco's pass rush will need to be the top X-factor. Fortunately, as mentioned on the previous slide, DeForest Buckner is playing well and will match up against a weak Seahawks offensive line.
Will it be enough? Probably not.
And yet the 49ers might simply win by losing — both in the NFL Draft order and the final indictment against general manager Trent Baalke.
Oh, it's going to be an interesting offseason.
---
---