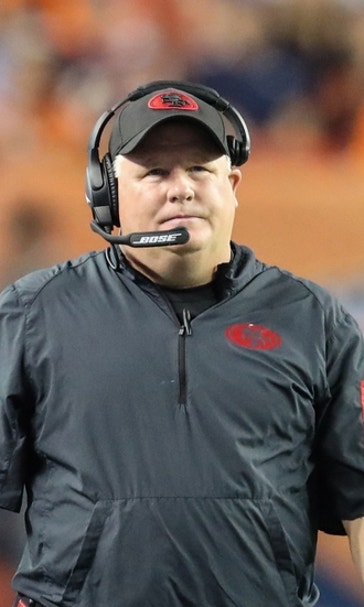 San Francisco 49ers: 5 Reasons Why Chip Kelly Stays as Head Coach in 2017
December 28, 2016

Fansided, Peter Panacy/FanSided via Niner Noise
San Francisco 49ers head coach Chip Kelly might be on the hot seat after what promises to be no better than a two-win season. But let's look at reasons why Kelly returns to the Niners in 2017.
January 20, 2016; Santa Clara, CA, USA; Chip Kelly addresses the media in a press conference after being introduced as the new head coach for the San Francisco 49ers at Levi's Stadium Auditorium. Mandatory Credit: Kyle Terada-USA TODAY Sports
The best course of action for the San Francisco 49ers this offseason might be to clean house and, more specifically, let head coach Chip Kelly go.
49ers
Niner Noise 12h49ers vs. Rams: The Good, Bad and Ugly from San Francisco in Week 16
More headlines around FanSided:
18h - NFL Power Rankings: Final Regular-Season Look for Week 171 d - Colin Kaepernick Helped Plenty of Fantasy Football Owners After Performance Against Rams1 d - 49ers : 5 Options for San Francisco's First-Round Pick2d - Carlos Hyde tears MCL in 49ers Week 16 Victory2d - 49ers Briefly Hold First Overall PickMore News at Niner Noise

Take a look around the web, and it won't be too long before you read articles on why Kelly should be dismissed. Grant Cohn of the Santa Rosa Press Democrat feels this is best. So does Matt Miller of Bleacher Report.
But if it was that simple of a decision, Kelly would already be gone. Heck, the Buffalo Bills are having a vastly superior season than the Niners. And they had no hesitation of letting head coach Rex Ryan go earlier this week.
To be perfectly honest, blowing it all up is probably the best thing San Francisco could do right now.
Let's play the devil's advocate though and look at why Kelly stays.
So, if Kelly is back in 2017, we can likely look at one or more of these reasons as the motivation for him being retained.
Jan 15, 2015; Santa Clara, CA, USA; San Francisco 49ers general manager Trent Baalke (L) talks to head coach Jim Tomsula (R) in the locker room after a press conference for the introduction of Tomsula as the head coach at Levi's Stadium Auditorium. Mandatory Credit: Kelley L Cox-USA TODAY Sports
No. 5: Putting a Stop to the Coaching Carousel
If the 49ers were to dismiss Chip Kelly after 2016, they'd be employing four head coaches over as many years.
That's never a good look, especially a team primarily made up of young and developing players.
From those players' perspectives, each would have to unlearn and then learn a new way of how to do things — practices, techniques, schedules, etc. The 49ers would be placed in that boat yet again after another coaching carousel: Jim Harbaugh, Jim Tomsula, Kelly and Coach X.
Is this good for the players, especially when considering the slew of assistants revolving through the turnstiles? No. It's an outright detriment to player development; a way to ruin a promising investment.
And what message would it send to other head coaching candidates? Certainly not one of job security in Santa Clara.
Which leads us to the next reason.
Aug 14, 2016; Santa Clara, CA, USA; San Francisco 49ers head coach Chip Kelly looks towards the field during action against the Houston Texans in the third quarter at Levi's Stadium. The Texans defeated the 49ers 24-13. Mandatory Credit: Cary Edmondson-USA TODAY Sports
No. 4: If not Chip Kelly, Who Else?
Yes, NFL head coaching gigs are coveted positions. There are only 32 of them after all, and there's no shortage of egos and personalities willing to step up and give it a go.
Even if the situation is as bad as it gets, like things are with the 49ers.
But firing Chip Kelly would immediately dissuade the most likable of candidates from even considering a spot in San Francisco. New England Patriots offensive coordinator Josh McDaniels? Forget about him. Atlanta Falcons OC Kyle Shanahan? Probably not.
Instead, the only other viable options would be castoffs and retreads — candidates looking for a quick promotion and/or trying to hold onto one of these positions.
That's it.
You see, almost every other NFL destination with an opening is going to be more attractive than San Francisco.
The Jacksonville Jaguars have an OK defense, the Los Angeles Rams also have a good defense and a top-drafted quarterback in Jared Goff. And it's L.A., so there's that. Both the Chicago Bears and Indianapolis Colts, who are still retaining their head coaches as of now, have more pieces than the 49ers too.
The Niners are a dumpster fire. Who'd want to coach that?
Aug 14, 2016; Santa Clara, CA, USA; San Francisco 49ers tackle Joe Staley (74) watches the game against the Houston Texans in the third quarter at Levi's Stadium. Houston defeated San Francisco 24-13. Mandatory Credit: John Hefti-USA TODAY Sports
No. 3: 49ers Players Are on Chip Kelly's Side
Granted, not every single member of a 53-man roster will be totally on board with a head coach. It just doesn't happen. There's dissension no matter how good, likable or successful a head coach may be.
But veteran left tackle Joe Staley had some words to offer, via Matt Barrows of the Sacramento Bee:
Staley, who has seen six different Niners head coaches in his pro tenure, likely wouldn't mask words about the state of the franchise.
And while we can't guarantee every other player feels this way, there's a good chance the leadership chunk of the roster shares similar thoughts about Chip Kelly.
The 49ers have a recent example on how to win over a locker room. San Francisco was trailing 21-7 against the Los Angeles Rams in Week 16. And Kelly's squad was facing their 14th consecutive loss and a likely No. 1 overall pick in the 2017 NFL Draft.
Tanking wasn't an option though. And neither was settling for a game-tying extra-point attempt when the Niners closed it to 21-20 late in the fourth quarter.
No, Kelly elected to go for two. Why not? The season is lost. Might as well go for broke, compete and let all the draft-order talk be discussed by those outside the organization.
In contrast, just look at the effort the New York Jets put up against the New England Patriots last week. Do you think New York is trying? Not at all.
January 20, 2016; Santa Clara, CA, USA; Chip Kelly (left) and San Francisco 49ers general manager Trent Baalke (right) pose for a photo in a press conference after naming Kelly as the new head coach for the San Francisco 49ers at Levi's Stadium Auditorium. Mandatory Credit: Kyle Terada-USA TODAY Sports
No. 2: A New General Manager Feels Chip Kelly Is Still the Best Option
Let's grant general manager Trent Baalke won't be back in 2017. That leaves the door open for another GM candidate to take the roster controls.
And, by many accounts, the next head coach of the 49ers might be someone whom the 2017 general manager selects.
This is probably one of the reasons why Chip Kelly hasn't had any internal discussions about his job security beyond this season (h/t Kevin Jones of KNBR). But if the Niners front office hands the head coaching search off to a new GM, Kelly could easily be dismissed if general manager X feels retaining the head coach isn't in the team's best interests.
But what if this new general manager thinks Kelly is still the best choice? Maybe Kelly isn't the ideal candidate, but as discussed previously, what luck would the franchise have in luring in yet another high-profile candidate?
Perhaps Kelly is seen as the least-worst option on the table. Or, possibly, whoever is at the GM controls next season actually views Kelly as the right guy for the job.
Jan 15, 2015; Santa Clara, CA, USA; San Francisco 49ers owner Jed York looks on during a press conference to introduce Jim Tomsula as head coach of the San Francisco 49ers at Levi's Stadium Auditorium. Mandatory Credit: Kelley L Cox-USA TODAY Sports
No. 1: CEO Jed York and the List of Scapegoats
By now, you're probably at least somewhat familiar with San Jose Mercury News columnist Tim Kawakami's list of 49ers scapegoats.
Whatever your thoughts on Kawakami might be, his list is eerily accurate.
CEO Jed York might say he is accountable. But anyone and everyone knows he won't bear the brunt of the responsibility. How would he anyway? By firing himself?
No. But York can point the finger. And when things are as bad as they are in Santa Clara, he'll need a long and extensive list — targets for each and every season from now until, well, indefinitely.
More from Niner Noise
General manager Trent Baalke is the next guy on York's watch list. And while Kelly might not be far behind, York can quell 49ers fans' anger to a great extent simply by letting Baalke go. It's what fans and members of the media have been calling for all along, right?
Such a move wouldn't be an endorsement of Kelly. No, rather York would be saving Kelly for the ax if, in case, things don't go well for his franchise in 2017.
And York would easily have the, "I gave Kelly a chance" argument by his side.
We likely won't know if this is the route York takes until after Week 17 of the season. It doesn't make much sense to fire Kelly at this point, especially if there aren't exactly any interim names on San Francisco's coaching list.
But if Kelly is retained into next year, bank on one or more of the reasons being on this list.
---
---