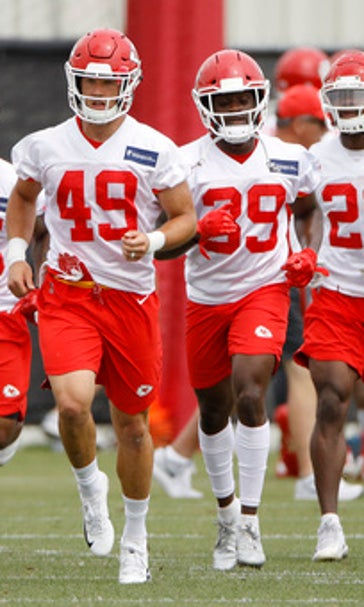 Chiefs head into minicamp with plenty of fresh faces
June 12, 2018
KANSAS CITY, Mo. (AP) Bob Sutton has been around football long enough to realize that every year brings turnover, even when a team is coming off back-to-back division championships for the first time in its history.
It didn't stop him from marveling at how different the Kansas City Chiefs look this year.
The Chiefs' defensive coordinator focused only on his side of the ball, and counted nearly two dozen new names among guys who could be fighting for a legitimate job.
That includes five of their six selections in the draft and Kendall Fuller, the cornerback they got in the trade of Alex Smith to Washington.
''We have a lot of new dudes,'' Sutton said. ''They're all different. They're from young rookies to guys that came here as free agents. It really is a good group of guys. And it really is early in the process, but they seemed to have meshed really good.''
It's not just new faces under helmets, either.
The Chiefs shook up coach Andy Reid's staff after their debacle of a playoff loss to Tennessee and following the departure of offensive coordinator Matt Nagy to Chicago.
Eric Bieniemy was promoted to that job from running backs coach with Mike Kafka taking over the quarterback coaching, while on defense, the Chiefs replaced linebackers coach Gary Gibbs with Mark DeLeone and Mike Smith.
All those changes came on the heels of a couple of offseasons with very little turnover, both on the roster and among the coaching staff.
And that makes their three-day mandatory minicamp that began Tuesday one of the most important for Reid and Co. since he took over prior to the 2013 season.
''Whoever is in the building, you teach. That's how I look at it,'' Chiefs secondary coach Al Harris said. ''At the end of the day, their performance falls on me. I take that approach.''
Well, there's already been plenty of coaching after several weeks of voluntary workouts, and there is plenty more getting packed into the next couple of days at the Chiefs' practice facility.
The goal is to set up the team for a productive training camp beginning in late July in St. Joseph, Missouri, where all those jobs that are up for grabs will get settled.
On defense, the Chiefs are trying to decide how best to fill the outside linebacker job now that Tamba Hali has been released. Justin Houston has one spot locked down, even though he's been injury prone, while Dee Ford is expected to handle the other side despite a rough start to his career.
Then there's Breeland Speaks, their top draft pick out of Ole Miss. He also fits in the mix.
On the inside, the Chiefs are seeking a replacement for longtime middle linebacker Derrick Johnson, who was released and then signed with AFC West rival Oakland. Reggie Ragland showed promise after arriving in a trade last season and Anthony Hitchen was signed as a free agent to stand next to him.
Justin Hamilton was signed to fill the middle of the defensive line, while the defensive backfield is a complete work in progress. Star safety Eric Berry is coming back from a season-ending injury, while top cornerback Marcus Peters was traded away as the Chiefs sought to establish a better locker room atmosphere and veterans Darrelle Revis and Terrance Mitchell are gone on the other side.
Fuller joins free-agent signing David Amerson and holdover Steven Nelson in competing for those jobs.
''They are all very attentive, working hard at it,'' Sutton said. ''This is hard on anybody, but it is really hard on defensive players in this time frame. You can't do a lot of things you want to do, but the guys have really embraced it and gotten as much out of it as we possibly can.''
On offense, the biggest question is how well Patrick Mahomes II will fare now that he's not only the starting quarterback but possibly the face of the franchise. Mahomes spent last season learning the ropes under Smith, but he's the clear-cut starter for a team that has playoff aspirations.
So far, he's lived up to the expectations.
''He's put in a ton of hours. He's going behind the scenes, working with guys individually. I'm really proud of where he's at right now,'' Kafka said.
The question is will he be where the Chiefs need him when the season rolls around?
Will the rest of the new faces be ready, too?
''Everything that we do now, we're not going to take into the first game. It's something that you can pull out and learn from, all the different schemes, fundamentals,'' Reid said. ''We're getting better every day and that's the idea. We have a lot of new faces and we welcome new faces, and they're learning.''
---
For more NFL coverage: http://www.pro32.ap.org and http://www.twitter.com/AP-NFL
---
---