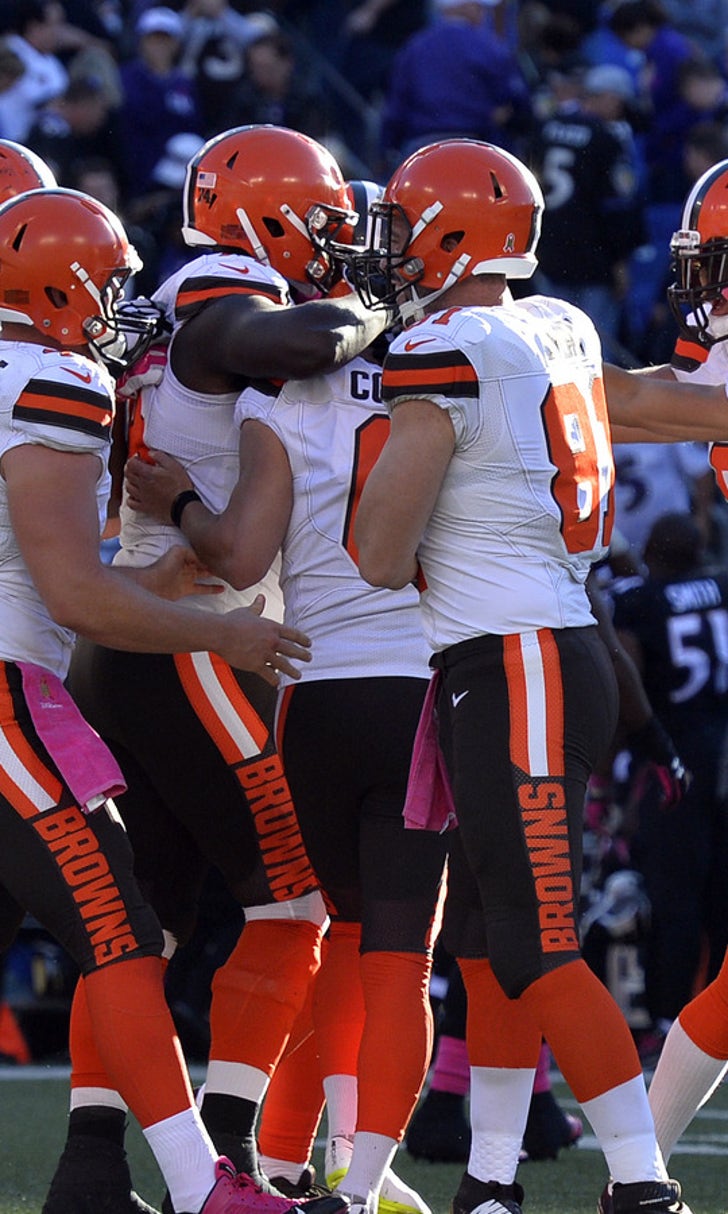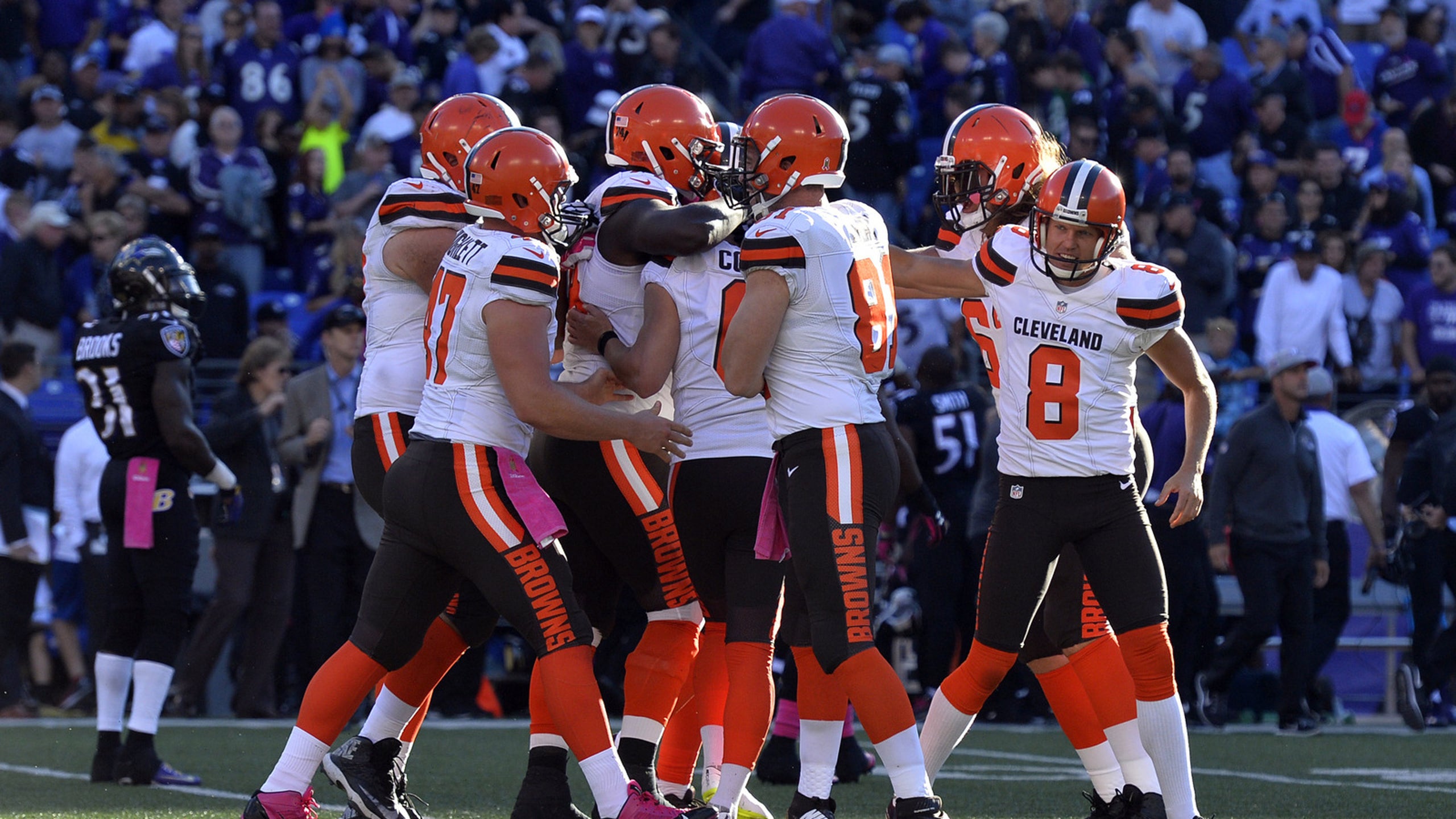 Browns enjoy division win, but must be careful to avoid hangover
BY foxsports • October 13, 2015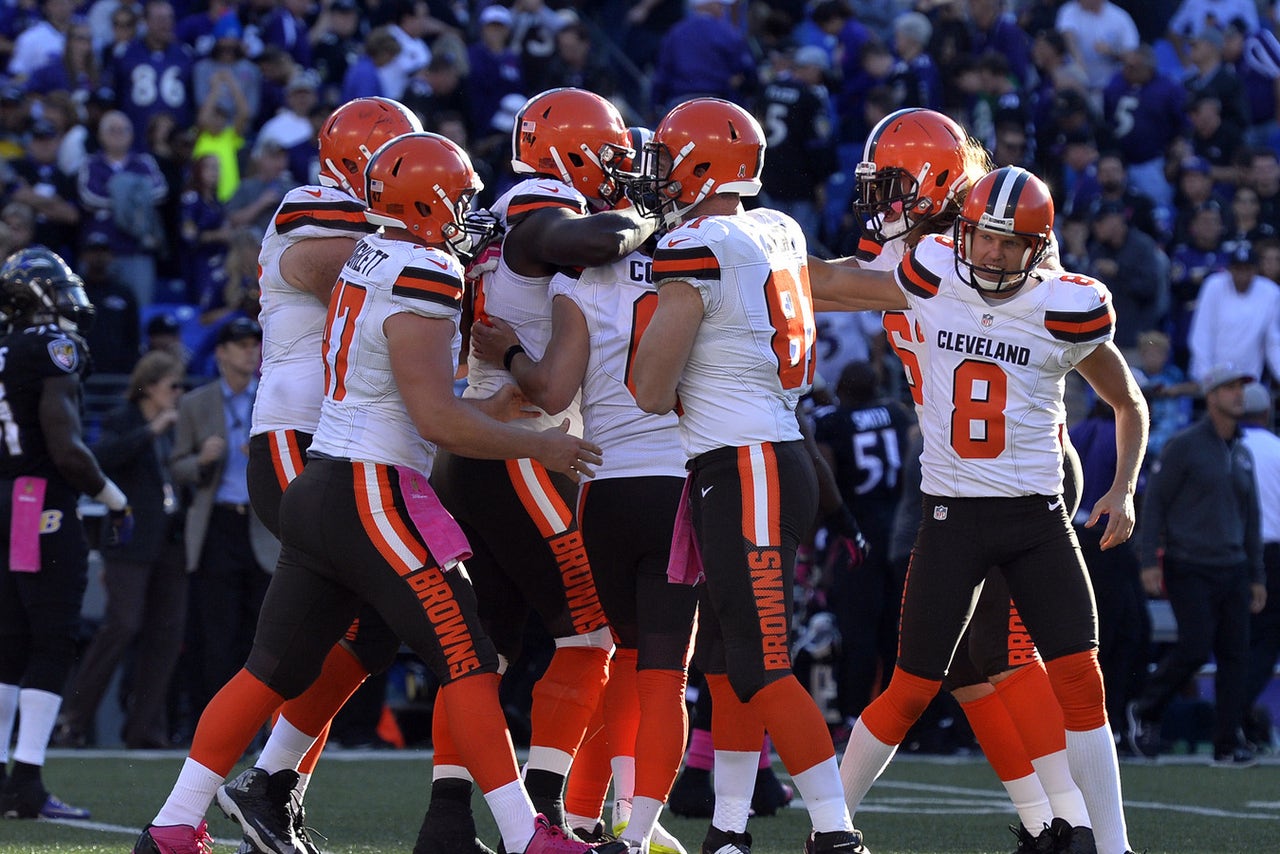 By Will Gibson
The Cleveland Browns' 33-30 overtime win over the Baltimore Ravens is one to celebrate for any number of reasons. They won on the road. They beat a division rival. They didn't turn it over. Josh McCown set a Browns record by throwing for 457 freaking yards, including a half-dozen completions of 20 yards or more. They handed the arguably elite Joe Flacco just his second career loss against Cleveland.
It's only the Browns' second win of the season, but you could forgive the players and coaches if they celebrated their victory with an adult beverage or two. They must be careful, however, to avoid any sort of hangover with the 5-0 Denver Broncos coming to town in Week 6. Judging by what some of the Browns had to say Monday, the team isn't letting one win go to their heads.
"You don't want to get a win and be on your high horse and not be ready to play the next week. It is one of those things where you have to put it in a box."
"We talk about it all the time, not letting big losses carry on into the next week," said defensive lineman John Hughes III. "That is the hangover part. The same thing, you don't want to get a win and be on your high horse and not be ready to play the next week. It is one of those things where you have to put it in a box."
"We have to be able to build on it," said head coach Mike Pettine. "We are not going to get too high from it. Again, I say after losses, you have to compartmentalize, but certainly hope that this win, team-building win can create some real positive momentum for us."
McCown has more reason to rejoice than anyone. He has thrown for 1,154 yards in the past three games, a Browns record over such a three-game stretch. He is also the first Cleveland quarterback to throw for over 300 yards in three straight contests. Still, the 36-year-old isn't letting himself get too high.
"It is very important [to stay even-keeled]," said McCown. "Coach Pett does a great job of laying it out for us throughout the week and really hammering that message home, and it is crucial for us, especially as young of a team as we are. We have to enjoy this one for another hour or so. Some of us have moved on. I know the guys are enjoying it, but we have to get going on Denver and get our mind right.
"We always say it, it is hard to win a game in the National Football League. There is a lot that goes into every week of preparation. When you do [win], you have to sit back and enjoy it – there is no doubt about it. Especially in that kind of fashion, there is going to be a huge sense of accomplishment and all those things, but at the same time, we have to put that one on the shelf, move forward and get focused on Denver and have that one-game season mentality where that is all we think about and focus on.
"The record stuff and all that may be fun to talk about one day," McCown went on, "But right now, it is just doing what it takes to help our team win a game."
Peyton Manning has showed his age this season, but the Broncos' defense has been ferocious through five games. Denver has allowed 15.8 points per game, second best in the league behind the New York Jets. They have allowed the fewest yards per game of any team in the league, and boast top-five units against both the run and the pass. The Broncos have been hit with a few injuries, most notably to pass rusher DeMarcus Ware, but an undefeated team is an undefeated team.
"We've got a good team coming in here with Denver, and we know we have a big task ahead of us so we're coming in with the right mindset," said Hughes.
Winning one game against the Ravens — even the struggling 2015 version — is a good start. Now the Browns have to show that they can play well enough to compete with the NFL's best week after week.
"You have to [find consistency], and that's going to be a big point of emphasis this week," said Pettine. "We want to take the momentum from the game and understand how good it felt to win, knowing that we did a lot of little things right that contributed to the win. We're not in the position to take anybody lightly."
More from Waiting For Next Year:
---
---