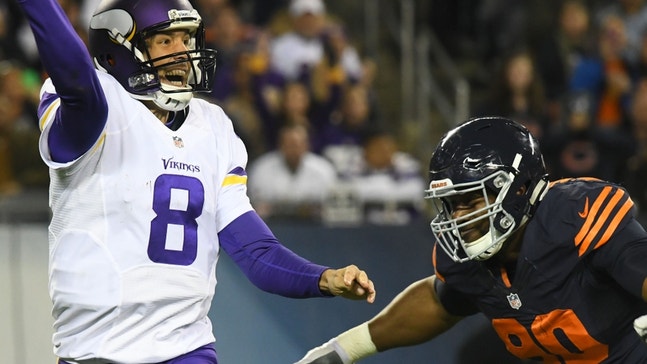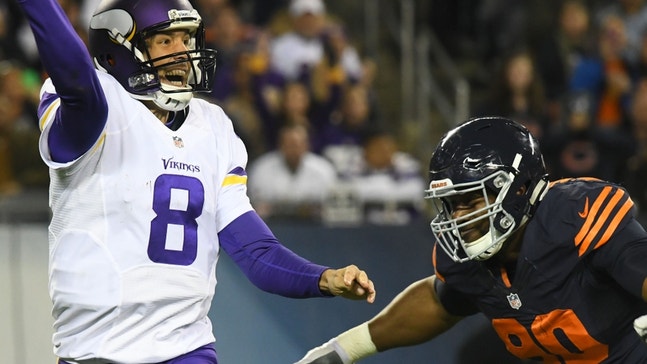 5 keys to victory: Minnesota Vikings vs Chicago Bears in week 17
Updated
Mar. 5, 2020 1:25 a.m. ET

Fansided, Adam Carlson/FanSided via The Viking Age
What will the Minnesota Vikings need to do in week 17 in order to defeat the Chicago Bears at U.S. Bank Stadium in week 17 of the 2016 NFL season?
It is always disappointing when the Minnesota Vikings end the season playing games that have in impact on the playoff picture. Sadly, the team's 2016 campaign is one of those, as their week 17 game has been described as meaningless.
Their opponent in that game is the Chicago Bears. The Bears have collapsed as a team, winning only 3 games during the first 16 weeks of the season. However, one of those wins was a game at Soldier Field where they defeated the Vikings.
Now is the time for the rematch between these two teams. Minnesota has a chance to avenge their loss earlier in the season to Chicago, as well as improve their division and home record. Plus, they can end a struggling season on a high note if they can give the fans a win at home.
But what will the Minnesota Vikings need to do in order to win this game? Let's dive into week 17's game against the Chicago Bears to find out how the team will likely attack their division foes in their season finale.
Dec 18, 2016; Minneapolis, MN, USA; Minnesota Vikings running back Matt Asiata (44) against the Indianapolis Colts at U.S. Bank Stadium. The Colts defeated the Vikings 34-6. Mandatory Credit: Brace Hemmelgarn-USA TODAY Sports
#1. Run the football!
It's a 'keys to victory' post, so everyone knew this was coming. Just like the numerous weeks before this, the Minnesota Vikings run game is getting a finger pointed in its direction as it is told to start doing better.
The Bears have a solid pass defense, giving up the 6th fewest yards per game through the air. On the flip side of that, they allow the 6th most rushing yards per game. Sadly, the Bears' weakness is not a strength of Minnesota.
The Vikings are still dead last in the league with 72.1 rushing yards per game. It isn't even a per game basis that is bad, since the team as a whole averages an NFL worst 3.1 yards per carry, a full 0.3 yards less than the next closest team.
And since it looks like Adrian Peterson is laying the foundation to not be suiting up for this game, the rushing attack should be a mix of Jerick McKinnon and Matt Asiata. C.J. Ham is on the main roster, so he may see some carries if the game ends up getting out of hand one way or another.
Oct 31, 2016; Chicago, IL, USA; Chicago Bears running back Jordan Howard (24) rushes the ball against the Minnesota Vikings during the first quarter at Soldier Field. Mandatory Credit: Mike DiNovo-USA TODAY Sports
#2. Focus on stopping the run
The Vikings secondary is a good unit. They should be able to contain the struggling passing game of Matt Barkley, even though they have fallen to the #4 spot in passing yards allowed per game from previously being in first or second place.
Last time these teams met up, Bears running back Jordan Howard was an unstoppable monster. He rushed for 153 yards and a touchdown on 26 carries in week 8, adding in 49 yards on 4 catches.
Minnesota can't allow 5.9 yards per carry in this contest. They need to do a much better job at forcing the quarterback to make throws. That won't be easy, as the Vikings run defense is middle-of-the-road, ranking 18 in yards per game allowed (101.9) and 17th in yards per carry allowed (4.2).
Making the Bears one-dimensional to play into a weakness would be a great move, and one that teams used early and often against the Vikings when the passing game wasn't up to par earlier in the season, but Barkley is much less likely to make defenses pay compared to a veteran like Sam Bradford.
Nov 24, 2016; Detroit, MI, USA; Detroit Lions defensive end Ezekiel Ansah (94) works against Minnesota Vikings offensive tackle T.J. Clemmings (68) as he pressures quarterback Sam Bradford (8) during the fourth quarter at Ford Field. Lions win 16-13. Mandatory Credit: Raj Mehta-USA TODAY Sports
#3. Hold on to the football
It feels strange to focus on ball security for a team that isn't known for turning the ball over often. However, there has been a bad trend in the past of fumbles or miscues leading to turnovers when the Vikings needed to get points.
In the past weeks, Minnesota has made some major errors. A weird snap from center Nick Easton, a big fumble from Adrian Peterson, and a couple of strip sacks of Sam Bradford all put the games in jeopardy.
And while the Bears have only forced 13 fumbles in 16 weeks, Minnesota is now up to 20 total fumbles on the season. That means that either the Bears are going to break their trend or the Vikings will snap theirs.
But holding on to the football is going to be key. Chicago is bound to make mistakes with an inexperienced quarterback against the Vikings pass rush and experienced secondary, but Minnesota can't be giving that ball right back.
Nov 20, 2016; Minneapolis, MN, USA; Minnesota Vikings defensive end Brian Robison (96) celebrates an interception return for a touchdown by cornerback Xavier Rhodes (not pictured) during the second quarter against the Arizona Cardinals at U.S. Bank Stadium. Mandatory Credit: Brace Hemmelgarn-USA TODAY Sports
#4. Keep the intensity high
For the Vikings, it might be hard to stay as aggressive as usual. Players are usually fighting for things like team achievements or individual awards at this point of the season, but there aren't many in position to do that right now.
There are players with escalators in their contracts or who are looking to add to their statistics in hopes of getting a bigger payday, but there is a chance that less of the starters will be seen if the franchise wants to protect some of their higher profile players.
However, the team may have to convince those players to sit if that is what the coaches and executive want to do. This game still means a lot to many players, including those who may be seeing their last action with the team this season.
Still, this is a team with a lot of pride. They will want to beat the Bears in front of their fans in Minnesota. And that kind of intensity should come through no matter who ends up on the field of play during the game.
Sep 18, 2016; Minneapolis, MN, USA; Minnesota Vikings defensive end Danielle Hunter (99) celebrates his sack of the Green Bay Packers quarterback and a forced fumble in the first quarter at U.S. Bank Stadium. Mandatory Credit: Bruce Kluckhohn-USA TODAY Sports
5. Go out in style
The Minnesota Vikings haven't been able to put on much of a show this year. Despite solid performances from the defense and encouraging play from the wide receivers and quarterback, it was hard to stay excited about the team throughout the season.
More from The Viking Age
The Vikings can do some fun things in their season finale, including having Stefon Diggs and Adam Thielen possibly break the 1,000 yard receiving mark, Sam Bradford pass 4,000 passing yards, or adding to Danielle Hunter's impressive 12 sack mark.
Considering the problems with the defense "going rogue" last week, putting on a display of unity against the Bears could go a long way in silencing the reports as well as speculation of problems with personnel or the locker room.
Outside of the game action, there is something to be said for winning for the fans who have stuck with the team despite the frustrating end of the 2017 season. These fans will keep cheering on Minnesota, even though there is no hope of a postseason berth.
The Minnesota Vikings will hope to finish the season on a high note during week 17. If they can defeat the Chicago Bears in the noon central time game on Sunday, January 1, 2016, it could go a long way toward getting this team back on the winning track.
---
---