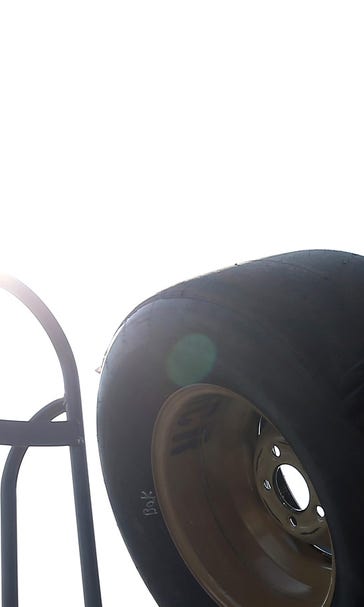 Why did Goodyear have to work so hard to devise a tire for Darlington?
September 5, 2015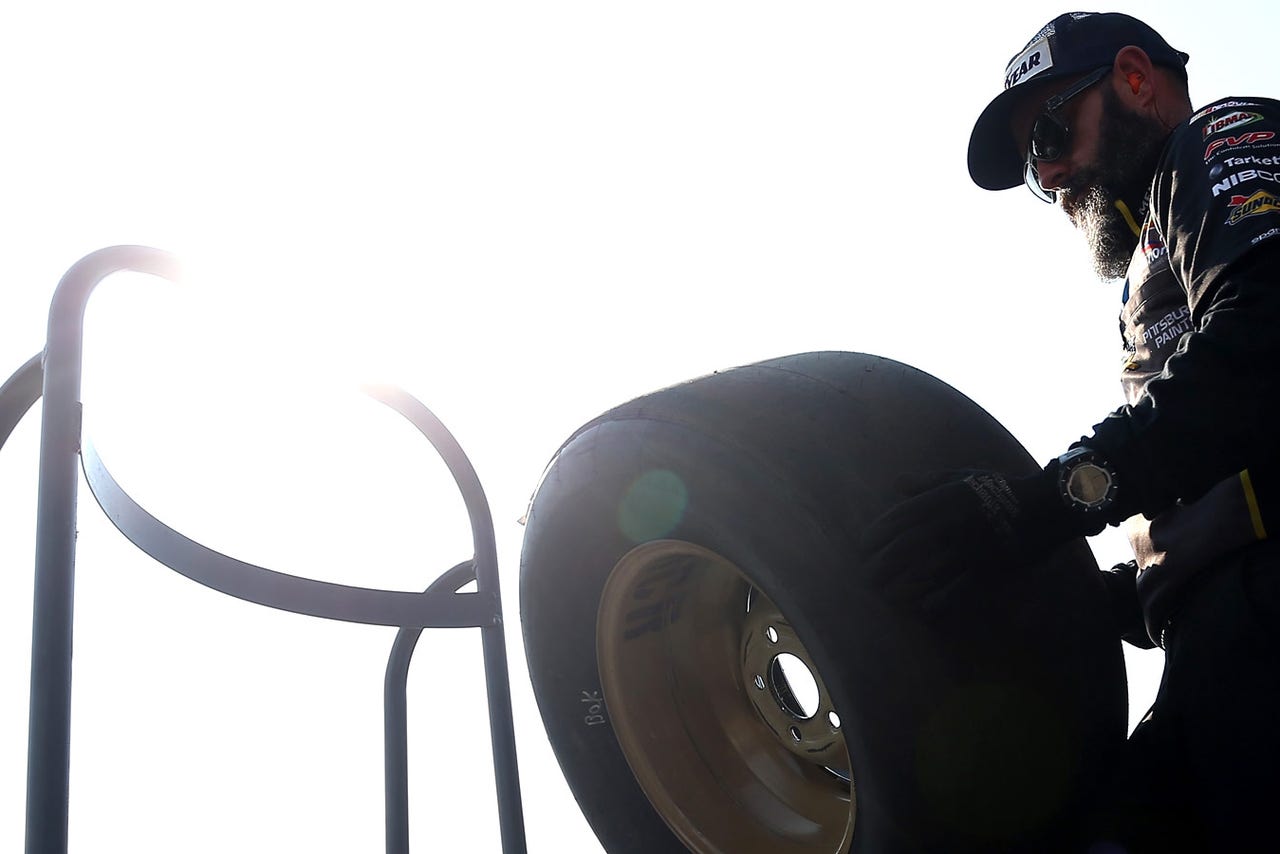 This weekend at Darlington Raceway, NASCAR Sprint Cup Series teams are running the low-downforce aerodynamic package for the second and final time this season. The package was first run at Kentucky Speedway in July, and received extremely positive reviews from competitors and fans alike.
However, for this weekend's race at Darlington, NASCAR worked closely with Goodyear Racing to develop a specific tire for the low-downforce package -- something that was not done for the Kentucky race.
Goodyear had already tested and developed a tire for Darlington's Labor Day weekend date, but when NASCAR informed the garage that the low-downforce package would be used, the tire manufacturer went back to work and planned a second tire test for June 30.
Goodyear, NASCAR and the teams used feedback from Matt Kenseth, Brad Keselowski and Tony Stewart -- the drivers whom tested the tire -- to come up with a solid tire combination to complement the low-downforce package.
This weekend's right-side tire is the one used at Kentucky, and compared to last year's Darlington tire has been altered slightly in both construction and mold shape. The left-side tire is the one run at Indianapolis Motor Speedway, with a change in compound to increase grip.
By creating a softer tire, the grip is falling off quicker and causing significant falloff over the course of a full fuel run. During Friday's opening practice session, teams saw lap times fall by nearly two seconds over the course of about 30 laps, which equates to half a fuel run.
Most crew chiefs polled in the Sprint Cup garage believe the falloff will cause drivers to slip and slide around the tricky track during the second half of the fuel run.
"We didn't see this much falloff at the test," said Chad Johnston, crew chief for Tony Stewart. "But that's just the remnants of the old Darlington coming back, and that should lead to good racing."
While Darlington was repaved in 2008, Johnston said the track is aging quicker than any other facility, and many of his fellow crew chiefs agree.
"I think she's coming back," Michael Waltrip Racing crew chief Brian Pattie told FOXSports.com, referring to Darlington. "It looks like she's falling off, which will be good for racing. That's what we've been preaching in order to have better racing --€" less downforce and more tire falloff. Anywhere we have tire falloff it seems like we have better racing.
"The old lady here, she's falling off, and I think we'll see a lot more passing and a lot more strategies."
Team Penske crew chief Paul Wolfe believes the tire falloff makes four tires a must-call for the race. Wolfe, the crew chief for Keselowski's No. 2 Ford, said the left-side tires were showing a reasonable amount of wear, but that it was not necessarily a bad thing.
"It's a good thing when tires are falling off," said Wolfe. "That's when guys are slipping and sliding, and that's what teams are looking for. It creates more passing."
However, Stewart-Haas Racing's Rodney Childers said the right-side tires were not falling enough, and he wished Goodyear had brought a softer tire for that side. Hendrick Motorsports driver Kasey Kahne agreed with Childers' assessment, saying the tire was "like a brick."
While the crew chiefs discussed how much the track is causing tires to fall off, seven-time Darlington winner Jeff Gordon said the roughness of the racing surface is nowhere close to where it was in the past.
"I still can't help but reminisce about my earlier years here with a more abrasive track and a tire that just had tremendous grip for about one-and-a-half laps, and then tremendous falloff," Gordon said Friday at Darlington. "We still don't have that. This tire is pretty hard in comparison to that. And I don't think you're really going to be worrying about wearing tires out this weekend. But there is some falloff. There's no doubt the grip is down. So, trying to find the balance of the cars seems to be pretty tricky."
The job of finding that balance fell to Goodyear Racing.
When it came to developing the best tire for the low-downforce package, Goodyear's director of racing, Greg Stucker, said it was all about finding the right balance between tire falloff and adding back grip for the drivers.
"The whole idea is if you're taking aerodynamic force off the cars, it's going to have less grip," Stucker told FOXSports.com. "In order to make it drivable, in order to make it a good race package, you've got to add grip back mechanically, and that's where we come in. That wasn't done at Kentucky, and that was a pretty racy package. I think everybody was pretty happy with it, but now we'll have another data point."
The tire manufacturer began working toward the Darlington tire in October 2014 during a tire test at Auto Club Speedway in Fontana, California, and has been tweaking on the configuration throughout various tests since then.
"That was the first time we had a chance to start looking at the low-downforce configurations," Stucker said of the Fontana test. "That gave us a read on how much softer or how much more grip could we add to this type of (aero) configuration compared to where we are. Then we went to Charlotte in December and tested the low-downforce package there. That got us some direction with the same package on a different racetrack."
Stucker said the Charlotte test was beneficial because the tire brought here since Darlington was repaved in 2008 is similar to the one used at Charlotte.
Less than a week after testing Darlington with the original 2015 rules package, NASCAR informed Goodyear the low-downforce package would be used instead. While the tire manufacturer had to scramble just a bit, Stucker said it is all part of the process of trying to create the best racing possible.
"You've got different levels of grip, so you have to watch what your corner speeds are, watch what your exit speeds are, and you have to see if the low downforce package changes the car balance at all, or does it simply just take away grip? We wanted to make sure there wasn't a big shift in car balance and we were adding grip back," he said.
During the second test, Keselowski ran the normal 2015 rules package with the tire originally developed following the June 9-10 test, and then the low-downforce package using the same tire.
"(Keselowski) was about eight-tenths of a second off, so about three-quarters of a second per lap slower," Stucker explained. "We put the (newly developed) Darlington tire on for the low-downforce setup and we gave the three-quarters of a second back. We feel we're at about the same level of grip. Obviously, there's some aero-grip that's been given away, but we've given that back in mechanical grip."
Among those who took part in the second Goodyear tire test was Joe Gibbs Racing's Kenseth and crew chief Jason Ratcliff. While Kenseth did not think the test proved a great deal, Ratcliff was pleased with the efforts of everyone involved.
"It was one of the better tests I've been to where they throw different aero packages at it," said Ratcliff. "Goodyear brought a tire to get the grip level back up. The lap times, when all was said and done, were not very far off. The falloff seemed to be a little bit more, but all in all that could have been the time of day. I think it's going to make for a unique race."
While the No. 20 team was not part of the original tire test, Ratcliff and his road crew were able to use teammate Kyle Busch's base setup and start from there with the new package. Still, the team knew it was there to help Goodyear and NASCAR develop the proper combination -- not to get an advantage on the competition.
"We tried not to adjust on it and instead tried to provide Goodyear information on long runs," Ratcliff said. "We focused on 20-25 lap runs all day. Every time we put new tires on it we'd go out and run 25 laps, come back, sit down and talk about it."
Stucker said the input of the teams during the second tire test in June was crucial to where Goodyear landed on its decision for this weekend's race.
"I think we accomplished what we wanted to accomplish," Stucker said of the test. "Everyone was comfortable with where we landed. We actually had a tire that was softer, but everyone said it was too soft and it would not put on a good race. They felt like where we landed was a good setup, a good level of grip and a raceable package."
---
---