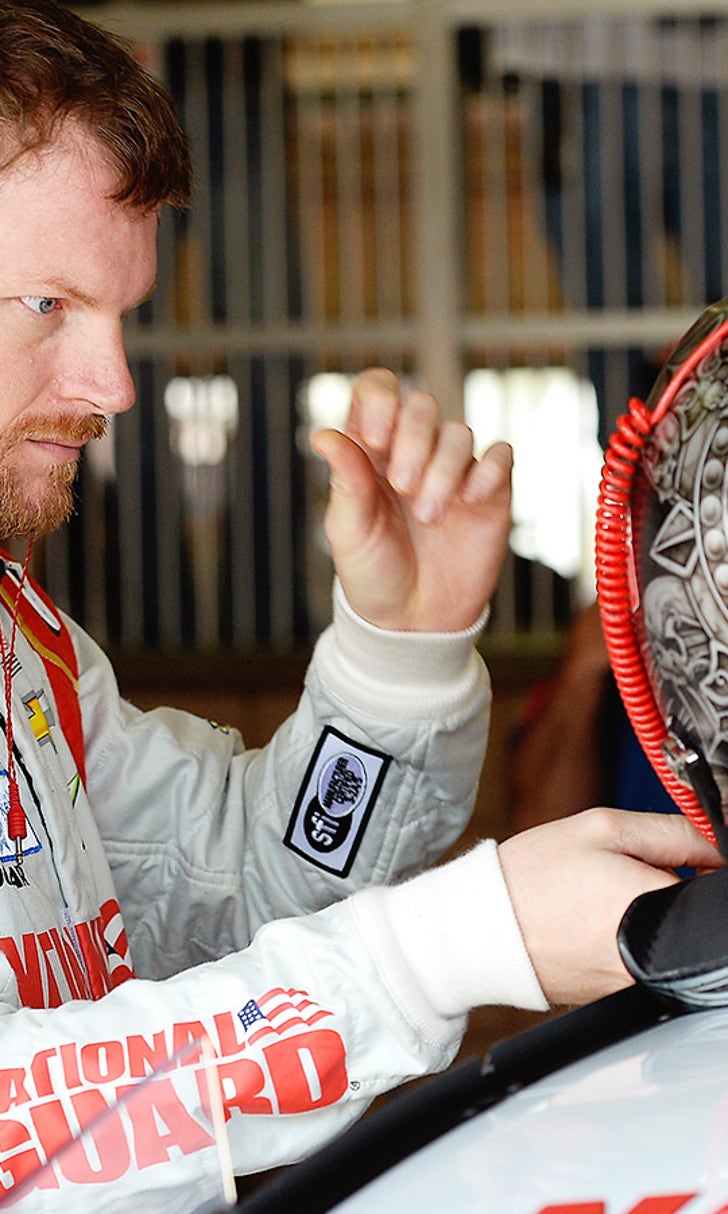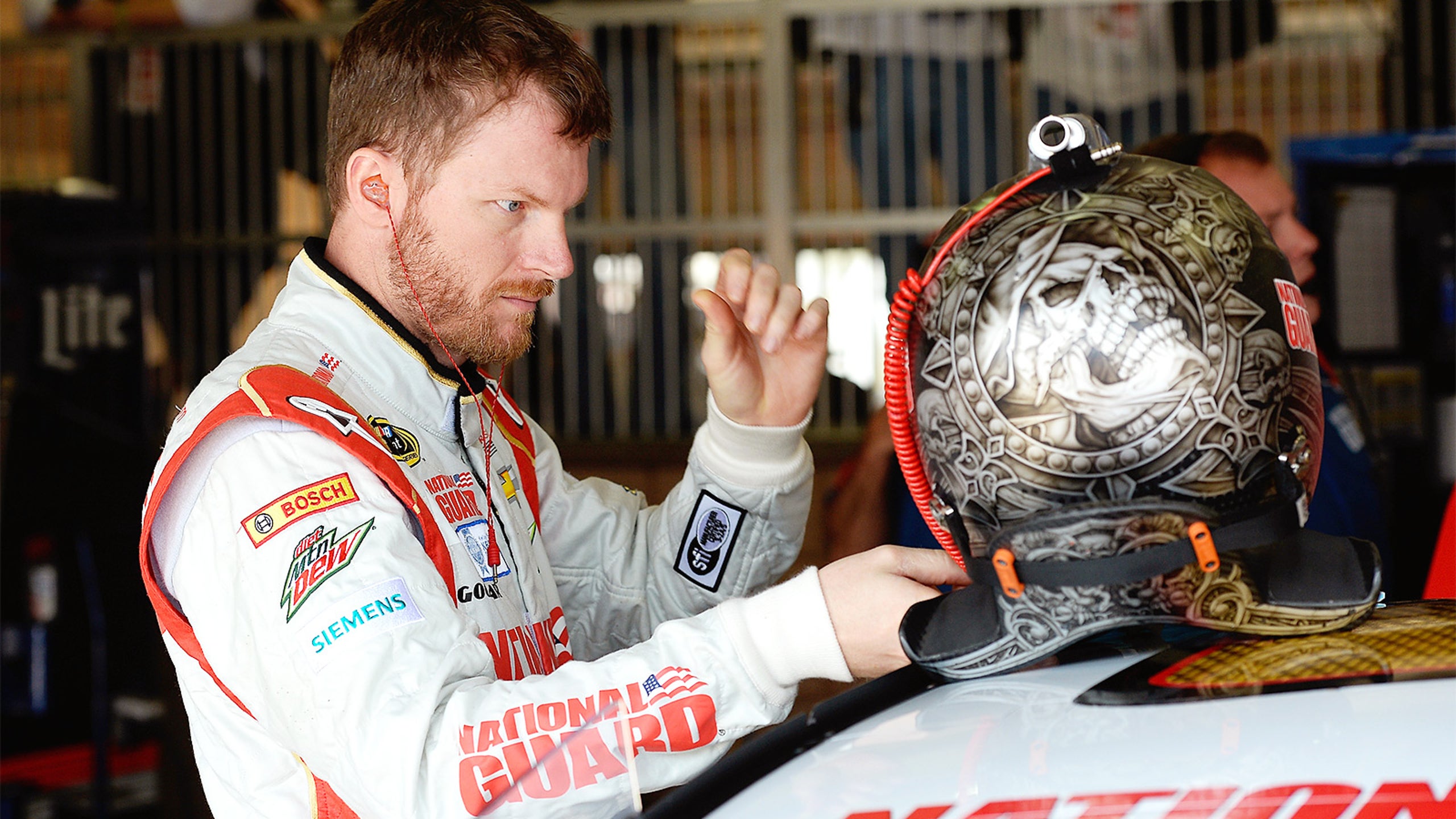 The latest NASCAR news: Auto Club Speedway edition
BY Tom Jensen • March 21, 2014
HOMEWORK TIME - After narrowly missing advancing to the final round of qualifying for the Auto Club 400, Hendrick Motorsports driver Dale Earnhardt Jr. said he has homework to do prior to Sunday's NASCAR Sprint Cup Series race at Auto Club Speedway.
"I'm going to study what my teammates are doing," said Earnhardt, who will start 15th on Sunday. "And see who is fast and see what their thoughts are on their cars and just try to get the car to handle well on the bottom and the top. We're going to study real hard and try to learn what's to gain in the next 24 hours. It will be a good challenge, though. I like running here. It's a fun place. Even when you're car is off a little bit you can sort of get a line and find a line and work on it. It should be a good race."
JOHNSON FAST AGAIN - That six-time and defending NASCAR Sprint Cup series champion Jimmie Johnson was fast in the opening round of practice on Friday at Auto Club Speedway shouldn't have been a shocker. After all, Johnson has five victories on the 2-mile Southern California track and he's almost always good here. Johnson said one of his secrets to success is the pavement at ACS, the oldest racing surface of any oval track NASCAR's premier series races on.
"I think our team has done well on kind of low grip level race tracks." Johnson said of his No. 48 Hendrick Motorsports team. "This track is in that category and pretty high on that list in today's standards. That has usually been good for us."
And it was good again on Friday. Johnson went out at the beginning of the day's lone 90-minute practice session and went right to the top of the board with a lap of 188.664 miles per hour. Later, he qualified third for the Auto Club 400 behind pole-winner Matt Kenseth and Brad Keselowski. Clearly, Johnson and crew chief Chad Knaus haven't lost their respective touches here.  
"The character in the track continues to change and the bumps," said Johnson. "Last year especially the bumps were as big as I've ever seen them. The paving seams are very sensitive to run your right-side tires on. We have seen that in the NASCAR vehicles and also IndyCar. So I think those challenging elements are good for the No. 48."
Johnson was fastest in the day's only 90-minute practice round, followed by Jeff Gordon, Clint Bowyer, Dale Earnhardt Jr. and Keselowski.
HARD KNOCKS - The buzz on rookie Kyle Larson, driver of the No. 42 Chip Ganassi Racing with Felix Sabates Chevrolet, is that he's the real deal, a talented youngster with huge upside potential. Larson scored his first career NASCAR Sprint Cup Series top-10 Sunday night at Bristol Motor Speedway, but Friday at Auto Club Speedway, the 21-year-old rookie said racing at this level has been an uphill battle so far. 
"Nothing has really been easy," said Larson, who qualified 11th for the Auto Club 400, best among the rookies at ACS. "It's all been tough. Everything is tough in the Sprint Cup Series. I got a glimpse of it last year being able to run four races so I understood how tough it was going to be this season. So nothing has really surprised me at all to start this season. Everybody races extremely hard all race long. The field is really tight. In Nationwide from what I was used to last year, it's pretty spread out with the quality of the field and all that. In Cup, there are 25-30 drivers that are pretty fast. That's what makes the Cup series really tough."
QUITE A DIFFERENCE - Trevor Bayne this season is once again driving a full schedule in the NASCAR Nationwide Series, where he's running for the championship, and about a dozen races in the Wood Brothers Racing NASCAR Sprint Cup cars. Bayne said the Cup cars are much, much tougher to drive than their NNS counterparts. 
"The (Sprint Cup) cars don't have that roll over feel that the Nationwide cars have," said Bayne. "That slow motion kind of just lazy loose or lazy tight. Everything is multiplied by 10 on the speed scale and you really have to keep up with it. As fast as the cars are through the corner now, it is more important to have your balance right. If you lift just a little bit it is a couple tenths a lap whereas before it might be a half a tenth. Everything is magnified."
ELVIS SIGHTING - Rick Hendrick, Dale Earnhardt Jr. and Ray Evernham will be at Charlotte Motor Speedway Tuesday for a private media event featuring one of  the late Elvis Presley's old cars. The event is described by the track as "The unveiling of the centerpiece of the AutoFair exhibit celebrating Elvis and his passion for cars. The vehicle has been in storage at Graceland since 1977, and was recently preserved." The AutoFair hosted by OldRide.com - a huge car show at the track - takes place Apr. 3 - 6 at CMS. And yes, it will include an Elvis Tribute Artist Contest.
NOTEWORTHY - Five NASCAR Sprint Cup Series teams will participate in a two-day Goodyear tire test at Sonoma Raceway next week in preparation for the Toyota/Save Mart 350 road-course race in June. Scheduled to take part in the March 25-26 test will be Marcos Ambrose, Jeff Gordon, Matt Kenseth, Tony Stewart and Brian Vickers. ... NASCAR announced today that Janssen Pharmaceuticals Inc., maker of blood-clot medicine Xarelto, is now the Official Cardiovascular Partner of NASCAR. "We are encouraged to see Janssen Pharmaceuticals' level of dedication to helping fans affected by blood clots," said Jim O'Connell, NASCAR chief sales officer. "We welcome them to the NASCAR family, not only as an Official Partner but also as a race entitlement and team sponsor." ... German Quiroga,driver of Red Horse Racing's No. 77 Net10 Wireless/OttterBox Toyota Tundra, will be a guest commentator for the FOX Deportes broadcasts of the NASCAR Sprint Cup and Nationwide Series events at Auto Club Speedway. The three-time NASCAR Mexico Toyota Series champion will join Tony Rivera and Diego Mejia in the booth.
---
---