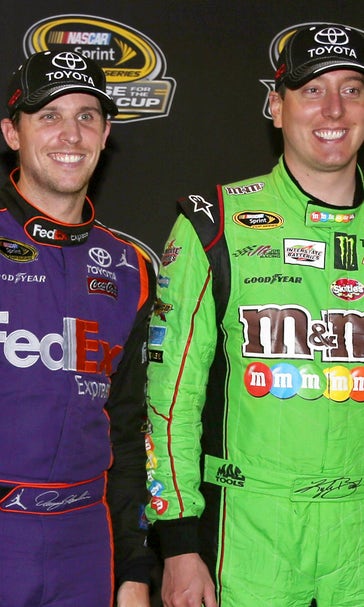 Once-unstoppable Joe Gibbs Racing's title hopes rest on Kyle Busch, Carl Edwards
October 29, 2015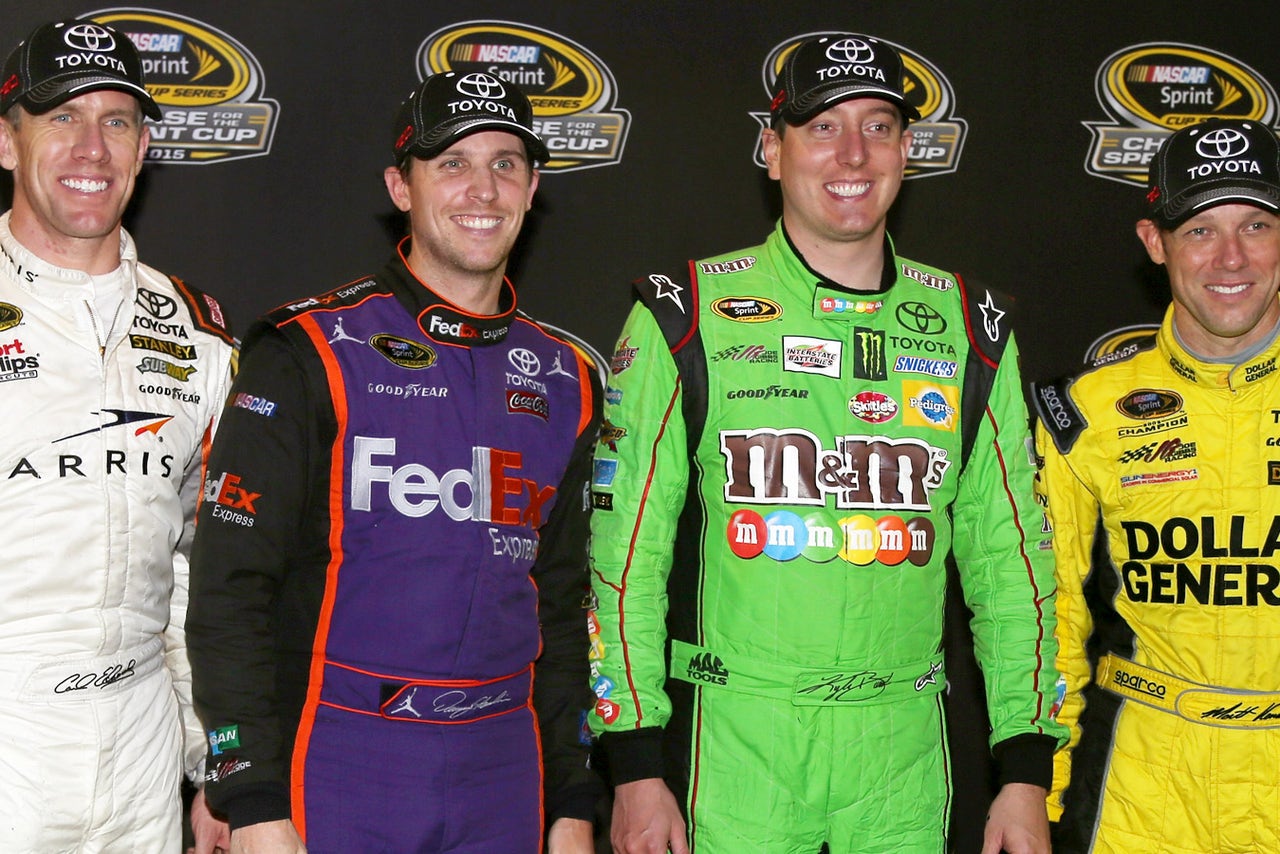 From the time Kyle Busch scored his first triumphant return victory on the Sonoma Raceway road course in mid-June through the second race of this year's Chase for the NASCAR Sprint Cup, Joe Gibbs Racing looked unbeatable.
But in the last four weeks, the four-car Toyota team seems very mortal, indeed -- still good and still fast, mind you, but no longer in a league of its own.
And with the Chase heading to its stretch run, which side of the Joe Gibbs Racing team will assert itself?
The part that won a series-high 13 of the first 28 races this year or the one that has gone winless over the last four weeks, with drivers Matt Kenseth (five wins) and Denny Hamlin (two) no longer championship eligible? 
It's a fair question, certainly.
JGR opened the Chase in dominating fashion.
Hamlin and Carl Edwards finished 1-2 in the Chase opener at Chicagoland Speedway, with Kenseth a strong fifth.
The next week at New Hampshire Motor Speedway, it was a Kenseth-Hamlin 1-2, with Edwards fifth. That made it two Chase races, two JGR victories, two runner-up finishes and six top fives.
Since then, though, things have not been as smooth.
Kyle Busch led the JGR brigade at Dover, finishing second to race-winner Kevin Harvick, but he was the lone JGR top-five finisher.
At Charlotte, Hamlin was a team-best fourth, which he followed with a runner-up finish at Kansas, where Busch was fifth.
But the wheels came off at Talladega, where the team's best finisher was Edwards in fifth. Unfortunately for JGR, Hamlin (37th) and Kenseth (26th) were knocked out of the Chase entirely by bad finishes at Talladega.
So where does that leave the team? Well, the final four races of the season will determine that.
First up is tiny Martinsville Speedway, which on Sunday will host the Goody's Headache Relief Shot 500. Neither Edwards nor Busch has won a Cup race at Martinsville, though Busch has a slightly better finishing average -- 15.6 vs. 16.0 for Edwards. 
The big advantage between the two JGR drivers can be found in top fives at Martinsville. In 20 starts, Busch has eight top fives and nine top 10s. Edwards, meanwhile, has made 22 starts with but a single top five and five top 10s. 
It isn't that Martinsville is a must-win race for either driver. But it is a don't-make-mistakes-to-take-yourself-out-of-contention race. And that's tough enough as it is.
Still, all eight Chase drivers will start the race with the same number of points, which ought to make for an interesting final four races.
Edwards, who tied Tony Stewart in points at the end of 2011 but lost on a tiebreaker for most victories, said none of the eight remaining drivers has an obvious edge at this point in the season.
"I don't think there's any favorite. I think that we've seen from this Chase that anything can happen and it's tough," said Edwards. "You just have to go out and race the best you can; that's all you can do."
Busch, who missed the first 11 Cup races of the season with serious leg and foot injuries suffered in the season-opening NASCAR XFINITY Series race at Daytona, would certainly qualify as a storybook ending if he were to go on and win the title. 
"Someone asked if it's like a Disney movie," said Busch. "I said Disney movies tend to end with a happy ending, so I'm hoping so. I'm looking forward to that championship at Homestead, and the script is already written that we have to be able to follow what's written."
---
---