NASCAR Cup Series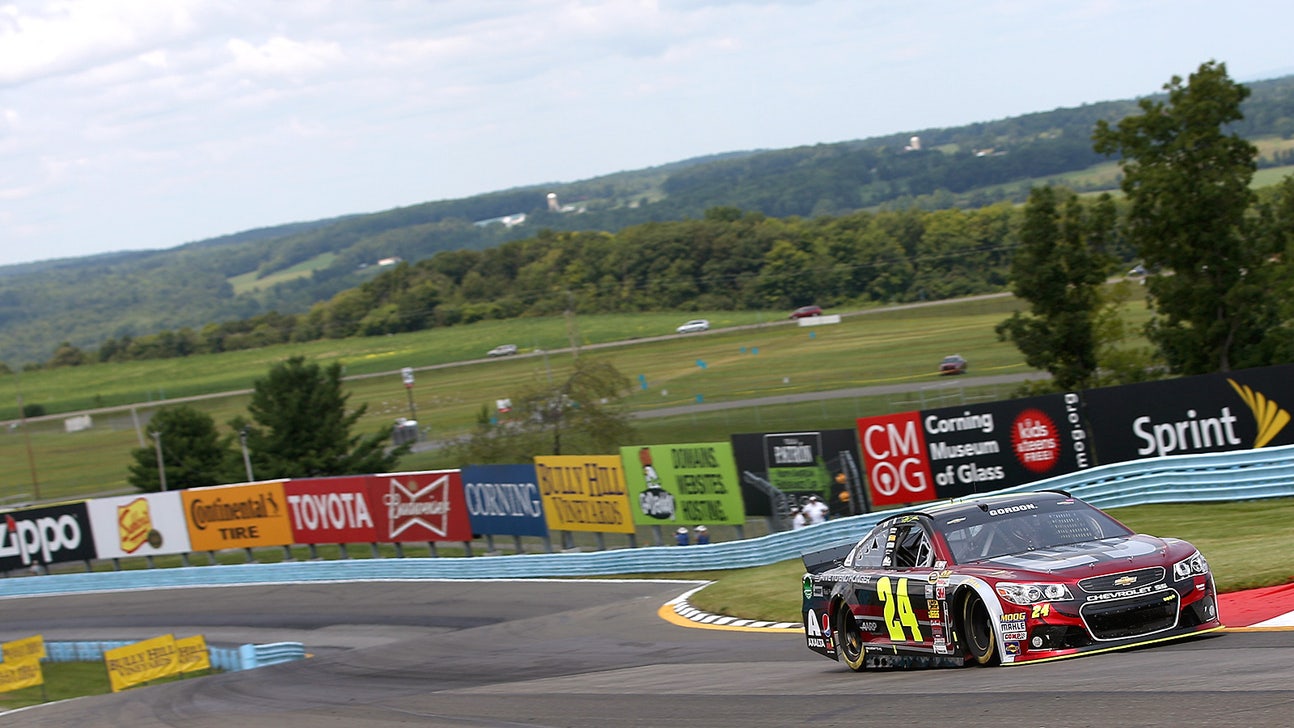 NASCAR Cup Series
Old Man Gordon continues hot streak, grabs pole for Cheez-It 355
Published
Aug. 9, 2014 12:31 p.m. ET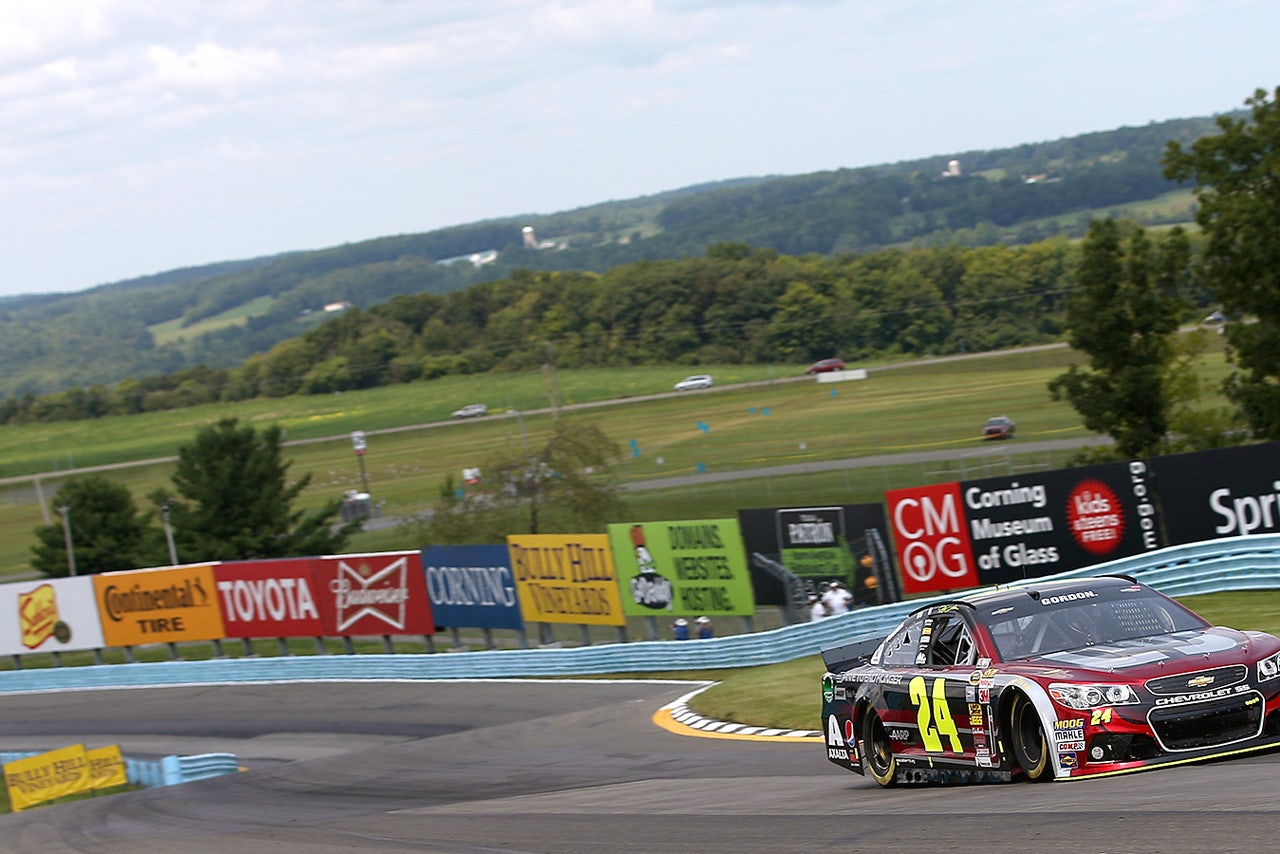 For much of Saturday's NASCAR Sprint Cup knockout qualifying session it appeared road-course ace Marcos Ambrose was en route to his second straight pole position.
However, with three minutes left in the second session, four-time Watkins Glen winner Jeff Gordon bumped Ambrose from the top spot to score his third career pole at the 2.45-mile road course.
Scoring his 75th career Sprint Cup Series pole, the 42-year-old Gordon got out of the car and showed some surprisingly youthful emotion.
"I am so proud of this pole, and the effort the this Drive To End Hunger team put in this weekend, as well as that lap," Gordon said. "Qualifying has really been what has been hurting us a Watkins Glen, and I blame myself really. I'm so happy that I got three shots at it today. I really think that made the big different.
"The first lap I did okay, but I got held up a little coming back to the checkered. The second one was a really good lap and got us into the top-12. I just tried to do the same things in that last lap. Alan (Gustafson crew chief) made a slight adjustment. I thought it was about the same as what I ran before, I didn't think it was going to be that much better. Wow, what a lap. I'm so excited."
The pole marked the 22nd consecutive season Gordon has earned a pole in the Sprint Cup Series. Coming off a string of strong runs, including his historic fifth Brickyard 400 win at Indianapolis Motor Speedway, Saturday's pole winning run is another boost to the four-time champion's confidence.
"I'm pumped, this gives us a lot of confidence," he said. "I think today does make a statement. We didn't do too much in qualifying runs. Just the way we struggled here in the last couple years. This has been one of our toughest tracks, then to start the weekend off with a pole. Heck yes!  We've got a real possibility with the Drive To End Hunger Chevrolet. After today, I believe anything is possible."
After Gordon posted his pole-winning lap, Ambrose and his Richard Petty Motorsports team raced to make another lap before the session came to a close. Speeding off pit road, Ambrose came up to speed, but was unable to reach the start-finish line in time to record another lap.
"I am very proud of my RPM team and everyone," Ambrose said. "It has been a great weekend for us so far. We qualified fourth and second, so that is a pretty good start to the weekend. I wish Jeff was a little kinder to me to let me get the pole. I thought we had it at the end but it wasn't enough. It was a pretty good lap though and I will take it. You have to be happy with front row starts."
Gordon and Ambrose were followed by Jimmie Johnson, Kevin Harvick, Kurt Busch, AJ Allmendinger, Dale Earnhardt Jr., Matt Kenseth, Brad Keselowski, Ryan Newman and Brian Vickers to round out the top 12.
Allmendinger broke the previous track record within the opening moments of Round 1 with a lap of 68.446 seconds at 128.861 mph. However, Allmendinger had nothing for Ambrose, who ran the fastest lap of the session with a lap of 68.113 seconds at 129.491 mph.
Gordon's pole-winning lap in the second session fell short of Ambrose's record-setting lap in the opening round.
Ambrose led the charge in the first session, followed by Kevin Harvick, Allmendinger, Jeff Gordon, Dale Earnhardt Jr., Ryan Newman, Brad Keselowski, Kurt Busch, Jimmie Johnson, Matt Kenseth, Joey Logano and Brian Vickers.
Among the favorites who did not advance to the final round included Tony Stewart (13th), Carl Edwards (16th), and Kyle Busch (19th).
The opening round of knockout qualifying was not without its drama.
One of the fastest cars all weekend, Joey Logano had an issue during when the splitter on his No. 22 Ford came loose. After making his qualifying run, the team went to work making repairs on pit road. Logano posted the 10th-fastest time, bumping Tony Stewart from the top 12.
On his first qualifying attempt, Kevin Harvick ran up on the slowed car of Kyle Busch while exiting the bus stop carousel. With Busch running slow to cool off the engine, Harvick had to check up and abort his qualifying run. Once he was able to make a clean lap, Harvick posted the second-fastest lap of the opening round.
After wrecking her primary car in the final moments of Friday's final practice, Danica Patrick and crew chief Tony Gibson used the 30-minute qualifying session as a practice for Sunday's race. Never making a qualifying run, Patrick will start 43rd on Sunday.
VIDEO: Dark-horse picks for the Cheez-It 355 at Watkins Glen
---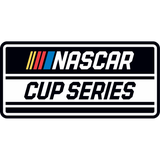 Get more from NASCAR Cup Series
Follow your favorites to get information about games, news and more
---