NASCAR Cup Series
NASCAR Cup Series
NASCAR continues to make strides in safety
Published
Jul. 15, 2010 1:00 a.m. ET

The recent NHRA racing tragedy has many people questioning safety in all forms of motorsports. Mark Niver, 60, was fatally injured in a race July 11 at Pacific Raceways in Kent, Wash., when the parachutes ripped off his dragster.
I am a guy who has been in NASCAR now for 30-plus years. I have watched the focus and practice of safety in the sport jump light years over that period of time. The greatest jump, naturally, has come in the last 10 years since we lost Dale Earnhardt. I also speak as a dad who has a son that has been a driver for a number of years.
My position is that you never get to where you ultimately want to be when it comes to safety. Safety is always a moving target. I believe NASCAR, the manufacturers and the teams understand that. I really believe they are always looking at ways to improve safety.
The introduction of the new Nationwide Series car a couple weeks ago at Daytona International Speedway is yet another example. That certainly is going to be a much safer car for the Nationwide drivers. Now I, for one, miss Dale Earnhardt Sr. tremendously. I think about him every day. If you try to look for any positive that came from that tragedy of his fatal crash in the 2001 Daytona 500, it has to be the leaps and bounds our sport has taken in safety since then. Let's face it, when the icon of our sport, the man who we all thought was invincible, is involved it is quite the wake-up call.
Now we have mandatory SAFER barriers at all tracks. Head-and-neck restraints are mandatory. We have newer and safer cars with better seats on the track. Now, we can't ever relax and I don't think we are, but we've come a long, long way since Feb. 18, 2001.
Race fans can never lose sight that this is a dangerous sport. Just look at the speeds last weekend at Chicagoland Speedway. The drivers were going down into the corners at 190 mph on only a 1.5-mile track. Next weekend, when the Cup series is at Indianapolis Motor Speedway, the drivers will be entering the corners at nearly 200 mph.
So the danger is always there. But, again, everyone is constantly working on safety. It's our No. 1 priority.
 
---
---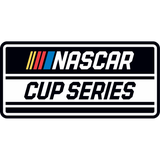 Get more from NASCAR Cup Series
Follow your favorites to get information about games, news and more
---