NASCAR Cup Series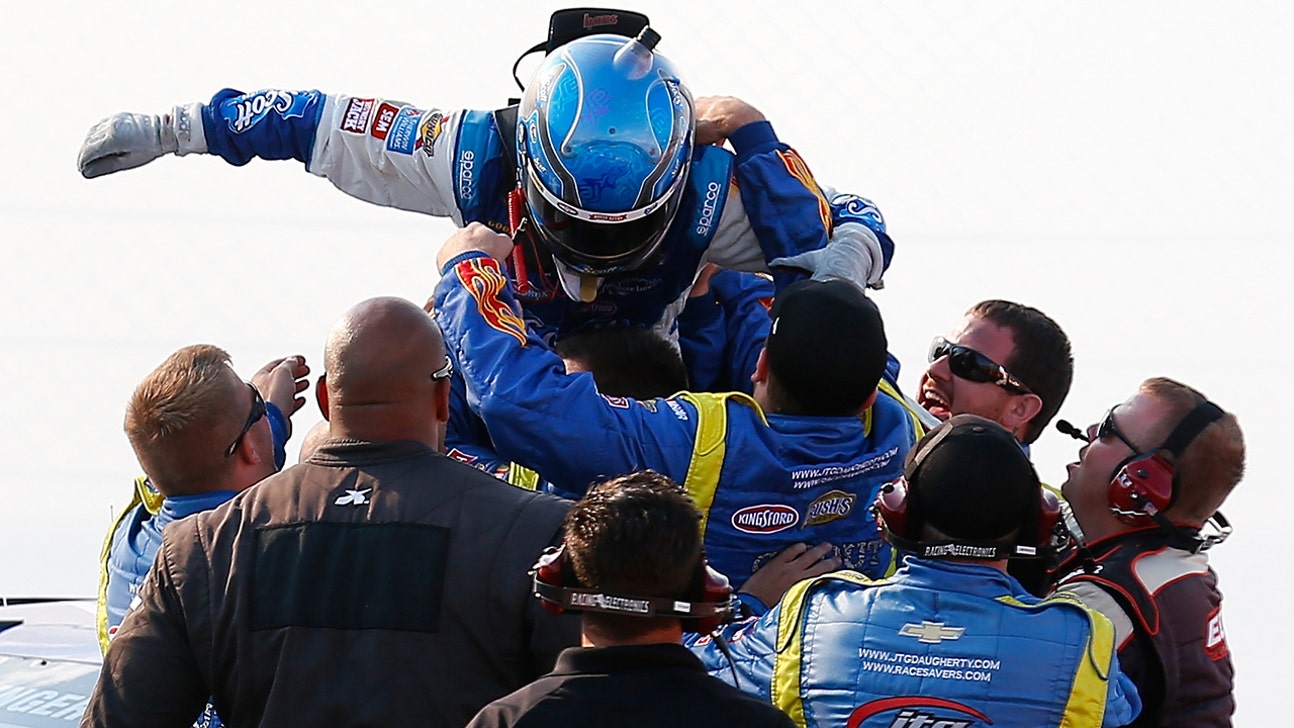 NASCAR Cup Series
Making the most of second chances essential in NASCAR
Published
Aug. 12, 2014 12:15 p.m. ET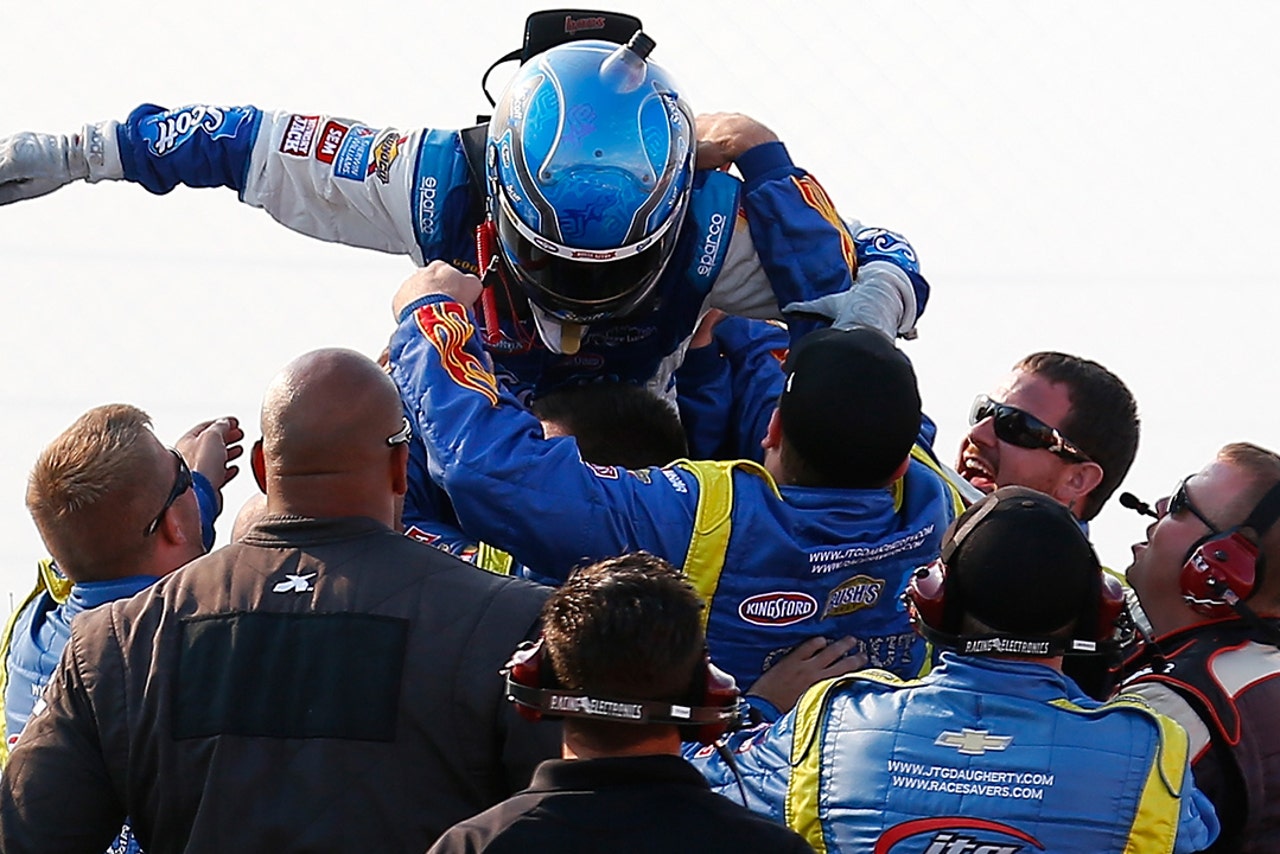 Watching Sunday's race at Watkins Glen and seeing the dramatic finish with a single-car team beating all the mega-teams in our sport with a driver who was given a second chance in our sport, really was something special. When you think about what AJ Allmendinger had, then lost and now has regained again is truly what is special about NASCAR.
It was only a couple years ago when this young man was on top of the world. He was driving for someone he admired and respected in the iconic Roger Penske. He had a great sponsor and all the resources at his fingertips from Team Penske that drivers dream about. In a flash, though, it was gone and AJ was on the outside looking in.
His dream come true turned into a nightmare when he failed a NASCAR drug test. Being taken out of the car, losing everything you once had is something I can't even imagine. It simply had to have been that, a nightmare for that young man.
Drivers have a lot of fears. We may not talk about them. We may not show them. We're supposed to be brave, bulletproof and modern-day gladiators. That's the public perception, but always remember there's a difference between perception and reality. In their own private world, drivers have a lot of fears.
We fear we will lose our rides. We fear about losing our sponsor. We have fears about our career being over. We come into racing wondering if we will ever win and then when we do win, then we fear will we never win again. You worry about getting hurt because if you get hurt and can't drive, your fear is they'll put someone in your seat that they might not take out. Drivers always have these fears, concerns and doubts that the race fans never, ever see.
So Sunday afternoon I was thinking about AJ and everything he had overcome. I watched him run those last few laps and all those restarts. I saw the same guy who fought hard to just get back into our sport, fight just as hard to win his first-ever NASCAR Sprint Cup race. Sunday, like these past couple years, AJ didn't give up.
It would have been easy to give up. Let's face it; he was racing against the guy who won the Nationwide race at Watkins Glen the day before. He's racing the guy who had two previous victories in the Cup race at Watkins Glen and he was expected to win the race Sunday. He's racing in my opinion, if not the best road racer I've ever seen, then one of the best road racers I've ever seen.
So AJ was facing all that, yet he simply refused to lose. He wasn't going to let Marcos Ambrose beat him. He didn't give up when Marcos got ahead of him in those closing laps. AJ fought back because he wanted it that badly. Simply settling for second wasn't an option for AJ Allmendinger. He wanted to win Sunday just as bad as he wanted to get his career back.
I think it spoke volumes Sunday in Victory Lane when you saw Roger Penske, Joe Gibbs and Richard Childress all come to Victory Lane to congratulate that young man. AJ had beaten all their teams, yet there they were in Victory Lane to tell him, "job well done."
So now AJ, his crew chief Brian Burns and the JTG Daugherty Racing team have their first win, which is huge. With this first victory, it brings to my mind the old cliche, "It's the gift that keeps on giving." Now this little single-car team is in the 2014 Chase. Now AJ is in the Sprint All Star race in 2015 at Charlotte Motor Speedway. It opens so many doors that before Sunday might have been closed to that team when it comes to additional funding from sponsors.
AJ is a talented race car driver. More important to that however, AJ Allmendinger is a good young man that has made the most of the second chance he was given. Yes, he made a mistake and paid a huge personal fine for it. He followed the rules that NASCAR laid out for him to be able to return to the sport and now it has come full circle. I am so proud for AJ for what he has overcome and for what he accomplished on Sunday.
Certainly we all know what happened last Saturday night. Remember earlier when I was talking about fears?  One of the biggest fears a driver has is the fear of hurting someone else. We saw it Sunday in the wreck between Ryan Newman and Michael McDowell. As soon as Ryan got out of his car and saw that Michael had been badly wrecked, Ryan ran to Michael's car to see if he was okay.
No driver ever wants to be responsible for another driver, crew member or fan getting hurt. You never want to see someone get hurt for something you've done. I say that because to me it is entirely incomprehensible that people would even think that Tony Stewart would intentionally try to hurt Kevin Ward Jr. I anguished so much on Sunday in reading some of the things coming out on social media that people were saying about Tony. It was a total mischaracterization of the man Tony Stewart is.
I've known Tony as a competitor but I know Tony even better as my friend. Tony would never intentionally hurt anyone. The man has the heart the size of Texas. He does so much charitable work and does so much to help other drivers coming up through the ranks that no one even knows about. So my heart aches for Tony and what he's going through right now.
Obviously we all need to pray that God brings some comfort to the family of Kevin Ward. Jr. He was a young man who was following his dream of being a race car driver and had a bright future. Sadly that was cut short Saturday night, but people have to remain objective and get all the facts. It's simply despicable to make a rush to judgment as some already are. There are just so many things that we just don't know yet.
We just need to pray for the family and we need to pray for my friend Tony. Sadly it takes a tragedy to make sports better. That's the only good that can come out of this. I'm hearing and seeing that some sanctioning bodies are already making rules where you can't leave your car. I hope NASCAR will take a look at it as well. Sure, I'm not saying you can't get out of your car, I'm simply saying you can't leave your car to go run out onto the race track to confront someone and put yourself and others in a dangerous situation.
I'm just sad for everyone involved. All we can do is pray and hope that something good can come from something so bad.
---
---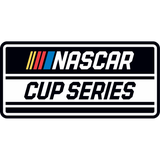 Get more from NASCAR Cup Series
Follow your favorites to get information about games, news and more
---