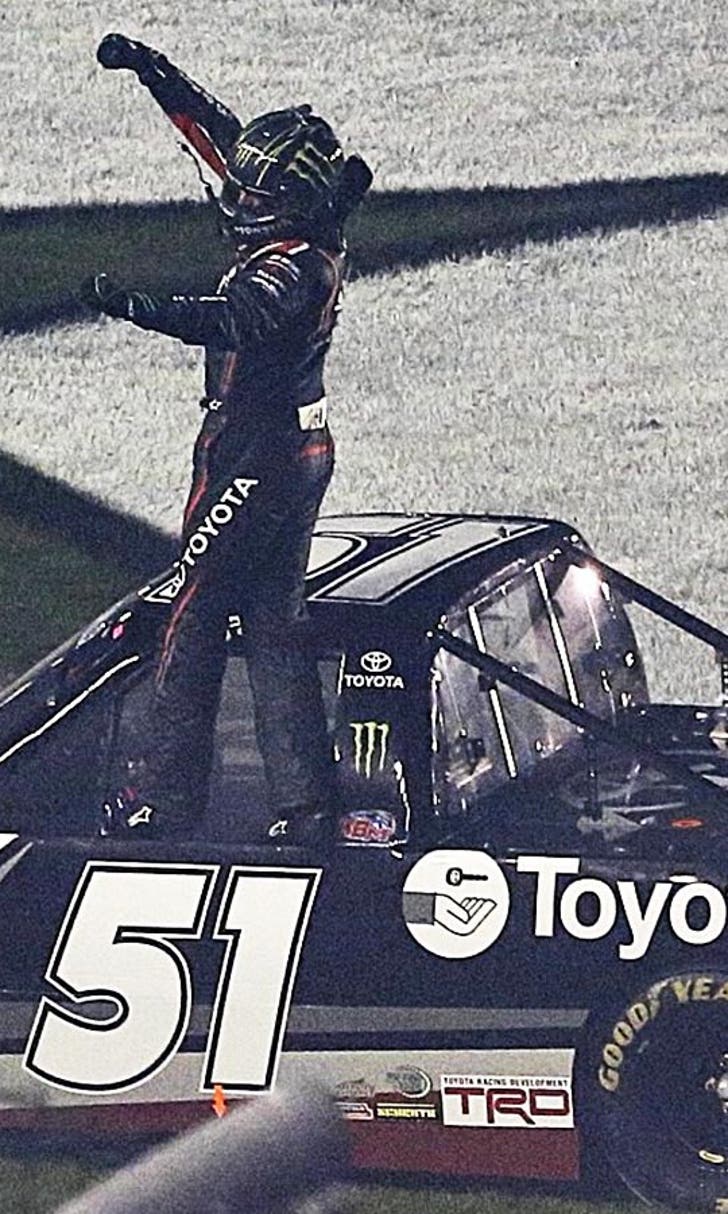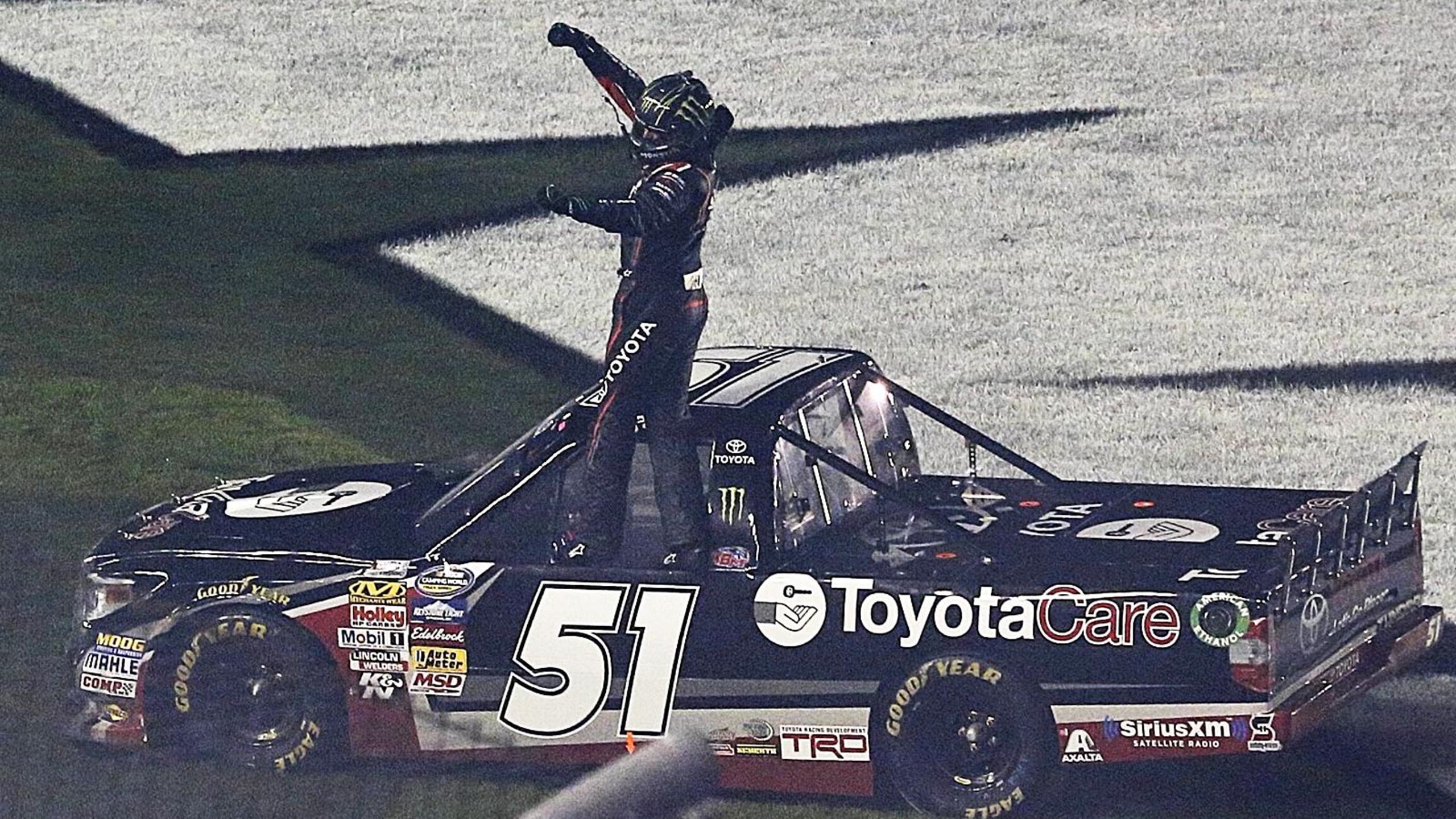 Last-second man: Kyle Busch wins Truck opener with daring move
BY Jared Turner • February 21, 2014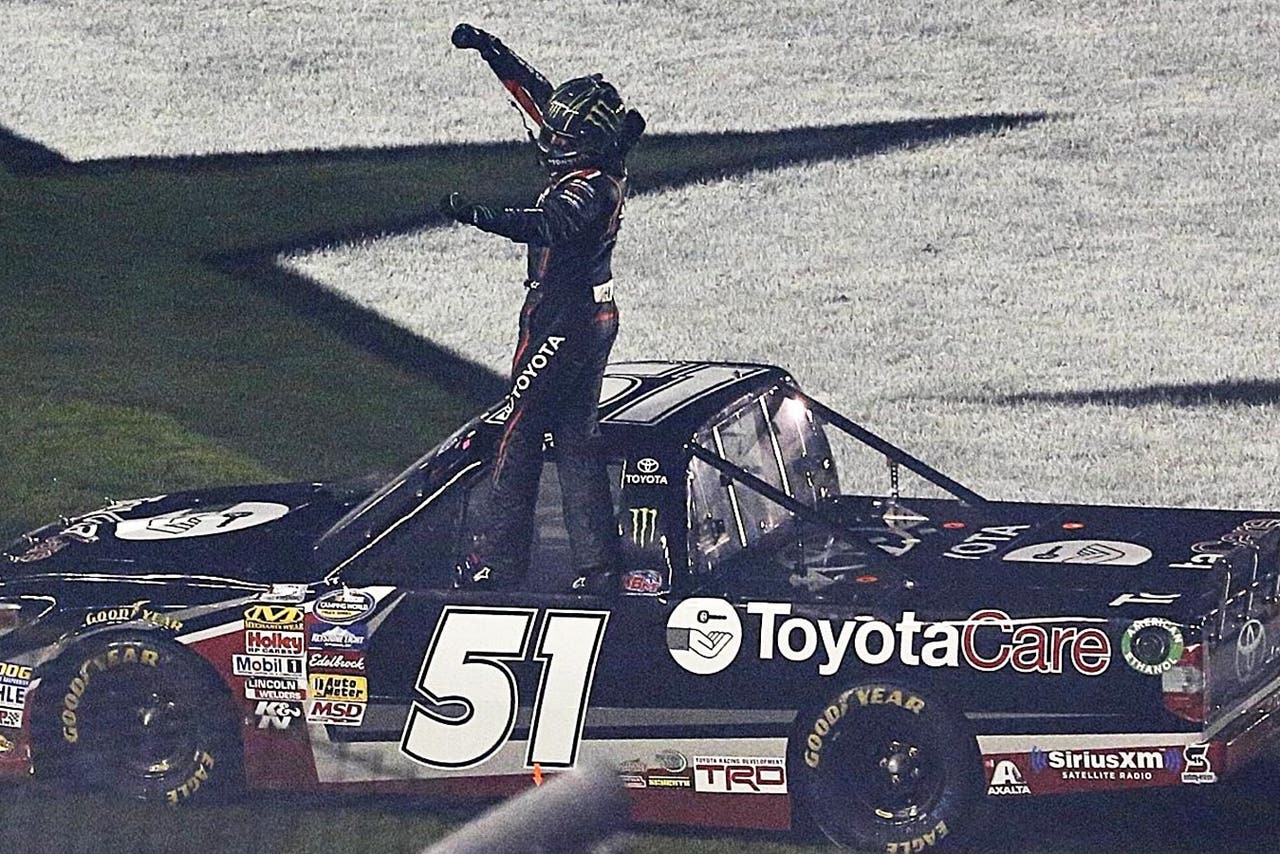 Waiting until literally the last moment to execute the winning move, Kyle Busch inched ahead of Timothy Peters at the finish line to capture Friday night's NASCAR Camping World Truck Series opener at Daytona International Speedway.
Peters, who passed Busch for the lead with five laps to go and held the point before Busch surged to his outside in the tri-oval coming to the checkered flag, missed out on his second Daytona truck win by a scant .017 seconds.
Busch, a Sprint Cup Series veteran, collected his first truck win at the famed 2.5-mile oval and became the first driver to go to Victory Lane in the Nationwide Series, the Truck Series and ARCA at Daytona.
"All circumstances played out in our favor, and it just sort of worked," Busch said of his winning move. "I kind of threw a Hail Mary out there just seeing if our truck was faster than the 17 (Peters). Luckily, it happened and it worked and the timing was good and we made it to the start/finish line first."
Peters, a Virginia native who appeared to have the race in hand before Busch's last-second move, took the disappointment of being so close to victory in stride.
"He had a good run on me coming off of (Turn) 4, and he's Kyle Busch," Peters said. "I should have done a little bit better job of backing up to him, because I knew I had a strong truck. The thing that stings is I got too far out front. The good thing is we got second, we led laps. Last year we came here, finished 30th, got involved in a wreck."
Johnny Sauter, Ryan Truex and Ron Hornaday Jr. completed the top five.
The first 60 laps of the 100-lap race produced only two cautions -- the first a competition yellow on Lap 21, and the second when Jennifer Jo Cobb's truck slowed on the backstretch on Lap 50.
The tranquility didn't last, however.
With the field bunched in a tight pack for seven laps following a restart with 44 to go, a push from Ross Chastain sent Parker Kligerman down the track and into the right rear of Mason Mingus' Toyota, turning Mingus into the wall head-on and setting in motion a wreck that ultimately involved 17 trucks.
"There really wasn't anywhere for us to go," Mingus said. "Unfortunately, we pretty much destroyed a really good truck."
Chastain took the blame -- at least partly -- for triggering the incident, which inflicted damage to nearly half the field.
"A lot of it's on me for being too aggressive too early," he said.
A fourth and final caution for Travis Kvapil's blown engine set the stage for an 11-lap shootout to the finish, with Busch and Truex out front on the restart. Busch held the lead until Peters blew past with five laps to go, only to regain it when it counted.
Ben Kennedy, the great-grandson of NASCAR founder William H.G. "Big Bill" France, led 52 laps after starting from the pole.
The son of International Speedway Corporation CEO Lesa France Kennedy and nephew of NASCAR Chairman Brian France yielded the top spot when his car stalled leaving pit road on Lap 52, falling to 11th in the running order. Kennedy finished 15th.
---
---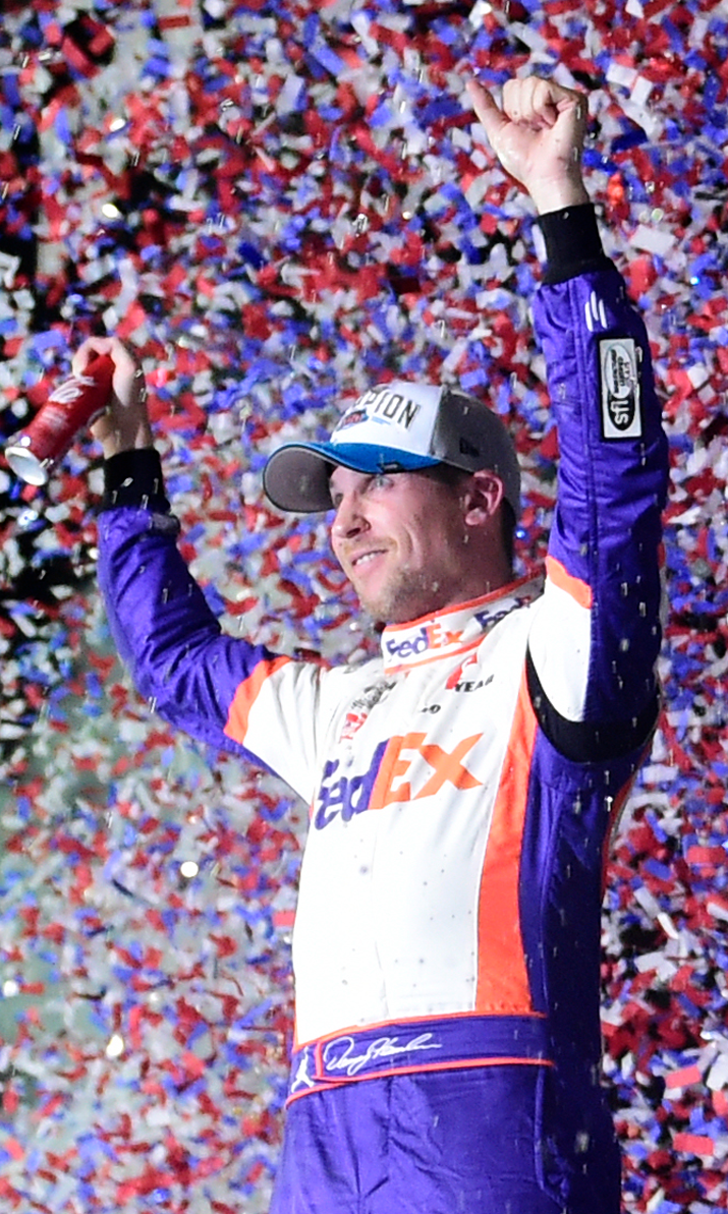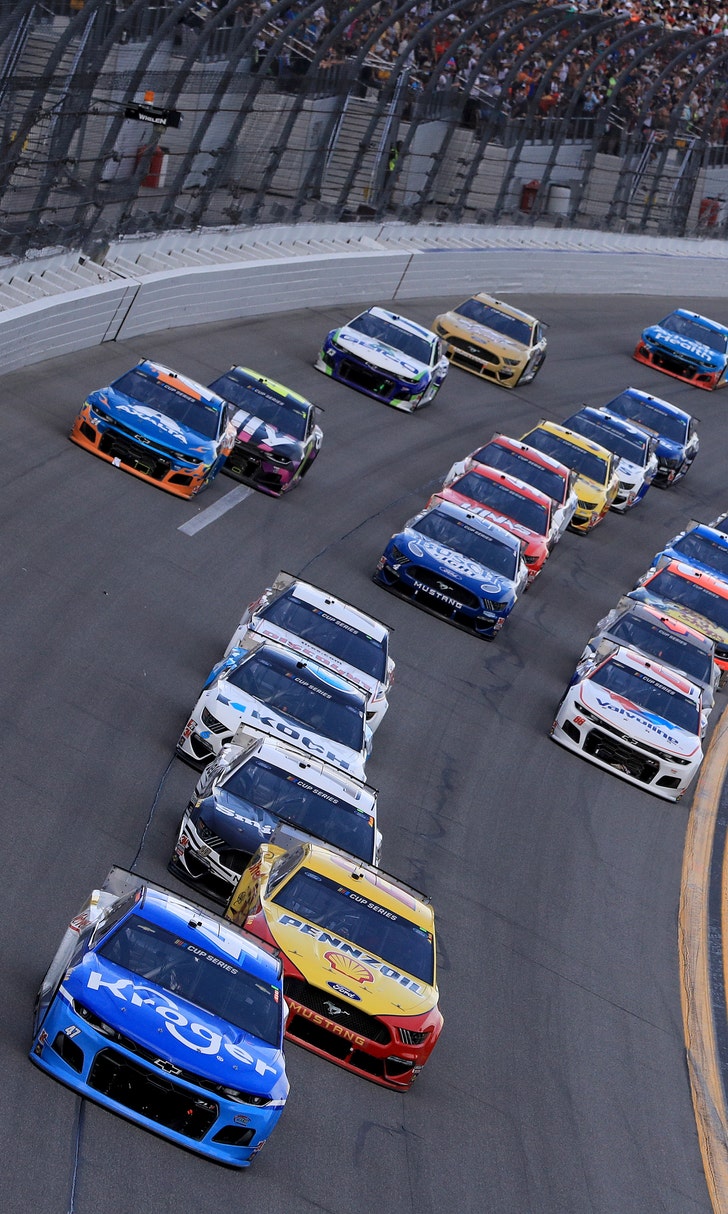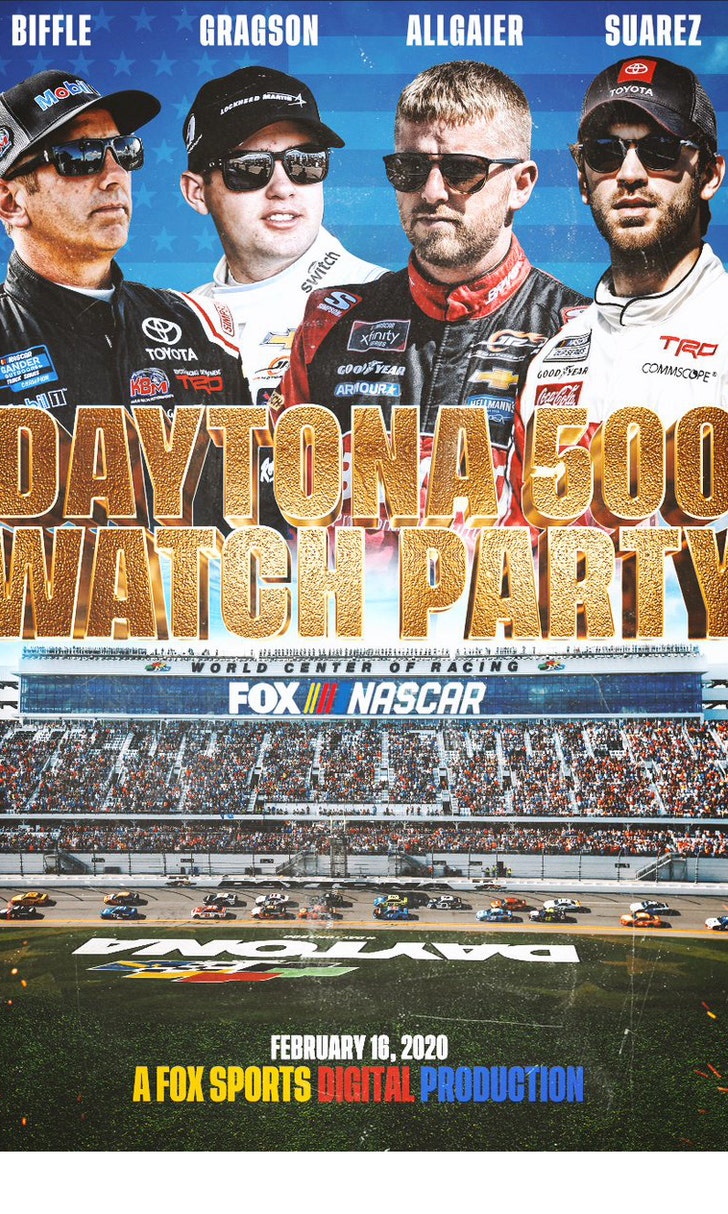 The Daytona 500 Watch Party!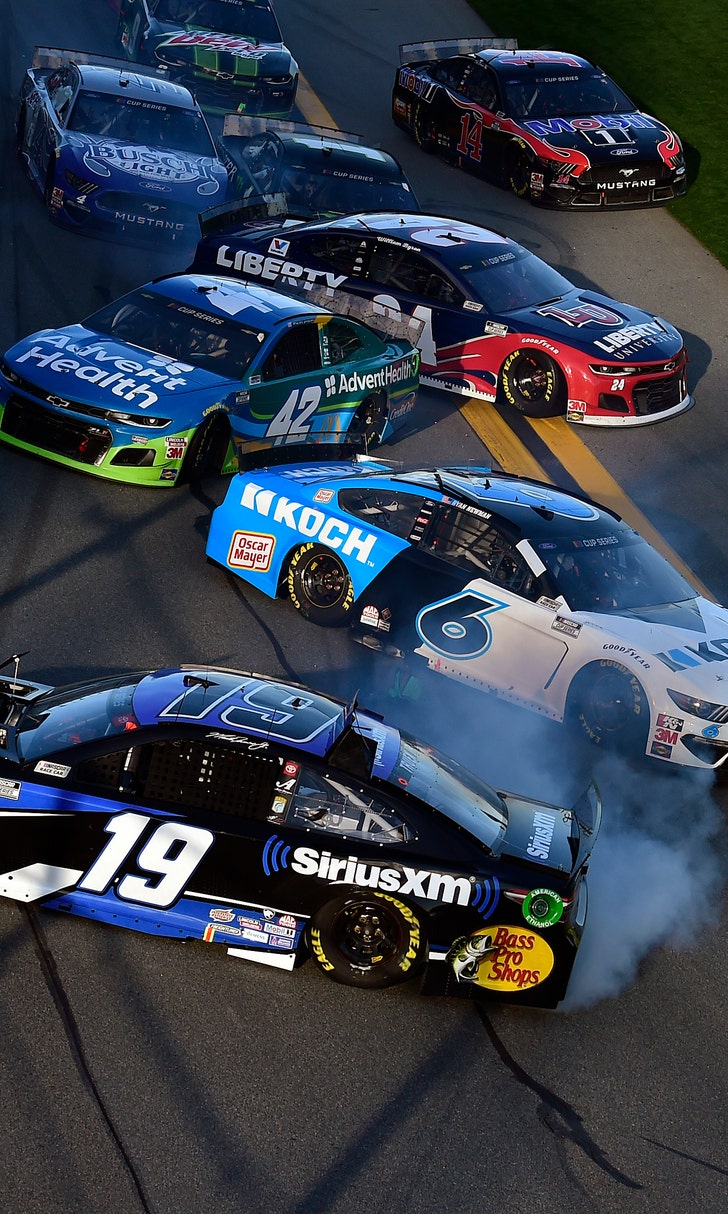 The Numbers Game At Daytona