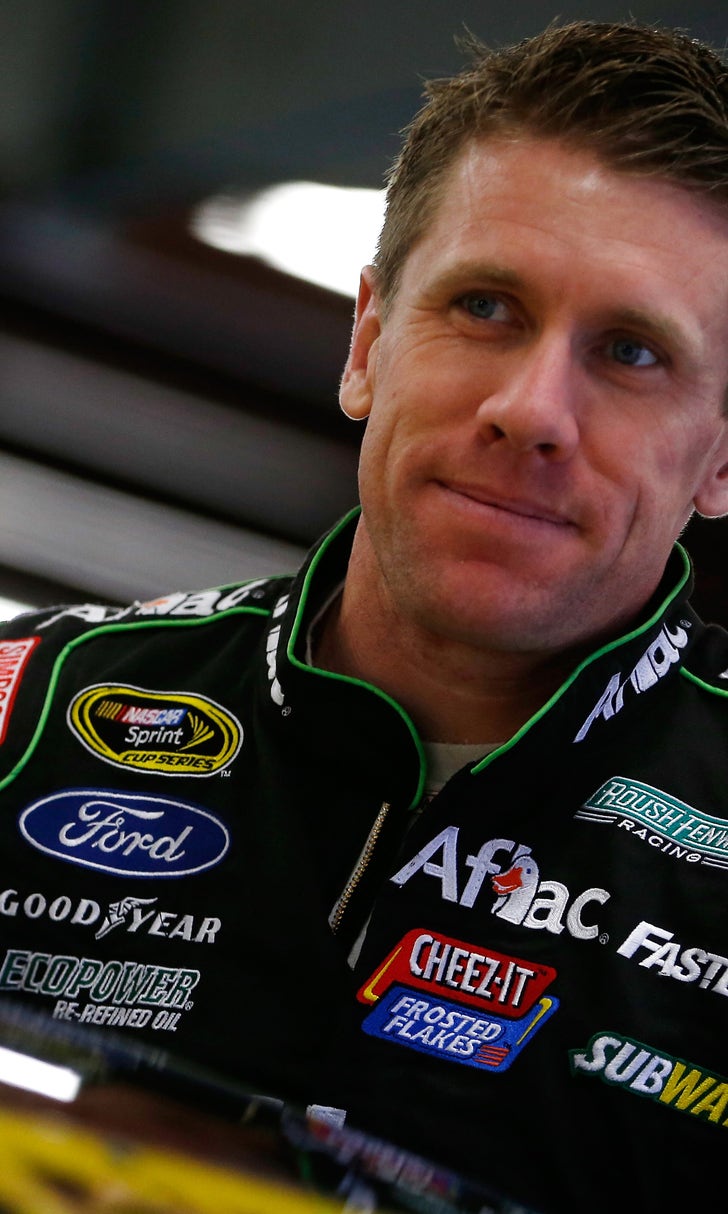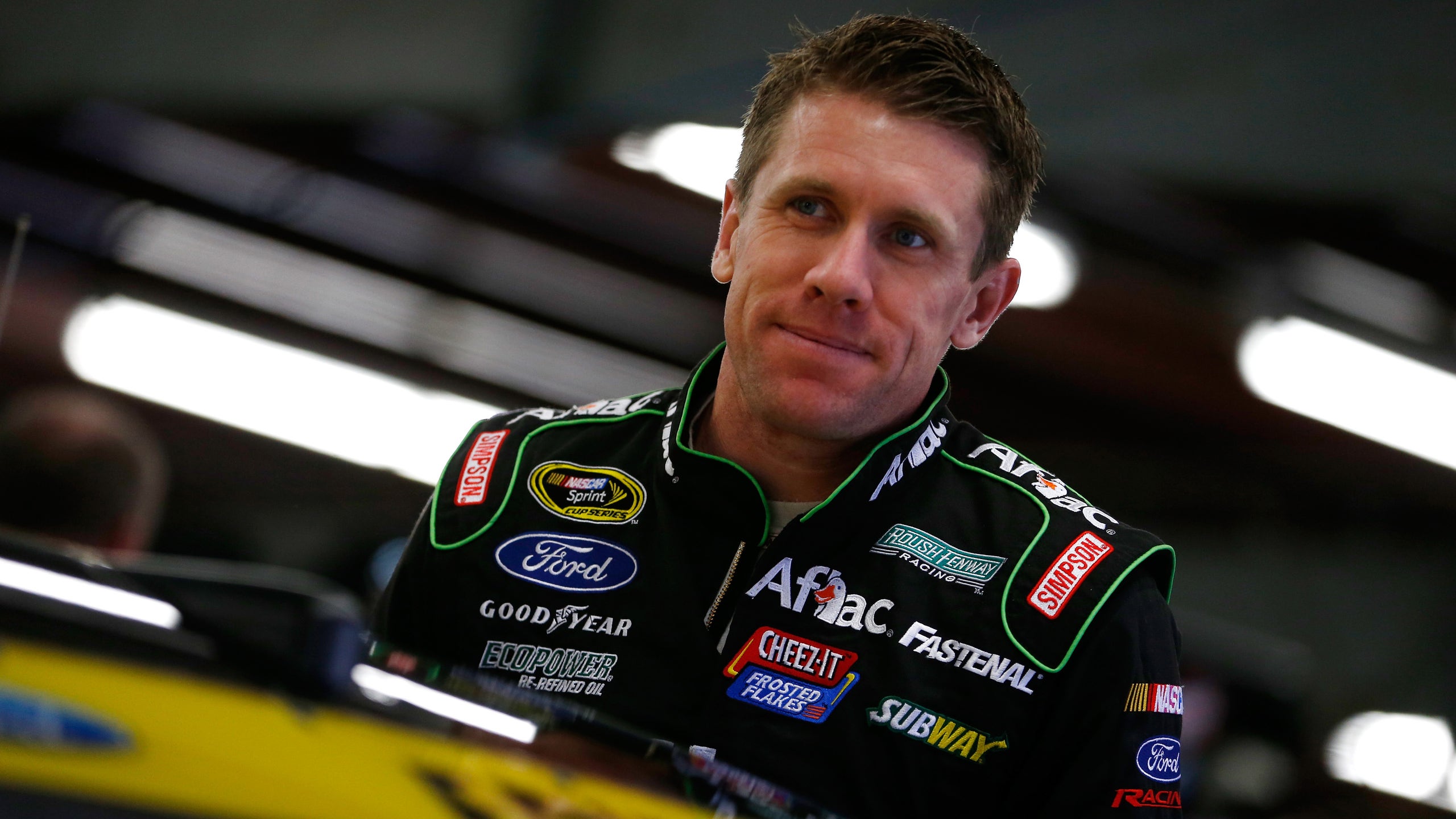 Lame-duck Carl Edwards carries confidence into next round
BY Jared Turner • October 22, 2014
When the 2014 Chase for the Sprint Cup commenced last month at Chicagoland Speedway, few prognosticators gave Carl Edwards much chance of making any major noise.
After all, Edwards struggled to find speed in his No. 99 Roush Fenway Racing Fords for most of the regular season despite posting wins at Bristol in March and the Sonoma Raceway road course in June.
Furthermore, Roush Fenway announced in late July that Edwards -- the company's flagship driver for most of the past decade -- would be parting ways with RFR at season's end. As widely expected, Edwards announced a few weeks later that he would join Joe Gibbs Racing in 2015 to become the driver of a fourth JGR Toyota.
Edwards' lack of pace throughout much of the regular season, combined with his lame-duck status, made him a natural pick to not go very far in the Chase.
Yet, at the end of the 16-driver Challenger Round, Edwards was one of 12 drivers still standing. And, at the conclusion of last Sunday's final Contender Round race at Talladega Superspeedway, Edwards was one of the eight remaining title hopefuls.
Entering Sunday's first Eliminator Round race at Martinsville Speedway, where the Chase drivers will arrive with equal points, Edwards couldn't be more upbeat about his championship prospects.
And who can really blame him? Virtually no one expected him to make it this far in the Chase. So who's to say, at this point, that he won't keep the surprises coming?
Brad Keselowski, last Sunday's winner at Talladega and one of the favorites to hoist this year's championship trophy, certainly isn't writing Edwards off.
"Carl Edwards is kind of defying all the odds to be where he's at right now, and on any given moment he could really take off," Keselowski said.
Edwards admits it's hard not to be confident heading into an Eliminator Round that features two tracks -- Texas and Phoenix -- where he is a multi-race winner, and a third track, Martinsville, where he has been greatly improved in recent trips.
"We looked at this round -- Martinsville, Texas, Phoenix -- as one that if we could get to this round, this is the time and these are the tracks on which we could step it up," Edwards said during an appearance this week at the NASCAR Hall of Fame. "We know we can go to Martinsville and run well -- we did that this spring. We definitely know we can win at Phoenix. Texas is still a little bit of a question mark, but we ran pretty well at Kansas and Charlotte, so being this far into the Chase and getting the opportunity to race these guys on these three tracks I think is good for us."
Despite struggling most of the season at the mile-and-a-half tracks, Edwards finished well at a pair of mile-and-a-halves in the Contender Round -- Kansas (fifth) and Charlotte (eighth) -- to all but clinch a spot in the Eliminator Round.
"I was nervous about the first three (Chase) races," Edwards said. "We made it through that round, and then the second three I didn't know what to expect. I did not think ... I was surprised that we ran as well as we did at Kansas and as well as we did at Charlotte. I mean, our group came together and did an amazing job."
Suddenly, Edwards has gone from being widely considered a championship afterthought to someone who could win the title or at least be among the four finalists who will settle the championship in a one-race, winner-take-all event at Homestead-Miami Speedway next month.
"Let's be honest: We have not been a dominant team. We have struggled for speed," he said. "We had a couple opportunities to really flounder and fail, and No. 1 was when I announced I was leaving -- I mean, that could have been it. Jack (Roush, team co-owner) could have broke up the team, could have lost all hope, and we didn't. I feel like we've actually become stronger in our quest for this championship. The second thing is lacking some speed, we could have gone to some of these racetracks and tried too hard and made big mistakes, and we didn't do that.
"So it's kind of like we've found our groove here, and we feel like we know what we need to do, and if we continue to do things the way we've been doing, I feel more confident about making it to the next round -- to Homestead -- than I did about either of the first two rounds. So for me that's where my head's at, and I think our whole team feels the same way. So if we don't make it to Homestead, I will be a little bit shocked and I'll definitely be disappointed."
Edwards, who lost the 2011 championship to Tony Stewart on a tiebreaker after entering the final race with the points lead, actually likes flying under the radar a bit this time.
"For me, it really doesn't matter. You never know how you're going to respond to all that pressure, and I think the battle with Tony, that really I think made me stronger, made me understand what that's about," he said. "To go through it from start to finish, to watch how everyone around responded, and the different mistakes people made -- some people stepped it up, some people had problems -- I think all that experience helps me. I mean, (crew chief) Jimmy Fennig is no stranger to that stuff, so I feel like we've got a perfect group to go battle it out, no matter how intense the spotlight or the pressure gets. So I look forward to that. I feel like that's where we have a little bit of an edge on a couple of these guys."
Even with his move to Joe Gibbs Racing dangling out in front of him, Edwards says he remains committed to doing everything he can to bring home a championship in 2014 for Roush Fenway -- the organization where he's spent his entire Sprint Cup career.
"My job is to be the best race car driver I can be and to provide the best feedback I can -- not just for the short-term, race-to-race, but for long term for the company," Edwards said. "Until Dec. 31 this year, I work for Jack Roush, and I'll give him 100 percent. ... I'm a Roush Fenway guy. That's who I am right now."
VIDEO: Rapid Fire with Carl Edwards
---
---