NASCAR Cup Series
NASCAR Cup Series
Kyle Busch wins Nationwide race
Published
Mar. 16, 2013 1:00 a.m. ET

In the end, it was the veteran vs. the rookie. On Saturday afternoon, Bristol Motor Speedway became The Kyle Show, with Kyle Busch fighting to hold off newcomer Kyle Larson for the win.
They fought to the line. Larson bounced off the wall coming off the last turn. They wobbled and bounced. And, in the end, Busch held off Larson. But not by much.
Most days, there's just no beating the combination of Kyle Busch and Bristol Motor Speedway.
A five-time winner in the Sprint Cup and now five-time Nationwide Series winner at the track, Busch flexed his muscles once more at the track in Saturday's Jeff Foxworthy Grit Chips 300.
If you need any more evidence of just how good Busch is at the Tennessee half-mile, study his battle with Kevin Harvick for the lead that started on Lap 234.
Or his battle with Larson to the flag.
"I tried a couple of moves on Kyle; just was a little too tight off to get back to the throttle," Larson said. "Then the last lap I was pretty happy he went to the bottom to block the slide job or whatever because it gave me one more shot to try and get some momentum and get around him. He left me just enough room to squeeze the outside and just missed it by a couple feet. It was a lot of fun."
Larson was intent on not making contact with Busch. After an aggressive move to win a Whelen All-American race this season, and a couple of setbacks in Nationwide outings, he simply wanted to finish as well as he could.
"I didn't want to move him or anything like that, I wanted to try to outrace him," Larson said. "I get a little more respect that way, and it definitely made for a better finish, I think."
Busch agreed, though he acknowledged the finish was closer than he expected.
"It was a handful out there, for sure, there toward the end of the race just battling with (Kevin Harvick) at first and trying to work him over in traffic and everything, and once I got by him, I thought, 'Well this might be OK.' Then he stuck right with me. He was just as fast as we were, if not maybe a little bit faster," Busch said. "… You're right on the verge of that concrete that's ground and you slip just a little bit, and it could be a huge mess. Just kept trying to push that outside lane up a little bit more, a little bit more each and every lap but keep the lap time going and keep Kyle Larson behind us.
"He was running hard, that's for sure, and certainly brought a lot to the table today and put on a good show for the fans. We ran hard, though, and ended up winning the thing."
Catching Harvick in traffic, he worked to the inside of lapped cars as Harvick went to the outside, they drove inches apart, they raced deadlocked for the top spot for several laps before Busch could finally pull away six laps later.
It was a tenacious, bold showdown between two of the sport's best aggressive drivers – which was won by the man who has owned Bristol of late.
But it wasn't over. Soon, Harvick charged back. They crafted an epic battle between a couple of guys known for their abilities to manage just those. And in the mix with 50 to go? Rookie Larson.
A caution on Lap 265 tightened up that battle. Harvick surprisingly opted to pit while Busch and several of the other front-runners stayed out, dropping Harvick to eighth on the restart. Busch led with Larson second on the restart. Only 14 cars remained on the lead lap at that point.
On the restart, Busch charged away from Larson – with Harvick battling through the field quickly. Larson, too, was staying close. Harvick moved to fourth quickly. With 11 laps to go, he was still trying to get back up to the front.
With seven to go, Larson moved up and rode in Busch's tracks, setting up the final showdown. Brian Vickers finished third, followed by Sam Hornish Jr. and Harvick.
Busch had taken the lead for the first time with an aggressive move as well, trapping Trevor Bayne behind a lapped car to slip past him. Once he was out front, Busch quickly began to put cars down a lap.
For defending race winner Elliott Sadler, the day went sour fast. Shortly after the restart for the second caution of the race, he radioed his crew that his fuel pressure was gone. By Lap 73, he was a lap down, and by Lap 86, NASCAR had shown him the black flag and forced him to pit for not being fast enough.
On Lap 105, a multi-car crash was sparked when Jamie Dick spun after contact with Vickers. Nelson Piquet Jr. slammed into Dick's car as it set on the track. It was the second incident for Dick, who spun to cause the first caution of the race on Lap 29.
The caution came out again on Lap 161 for a scary crash sparked by contact between Hal Martin and Brad Teague that sent Martin careening down into the inside wall. Martin crisscrossed the track, hitting the outer wall as well in a crash that also collected Jeffrey Earnhardt, Austin Dillon and Reed Sorenson.
Brad Keselowski led in the middle portion of the race, but cut a tire battling Regan Smith for the lead and eventually had to pit, costing him a shot.
Polesitter Justin Allgaier led the first 62 laps of the race before surrendering the top spot to Bayne during a pit stop.
In the end, though, it was Busch left to celebrate.
"It's pretty cool," he said of notching his fifth Nationwide win. "It's certainly a good track for me. "
 
---
---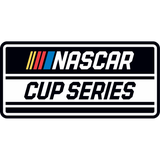 Get more from NASCAR Cup Series
Follow your favorites to get information about games, news and more
---