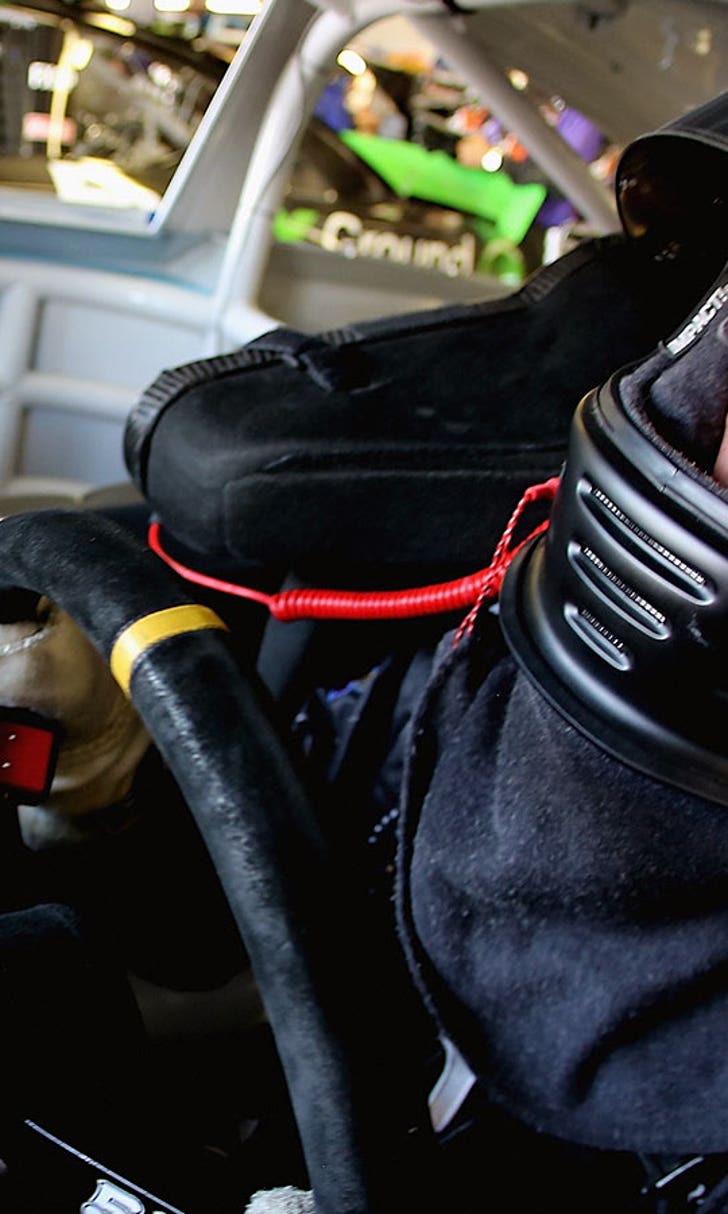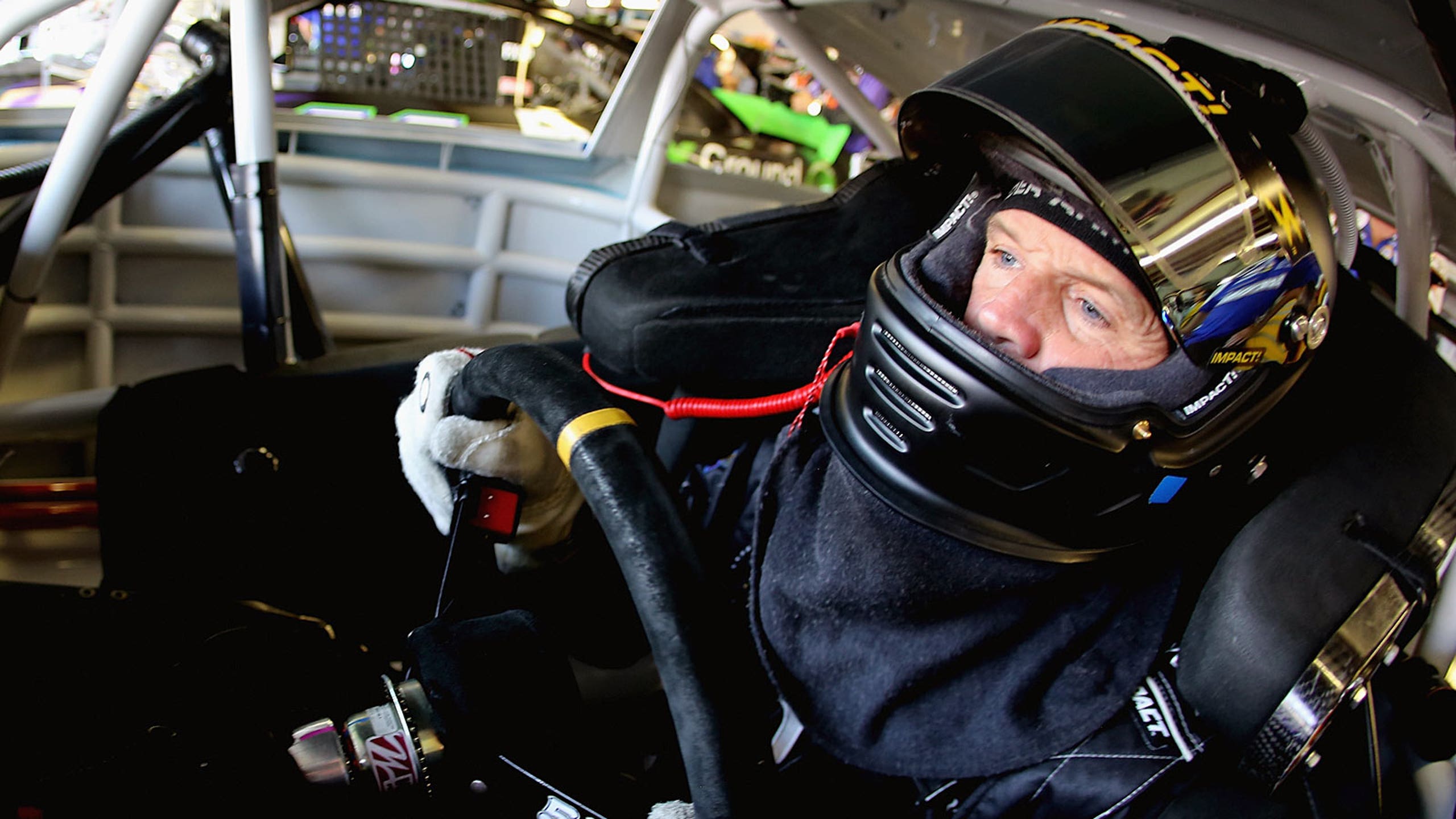 Jokester Kenny Wallace plans to use 'reverse psychology' in last start
BY foxsports • July 31, 2015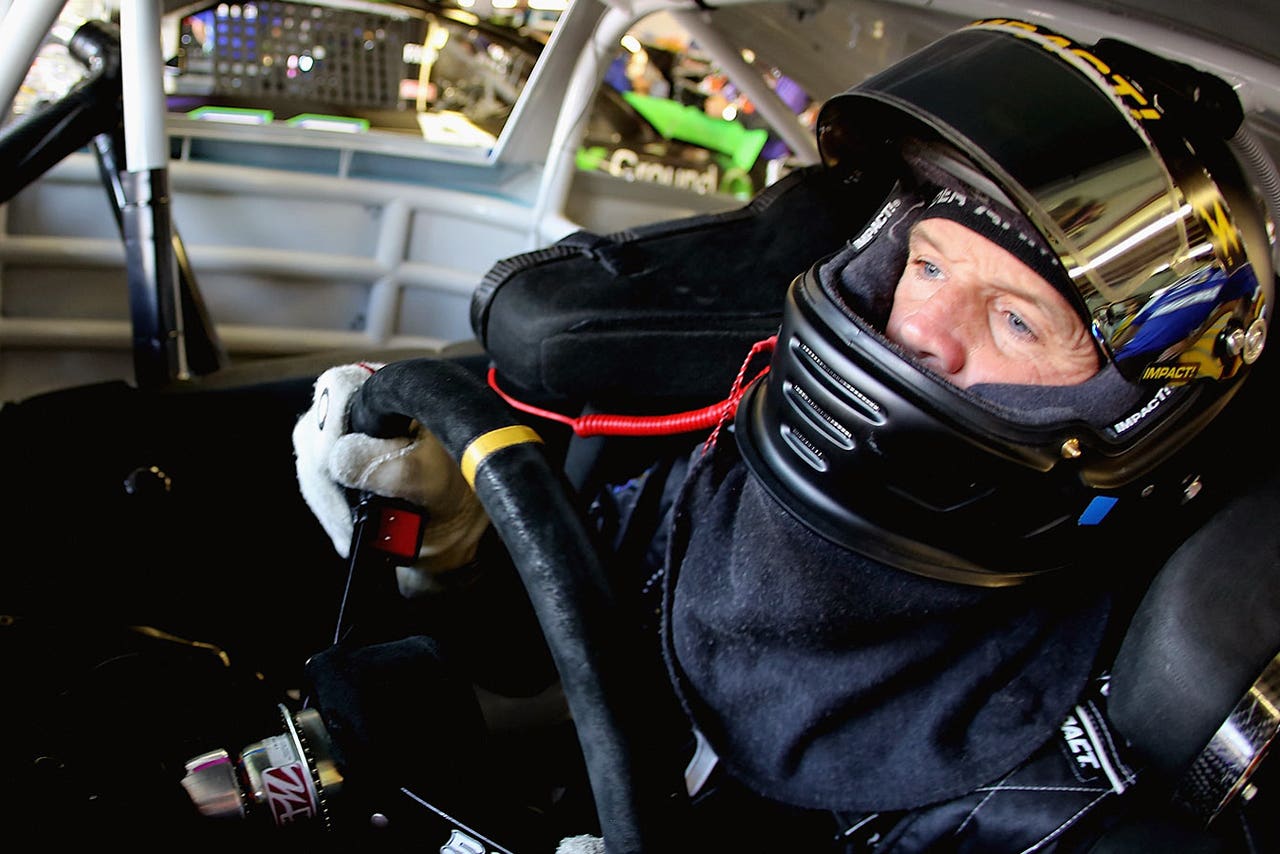 When the NASCAR XFINITY Series rolls off to take the green flag Saturday at Iowa Speedway, one of the series' most tenured drivers will do so for the final time. Twenty-six years after making his debut driving for Dale Earnhardt at Martinsville Speedway, Kenny Wallace will make his final NASCAR start driving for Joe Gibbs Racing at the track designed by his older brother, Rusty.
While Wallace has run a partial schedule since 2012, Saturday's U.S. Cellular 250 will mark his final time behind the wheel in a NASCAR event. The decision did not come lightly, and was the result of many contributing factors.
Since the beginning of the 2015 season, teams continued to show interest in having Kenny drive their XFINITY Series cars on a partial schedule. Initially hoping to "fade off into the sunset" with no official announcement, Wallace knew an official retirement announcement was needed once more teams began expressing interest.
"The timing is right," Wallace told FOXSports.com in an exclusive, sitdown interview. "I'll be 52 on Aug. 23. I'm really excited where I'm at in my life. I'm happy. My kids are looking good. I know this sounds crazy, but in some sense I want to start my TV career, even though I've been doing TV for 10 years. My bosses at FOX have been really good to me, and they've let me race. I think it's only fair that I go all-in now."
Wallace says he will still race his beloved dirt cars, but "won't chase it" like he used to and will be more selective on the races he enters.
Wallace admits he had been contemplating retirement for about two months when he realized the stars were lining up perfectly. The second-generation driver's rookie season in the Sprint Cup Series was in 1993, the same year as Jeff Gordon. With Gordon stepping away, Wallace felt it was only natural to do the same. Secondly, Kenny's oldest brother, NASCAR Hall of Famer Rusty, retired at the age of 50, but always said he should have raced two more seasons. With Kenny about to celebrate his 52nd birthday, he feels the time is right.
In addition to those reasons, Wallace knows his final NASCAR event will be for a top-performing team with a car capable of contending for the race win. So far this season, the No. 20 Joe Gibbs Racing Toyota has three wins, nine top fives, 13 top 10s and six poles with Denny Hamlin and Erik Jones sharing time behind the wheel.
"That is really the No. 1 reason I decided to retire; I wanted to retire in a competitive car," Wallace said. "I feel very confident that I can go there and be very competitive. I'm not going to put any pressure on myself. I'm not going to set any goal. I just know that I'm in a winning race car, and driving that car is probably why I decided to retire. This is the way I want to end my career. I want to end my career with a great sponsor like U.S. Cellular; you can't get much better of a sponsor than that. I'm driving for one of the greatest teams in the history of NASCAR (JGR). And it's at a track my brother designed."
Wallace has made two XFINITY Series starts already this season, once filling in for his brother, Mike, at Talladega Superspeedway in May. After running well in practice, Wallace was caught up in a major incident on the frontstretch, another thing that helped push him toward retirement.
"I wrecked harder at Talladega than most people think," Wallace said. "I hit hard, buddy. Ryan Reed came up and hit me in the door. That was hit No. 1. Hit No. 2 was the wall. Hit three was Ryan Seig coming through the infield. I wasn't injured, but I was beat up. I was soar for three more weeks, especially my lower back. I thought, 'There's a reason these great drivers slow up when they get into their 50s.'"
While Wallace is proud of his nine XFINITY Series wins and three Most Popular Driver awards, the veteran points to the 1994 season as the highlight of his XFINITY career. That season, driving for FILMAR Racing with Gil Martin as the crew chief, Wallace won three races, but one in particular stands out.
"It was a night race at Richmond, and we were fast," Wallace recalled with a smile on his face. "We had two restarts at the end of the race. I looked up in my mirror and I had Dale (Earnhardt) Sr., the black No. 3 running the XFINITY Series. I just took a deep breath and said, 'OK, focus,' and we drove away. Then the caution came out with about eight laps to go. I look in my mirror and I see Mark Martin and the Winn-Dixie hood. Then I said, 'Just focus, Kenny.' So out of my nine wins, to me that was my proudest race. Now, we won three out of four races at Richmond between 1993 and 1994, but that night race, that was a race I'll never forget."
With a career spanning 26 years, Wallace has seen a host of changes in NASCAR, some good and some not so good. He admits he was lucky to come up when he did, because it was "the most epic moment in NASCAR."
"When I came in, I was a crew chief in 1984. I started my driving career in '89. I've seen the highest of highs, and I don't know if NASCAR will ever be that big again," said Wallace. "I need to say this, because I think the biggest change is that crew members don't like racing like they used to do. Man, when I was a crew member in '84, I couldn't believe they were paying me.
"Nowadays, the biggest thing is that it's a business. Back then -- I promise you, you could ask anyone in my age group -- it was not a business back then," he said. "NASCAR was almost like local short-track racing. We would meet up at a famous restaurant called the Sandwich Construction Company every night. It was a glorious time in Charlotte, North Carolina. Now it's not so fun. Now it's business."
Wallace believes by NASCAR becoming such a global and international business partner, those glory days are long gone. 
"We're dealing with the largest sponsors in the world," he said. "When you're putting the biggest companies in the world on these race cars, it gets serious."
"When people would talk bad about my family, I was the little 'Dennis the Menace' cartoon character," he said. "That was one of the reasons they nicknamed me 'Herman.' I'm a good-hearted person, but when people talk bad about my family, I'm going after you. So when I was a little kid, if you talked bad about my dad -- I was so young and people would say horrible things about my dad, 'I hope Russ Wallace burns to death' -- that was it, buddy; you were getting smacked upside the head. Then I'd run, of course."
While Kenny credits brother Rusty for getting him involved in NASCAR and moving him to North Carolina, he says the late Dick Trickle had the biggest influence not only on his career, but also his life.
"There's no doubt that Dick Trickle taught me how to race, and he also taught me how to be me," Wallace said. "A big percentage of our conversations were mostly about life. There were a lot of conversations about me being off-centered and different, and how that bothered me and how I had to deal with that. I didn't like it that people thought I had a loud laugh. I didn't like that people thought I was too happy.
"I had so many people in the past tell me, 'You're having too much fun,'" he said. "I was like, 'What do you mean?' And they would say, 'You shouldn't laugh.' I would laugh when practice was over, but when I was in that race car and in that garage area, I was very serious, or else I couldn't have won nine races. That really bothered me that people thought I was too happy. Dick Trickle personally helped guide me through that."
Wallace said Trickle liked his personality and encouraged him to be himself, regardless of what others thought. Still, Kenny was bothered by how he was seen by his peers.
"That was a really tough time on me, because people didn't like me, and I annoyed people simply because I was too happy," he said.
With drivers, crew members and sponsor reps dismissing Kenny because of his happy-go-lucky attitude, he decided to do something about it at Bristol in the mid-1990s. Facing pushback from some in the garage, Wallace decided to be as serious as possible the entire race weekend, breaking from his normal demeanor.
"I held a very serious face all week long, and I was walking down pit road going to my car," Wallace remembered. "Ricky Craven shouted out to me, 'Kenny, come here.' I walked over to him and he put his arm around me. He said, 'Hey, I tried that one. It doesn't work. You're trying to be serious. That's not you.' I laughed and I laughed, and said, 'How'd you know I was trying to be serious and not laugh?' He said, 'Because I know you, and that's not you.'"
Since that day, Wallace has never shied away from being himself, having fun or sharing a hearty laugh, but when it comes time to get down to business, he knows how to focus ahead and get the job done.
This weekend, Wallace hopes to do just that. While emotions will be running high before the race, Wallace will shut out the distractions and focus on the task at hand. Looking ahead to the weekend, he compared it to racing after his father passed away and when he filled in for Ernie Irvan in 1994. While emotions were high, once behind the wheel it was all business.
"I'm going to use reverse psychology; I'm going all business," Wallace said of his strategy for this weekend's event at Iowa. "I don't want to talk about it being my last race. I'm going dead-focused. When I mean focused, as my brother would say, my head's going to be in the carburetor. Then afterward, we'll deal with that afterward."
---
---