Garage chatter: What's the news?
December 13, 2010

Jan. 12 news and notes
Hornish will not drive for Penske in Cup — 3:10 p.m. ET
Sam Hornish Jr. will not be in anything Penske-owned in Daytona. He is basically done.
Penske Racing downsized not only Hornish's NASCAR Sprint Cup organization, but also its Nationwide Series crew.
To take it one step further and know that there's not really interest in running that third car, somebody might say how do you know they're not going to come in at the last minute and do this? They cannibalized the No. 77 crew of Hornish and what was left of the 12 Nationwide crew to make up the best for one with Brad Keselowksi's organization, whatever they were lacking in Nationwide, but also to beef up what is now the No. 2 car for Keselowski for the Cup season.
It's the right thing to do and I'll go back and I'll just use the Richard Childress scenario that sometimes less is more. They've never had any success with a multi-car organization when it comes to Penske Racing, in Cup, as far as they're concerned. So I think the combination that they were able to come up with in Nationwide proved out last year with the championship and I think, again, reducing the number of teams may make them even more effective in the long run.
I just think that when you kind of discuss or talk anything over, not to put down the Hornish organization or that team with Sam, but they never really were able to contribute to teammate Kurt Busch's efforts and I don't think they benefitted Keselowski. Brad has shown that if you give him a decent ride, not only can he win races, like he did in Nationwide, he can win championships and we know that in a good Cup ride he's a threat because he does have one Cup win. He had more Cup wins than Hornish did in the number of years he drove for Penske.
You got to believe it was a tough time for team owner Roger Penske and everybody over there, but you've got to look at what they were trying to accomplish.
— Jeff Hammond
---
Jan. 11 news and notes
Richmond grandstands to be smoke free — 11:15 a.m. ET
Richmond International Raceway will become the latest to host smoke-free grandstands this season, track president Doug Fritz announced Tuesday. Fans who smoke may continue to do so, but only in approved areas.
"Beginning this season, smoking will not be permitted in and in front of the grandstands or in portals leading to seating areas," Fritz said. "Additionally, restrooms, buildings and areas that were already smoke-free at Richmond International Raceway will continue to be smoke-free. We are implementing this policy based on comments received from fans. Those who wish to smoke may continue to do so in designated areas."
Those areas will be located underneath and behind the grandstands, in designated areas of the concourse, in all parking lots, on the midway, in the campgrounds, at outdoor fan hospitality areas and in the tailgate area. Grandstand ushers will monitor seating areas to ensure those remain smoke-free.
---
Jan. 10 news and notes
Harvick names crew chief, number for Truck team — 9:30 a.m. ET
Kevin Harvick Inc. has named veteran Chris Carrier crew chief for the organization's NASCAR Camping World Truck Series team with driver Nelson Piquet Jr.
Piquet will debut as a full-time competitor in the series this season, driving the No. 8 entry.
Carrier, who has more than 30 years of experience, has wins as a crew chief in each of NASCAR's three major touring series. A graduate of East Tennessee State University with a degree in manufacturing engineering technology, Carrier has served as crew chief at Morgan-McClure Motorsports, Andy Petree Racing and Penske Racing. Carrier, 50, most recently led Penske's driver development program with driver Parker Kligerman.
"I'm really looking forward to this experience with Nelson Piquet Jr.," Carrier said. "I enjoy working with young drivers, and I have a lot of respect for Nelson. Coming from Formula One, I know that he has a lot of talent, he has good car control and he won't be afraid to go fast. I'm excited to get started."
As for choosing the truck number, team co-owner Kevin Harvick says it has personal significance.
"The No. 8 was my very first go-kart number when I started racing, so it was always a number I wanted our team to use," Harvick said. "Nelson had also mentioned to me that he liked the number since he grew up racing the No. 33, and the curves of the No. 8 are reminiscent of that number. All in all it seemed like a good fit."
---
Jan. 7 news and notes
NASCAR drivers ready for Rolex 24 — 3:30 p.m. ET
The first race of the NASCAR season may as well be on the road course at Daytona International Speedway – not the oval.
AJ Allmendinger and Michael McDowell became the latest NASCAR stars to join the burgeoning lineup for the Rolex 24 at Daytona endurance race. The prestigious event, which kicks off the Grand-Am Series season, also will include NASCAR drivers Max Papis, Jamie McMurray, Kenny Wallace, Colin Braun, two-time former Rolex 24 winner Juan Pablo Montoya and five-time defending Sprint Cup champion Jimmie Johnson.
NASCAR drivers historically have taken part in the twice-round-the-clock event, but it wasn't until Casey Mears' team took the checkered flag in 2006 that a full-time driver won the race.
— Jorge A. Mondaca
---
New NASCAR team formed, but no driver named — 1:30 p.m. ET
Bob Leavine and Lance Fenton announced Friday that they have partnered to form Leavine Fenton Racing, a new organization with plans to compete in the NASCAR Sprint Cup and Camping World Truck series in 2011.
The group has not yet named a driver, crew chief or sponsor for the program, but it does plan to run Fords from its Concord, N.C., shop with the help of an unnamed "highly respected crew chief and an experienced driver." The team will compete with the No. 95 in both series.
Leavine is the owner of WRL General Contractors, Ltd., and has been involved with NASCAR as a sponsor in the Truck series.
"There are some opportunities now in NASCAR that may never come around again, and we are blessed to be in a position to take advantage of those opportunities," Leavine said. "There are several things I expect to get out of this venture, but top on the list is to enjoy myself around a great group of people at NASCAR."
Fenton is the owner of Fenton Motor Group in Tyler, Texas, and Phoenix Design and Manufacturing, LLC, in Oklahoma City, Okla. He has raced and owned race teams since the mid-1980s. Last year, he made his debut in the Truck series.
"The owners, crew, and driver are all passionate, success-driven individuals," Fenton said. "I am truly blessed to be a part of this adventure. There is no doubt in my mind we will be victorious in our effort and have enjoyment while getting our mission accomplished. The No. 95 car will definitely be a factor at every event it enters."
---
Jan. 5 news and notes
Elledge named crew chief for Allgaier — 4:30 p.m. ET
Former NASCAR Sprint Cup crew chief Jimmy Elledge has joined Turner Motorsports to work with the No. 31 Nationwide Series Chevrolet of Justin Allgaier.
Elledge has been a part of several championship-winning organizations and has worked with a mix of veteran and rookie drivers, including Reed Sorenson, Juan Pablo Montoya, Casey Mears, AJ Allmendinger, Bobby Hamilton and Dale Jarrett.
He has one Sprint Cup Series win to his credit, leading Hamilton to his final victory at Talladega in 2001.
---
Cobb to run limited Nationwide schedule — 11 a.m.
Jennifer Jo Cobb Racing and 2nd Chance Motorsports announced Wednesday plans for Cobb to pilot the No. 79 Ford Mustang in the first five NASCAR Nationwide Series races of the 2011 season.
The team is owned by Rick and Pam Russell, who also own and operate 2nd Chance Race Parts in Mooresville, NC. The team competed in five 2010 races. Cobb is a full-time NASCAR Camping World Truck Series (NCWTS) driver with five Nationwide starts. She is the highest-finishing female driver in NASCAR points history after finishing 17th in 2010.
She will also return to the Truck series. Cobb's Truck crew chief, Steve Kuykendall, will also serve as crew chief for the Nationwide team. The team hopes to continue beyond the first five races on the Nationwide schedule, pending further sponsorship.
"This is an incredible opportunity for our team as we can expand into the Nationwide Series without detracting from our efforts in the Camping World Truck Series," Cobb said. "I am grateful for the commitment from 2nd Chance and that we can bring our two small teams together to shoot for better results against the myriad of multi-million dollar teams we are competing against."
---
Jan. 4 news and notes
Daytona announces fan activities for testing — 1:30 p.m. ET
Daytona 500 champions Jamie McMurray, Jeff Gordon, Jimmie Johnson and Dale Earnhardt Jr. are among the drivers who will appear at the NASCAR Preseason Thunder Fan Fest at Daytona International Speedway Jan. 20-21.
The drivers will appear as the NASCAR Sprint Cup Series contenders test on the new asphalt at Daytona International Speedway for a three-day session beginning Thursday, Jan. 20. Tickets for the fan portion are $20 and available by calling 1-800-PITSHOP or online at www.daytonainternationalspeedway.com. Those holding Daytona 500 tickets and children 12 and younger will receive free admission. Advanced reservations are available (limited to 250 people) for autograph sessions to be held with participating drivers. Additional driver autograph sessions will be held on both days with wristbands available the day of the event.
To request access to those, call 1-800-PITSHOP or visit the Daytona International Speedway ticket office beginning at 9 a.m. Saturday. In addition to viewing the on-track activity from the Sprint Fanzone, fans can watch each day's testing at no cost from a section of the Oldfield Grandstands near Turn 4.
Drivers currently scheduled to make appearances Jan. 20 beginning at 6 p.m. are Earnhardt Jr., Brad Keselowski, David Ragan, Kurt Busch, Carl Edwards, Denny Hamlin, Kasey Kahne, Mark Martin, Martin Truex Jr. and Regan Smith.
Scheduled to appear on Jan. 21, during the 5-7 p.m. session, are Kevin Harvick, Clint Bowyer, David Reutimann, Casey Mears, Jeff Burton, Johnson, Joey Logano, Kevin Conway, Kyle Busch, Paul Menard and Ryan Newman. In the 7-9 p.m. session, drivers scheduled to appear are AJ Allmendinger, Brian Vickers, Greg Biffle, McMurray, Gordon, Juan Pablo Montoya, Marcos Ambrose and Matt Kenseth. Lastly, race fans will be able to camp in the infield of Daytona International Speedway for free with their admission ticket during the three-day test inside Turns 3 and 4. Sites will be provided on a first-come, first-served basis. Gates to the infield will open at  8 a.m. Jan. 20.
---
Dec. 27 news and notes
New man in charge of Penske's title-winning team — 1:30 p.m. ET
Penske Racing has announced that Todd Gordon has been named as the crew chief for the defending NASCAR Nationwide Series championship-winning No. 22 Discount Tire/Ruby Tuesday Dodge team for 2011.
Gordon, who most recently served as race engineer for Diamond-Waltrip Racing in the Nationwide Series, will take over the team that earned Penske Racing's first NASCAR championship last season with driver Brad Keselowski claiming six wins, five poles and a series single-season record 26 top-five finishes.
"The chance to join Penske Racing and lead the championship-winning team with Brad next season is the opportunity of a lifetime," said Gordon. "The No. 22 Dodge team had a special year in 2010 and I'm looking forward to coming on board and hopefully building on that level of success as we move forward."
Paul Wolfe, who helped lead the No. 22 team to the NNS championship this season, was named recently as crew chief of Penske Racing's No. 2 Miller Lite Dodge in the NASCAR Cup Series beginning in 2011, which created the opportunity for Gordon.
Gordon, who graduated from Clemson University with a mechanical engineering degree, has served as a crew chief several times throughout his 12-year career in racing. Prior to working with Diamond-Waltrip Racing, he was crew chief at Baker Curb Racing in the Nationwide Series and he also helped build the CJM Racing Nationwide Series program from the ground up, serving as both team manager and crew chief. This will also mark Gordon's second stint as crew chief of the No. 22 NNS car as he actually led the "double deuce" team when it was part of PPC Racing in 2006.
---
Dec. 22 news and notes
Waltrip staying busy in 2011 — 3 p.m. ET
Michael Waltrip may not be racing full time anymore, but you'll still be seeing plenty of him in the future.
Along with his role at the helm of his race team, Waltrip will also continue his work in television, host a comedy tour, and release a new book in 2011.
Oh, and he's going to do a bit of racing on the side too.
While the two-time Daytona 500 is in the stage of his life he terms "semi-retirement," he plans to attempt to qualify for the 2011 Daytona 500, the first Cup race at Kentucky Speedway, and "possibly a few more races," according to a team press release.
---
A new merger in the Truck series — 3 p.m. ET
Billy Ballew Motorsports announced Wednesday that it has merged with Vision Aviation Racing to continue to field the No. 15 and No. 51 entries in the Camping World Truck Series.
The team will compete under the Vision Aviation Racing banner with Ballew maintaining an ownership stake.
The organization will remain supported by Toyota and race with the same equipment and resources that helped Billy Ballew Motorsports score two victories and a second-place finish in the drivers' championship by Aric Almirola last season. The team also is known for working with Kyle Busch to collect 16 victories before Busch started his own operation.
Justin Johnson and Dusty Davis, who both competed in the Super Late Model and K&N Pro Series West divisions in 2010 for VAR, will make their Truck Series debut in 2011.
The team merger is still in process with key personnel yet to be finalized. The team will compete out of VAR's Mooresville facility, located directly across from the former Billy Ballew Motorsports location.
---
Dec. 20 news and notes
Survivor finale has Hendrick tie — 3:30 p.m. ET
Hendrick Motorsports just missed out on having ties to another championship this week.
Former Hendrick Motorsports pit crew member Chase Rice fell one vote shy of winning the million-dollar prize on the latest installment of "Survivor." Rice finished second to Judson "Fabio" Birza in Sunday's finale.
Rice, 24, has worked as a jackman for Hendrick.
---
Dec. 17 news and notes
Daytona offered glimpse of more than track — 1:15 p.m. ET
NASCAR Sprint Cup drivers were testing more than just the newly repaved Daytona International Speedway this week. They were working with changes in fuel as well as to the restrictor plate and nose of the car.
Robin Pemberton, NASCAR vice president of competition, seemed pleased with the early results. Seventeen drivers participate in the test session, but not all were using the E15 ethanol-blend fuel NASCAR is using this season. Pemberton said that the engineers seemed happy with the results using it, though.
Other changes could take a little more adjustment, such as the nose that features a slightly altered front splitter and no more braces.
"The nose, anytime you change aerodynamics of the car, there will be some work that has to go in," Pemberton said. "It's about how the cars pull up in the draft. You work on the nose, and you have to tune the engine to get it to run different in the draft.
"As these guys have experimented with the larger packs to try to get the cars to hook up, some of them have some work to do and others have hit the home run right off the bat. That thing has gone fairly well."
As to the size of the restrictor plate, right now it is matching that raced at Talladega Superspeedway earlier this year. That, however, could change before the season-opening Daytona 500.
"We will further evaluate," Pemberton said. "We're not sure if we may need to come down a little bit off off that, which would be like a 64th of an inch or something. But we'll have to get back and talk to the teams and look at the speeds from the last two days of testing. I think we have some high watermarks at 197 (mph) and a half, which depending on where they pulled up in the draft, it may be a little quick, but it's hard to say.
"We'll get our group together and discuss that and prepare for our late January test. But so far all indications are that everything hit its marks."
— Rea White
---
Dec. 14 news and notes
Geisler named Penske competition director — 12:40 p.m. ET
Penske Racing has named Travis Geisler as competition director for the organization.
Geisler, the former crew chief of the No. 77 NASCAR Sprint Cup Dodge driven by Sam Hornish Jr., will be responsible for coordinating Penske's NASCAR racing programs between the organization's crew chiefs and engineering department.
"I am very excited about this new challenge," Geisler said. "With all of the resources and experience at Penske Racing, we have the opportunity to build on the high level of competition that we have established in NASCAR and continue to develop our programs for the future."
In his new position, Geisler will report directly to Penske Racing Vice President of Operations, Michael Nelson.
Geisler is a former Nationwide Series and ARCA racer who earned a degree in mechanical engineering from Vanderbilt University. He joined Robert Yates Racing as a race engineer in 2006 before moving to Penske. He quickly advanced from team engineer on the No. 12 Cup team to crew chief for Hornish and the No. 77 Dodge, beginning in 2008.
"We are fortunate to have someone as talented as Travis inside the walls of Penske Racing," Nelson said. "His experience as a crew chief, along with his engineering background, will be a valuable resource as a liaison between our current crew chiefs and our engineering department. This is a move that will provide us with depth and improved efficiency as we move into the 2011 season."
— Rea White
---
Dec. 13 news and notes
Report: Scott Speed sues Red Bull — 4 p.m ET
Scott Speed has filed a breach-of-contract lawsuit against Red Bull Racing, according to a report at SceneDaily.com.
Speed has reportedly sued his former NASCAR Sprint Cup team for $6.5 million in North Carolina Superior Court. According to the story, Speed claims that Red Bull did not fund the team at a competitive level.
Red Bull terminated the contract of Speed, 27, following the 2010 season.
Speed, a former Formula One competitor, raced in ARCA in 2008 and for two full Sprint Cup seasons with Red Bull. His departure from the team at the end of this season wasn't unexpected as Red Bull signed Kasey Kahne to drive in 2011. That left Speed and Brian Vickers, who missed the majority of this season for medical reasons, both with the organization that already confirmed plans to only run two teams next season, with Vickers expecting to be able to return for the full season.
Speed finished 35th in the 2009 NASCAR Sprint Cup standings and 30th this season. He has three top-10 finishes to his credit at the Cup level. According to the story, Speed's contract would have carried him through 2011, with options for 2012 and 2013, and the $6.5 million represents the salary lost.
 
---
Biffle honors hometown track winners — 4:30 p.m. ET
Roush Fenway Racing's Greg Biffle took advantage of a trip to his hometown to honor a few local favorites.
Following the NASCAR Sprint Cup Series Awards Ceremony, Biffle headed to Vancouver, Wash., where he co-hosted the awards banquet for the DAA Northwest Spec Motor Series. The night culminated with the presentation of the champion's trophy to 32-year-old Greg Walters of Banks, Ore., who won the title in the final lap of the final race.
The local series consisted of 18 races at six racetracks in the northwest. Earlier this year, Biffle announced his partnership with two of the tracks on the circuit – Sunset Speedway Park and Grays Harbor Raceway.
"I grew up racing in the Northwest and I really enjoy the local short-track racing," Biffle said. "The reality is that local racing was dying in the Northwest. I knew guys out there who wanted to continue to race on Friday and Saturday nights, and we were able to come up with a way that made it affordable. We were also able to bring DAA Northwest and Sherwin Williams on board for this inaugural season."
---
---
---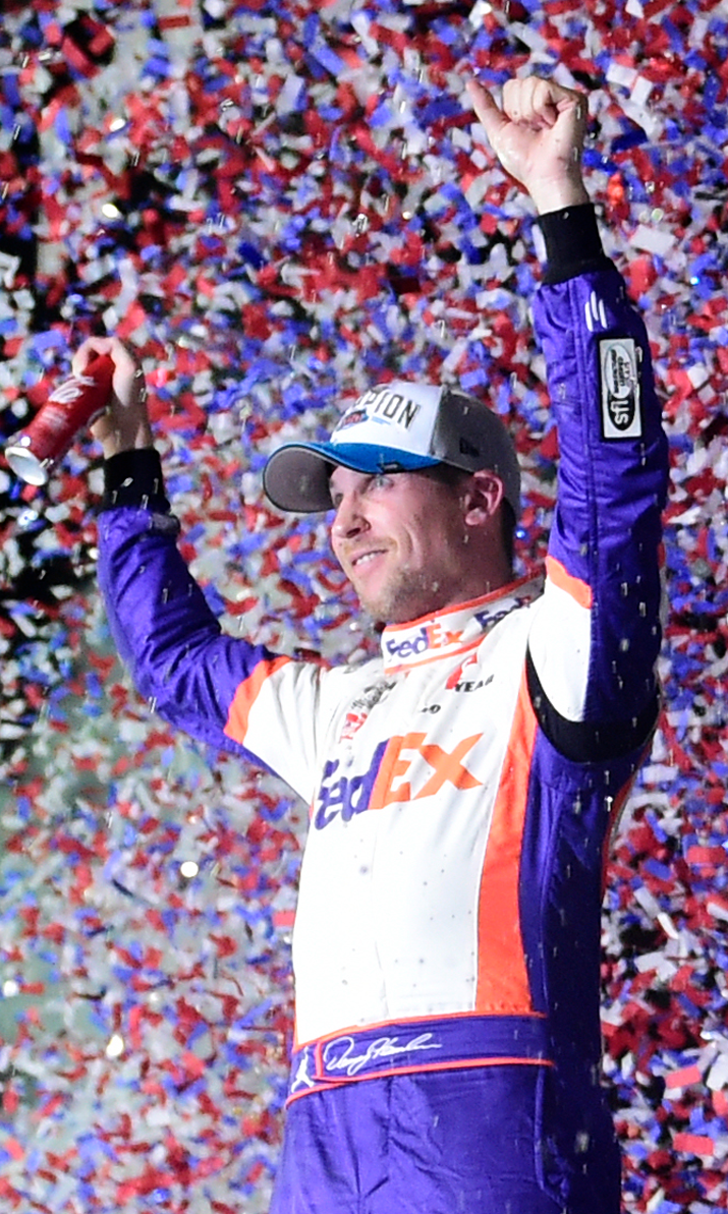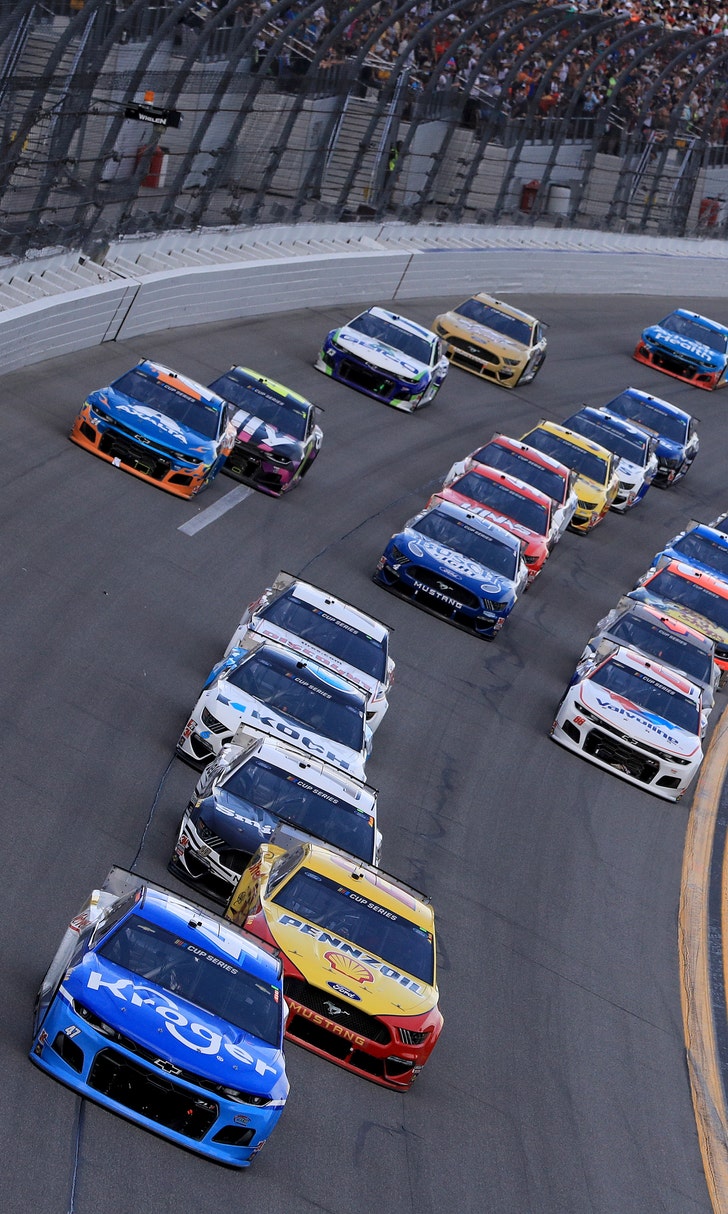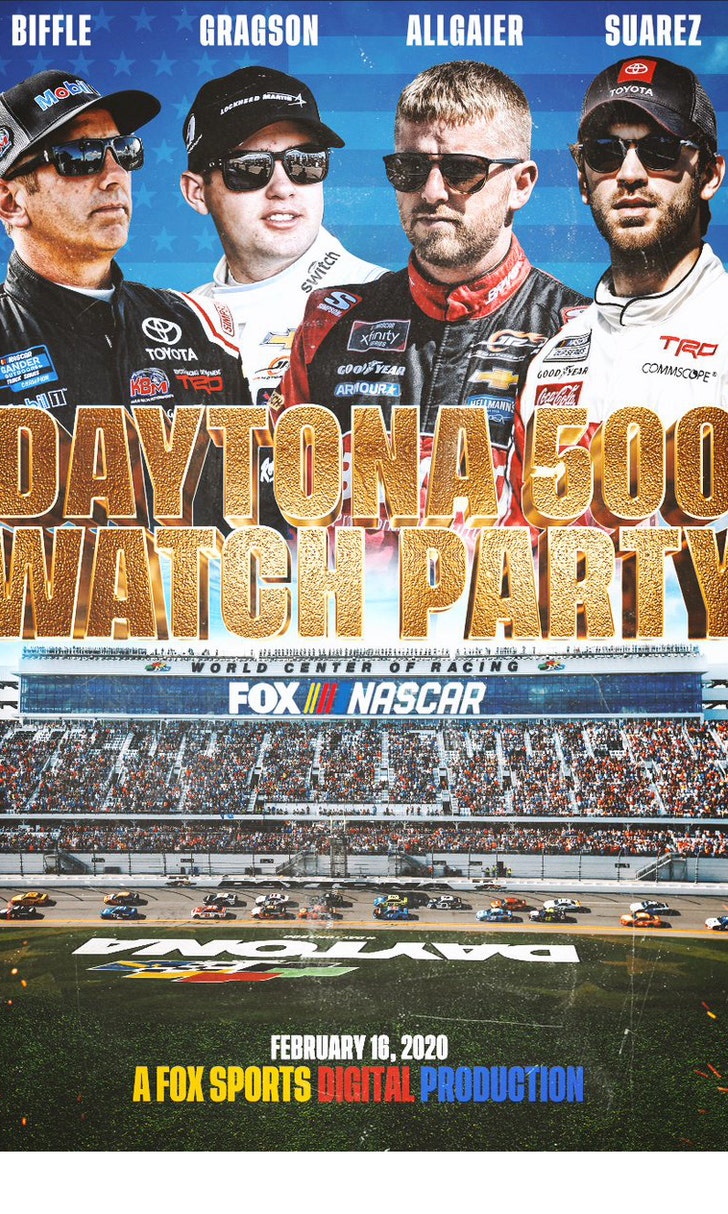 The Daytona 500 Watch Party!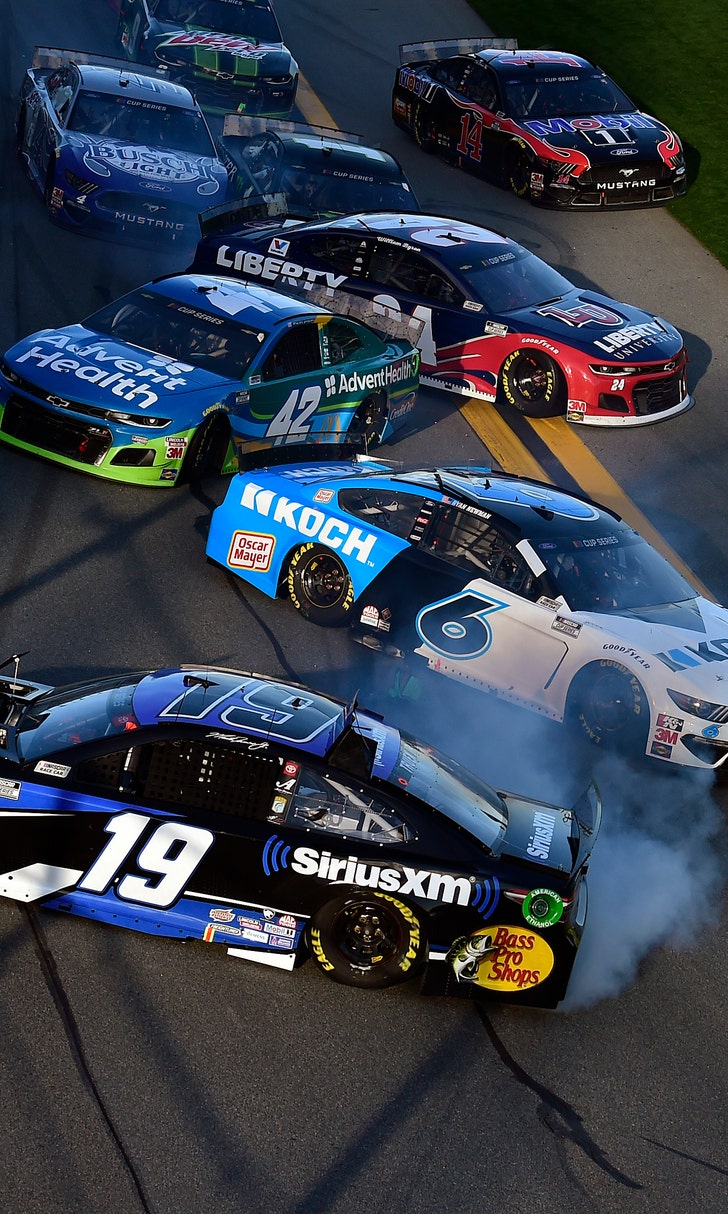 The Numbers Game At Daytona