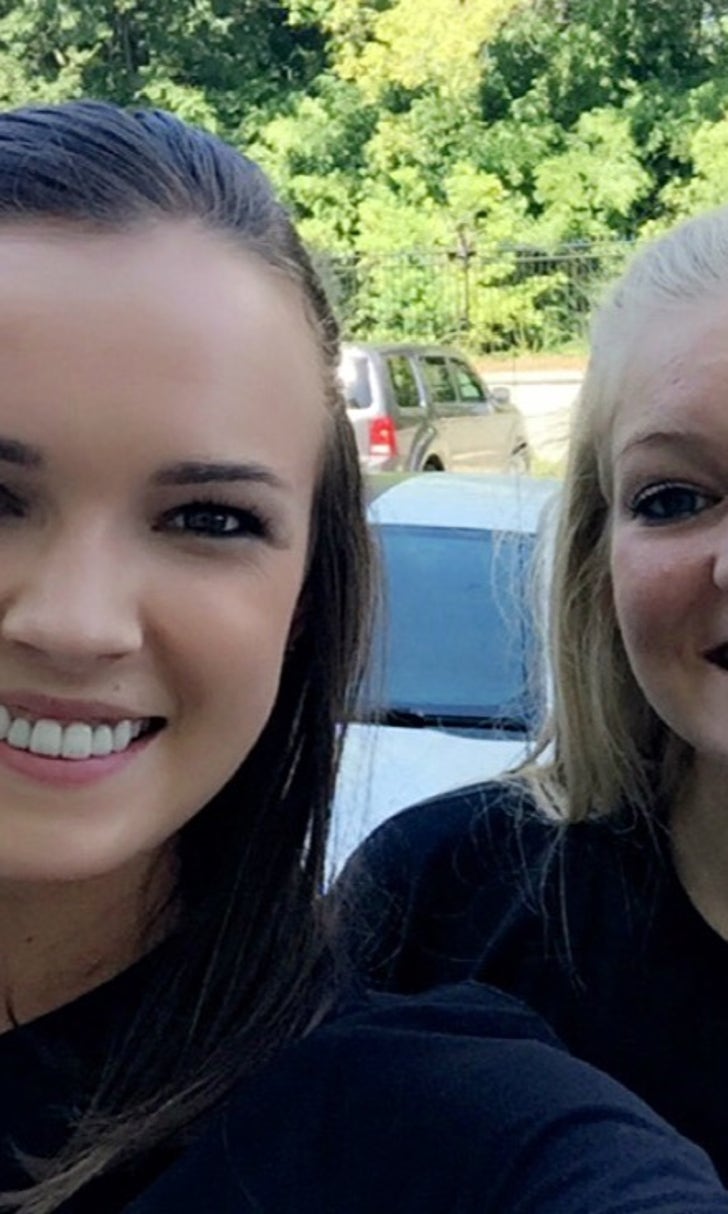 FOX NASCAR family ties extend to college football sidelines this weekend
BY foxsports • August 30, 2016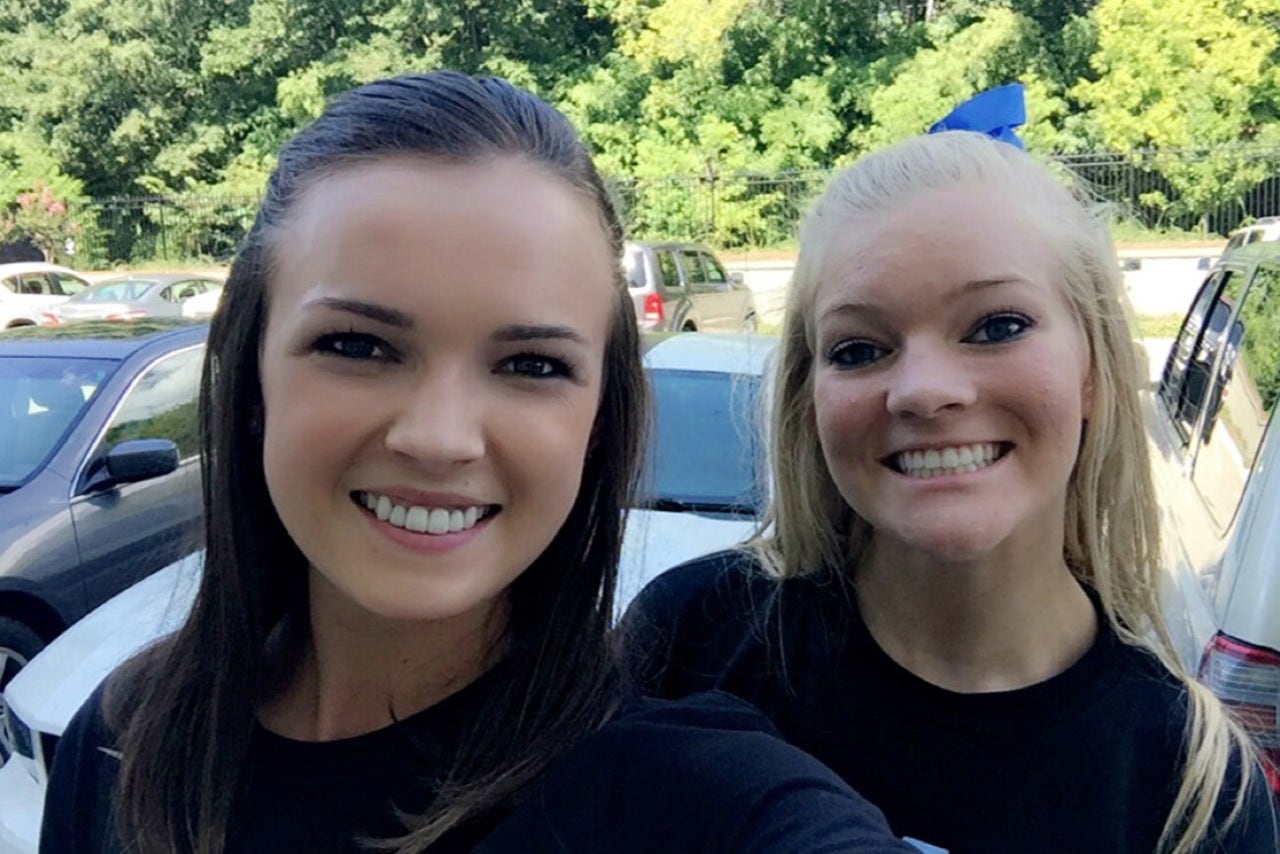 When Phil Parsons and Hermie Sadler hit the air Saturday, Sept. 3 (live on FS2 at 5:30 PM ET) to telecast NASCAR Camping World Truck Series qualifying (race coverage beginning at 2:00 p.m. ET on FS1 on Sunday, Sept. 4) it may mark the first time the close friends and colleagues have secretly hoped for a lengthy rain delay. If Mother Nature does comply, you likely will find the duo huddled around a smartphone watching cheerleading, of all things.
That's because the FOX NASCAR on-air teammates are proud fathers of two members of the University of North Carolina cheerleading squad, which will be at Georgia to cheer on the Tar Heels for their 5:30 p.m. ET kickoff. 
Their daughters, Cami Parsons and Cora Sadler, have known each other since they were babies and their fathers were competing full-time on the NASCAR circuit.  While they spent weekends together at the track until kindergarten, it took similar interests outside racing to bring them back together later in life. And ironically, were it not for UNC three decades ago, their fathers likely wouldn't be as tight as they are today.
"It's been pretty cool for Phil and me to be at the race track when the girls FaceTime us from cheerleading practice or dinner," said Hermie Sadler. "We have been friends on and off the track for nearly 30 years, so it's been fun to watch them grow closer the past few months."
Cora, a sophomore, is in her second year on the squad, while Cami is a freshman. Cami and her twin brother, Stefan, are separated for the first time ever as he pursues his education at UNC-Charlotte while continuing his racing career. So, it certainly was comforting to the Parsons, knowing there was a familiar face on the Chapel Hill campus to support Cami away from home.
"My wife and I feel 100 percent better that Cami has Cora to help make the transition to not only college and being on the team but to being without her twin brother for the first time," said Phil Parsons. "Stefan and Cami have always done everything together, so it's comforting to know Cora has a year under her belt at UNC and is there for Cami."
"Cora has been awesome," Cami explained. "We've become super close, and it helps to have someone who understands what it's like to be away from family. She's given me plenty of advice on how to cope with being so far away."
Part of their newly forged bond is owed to a pair of weekends during which Cami lived with Cora in Chapel Hill during the summer.
"During our last workout in July, Cami stayed with me off campus," said Cora. "For two weekends, we spent every single minute together. Instead of going out, we chilled, watched TV and talked about life. I told my dad afterward that I had found a new best friend. I also feel a little bit like I have a new little sister."
The girls haven't always been so geographically or emotionally close. The Sadlers live in Emporia, Va., while the Parsons reside in Cornelius, N.C. After Cora and Cami started elementary school, other than a lone Parsons/Sadler family beach trip, the only time they were together was at cheerleading competitions in Charlotte.
"Before I started competitive cheerleading in early 2013, Cora came to town for a competition, and we all met up for dinner," Cami recalled. "She is part of the reason I joined a competition squad in the first place."
Once Cami decided to try out for the squad and made the cut, there were some daunting challenges to conquer -- in particular, adjusting to her new role as a "flyer."
"I was completely new to flying and being thrown and caught, but Cora assisted me and offered constructive criticism to help me learn the proper techniques," she stated. "She gave me lots of tips for how to avoid becoming overwhelmed both in class and on the team."
For her part, Cora is quick to point out that she tries not to smother her friend.
"I don't want to hover over her because I didn't have someone on top of me when I was a freshman," said Cora. "I don't want to over-bother her, but I have been checking on her. However, she's been doing great at practice and has soaked up every piece of advice she's been given. But she doesn't need it. Cami is doing a fantastic job."
The girls' fathers will get nearly as much quality time together this year as their daughters will. In addition to working the entire NASCAR Camping World Truck Series schedule together for FS1, the men plan to meet up at as many UNC home games as possible. Sadler expects to make three or four games, while Parsons may make one less due to son Stefan's racing schedule. Marcia Parsons, who also cheered in college, is banking on being in the bleachers for each of her daughter's home games.
Meeting at UNC would bring the men's relationship full circle, as the school is what originally brought them together -- even before they strapped into a race car side-by-side. The two met when Hermie was 18 years old.
"I've known Hermie since he was a teenager," Phil recalled. "I met him during his freshman year at Carolina when he was roommates with my nephew, Keith, Benny's (Parsons) youngest son. Hermie would go home with Keith to Rockingham often, and I'd see him then. I knew Hermie before he even started driving a race car. I enjoy telling people he's been annoying since he was a teenager, and I've been there to witness it every step of the way."
Phil made his NASCAR debut in 1983, and Hermie followed in 1992. The latter years of Phil's career took him from the NASCAR Sprint Cup Series to the NASCAR XFINITY Series on a full-time basis, where Hermie was also competing weekly. The men were direct competitors from the mid-to-late '90s, but their friendship never wavered. At the conclusion of his driving career, Phil traded his driving helmet for a TV microphone and eventually joined FOX Sports' SPEED in 2003 to cover the Truck Series. Hermie joined the network in 2006 and segued to pit road in the Truck Series in 2011, making them true teammates for the first time ever.
The friendship they began in 1987 has only grown with each passing year. In fact, for several years, Phil and Marcia Parsons have met up with Hermie and Angie Sadler and Rick Allen and his wife in Las Vegas in conjunction with the Truck Series' annual stop there. 
"It's bonding and fun time, plain and simple," said Hermie. "We stay together, go to shows and have a great time. Just a bunch of old friends."
Now it's their daughters' turn to see what can become of a friendship forged with common interests and nurtured at the same university that brought their fathers together.
"Phil was so kind to me when I met him as a teenager," Hermie reflected. "He didn't have to give a kid like me the time of day, but he treated me like I was an equal and not just his kid nephew's tag-along. I never dreamed we'd become competitors on the track and eventually FOX broadcast teammates. So, to have Cora there to help Cami adjust and bring her into the UNC cheer family is the epitome of life coming full circle for us."
What else would you expect in the racing world?
---
---